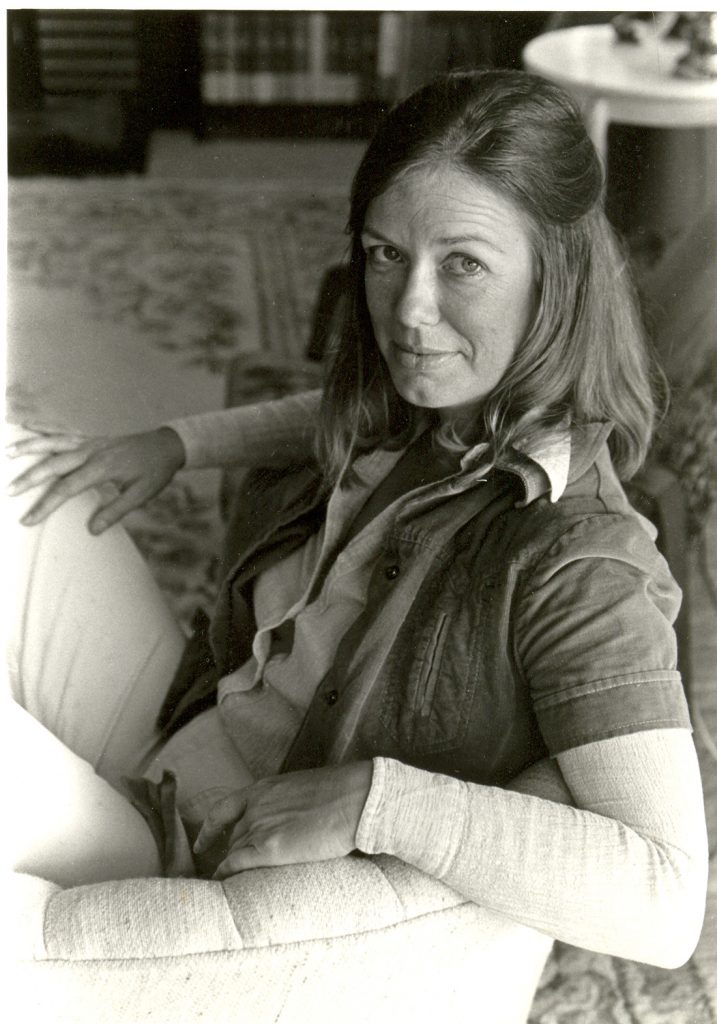 I just recently learned that my dear friend and fellow Discordian Louise Lacey passed away.
Here's her obit from the San Francisco Chronicle, which described Louise as a
"…writer, feminist and advocate for restoration of California native plants… Her writing career encompassed her best known book, Lunaception, which explored traditional ways of natural family planning, Woman's Choice, a newsletter by and for women on topics of interest to women in all stages of life, and Growing Native, which educated readers and researchers on native plants from the rich diverse climatological regions of California. Several trips to Southern Mexico and Guatemala led to an enduring interest in the Mayan people. A tech writer by day, Louise often spent weekends hiking the hills with friends from the West Coast Dowsers, searching for her Power Places…"
Besides all of the above, Louise accomplished even more…
I first met Louise in the early 2000s when I was researching my Kerry Thornley biography, and we became fast friends. At first, Louise was a bit guarded about Kerry, and as we were winding up our first meeting, she said something to the effect: "I hope you treat him right." Ultimately, I think I told Kerry's story honestly, which of course meant documenting some of his more trying times when he was teetering on the edge of madness, including a story Louise shared with me about a time when Kerry was visiting her in the mid-to-late 70s, and Louise could hear him during the middle of the night screaming out for the voices in his head to leave him alone. It was during this stay that Kerry almost set Louise's house on fire when he left something burning on the stove.
I spent about three hours with Louise that first day, pouring through her voluminous files in search of articles and Discordian related correspondence, not to mention some photos she'd been telling me about of Kerry in her front yard in Berkeley from the mid-80s holding a harmonica. Although we discovered several cool Kerry photos from those bygone days, the ones with the harmonica seemed nowhere to be found, as if Eris herself had plucked them from our spacetime continuum and deposited them Goddess knows where.
At one point in our visit, Louise recounted the time she'd done some research work on the history of drums for Mickey Hart of the Grateful Dead for his book Drumming at the Edge of Magic. During the course of conducting her research at the UC Berkeley Anthropology Library, Louise told me how she'd employed a method of dowsing to assist her in locating pertinent passages related to the history of the first drum. This method of literary dowsing was applied to save herself endless hours of thumbing through multiple shelves dedicated to drum history. Anyway, Louise demonstrated what she had done at the Anthropology Library way back when, by running her hands over her own bookshelf, then stopping at a place on the bookshelf where her intuition instructed her to.
We never did find the Kerry-with-the-harmonica-photo that afternoon, but Louise promised she would continue to seek it out. As Goddess would have it, Louise emailed me soon after with the following astounding revelation: "You know where I found the two photos of Kerry? At that place on the bookshelf where my hand ended up when I was telling the story about how I found the piece of information for Hart by dowsing!"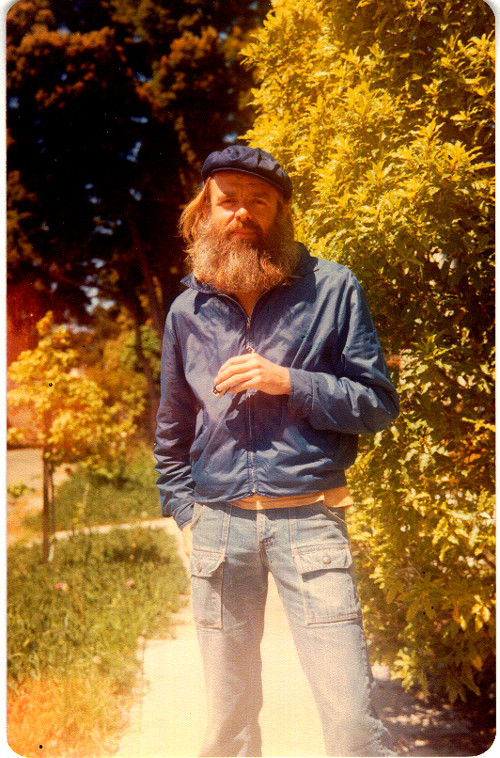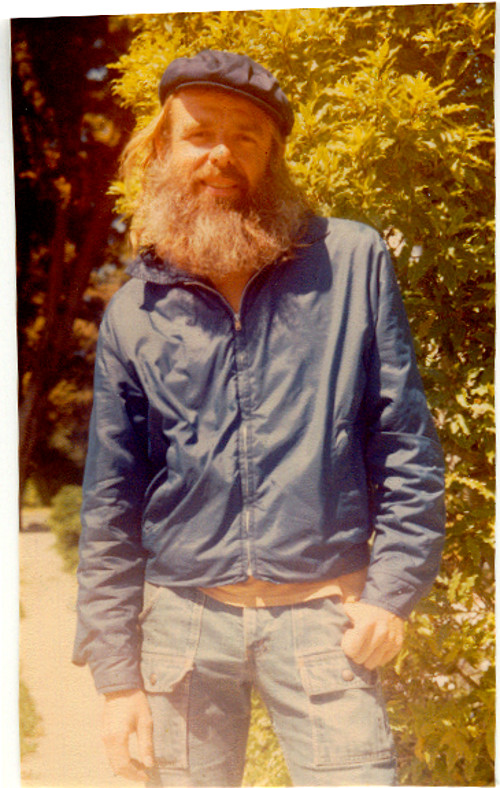 About 4 years ago I helped Louise move from her place in Berkeley to an assisted living facility. Her memory was starting to deteriorate at this point, but she still had enough on the ball to realize it was time to make this move, basically signing an agreement to hand over whatever savings and social security she had to lock in a deal at this senior facility that would provide a nice place to live and three square meals a day; somewhere she'd be able to live in comfort for the remainder of her days without constantly worrying about how she'd pay the bills from month to month.
As I was helping Louise make this life-changing move, many of the books she'd held dear for so many years were now slipping through her grasp; she didn't care about a lot of them at this point, because the memories of what they'd meant, or the emotions she'd previously attached to them, were quickly fading from view. I ended up with a few of those books she was no longer interested in, or had no room for at her new space. One of these was Historia Discordia, which Louise had delighted in when I first presented her with a copy several years ago, but by this point I don't think she remembered what it was about, or that I'd given her the copy; same thing with the Mickey Hart drumming book that she'd contributed to, which bore this inscription: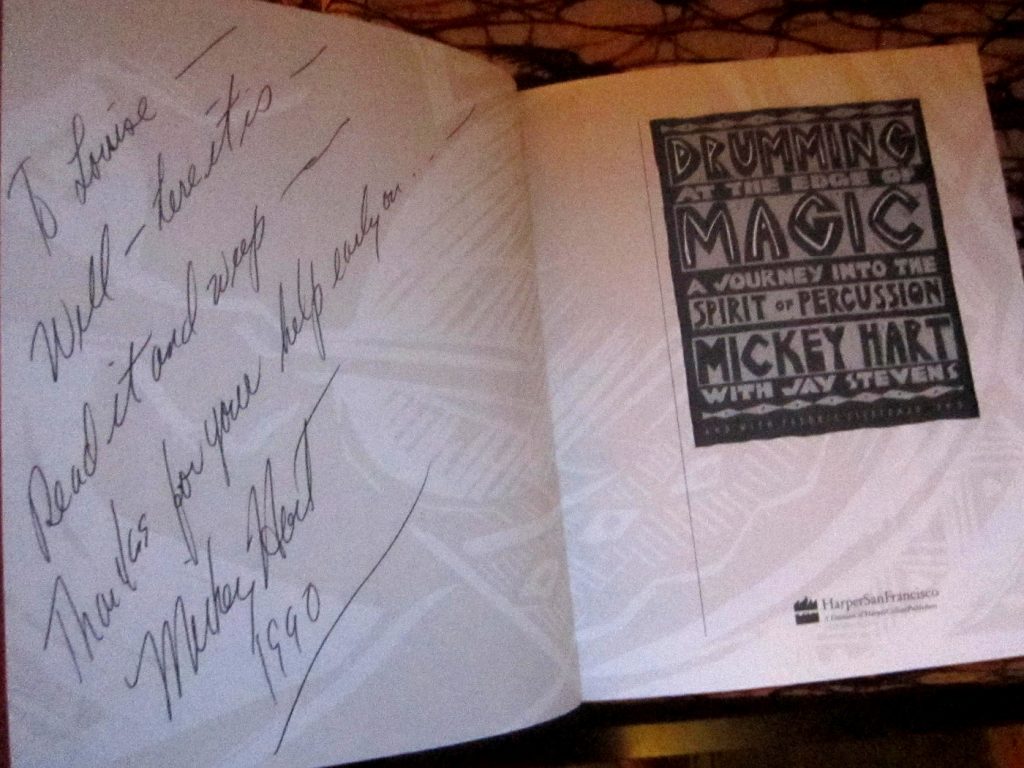 Louise's Chronicle obit obviously hit on some of the high notes of her life, but I'll add a few that weren't mentioned. In 1963, Louise moved to Chicago where she worked as editor/staff writer at Novel Books, which published celebrity scandal type books in addition to titles with an Ayn Randian-Objectivist spin. Objectivism, at least in part, eventually morphed into what we know as Libertarianism, and during this period Louise was an adherent of sorts of Objectivism, or one might say she was a budding Libertarian; but like Kerry Thornley, Louise's political identity soon after evolved into more that of an Anarchist, although any particular pigeonhole would never truly encompass such expansive characters as a Lacey or Thornley. Through her work with Novel Books, Louise first met Kerry in 1964 and ended up editing his first published work, Oswald.
After her stint in the windy city, Louise returned to California, working on the staff of Ramparts Magazine from 1966-1967. It was at Ramparts that Louise befriended Eldridge Cleaver, who worked as a freelancer there. As reported in Robert Anton Wilson's Cosmic Trigger I, Louise's Discordian moniker was "Lady L., F.A.B." The "Lady L." part was something Kerry had given Louise that was lifted from the title of a Romain Gary novel; however, the "F.A.B." appellation was something Eldridge Cleaver had come up with, short for "fucking anarchist bitch." As the story went, one day Cleaver was standing outside the Ramparts office with another unnamed staff writer who—when he saw Louise walking toward them out on the street—remarked, "Here comes that fucking anarchist bitch." Cleaver, who had a soft spot for Louise, begged to differ with the fucking anarchist bitch appellation, noting that he considered Louise good people, and that furthermore she had taught him how to eat and appreciate artichokes.
Another book I took home with me during Louise's move was Cleaver's Soul On Ice, and only later flipping through it did I notice this inscription: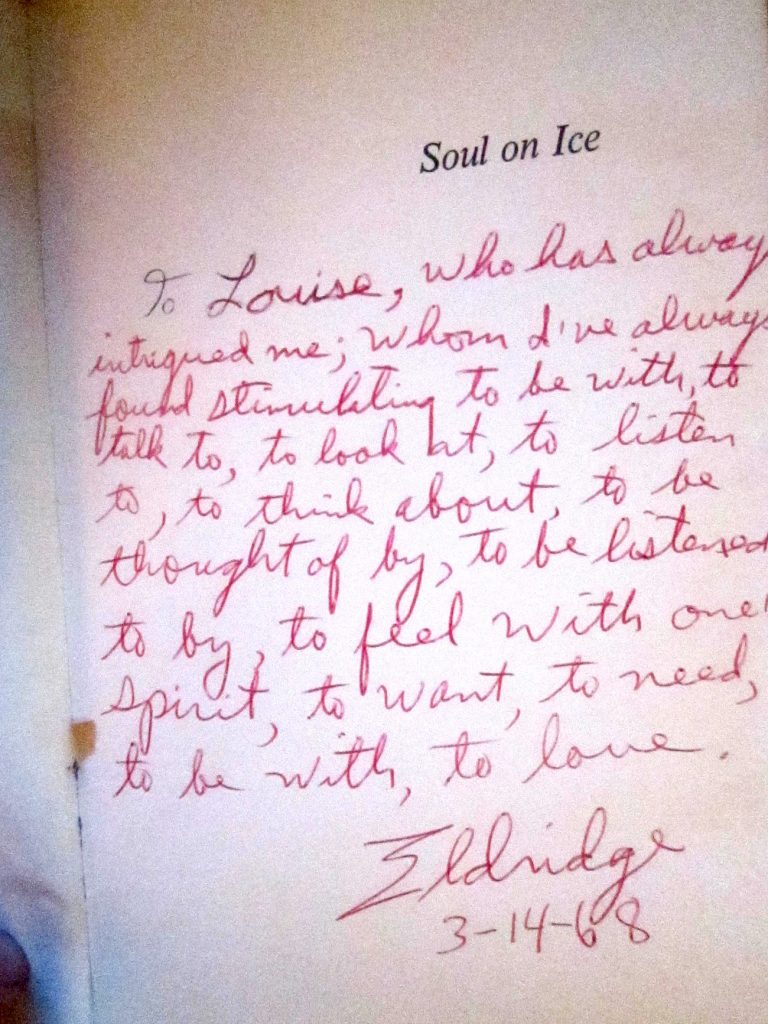 Like Thornley, Louise was an active observer/participant of the 60s counterculture as demonstrated in this previously posted article "Mellow Yellow and the Summer of Love".
Louise was a founding member of Earth People's Park, and during this late0-60s period she joined a commune called The Mendocino Way. I don't really know all of the details surrounding The Mendocino Way, but her involvement with the group was short-lived when she apparently called BS on the leader who she felt was going down the guru path through manipulation of fellow commune members, including herself. In other words, Louise was shown the door when she started asking too many challenging questions of the group's leadership. She was never one to fall in line.
Around this time, Louise began working on a book about the counterculture called With No Respect for Authority, which you must admit is a rather brilliant title. During our many conversations, Louise occasionally mentioned this project (that ultimately never came to fruition) and I don't know why it was never completed, but by the mid-70s she had moved in another direction, having her first book published, Lunaception (1975), her landmark work on a natural method of conception, using the phases of the moon as a guide.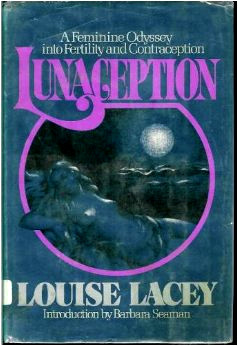 However, as I would later learn, Lunaception wasn't technically Louise's first published work, and that while with Novel Books she had ghost-written a tabloid style tell-all called The Beautiful Pervert, concerning Errol Flynn's under-aged lover. Although Louise pretty much always kept this book on the down-low and never listed it in any of her published biographies, she would nonetheless pull it out on occasion and show it to me punctuated by her famous and uproariously nose laugh.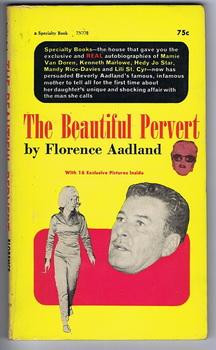 As the 1960s rolled into the 1970s, Louise published a newsletter called Woman's Choice. As she described the concept at the time:
"Woman's Choice is the ultimate realization of a twenty-plus year-old dream whereby people would pay me to write to them. My curiosities are so omnivorous that I could never write a book about each subject that fascinates me. Woman's Choice is an intimate monthly letter by subscription. Thus I have a vehicle with which to write about things as diverse as dependency, the rhythms of life, and traveling alone. My purpose is to give a mental, emotional, and spiritual goosing to the reader on a new subject each month. No dogmas, just intriguing ideas and a fresh perspective in a personal but non-sentimental style."
Here's a download of Issue #2 of Woman's Choice, which features a fascinating recounting of Louise's experience with past life regression, and her subsequent journey to Central America in an attempt to confirm what she experienced during her trance state.
To fund Woman's Choice, Louise decided to sell her house in the Berkeley Hills, which she'd later regret during the last decade or so of her life when the cost of Bay Area housing really put a crunch on her expenses, as over time she was forced to move from one place to another, with the condition or arrangement continually getting worse. Not that Louise ever lived in poverty, but times were certainly getting rough over the last decade and she had to pinch her pennies and get creative to make ends meet.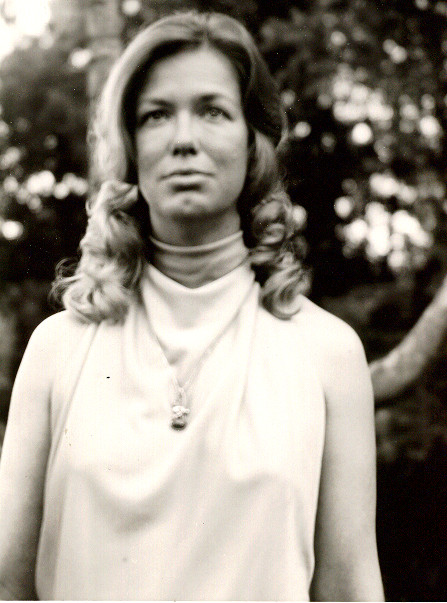 Among Louise's many accomplishments was a government study she was involved in that resulted in a report she authored called Drug Use in San Jose, Project DARE (1978.) She found a certain irony in this project, as her lover during this same period became addicted to methamphetamine, effectively ending their relationship.
As noted in her Chronicle obit, Louise sometime worked as a "tech writer," which wasn't quite accurate; Louise often freelanced as a technical writer for different outfits, but she was never really a "techie," so to speak, and like a lot of people her age Louise often struggled keeping up with computers and technology. Louise never engaged in social media, but she was tech savvy enough to be concerned about the potential threat that social media posed to our personal privacy and so she avoided it like the plague. However, with the help of a webmaster, at one point Louise launched a site where she sold information about a cure for hemorrhoids she'd discovered. And so she was always working one angle or another to keep a positive cash flow rolling in.
At some point, Louise transitioned from Woman's Choice to a newsletter she put out for several years called Growing Native, which promoted the benefits of growing native California plants. Here's a download for what I believe was the final issue of Growing Native, published in October of 2001.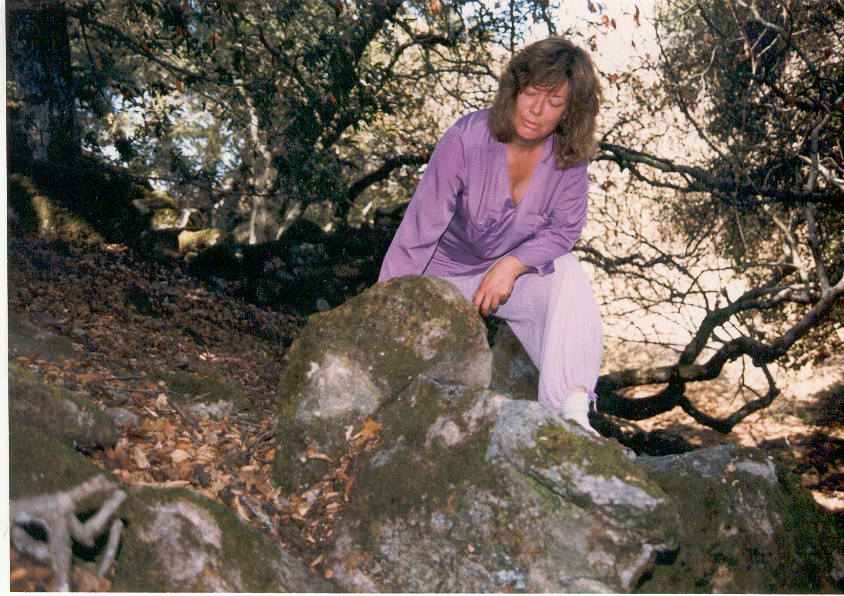 As the Chronicle obit noted, Louise was a "Power Place Dowser." Much like "water witches," there's a large community of folks who dowse for so-called "power places." I have a number of Louise's writings and recordings on this subject, materials I'll share at a future date.
To be continued…