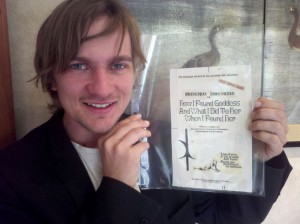 The following is another draft excerpt from my forthcoming book Chasing Eris.
The book documents my worldwide adventure to experience modern Discordian culture, meet its personalities, and discover elusive Erisian mysteries.
—Brenton Clutterbuck
---
Adam Gorightly gives me details for Tantra Bensko in the early part of my trip; a woman who had lived for a time with Kerry Thornley. I make contact, and we agree to meet at her house in California.
In our meeting we talk about what it was like to live with Kerry in Little Five Points, Atlanta. It seems important to mention that at the time they met, Kerry was, according to some, veering off into paranoia. I myself remain agnostic on some of his claims and skeptical of some others, especially his theory that his "real father" was a Nazi Admiral.
Tantra greets me at the entrance of her house, near a garden filled with gigantic cacti. She is smiley and excitable, and her passion for life is contagious.
She grew up in Indiana, in an area where very few people were around, few enough that one didn't need to put clothes on to collect the mail on a hot day. She would go to Alabama, now and then, to see relatives. It was the kind of town where you couldn't really admit to not being religious. She would attend Straight Creek Holiness Church, where people would yell and run around the congregation when the spirit seized them. When the spirit seized preachers, they would handle the snakes; a sign on the church quoted Mark 16:18, They shall take up serpents; and if they drink any deadly thing, it shall not hurt them. The spirit never seemed to seize them in her presence. When she was in Alabama, she missed the people she could engage with in California, and when she was away she missed the nature.
Tantra has a special relationship with nature. She spent years traveling the country in her van, sometimes driving out to a natural place, and finding a spot to sleep out in the open. It was during this period of travel that she began to develop her skills in Tantric yoga, healing, and her own construction of a form of effortless movement, called 'Lucid Play.'
Tantra was in Little Five Points when she met someone who connected her with Kerry Thornley, who was to take a significant place in her life.
"I had been in Atlanta in Little Five Points and I met this guy who was the figurehead of Little Five Points. He would stand there and he would ring his bell and he would burn his sage and he would figure out who should meet whom. So he was telling me about Kerry Thornley and showing these broadsheets that he had put up and they were great political activism mixed with absurd, wild craziness. And so I wanted to meet him, and I thought, I want to come back to Atlanta to spend time with Kerry Thornley. And he was, I guess, 60 or something like that.
"And so then later I was going to Atlanta. I thought it was going to be just for a weekend but then my van broke down so I had to find a place to live. I was reading The Illuminatus! Trilogy. It was dedicated to Kerry. I stayed with that guy that I mentioned. His friend Wilson Leary, Timothy Leary's cousin, came by, he and I started dating. So I've got all these things in the world of Kerry Thornley like…" she waves her arms and makes sounds to imitate the ineffable presence of Thornleyness that was entering her sphere.
"So I was trying to figure out where I was going to live and this guy just came up to me in Little Five Points and said, 'If you're looking for a place to live, you can live with me, I've got a porch.' I checked out this house and they've got a big porch and so I moved in. It was a really wild artistic kind of place. I found out that Kerry Thornley lived there in this little mother-in-law right out the back. So I went there looking for Kerry Thornley, and moved in next to him without even knowing it."
"Do you remember the first time you actually met him?" I ask.
"Uh-huh. Coming out of my room it was like, 'There's Kerry Thornley!' Or, Omar Khyaam Ravenhurst."
"What did you two talk about the first time you met?"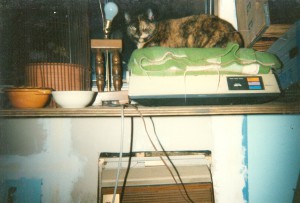 "Oh, I probably was just kind of squealing and telling him how glad I was, and him just doing this great laugh. I love his laugh. It was unlike anyone else's. I wouldn't even try to imitate it. He had thirteen cats or something like that, some huge number of cats so you'd always hear him calling them. He was just this really sweet little cat man, and son of a Nazi, such an odd combination, he claimed. In my life I always run into these MK-ULTRA kind of people, which was a little scary sometimes, that that happens, and that's what he was, he said.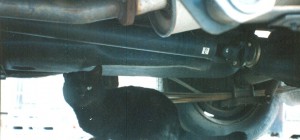 "I was also was a little bit uneasy about how much, living with him, was that going to involve me? How much was I being watched because of it? So it became like The Illuminatus! Trilogy. Black helicopters were going over all the time, and just becoming more and more like those books."
Kerry said there were flying helicopters over his house," I say. I was thinking of what a friend of Kerry, Louise Lacey, had told me of Kerry's time in Florida when I said this, though I'd forgotten the details of what I'd heard. She had told me that Jim Garrison had sent helicopters over his house.
"They were, they were," Bensko says. "They were doing it a lot. They would even follow me around. He seemed to know what he's talking about. People always think that he was making up these stories in his head about the mind controllers and stuff, but I don't know. He might have been."
It was once while they lived in this close proximity that Tantra decided to perform a Discordian ritual, after a comment Kerry made.
"He said that the beauty of Discordianism was that he didn't have to see any other Discordian-ists. And so there were no rituals. So to fly in the face of that then and give it a little chaotic shuffle, I told him, 'we've got to do a ritual then.' He thought that was a great idea.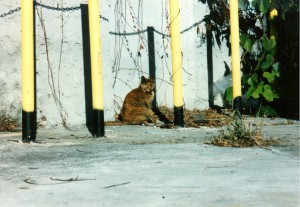 "So I got a stick of butter and I molded it into the shape of Eris the Goddess and I put it on the floor. We said something over it you know, and his thirteen cats came and positioned themselves around the butter so there was no space in between them. They were all just jammed into where their tongues were right in there in the butter and they all started spinning around in a circle all at the same time, so you had this circling cat-thing around Eris, licking it until it was gone while Kerry and I were just laughing."
"So that was the core moment that I remember about that ritual. His cats after that walked off but kind of continuing to circle and just 'woah hey' and wobble off to the edges."
"Did you spend much time with Kerry after that?" I ask.
"Oh yeah, I spent a lot of time with him when I lived in Atlanta because I was there a couple of years, and so we were really good friends. I think I spent as much time with him over those years as everyone else did altogether. He didn't really have a lot of people come by. And the other people in the house didn't go to see him that much. But we were buddies. We hung out. I just deeply love Kerry.
"I don't agree with some of his politics like, 'Kill Kennedy.' But yeah, I really liked Kerry a lot. I felt like his writing with Eris might have had something to do with his feeling like he did inadvertently kill Kennedy by suggesting someone like Oswald could be a patsy. But who knows; it's one layer after another it's so complex at the time."
When I first talked to Bensko over the Internet she pointed out that she wasn't a Discordian and wasn't any kind of expert, but when I spoke to her in person, she said she was identifying sometimes with the title. I asked her to tell me what about the ideology meant to her.
"It's postmodernist," she says. "There's many angles, and none of them are true." She likes that Discordia is essentially difficult to take too seriously, and finds the attitude of believing without believing useful to her work. "There's lots of Gods in Tantra Yoga too, and I see them as physics principles," she tells me.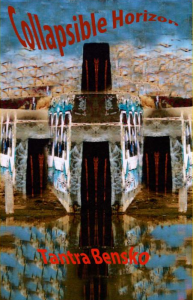 We chat for a long time; Tantra is someone who it is immensely easy to be around. She carries an effortless friendliness that invites you in and asks you to engage, without needing to say the words. She talks about many things, including her time in Little Five Points, her Yoga experience and her book, Collapsible Horizon.
I walk home. The air is warm and still. I arrive back to the marijuana-scented hostel doors, and make my way up the winding stairs to my room.