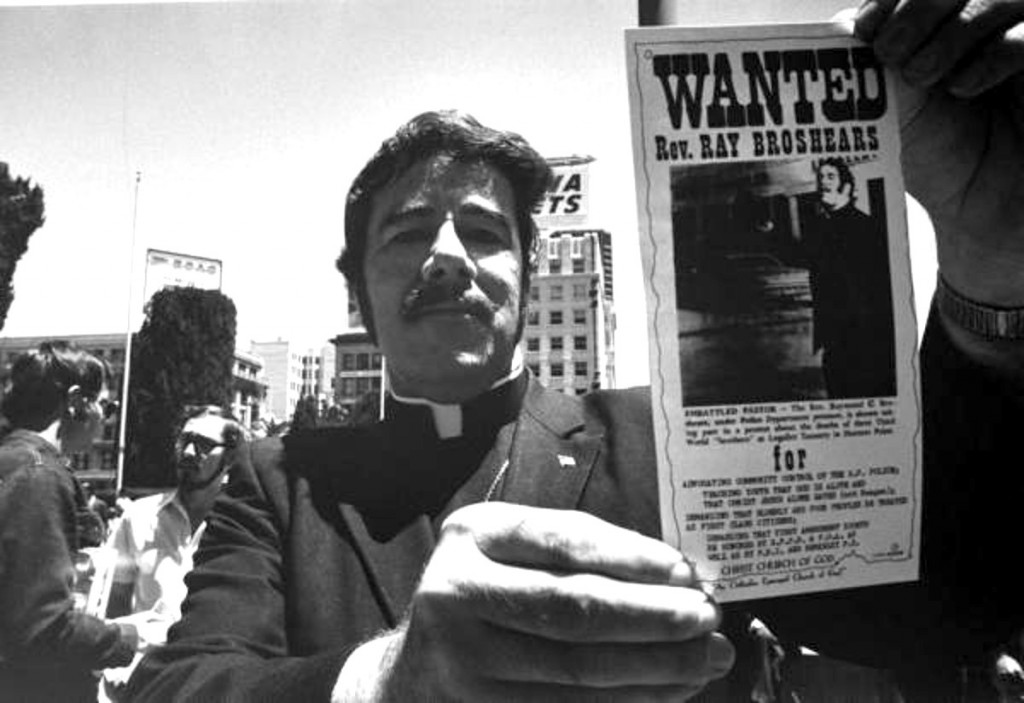 Welcome to the final installment of our Rev. Raymond Broshears extravaganza.
As noted in Part 00001 of this seemingly never-ending series, Broshears had been arrested (allegedly) in 1965 for threatening the life of President Lyndon Baines Johnson. According to Bernard Fensterwald's Assassination of JFK by Coincidence or Conspiracy?, Broshears "made the threat on Johnson's life in order to be placed under protective custody, where he would be safe from unspecified 'harassment.' He later escaped prosecution by basing his defense on mental illness…"
Recently, I discovered some notes by investigator Steve Jaffee regarding this supposed Broshears-LBJ death threat caper, which we'll get to in a bit. While Jaffee's not a name that immediately comes to mind in relation to the Jim Garrison investigation, he was nonetheless an active player on several fronts, particularly following up on West Coast leads. Jaffee falls into the category of a "Dealey Plaza Irregular," one of the many independent researchers Garrison welcomed with open arms, even providing his Irregulars with official identification cards—which meant of course that they were totally official.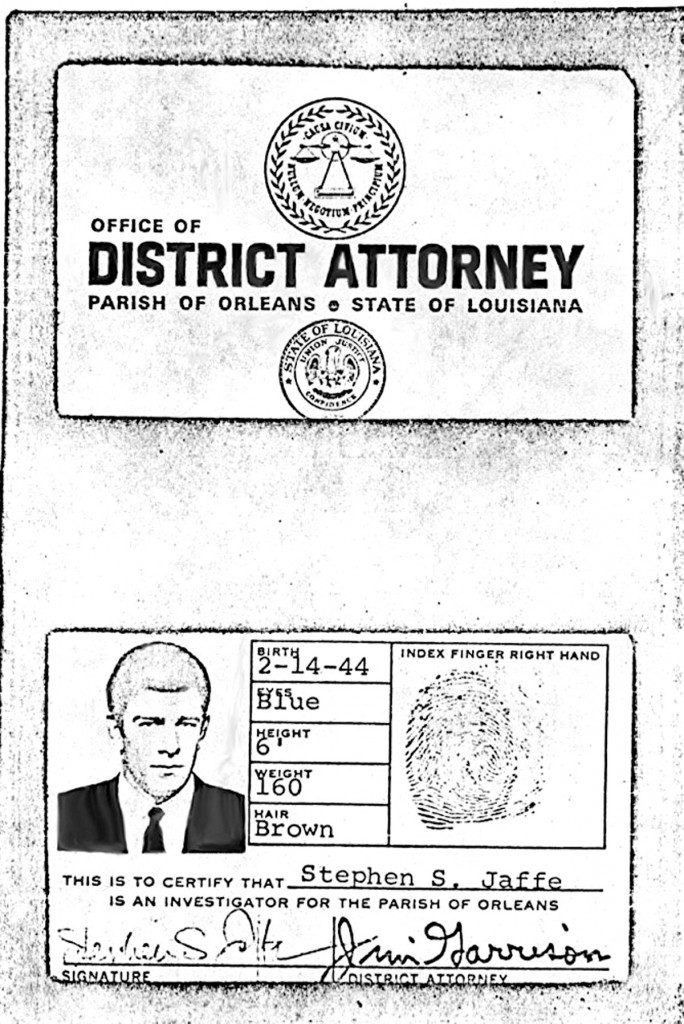 Jaffee has been involved in the production of a number of films, including documentaries on the JFK assassination, as well as serving as a technical consultant on Executive Action.
Here's Jaffee's IMDb bio. Jaffee is married to the beautiful Susan Blakely, star of Rich Man, Poor Man of 1970s television mini-series fame.
In regards to this supposed LBJ death threat, Jaffee interviewed Rev. Broshears on August 8, 1968, and according to his notes:
"While on a television program in Los Angeles, California, the Stan Bohrman Show, July 8, 1968, BROSHEARS stated that he had been arrested for threatening the life of President Johnson. He said that he had made the statement, 'President Johnson, who was responsible directly or indirectly for the assassination of our beloved President Kennedy, should be put to death.' BROSHEARS told us he had made these statements because of what DAVID FERRIE had told him… In approximately September 1965, BROSHEARS was arrested by Secret Service agents and Federal Marshals and taken to the Veterans Administration Hospital in New Orleans. There he was arraigned by Federal Judge Christenberry in the presence of other Secret Service agents for conspiring to assassinate President Johnson. Mark Lane asked BROSHEARS who the other co-conspirators were. BROSHEARS said that he had made statements and discussed President Johnson in a disparaging way with four others who were also arraigned…

"After being questioned at Gulfport Hospital by Secret Service agents, one of the agents returned from Washington, D.C., and told BROSHEARS, 'You'll get a compensation pension. You will have to report to us every time you move from one city to another. If you do not do these things, you will be put in a federal jail mental institution…'"
It occurred to me that—if indeed this alleged Broshears-LBJ death threat incident ever actually occurred—there might be some official records pertaining to the matter. That being the case, a light bulb went off in my head (as light bulbs have been occasionally known to do) that perhaps a Freedom of Information Act (FOIA) request was in order. But before going down that road, I decided to scour the web for any Broshears FOIA files that had shaken loose in recent times and, lo and behold, came across this goldmine of Rev. Ray curiosities courtesy of Russ Kick, a whopping 500 pages of FOIA material that is indeed quite revealing, however there was nothing in there about Broshears and the supposed LBJ death threat. To this end, I suspect Reverend Ray was under some sort of delusion regarding this incident because it occurred at the same time he was incarcerated for groping a male youth as chronicled in Part 00001 of this startling series.
Anyway, enough of this LBJ death threat tangent. Let's jump into the Broshears FOIA files and let them lead us where they may.
Our FOIA foray starts on February 5, 1969, with a letter Rev. Broshears sent to the "director of service" which found its way to J. Edgar Hoover. Apparently, Broshears had a beef with a group called the Economics Opportunities Commission who, according to the Rev., was supporting "activities that are most questionable in the eyes of many…"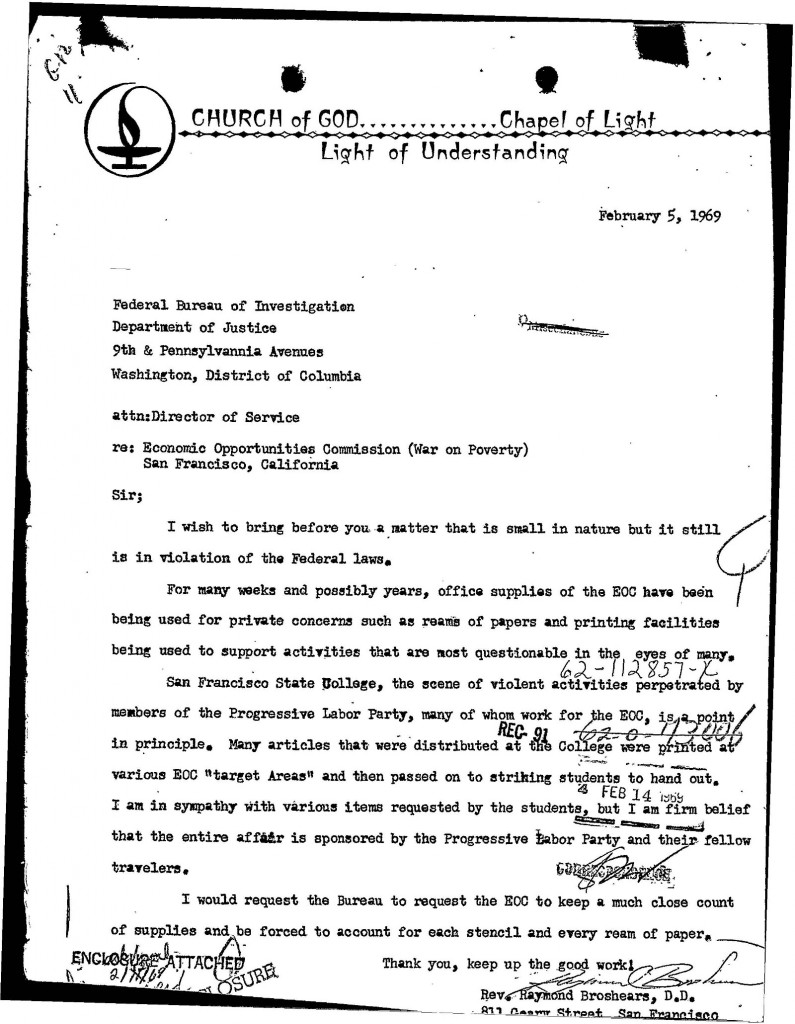 On Feb 12, 1969, Hoover responded to "Dr. Broshears" informing him that the matter was not within the Bureau's "investigative jurisdiction."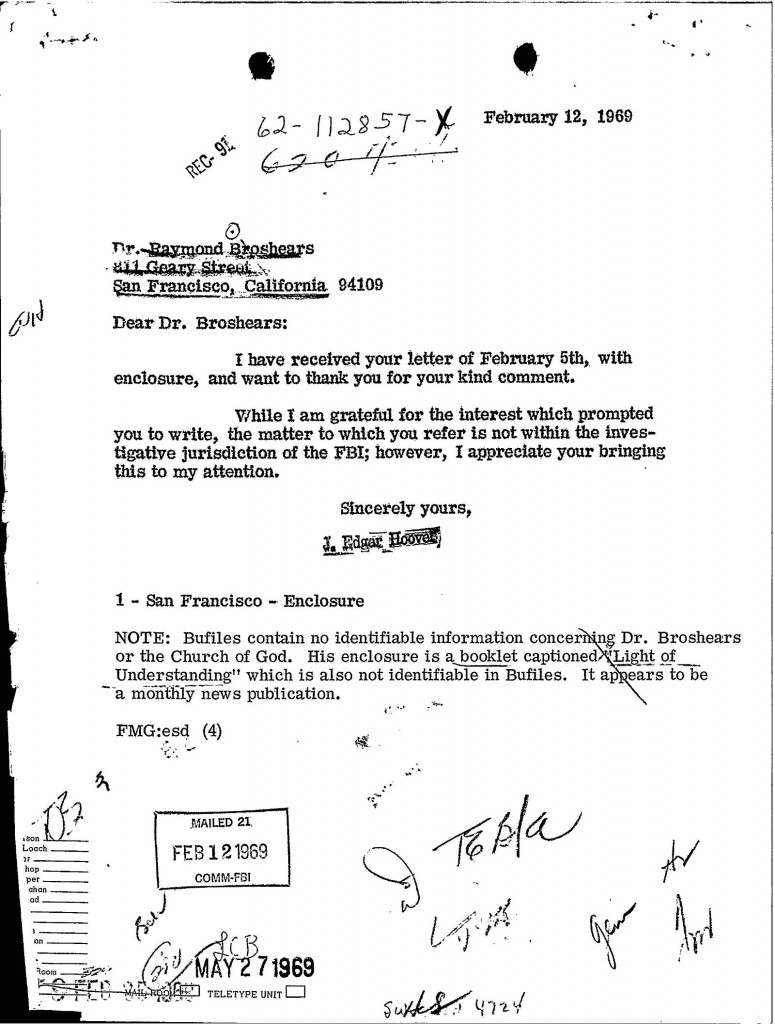 Evidently, Hoover didn't have a clue what Broshears was going on about, but nevertheless decided to be civil because there's never any benefit in riling up some crank with an alleged history of threatening a sitting President. As previously noted, Broshears had a long established pattern of complaining to public officials about one thing or another, and usually not liking the responses he received from these complaints, which led to even more complaints and a never ending cycle of Broshears getting miffed at any number of officials, who themselves were probably perpetually perplexed about what all the fuss was. In addition, Broshears filed a flurry of frivolous lawsuits over the years, including one to the IRS when they refused to recognize his ministry as a non-profit.
Broshears next run-in with the Feds occurred on March 3, 1969, when he popped into the San Francisco FBI field office:
"to discuss a [Vietnam war] deserter matter. SA [Special Agent] DEAN subsequently went on a road trip to the Monterey RA from the period 3/19-26-69 and when he returned received word that Rev. BROSHEARS desired that he, SA DEAN, call him. On the following morning, 3/27/69, SA DEAN attempted to contact Rev. BROSHEARS telephonically, however, received no answer. The same occurred on 3/28/69. SA DEAN advised that Broshears called him on 3/31/69, wanted to know why his call was not returned, and when SA DEAN explained that he had been out of town and attempted to return his call to no avail, BROSHEARS was unreasonable, refused to listen to any explanation and told SA DEAN to forget about it."
On April 4:
"The Reverend BROSHEARS contacted an Agent on complaint duty in the San Francisco Office…and inquired as to where he should address a communication to lodge a complaint against SA IRVING R. DEAN. Reverend BROSHEARS was invited to discuss this matter with the SAC, however, he stated that he did not feel this would solve anything, since Special Agents of the FBI were rude. He was furnished the address of FBI Headquarters in Washington, D.C., where he might address the complaint…"
Rev. Broshears again reached out to Director Hoover on April 9, 1969 about FBI Special Agent Irving Dean, who the good reverend accused of "lack of co-operation and rude speaking…"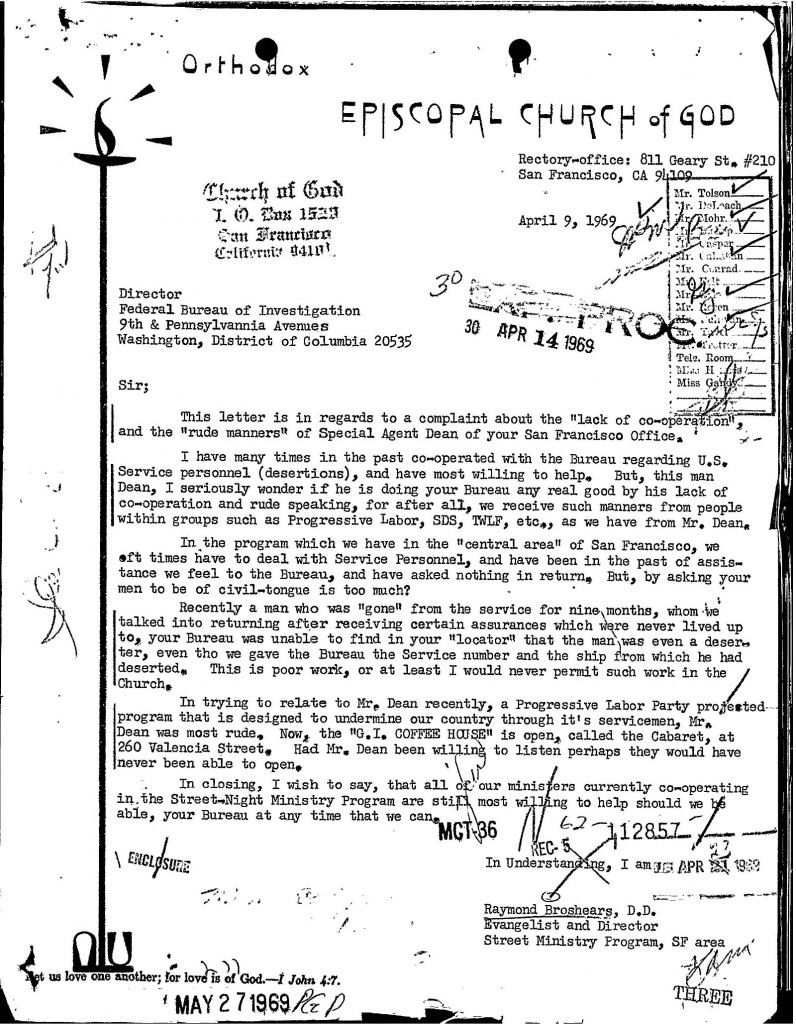 Following these interactions, the FBI compiled background info on Broshears in an April 15, 1969 memoranda describing him as:
"a homosexual, hippie minister, with a history of mental illness…during the course of another investigation, in August, 1968, it was determined that BROSHEARS has received treatment at the following Veteran Administration Hospitals: St. Louis and Jefferson Barracks, Missouri; Gulfport and Biloxi, Mississippi; Topeka, Kansas; New Orleans, Louisiana; Los Angeles, California; Palo Alto, California and Long Beach, California. Hospitals records at Palo Alto reflected that all hospital records treating BROSHEARS had diagnosed him as a schizophrenic reaction, paranoia, incompetent. He is described as having a history of fraudulent enlistments in the military—manipulative behavior—difficulty with authority, assaultiveness, suicidal attempts, strong and poorly controlled hostility, guilty [sic] and hostility, homosexuality, chronic brain syndrome associated with compulsive disorder, probably secondary brain trauma. Agents of this office have been instructed to be extremely circumspect in any future contacts with him…"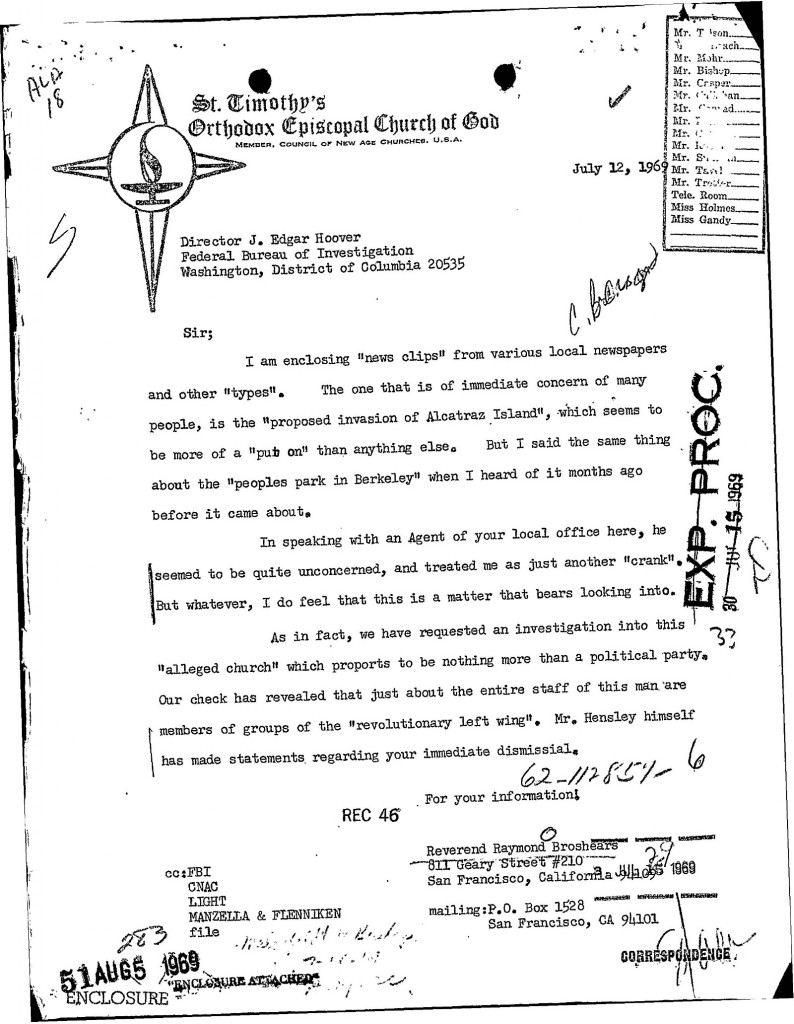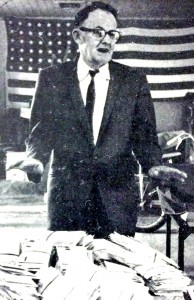 Rev. Broshears resumed communications with Director Hoover on July 12, 1969, warning about a "proposed invasion of Alcatraz Island" that he was apparently trying to pin on Dr. Kirby Hensley of The Universal Life Church (ULC), which of course was rather odd because Broshears had received his own mail order ordination courtesy of Dr. Hensley, but now for some reason had decided that Hensley was an enemy of the state. Broshears' beef with Hensley, I suspect, had to do with the ULC's policy of indiscriminately issuing ordinations to anyone who desired them—including a large number of Vietnam draft dodgers trying to start their own churches to avoid the draft—and the reason Broshears was ticked off was because he had started his own church using this same shtick, but got busted for it. According to researcher Larry Hancock, "Broshears ordered himself the same mail order religious credentials that [Thomas] Beckham and [Fred] Crisman did [from the Universal Life Church] and when he moved to the west coast he apparently began selling something similar to guys wanting to avoid the draft. When he got challenged over that he apparently decided simply to become an informant and finger his customers. I did have documents on all that but putting my hands on them now would be a real challenge…"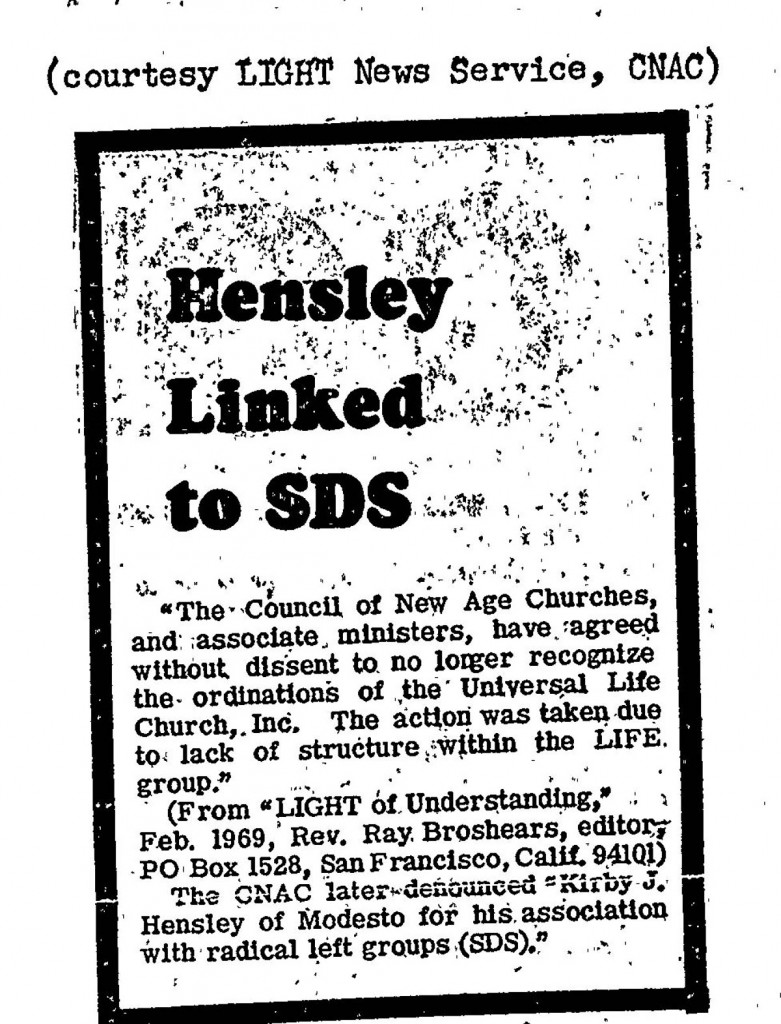 An FBI memorandum, dated July 18, 1969, stated that:
"[Broshears] letter indicated he was concerned about a proposed invasion of Alcatraz Island by Bishop Kirby J. Hensley, Universal Life Church, and others, He indicated he had brought his concern to the attention of our San Francisco Office, but that the Agent with whom he spoke appeared to be quite unconcerned and treated him just as another 'crank.' His enclosures were Xerox copies of newspaper articles, from various papers, and concerned the conviction of Hensley for issuing mail order Doctor of Divinity degrees. A handprinted article indicated that Hensley would lead a group of people on an invasion of Alcatraz Island. He also furnished a leaflet from the Council of New Age Churches which denounced 'mail order ministers' and sets forth some of the requirements for churches belonging to this organization. It urges support of the police…"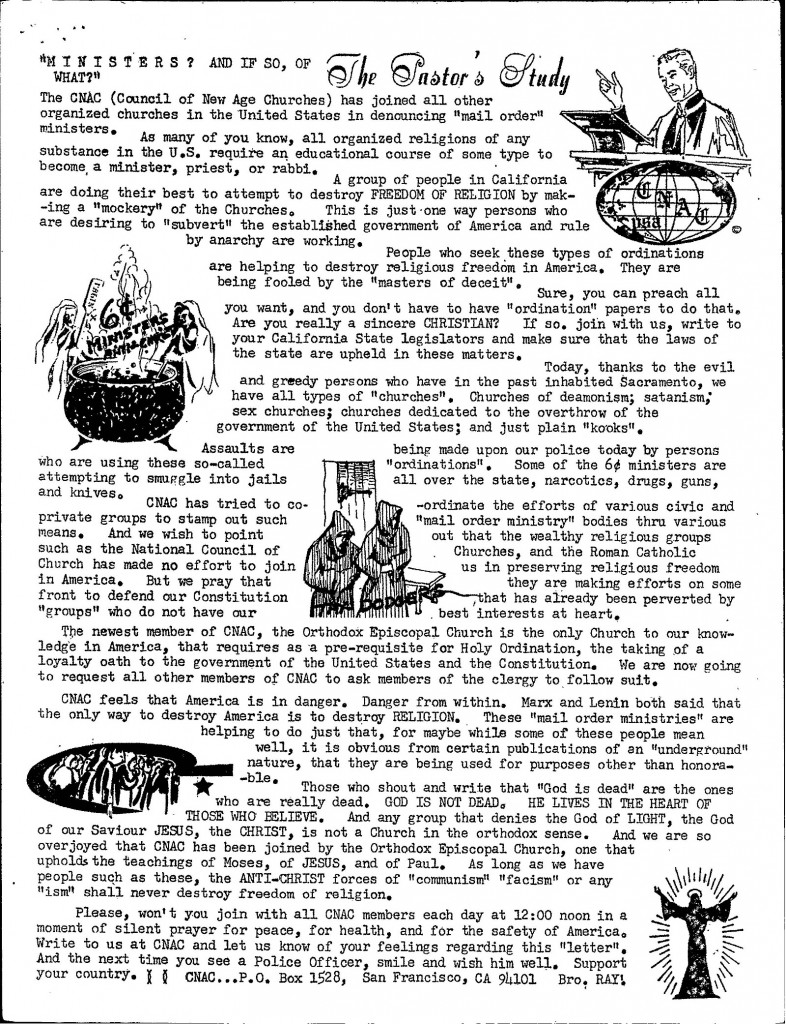 The Council of New Age Churches (CNAC) was an entity of Broshears own creation, started around 1969 or so, and it never really attracted much of a following, as far as I can tell. Broshears eventually passed the CNAC torch to Dr. Frank Stranges, who allegedly met with Venusian space captain named Valiant Thor, as chronicled in Part 00003 of this startling series.
Broshears again came up on the FBI's radar in August 1969 due to his involvement with an anti-war collective called the Bay Area Peace Action Council (BAPAC). This was during the COINTELPRO period when the FBI was monitoring anti-war activists and "subversives." Apparently, the Feds obtained a copy of the BAPAC meeting notes, which listed participants, including Rev. Broshears, who was identified as "Ray Allen." A related FBI memo dated May 4, 1970 stated:
"Captioned individual [Ray Allen aka Rev. Broshears]…as being an officer or leader in the organization with which he is affiliated. In accordance with current Bureau instructions a background investigation should be conducted on this person and a communication be directed to the Bureau with a recommendation as to whether or not subject warrants inclusion on the SI."
Having nary a clue what "SI" was, I canvassed FOIA experts in my Twitterverse about what exactly this acronym stood for, and received the following response from the Black Vault's John Greenwald: "I believe that is 'SECURITY INDEX' and is along the same lines as COINTELPRO. It is believed Hoover started it in 1939, and not many people were aware of it at the time. My guess is that is what your file is referring to."
Further internet sleuthing led to this Wikipedia entry that goes in depth on the history of the "Security Index" which was basically a listing of potentially subversive individuals the Bureau decided to keep a live file on.
Broshears, bless his crazy heart, continued pestering the FBI as documented in the memorandum below dated July 8, 1970.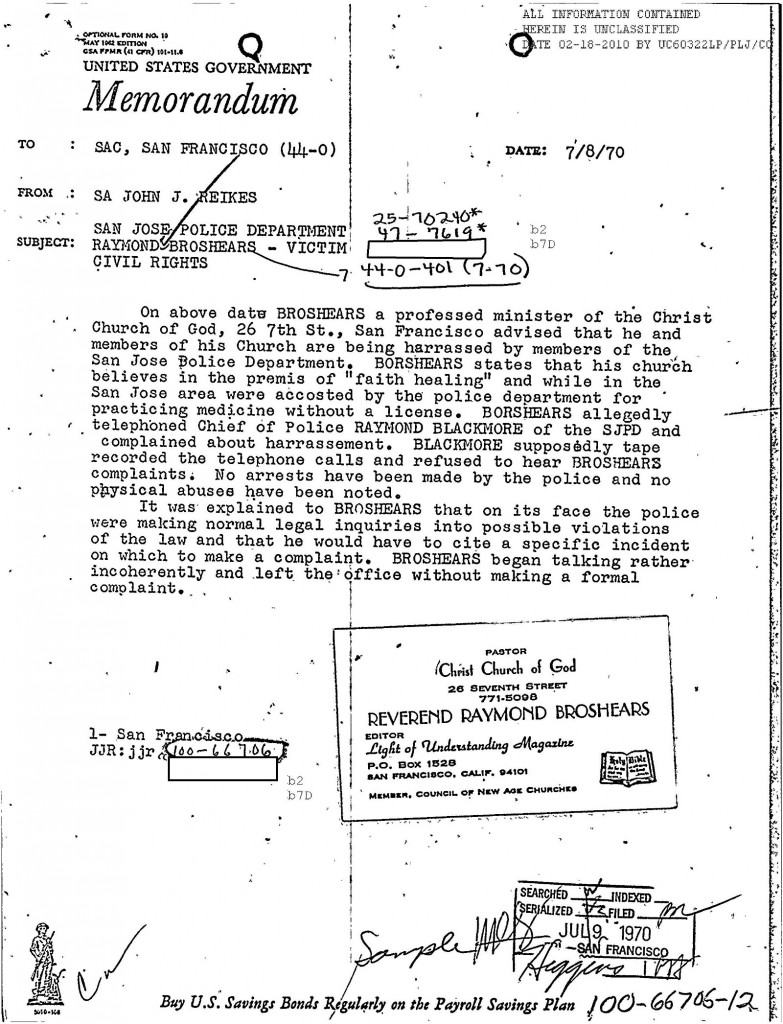 Later that year—according to a memo dated October 10, 1970—Broshears contacted the FBI complaining "that officers of the SFPD [San Francisco Police Department] invaded his church on 9/8/70. He requested the USA to look into the matter and asked that he be given justice, that it was one of the jobs of the USA to halt harassment by the SFPD…" The FBI memo goes on to state that Broshears "is also the subject of a close 100-file in the San Francisco Office. He appears to be the subject of BUFILE 62-112657." This reference to a 100-page file suggests that Broshears status rose at least to a "Security Index" level.
On March 8, 1973, Broshears treated the San Francisco FBI Field Office to yet another…
"telephonic complaint… His remarks were directed toward newspaper accounts on 3/7/73 of Acting Director GRAY'S testimony, specifically concerning support of Sheriff HONGISTO (San Francisco County) by gay activists. Broshears was most uncomplimentary and abusive in his comments. He demanded a copy of this report or an official release by this office as to whether we were investigating homosexuals. He became paranoiac by insinuating that the Federal Government intended to arrest and shoot all homosexuals. He rambled on about LEE HARVEY OSWALD, SIRHAN SIRHAN, and a host of others who had been described as homosexuals. When he was repeated advised that we would have no comment, he finally asked what would coerce a release by this office, a demonstration? He promised to organize a group demonstration Monday, 3/12/73, in front of the Federal Building, 450 Golden Gate Avenue, San Francisco. True to his past tendencies to seek publicity, he requested that we bring cameras and lots of film. No time was specified for the demonstration…."
Our story takes another turn for the weird with an FBI document from May 1, 1975, concerning death threats made against Rev. Broshears and a number of other San Franciscans involved in the civil rights and gay rights communities, including San Francisco Mayor Willie Brown. These threats came in the form of scrawling letters, one of which was sent to Benjamin Criswell, President of the NAACP. According to an FBI report:
"The letter, on page four, set out a threat, 'I will shoot you in black – head and kill – kill – you – 10 – times shoot you in head and cut your head and burn your nigger body up and put in city dump.' On page six of the letter concluded with, 'Your old pal, Mr. SIDNEY FRIEDMAN, Jewish Executive Director, Golden Lodge Number 2464, 302 Silver Avenue, San Francisco, California' Criswell said he was certain there was no truth to the name being on this for he felt he had a good rapport with the Jewish community in San Francisco.

"CRISWELL received a second letter, this one post-marked San Francisco, April 28, 1975, and showing its author to be HECTOR NAVARRO, 83 Sixth Street, San Francisco. It was determined NAVARRO had been head of a publications assembling office at this address, and it was found the office specialized in mailing homosexual literature. It was learned at 83 Sixth Street that NAVARRO is no longer in the area, and had formerly been publicly referred to as President of this publications assembling office. It also is known as the "Society for Individual Rights (SIR)".
Rev. Broshears received a similar death threat from the same apparent psycho who threatened Benjamin Criswell, as documented in the FBI report below.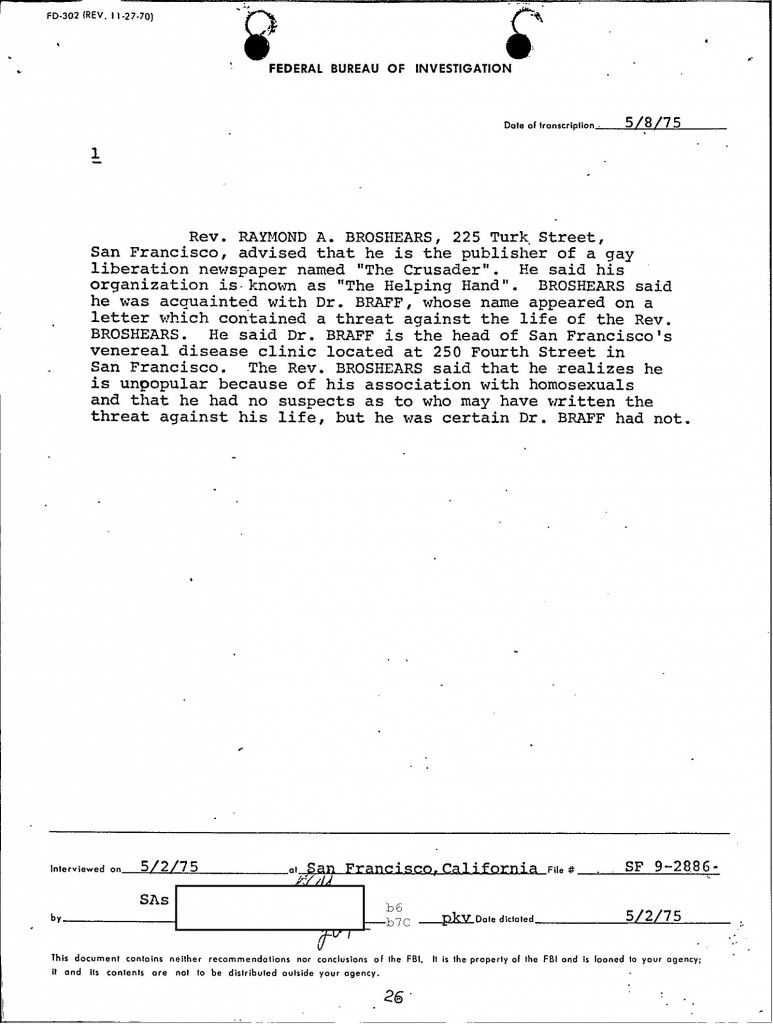 This twisted scenario played itself out again a few days letter, when Broshears received yet another letter, this time claiming to be from Benjamin Criswell himself.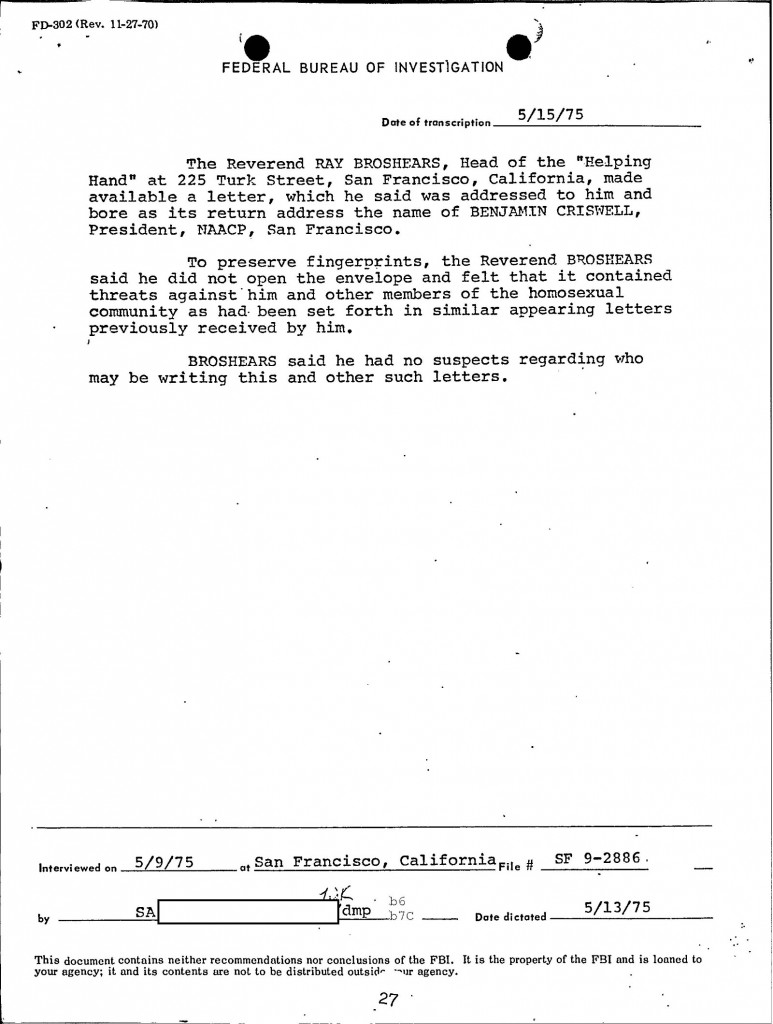 The FBI spent considerable time investigating these lurid letters, including analyzing them at the Quantico lab, but could never develop any substantial leads in the case. Ultimately, the FBI decided it was probably just some harmless nut behind the prank.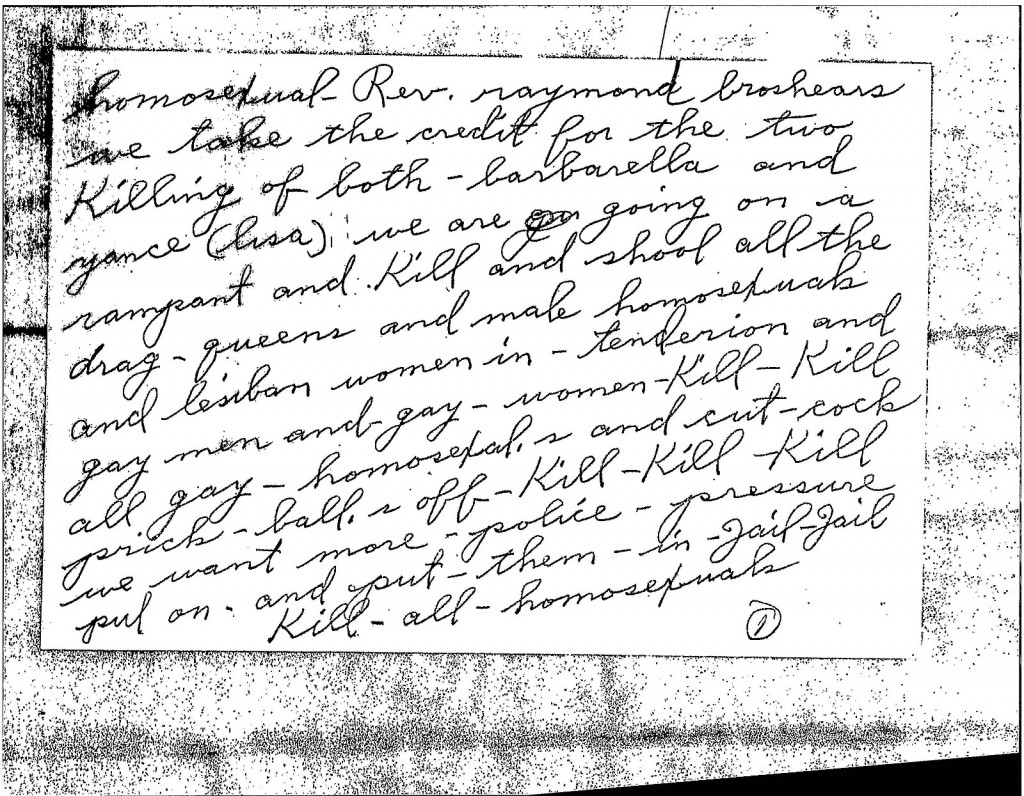 A few months after all of this death threat craziness, Sara Jane Moore took her infamous pot shot at President Gerald Ford, which we touched on in the previous installment of this series.
To understand Sara Jane Moore's assassination attempt on Gerald Ford, one must reference the February 4, 1974, kidnapping of Patricia Hearst by the Symbionese Liberation Army (SLA).
The hostage negotiations between the SLA and newspaper mogul William Randolph Hearst (for the release of his daughter Patty) resulted in Hearst providing funding for an activist collective called People In Need (PIN) to set up a food giveaway program. For a period of time, Moore was PIN's main bookkeeper, and often the key person involved in processing food deliveries.
Due to her PIN involvement, Moore came up on the radar of the FBI, and was enlisted by the Feds to infiltrate different Bay Area activist cells, a story examined in Geri Spieler's Taking Aim at the President: The Remarkable Story of the Woman Who Shot at Gerald Ford.
An armchair psychologist might suspect that Sara Jane was radicalized through her involvement with these activist groups. Others of a more conspiratorial bent would suggest that the FBI directed Sara Jane to stage an assassination attempt of the President as a way promote what conspiracy matriarch Mae Brussel referred to as a "strategy of tension," or what is nowadays referred by conspiracy enthusiasts as a false flag operation. This type of conspiratorial fodder was right in Rev. Broshears' wheelhouse, as evidenced in a flyer he circulated at the time.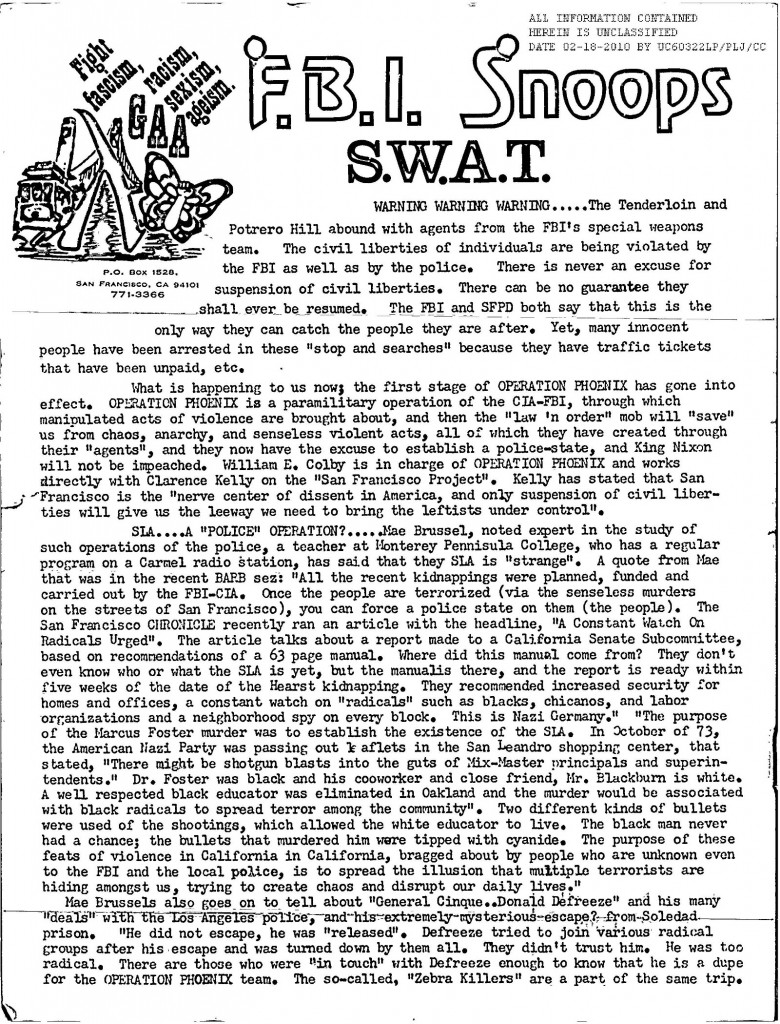 Broshears, as it so happens, was knee deep in the Sara Jane Moore saga. First with his role in outing of Oliver Sipple, which we talked about in our previous installment.
If that wasn't enough, Rev. Broshears (as revealed in these FOIA files) was loosely associated with Moore.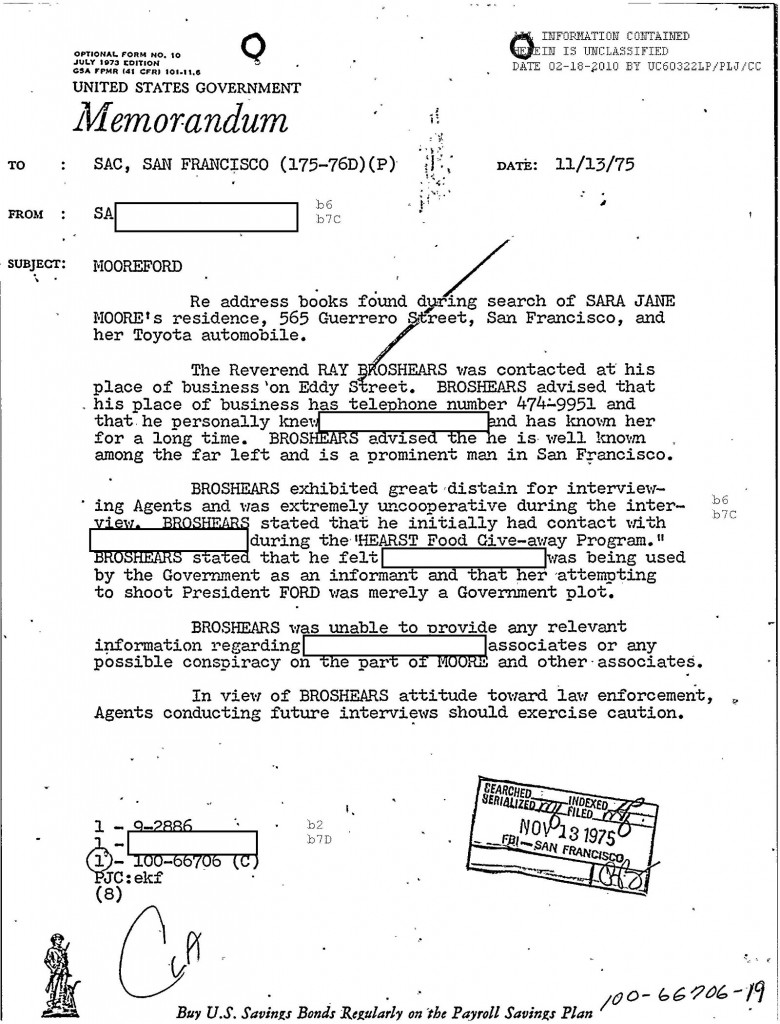 As noted in the memo, Broshears name was discovered in Moore's address book, which really wasn't surprising given the circles the two ran in. (Moore's name is whited-out in the memo.) Moore's association with Broshears most likely was a result of interactions the two may have had related to PIN. Broshears—as previously noted—ran a free lunch program for senior citizens in the Tenderloin. According Taking Aim at the President, Moore had compiled a list for the FBI of the major players in the San Fran activist scene, and chances are that Rev. Broshears would be on just such a list.
Broshears appears to have behaved himself for awhile—at least until January 1979—when he contacted the San Fran FBI office claiming to have received a bomb threat that he, in turn, reported to the SFPD, who—according to the Rev.— refused to act on his complaint, which of course got Broshears panties in a knot and is probably as good a place as any to end our story of the one and only Reverend Raymond Broshears!