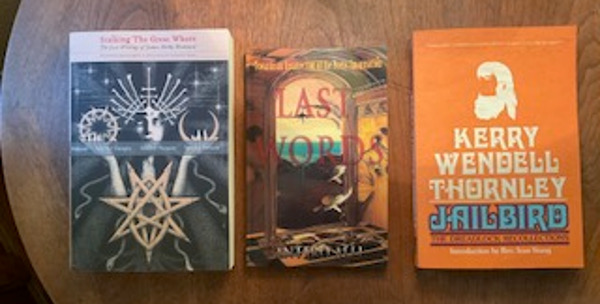 I'm happy, and also somewhat saddened, to announce the release of 3 new books for which I played a role, either large or small, in the same manner that the authors of these three titles—Kerry Thornley, James Shelby Downard and Antero Alli—themselves had their own roles, both large or small, in the annals of Discordia.
Of course, you all should know well the name Kerry Thornley, without whom this site would have never been imagined. Thornley, as well, was an influence, either large or small—depending on who you talk to—on another religion (or irreligion or spoof religion, as the case may), that being the Church of SubGenius, and it's the church's publishing arm—namely The SubGenius Foundation—which brings us the latest installment in the Thornley literary canon in a book called Jailbird: The Dreadlock Recollections that has been compiled by Trevor Blake aka Rev. Onan Canobite and contains what Trevor/Onan describes as "the first publication of the complete text, under the author's preferred title, with related unpublished essays, annotations and index…" The book also includes an intro by Rev. Ivan Stang, who recounts—among other things—how Kerry photographed himself fucking a chair. 5 (Discordian) stars.
Secondly, we here at Gorightly Publications are pleased to announce the release of the long lost James Shelby Downard magnum opus, Stalking the Great Whore, which I first gave a heads-up about here at Historia Discordia a few years back in a post called When Downard Went Discordia.
And lastly, the sadness I spoke to earlier concerns Antero Alli's latest, and what he advises us, is his last book: Last Words: Towards an Insurrection of the Poetic Imagination, which as the title states will provide a bookend to the many, many great works of film and literature Antero has produced over the last several decades.
Sad, yes, and at the same time this book is an inspiring, no-nonsense look at how we can make magic in our own individual lives, with the realization that we are all finite beings in an infinite universe of possibilities.
Here is the back cover blurb I provided for Last Words:
"There's no escaping it; each of us in our time will confront loss in its many forms: loss of love, health, innocence, loss of life; such losses form a tapestry, each thread woven from the next 'high' or 'low' or 'in between,' all part of this mystery we're passing through. And among the many losses we suffer, life can also be a joyous dance, a game we play, a palette from which to paint—if we choose to frame it that way. Antero Alli's Last Words represent another loss, one where wisdom can be gained: that by acknowledging our losses head on, in some way we can become larger, deeper, fuller; there's a silent grace that comes with such knowledge. And as we walk through the next door to whatever may await, with it comes the understanding that there's little time left to look back at what is or was or what might have been It was all part of the journey that got us here, and what's immediately in front of us is where we should be right now." – Adam Gorightly