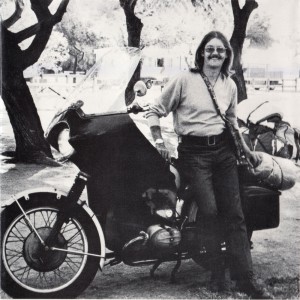 During Saul Goodman's visit to the Playboy Club in
Illuminatus!
(Page 173, Week 18)—where he was apparently drugged, abducted and subjected to all sorts of MK-ULTRA-style perversions straight out of
A Clockwork Orange
—Saul (or Barney Muldoon, or whoever he actually is now) finds himself in a hospital room (Page 189, Week 19) attended to by a doctor who informs him that he's really Barney and that 'Saul Goodman' was actually a dual identity that Barney created to compensate for never being promoted to detective.
The doctor further informs Saul/Barney about certain details of his life, one of which is that his children are named Roger, Kerry and Greg, which is a certain nod to not only the founders of Discordianism—Greg Hill and Kerry Thornley—but also to Roger Lovin, who could be considered the third member of the Holy Trinity of Discordianism that haunted the New Orleans French Quarter during the early 1960s. The Discordian business card below illustrates that Lovin (aka Fang the Unwashed) had a major role in spreading the Discordian Gospel during this period and oversaw the French Quarter Cabal after Thornley and Hill returned to Cali in late 1965.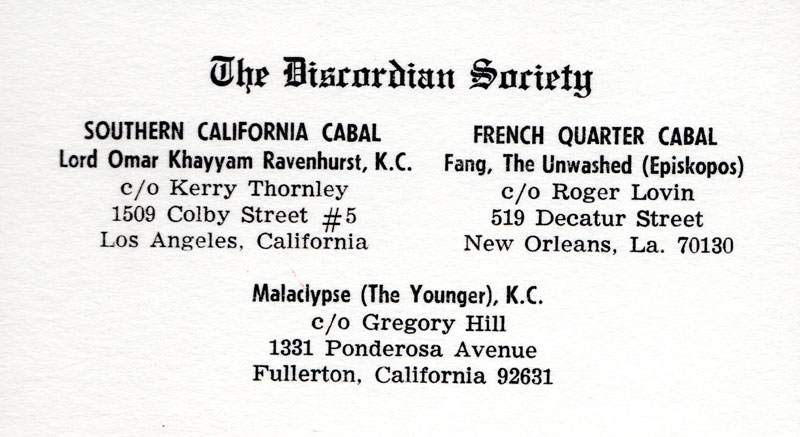 In many ways, Illuminatus! authors Robert Anton Wilson and Robert Shea seemed to be describing what happened to Kerry Thornley in the following passage:
…A few years ago, you started a game with your wife; she thought it was harmless at first and learned to her sorrow that it wasn't. The game was, that you pretended to be a detective and, late at night, you would tell her about the important cases you were working on. Gradually, you built up to the most important case of all—the solution to all the assassinations in America during the past decade. They were all the work of a group called the Illuminati, who were surviving top level Nazis that had never been captured…
—Illuminatus!, Page 189

This description of Saul/Barney's apparent mental deterioration certainly relates to Kerry Thornley. During the late-60s, Kerry—in his writings—often parodied what he considered "paranoid" conspiracy theories, including the various Illuminati conspiracies at which he and RAW had such a high time poking fun. But after going through the Garrison meat grinder, Kerry came out on the other end with his head spun, at first thinking Garrison was totally off his rocker for believing that he (Kerry) was part of an insidious CIA funded homosexual thrill-kill plot (or something of that sort.)
However—as time passed—and Kerry began to reflect on his past (while enhancing those reflections with an occasional dose of LSD!), he started toying around with different theories to explain what had gone down with the JFK assassination, and how this related to his association with Oswald and the other disturbing string of synchronicities that occurred during his time in New Orleans—until eventually certain far-flung theories about Nazis and the Illuminati began to make more and more sense to him. And while he didn't turn into Barney Muldoon per se, Kerry did develop a more paranoically inclined personality, as opposed to younger years when he was prone to be dismissive of "paranoids."
Kerry's growing paranoia (starting in the early-70s) was an outgrowth of his belief that he'd discovered the true assassins of JFK—or at least certain individuals that were involved in a plot to kill JFK, namely Gary Kirstein (aka Brother-in-Law) and Roderick "Slim" Brooks, a couple of shadowy characters Kerry met during the New Orleans period. According to a letter from Greg Hill to RAW dated September 1975, Slim Brooks was also an early member of the Discordian Society and was one of The Chosen Five who received the rare 1st edition of The Principia Discordia of which only five copies were produced (in accordance to the Law of Fives!).
It was long-held and universally believed that most—if not all—of those original sacred Five Copies were lost with the passage of time to mankind; that is until your humble author discovered the only surviving copy—Greg Hill's personal copy—tucked away in the Discordian Archives for all these years and which now has been re-published, at long last, in the companion volume to this website, Historia Discordia: The Origins of the Discordian Society (Amazon). So get your copy now before it disappears again!
Hill and Thornley—as Discordian history instructs—moved to New Orleans in 1961, and at some point became friends with Roger Lovin, who Kerry later remembered as "…a dashing, talented and handsome con artist who was too shallow to settle into any one thing. But for years and years after he read the Principia, under his Discordian name of Fang the Unwashed, he consistently and with unswerving devotion to the task excommunicated every new person any of the rest of us initiated into the Discordian Society."
On his first sojourn in New Orleans, Greg Hill only lived there a few months before moving back to Southern California, but Kerry lived in NOLA (for the most part) over the next three-and-a-half years before relocating to Arlington, Virginia in late 1964.
Sometime in '64, Hill moved back to The French Quarter, which led to one of the most intense and productive periods in the early evolution of the Discordian Society—1964 and 1965—as documented in several dozens of letters in the Discordian Archives exchanged between Hill and Thornley.
The Early Discordians become famous for their humorous letters, and one of the funniest I've come across is this missive dictated by Roger Lovin (aka Fang The Unwashed) dated December 17, 1964, addressed to Greg Hill (aka Malaclypse The Younger), who appears to have been staying with Bob Newport in Chicago at the time.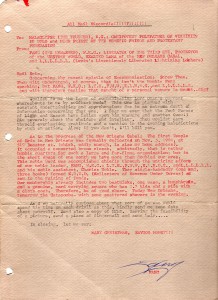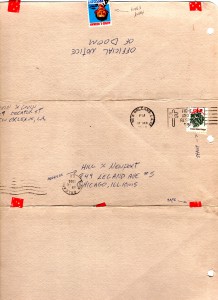 While I've shared quite a bit in my books—and on this website—about Hill and Thornley, I've been reluctant to tackle Roger Lovin's Discordian legacy just because it's a pretty tangled web to attempt to unravel some of the more sordid aspects of his life.
Like Thornley, Lovin became ensnared by the Garrison investigation—although briefly and to a much lesser degree than Thornley. Garrison's interest in Lovin was partly due to his association with the Discordian Society, which the New Orleans D.A. came to suspect was some sort of CIA front organization that had a hand in orchestrating Kennedy's assassination. Hail Eris!
Lovin—from the stories I've heard—was a man of many talents: a writer, poet, musician—a silver-tongued devil and con man—who operated a French Quarter art gallery during the early-60s. From 1968/69, Lovin published a weekly New Orleans newspaper, The Ungarbled Word, that from time to time ran Discordian recruitment advertisements, in addition to articles by Hill and Thornley, and in particular, an ongoing series by Greg Hill entitled Etcetera Pacifica that gave a monthly run-down of what was happening with the West Coast counterculture scene.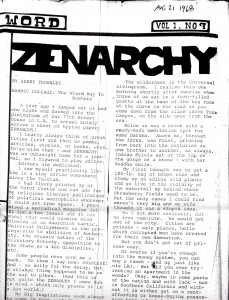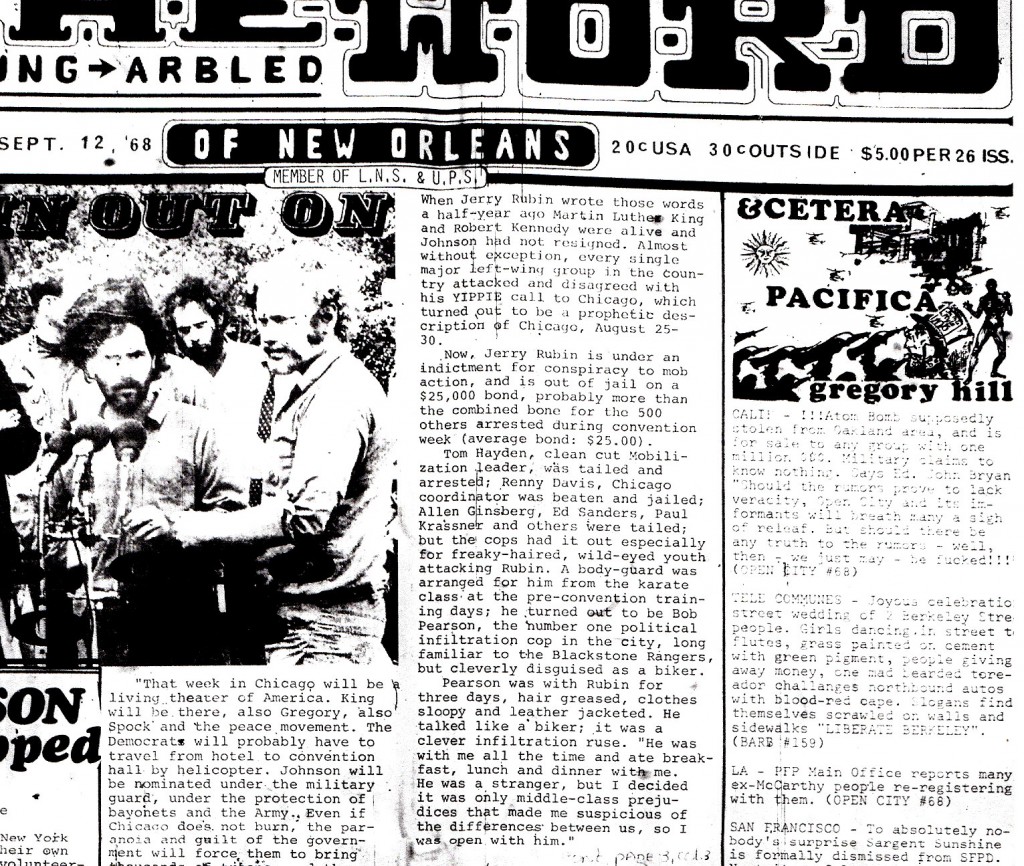 Lovin later moved out West and worked as the environmental editor for the Los Angeles Free Press from 1969-73, as documented in this article from 1971.
During that same period, Lovin wrote and published pornography, maintaining contact with Greg Hill throughout. I found one letter in the Archives where Lovin offered his services to help Greg publish a mass market edition of Principia Discordia, although nothing ever came of this.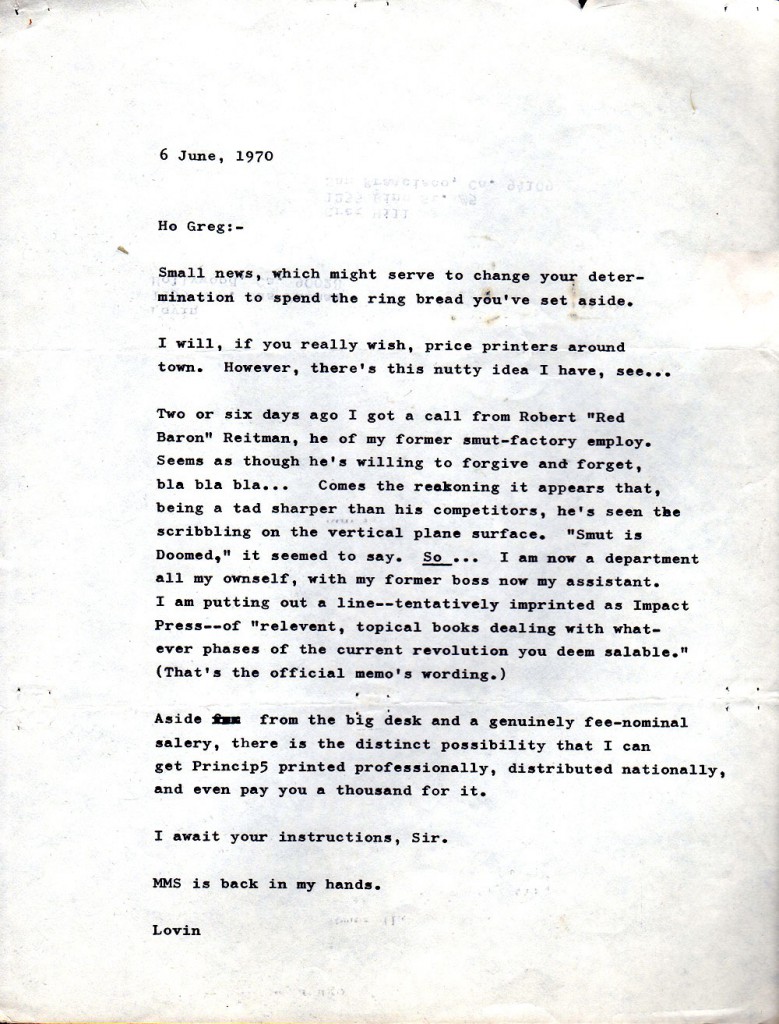 For the most part, though, Lovin was pretty much a Mystery Man to me, and the correspondences between he and Hill over the years—while colorful—were few and far between. When I asked some of the Early Discordians about him, they only vaguely remembered the name. At some point, I came across the following clipping which appeared in a 1979 edition of the Science Fiction fanzine Locus and hinted at certain darker aspects associated with Lovin.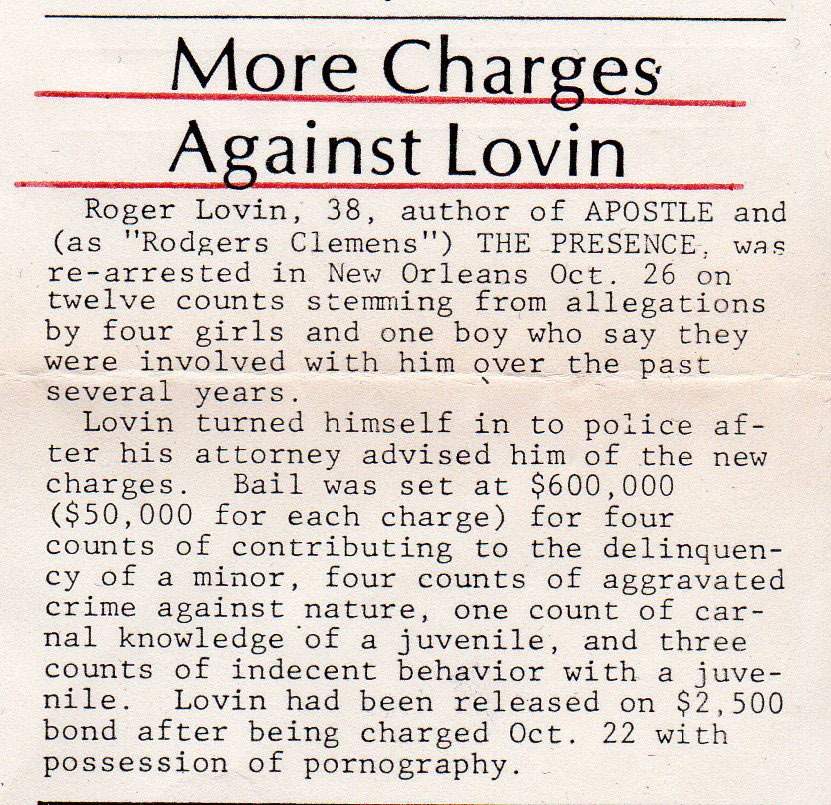 While scouring the web, I came across other information which suggested that Lovin had gone to prison for these activities, although there was conflicting information, which of course can always be expected when the sources are various people posting different accounts to web forums.
Such as in the following link from Ancestry.com.
At one point in the thread someone claiming to be Lovin's sister said that the charges against her brother were true, and then posted a photo of herself with Lovin in his later years—after he had been released from prison—and stated that he had died of a heart attack in 1991. The photo indeed looked to be Roger Lovin, however these posts from his alleged sister (which I think legit) were later removed from the thread.
It should be noted that I haven't seen any of Lovin's criminal records, and so I can't definitively confirm any of the charges.
Thanks to Tim Cridland for the scans from The Ungarbled Word.