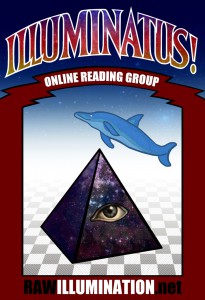 Here's my thoughts on
Week 5
of the
Illuminatus!
group reading…
On Page 45, a haunting specter from Kerry Thornley's past is summoned in this passage:
(Back at the Grassy Knoll, Howard Hunt's picture is being snapped and will later turn up in the files of New Orleans D.A. Jim "The Jolly Green Giant" Garrison: not that Garrison ever came within light years of the real truth…)
For those unfamiliar with Thornley's strange journey down the JFK assassination rabbit hole, I'll refer them to a previous Historia Discordia post:
JFK Assassination Day and Discordianism by Adam Gorightly.
How E. Howard Hunt fits into Thornley's JFK assassination odyssey dates back to the period in the early-60s when he was living in New Orleans and met a shadowy character referred to as "Brother-In-Law." Kerry later grew to suspect that "Brother-in-Law" was actually the legendary aforementioned CIA spook, E. Howard Hunt, and that Hunt had manipulated Kerry into the role of a potential JFK assassination patsy had the Lee Harvey Oswald setup gone awry.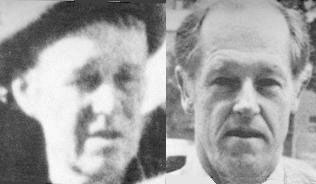 As for photos of Hunt in Dealey Plaza that later turned up in Jim Garrison's files, Robert Shea and Robert Anton Wilson were no doubt referring to the photos of the infamous Three Tramps that were picked up by the Dallas Police right after the assassination and then subsequently released, one of whom was dubbed the Old Man Tramp that many suspect was actually Hunt in disguise. Garrison contended that the Three Tramps were trigger men in the assassination, and Garrison actually showed the Tramp photos for the first time to a national TV audience on Johnny Carson's Tonight Show on January 31, 1968. During this period, Kerry Thornley became one of Garrison's suspects in the case. In this regard, Kerry found himself in a somewhat awkward position, that of being a target of the underground press, as over the years he had written for such publications as the L.A. Free Press who now embraced Garrison as a counterculture hero, and so accepted the Garrison party line that Kerry was somehow involved in a JFK assassination conspiracy. This irony did not go unnoticed by RAW, who encountered a media blackout when trying to address Kerry's case. As RAW later explained:
Newspaper photo of
Kerry Thornley, 1968.

In '67 or '68, most of the underground press was publishing a lot of stuff pro-Jim Garrison, and this included Kerry's role in the assassination. And I had lots of contacts in the underground press, so I started sending out articles defending Kerry, which nobody would print, because the underground press was behind Garrison and the official corporate media was totally anti-Garrison—I was trying to send the message to the wrong place.
On Page 50, Saul Goodman and Barney Muldoon examine three alternatives to explain the apparent Illuminati plot they've uncovered:
(1) It is all true, exactly as the memos suggest; (2) it is partly true, and partly false; (3) it is all false, and there is no secret society that has endured from 1090 A.D. to the present.
In a previous post, I commented how Illuminatus! is a mental exercise of sorts in trying to distinguish what is true and what is false in the book. In their quest to bust the Illuminati, Goodman and Muldoon arrive at the theory that the clues they've uncovered suggest the same thing: that the reality of the Illuminati is both true and false. And perhaps that's the final secret of Illuminatus! (maybe): that it's partly true and partly false and it's ultimately up to the reader to decide for themselves which parts are true and which are false—so it becomes a different reality tunnel for each reader/experiencer.
As I previously noted, the Teenset article was a perfect example of this, a real article in a real magazine, featuring a mix of fact and fiction, credited to a certain Sandra Glass, who never really existed to begin with and was actually Bob Shea in drag (and probably to some extent, RAW) making modern myths out of conspiratorial legends and pop culture influences while smoking a fair measure of pot for inspiration, one would imagine.
In Week 4, the "Illuminati Project: Memo #7" quotes The Roger Spark article "Daley Linked With Illuminati" which was another real article in a real newsletter (originating from the Chicago neighborhood, Roger's Park) written by an anonymous author who once again was either Shea or RAW or both. This was during the time frame both Shea and RAW worked for Playboy magazine in Chicago, so I imagine one or both lived in or near Roger's Park.
The Roger Spark piece contained a lot of the same information as the Teenset article, repeating the spurious rumor that Mayor Daley had shouted "Ewige Blumenkraft!" at the 1968 Democratic Convention, all part of Bavarian Illuminati shenanigans.