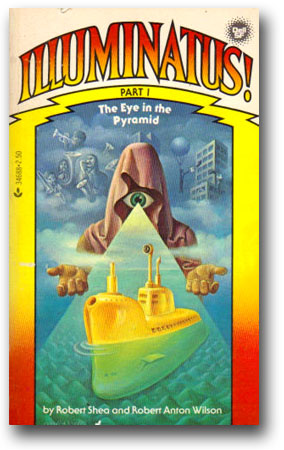 As
RAW
mentioned on numerous occasions,
Illuminatus!
was an exercise of mixing fact with fiction, and in particular the many conspiracy theories presented willy-nilly in the book. Years after its publication, RAW admitted that even he was unclear as to which of these theories—in the final analysis—were ultimately true or false, and that some might have been both true AND false at the same time. In this regard, the book is a mental exercise of sorts in unraveling the many mythologies swirling around the kooky conspiratorial landscape of the late-60s and 70s.
During the Week 2 RAWIllumination.net group reading, I neglected to mention a reference to the Berkeley Illuminati, which was indeed a real group based out of the U.C. Berkeley campus in the mid to late-60s that ran concurrent to the Discordian Society's Bavarian Illuminati activities. Like RAW and Kerry Thornley, the Berkeley group sent out spurious announcements about far flung conspiracies just to see how people would react and possibly even piss themselves in the process. I've never actually seen any of the Berkeley Illuminati materials, but Jesse Walker in The United States of Paranoia: A Conspiracy Theory interviewed one of the members of the group, Sharon Presley, who stated that: "We actually had a recognized student group at Cal called the Bavarian Illuminati. The by-laws were a hoot; obviously no bureaucrat actually read them."
So, in essence, they were a real group that put out false announcements, so they were both true and false at the same time, a prime example of Operation Mindfuck run amok.
As for the Week 4 reading, I don't have a lot to comment on, other than to note that the Teenset article mentioned on Page 40 ("The Most Sinister, Evil, Subversive Conspiracy In The World") was indeed a real article in a real magazine, written by someone named Sandra Glass (who was, most likely, Robert Shea), which documented an investigation into the mysterious Ancient Illuminated Seers of Bavaria (A.I.S.B.). This article was ominously prefaced with an editor's note: "Before her recent death, Miss Glass was an expert on subversive affairs." The source— for many of the revelations in the article—came allegedly from an anarchist named Simon Moon, who would later turn up as a character in Illuminatus!.