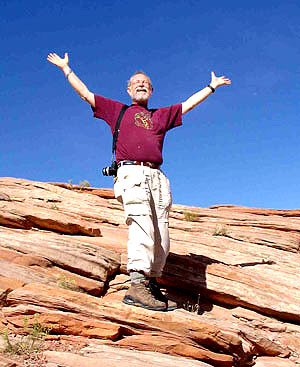 I've often expressed my respect and admiration for
Dr. Robert Newport
(even though he sometimes calls me Bruce) who has been a huge part of the
Discordian Archives
project, and without whom it never would have happened.
Known in the annals of Discordianity as Rev. Hypocrates Magoun (Protector of the Pineal), Newport was high school pals with Greg Hill and Kerry Thornley back in the days of Bowling Alleys, Eris, and a Revelation with a Baboon. Newport contributed to the 4th edition of the Principia Discordia with "The Parable of the Bitter Tea," which of course has a deeper meaning than you can read on the surface—although I'm not quite sure what that is—so I'll leave it to Brenton Clutterbuck to reveal this deeper mystery in his forthcoming book, Chasing Eris.
After Greg Hill's passing, the Discordian Archives ended up in Newport's keeping, and he had planned to put these materials on a website but never quite found the time as he had become more interested in landscape painting. And so perhaps he got the best of both worlds, as HistoriaDiscordia.com (maybe) became what he was envisioning, and in the meantime, Newport was able to follow his painting passion and not have to dicker around with HTML and all that nonsense. More on current happenings of Dr. Robert in a bit…
Here's some more on Dr. Robert Newport and Greg Hill, lifted (mostly) from my previous book The Prankster and Conspiracy:
— S N I P —
In the early-70s, Newport and Hill—along with Greg's wife Jeanetta—started a movie theater in the town of Monte Rio, along the Russian River area in Northern California.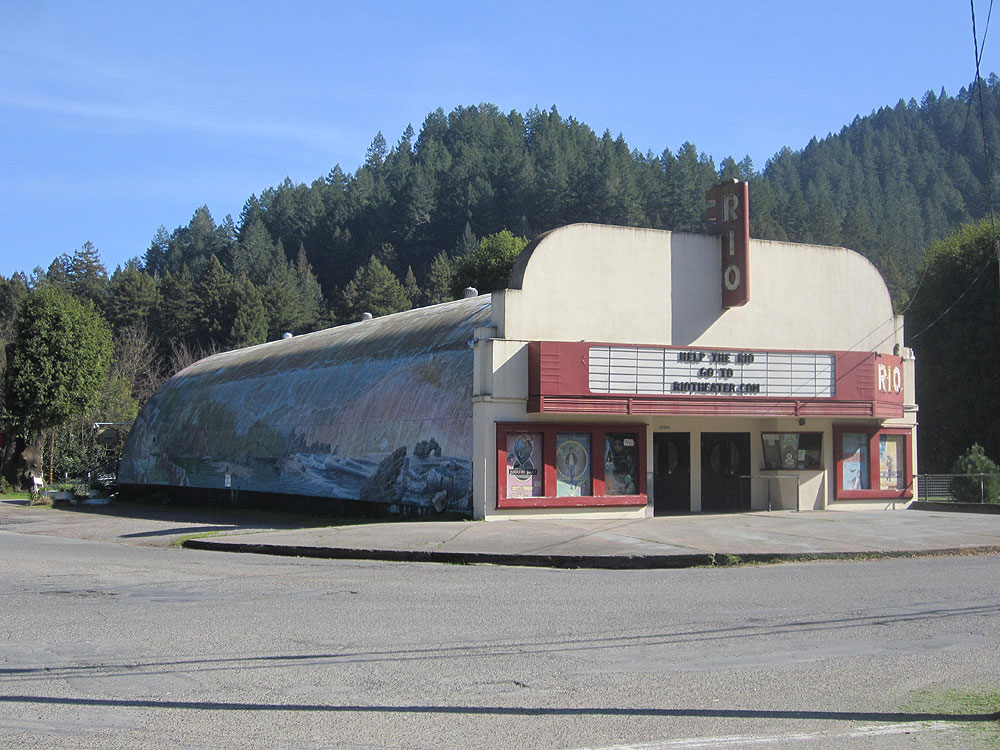 Housed in an old converted military Quonset hut, Cinema Rio had five hundred seats, as well as a vast population of rats until a twenty-two pound Siamese cat named Eldritch became a Cinema Rio regular. "And," as Newport recalled, "that was the last of the rats, the night Eldritch walked into the theater. We brought him in, put him down in the lobby, his ears went up, and he was gone like a flash—and from that night on there were no rats!"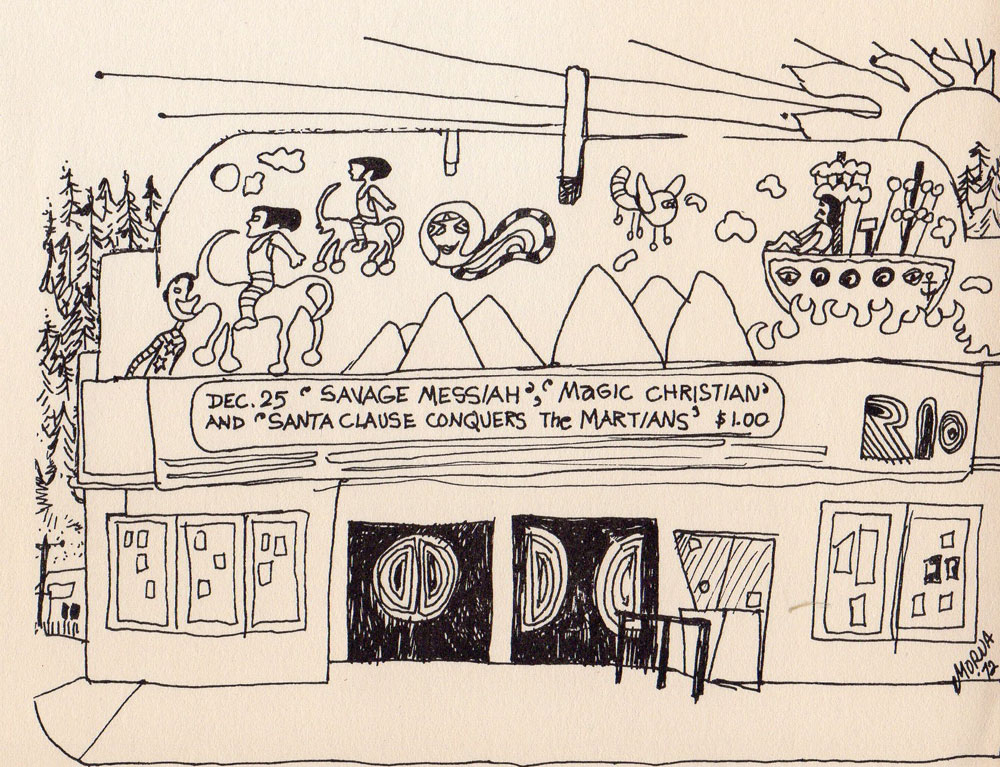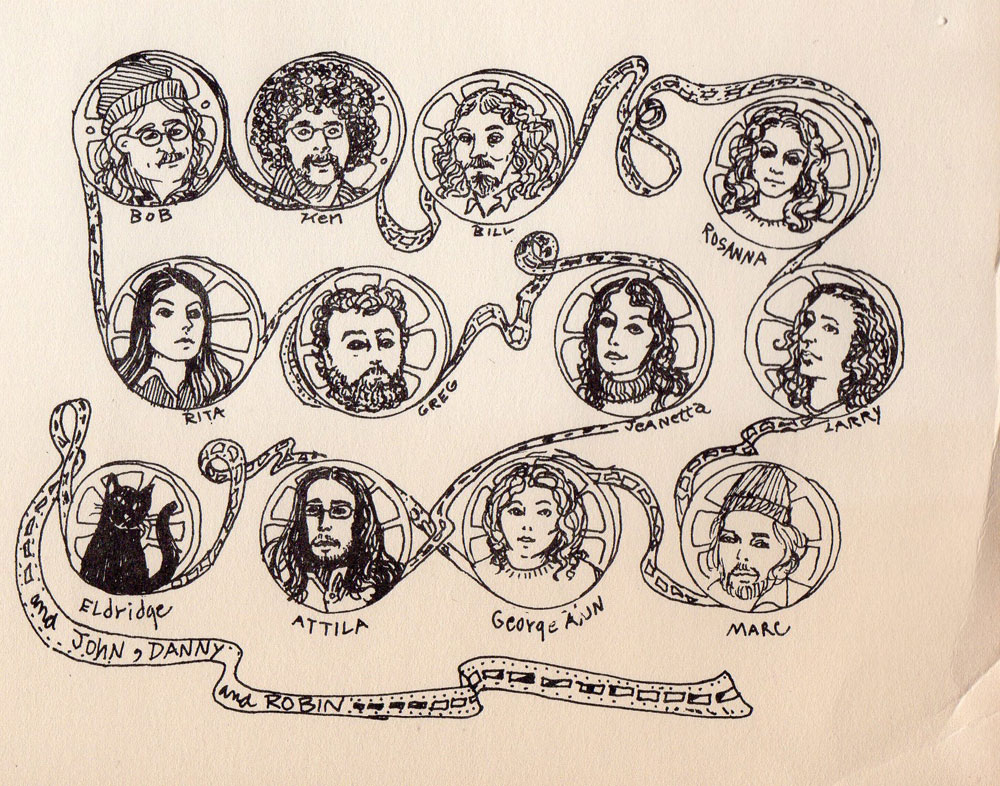 Cinema Rio was unique in the sense that it was a community effort, a theater by and for the local residents. In this spirit, local artists were enlisted to help decorate the digs, which included a beautiful colored marquee outside, displaying a cartoonish Mayan motif. The inside of the theater was originally a dull pink, so—to give it some pizzazz—columns and figures, swirling and twirling about, were painted on the walls, giving the place the funky feel of an old-time theater reborn with a psychedelic sensibility.
Greg and Bob ran Cinema Rio on a shoestring, with Greg putting the programming together, in addition to designing the posters and advertisement blurbs. As part of their community outreach, once-a-month programming meetings were held where the locals could contribute suggestions for films. Thus a concerted effort was made to involve the community, which meant employing it, as well. In fact, Greg and Bob ended up employing way too many locals to ever turn a profit.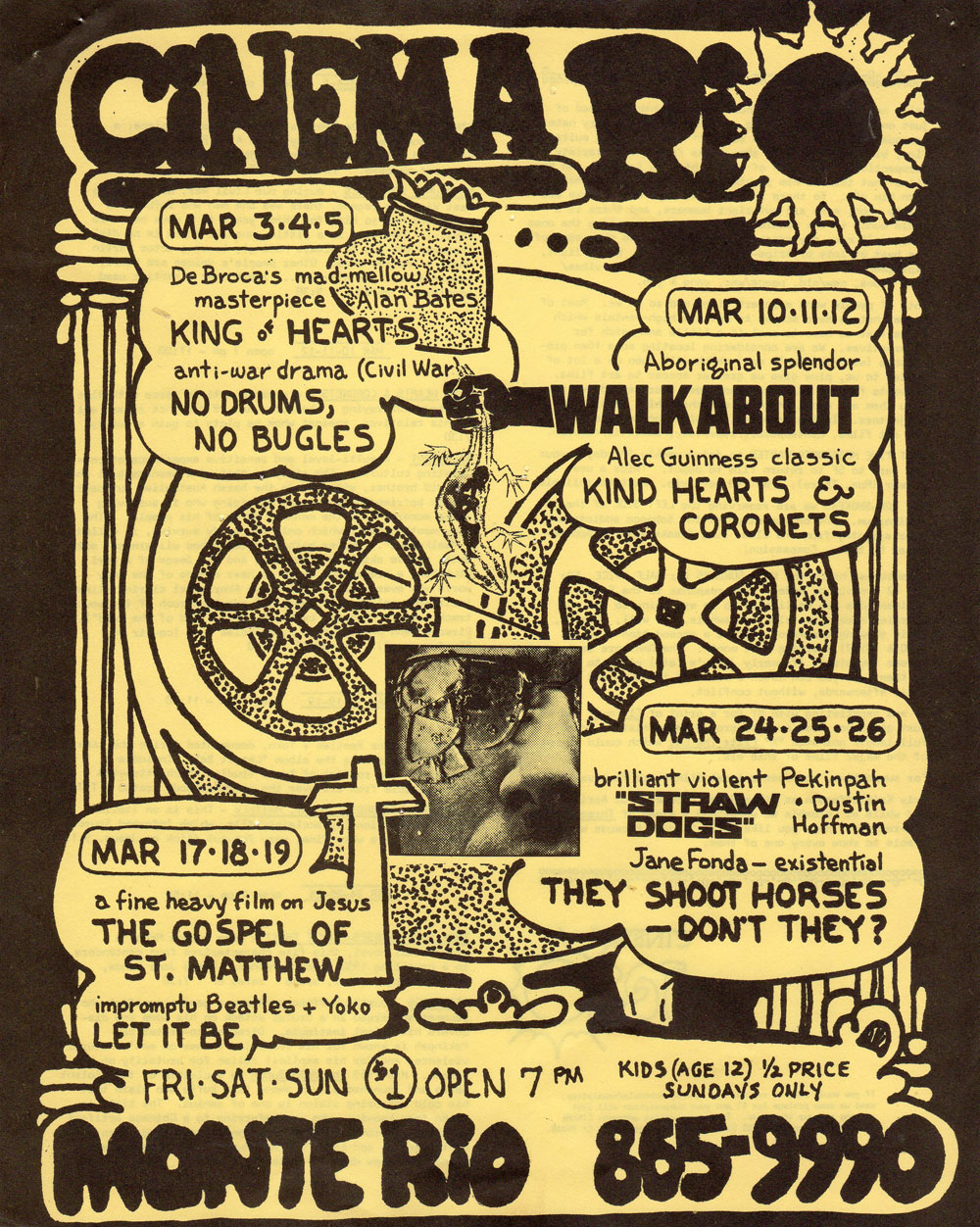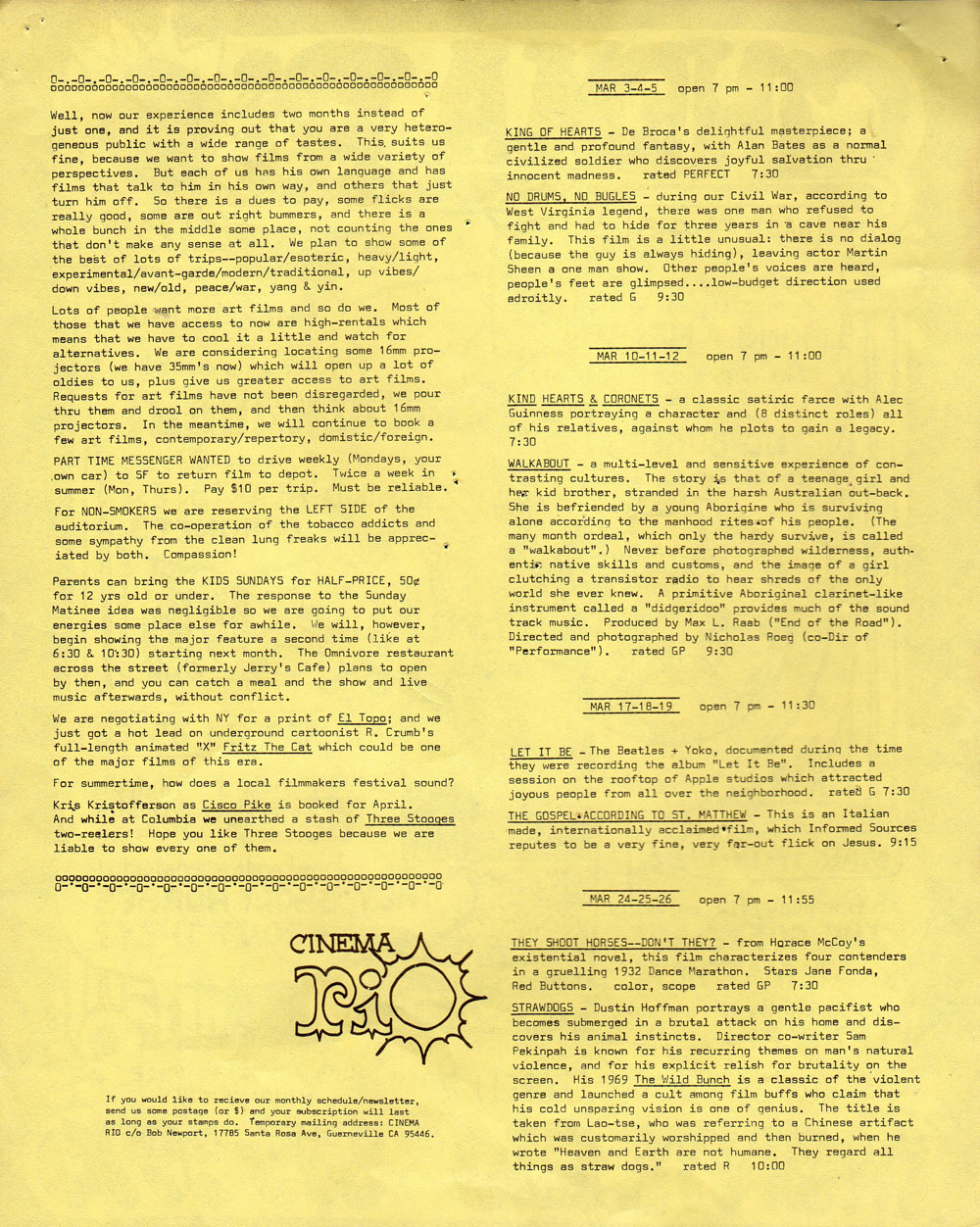 Eventually, Greg and Bob decided to expand their vision. As it so happened, right next to Cinema Rio was a huge old abandoned redwood dance hall, which one day came up for sale, so Greg and Bob decided they would start a community center there. After acquiring the building, they put in a restaurant, a health clinic, ran a community newspaper, and had weekend gatherings where they fed the homeless, including concerts on the beach.
While all of this was going on, Newport was somehow able to operate a psychiatry practice out of his house in nearby Guerneville, often getting paid for his services in baskets of garden vegetables or apples. Bob's "office" was in a tree house on his property, located in the center of a circle of redwoods. The entire property consisted of an acre-and-a-half, with several cabins scattered throughout the redwoods. It was a diverse operation, including a school in his garage, which twenty-or-so kids attended. Dr. Bob was also heavily involved with the Psych Department at nearby Sonoma State, as on his property various group sessions were ran, such as encounter groups and primal therapy groups.
Cinema Rio and the Monte Rio Community Center eventually folded in the spring of 1973 due mainly to the fact that Newport and Hill got over extended financially. But there were other factors, as well, which caused the scene to run its course, namely the dissolution of Greg's marriage to Jeanetta. As Newport recalled:
It would have been a miracle if the marriage had survived. Life at the River was incredibly difficult. I mean it was wild, it was high and it was fun, it was creative… and there was no money. Which meant that just trying to scrimp by with a living was hard to do, and it was hard for everybody. It was hard for me, too. I mean I had a little income because I had a little practice going. But the theater made no money—that cost us money. All these other activities we had going—none of them made money… So things were incredibly stressful. And when the marriage broke up, Greg became very depressed. And basically about that time, my mentor who lived next door to me, who had been a very interesting old man, who had dropped out as a President of Union Bank, and had come to the River, and had a very interesting Libertarian philosophy… ah, anyhow, he died, Jeanetta left, and pretty much everything collapsed. And Greg became incredibly depressed. And he went off to New York… and got a job with a bank doing clerical work, which is about as bleak an outcome as you can imagine. So he drank and that became his way of dealing with things.
— E ND O' S N I P —
Rather than end this post on a bummer note, let's get back to Bob Newport and where his path has taken him over the years, with a brief bio lifted from his website.
Art, and the study of painting, as a vehicle for probing into the relationship between the natural world and the human psyche, is Dr. Robert Newport's second career following thirty-one years as a psychiatrist. Thirty-one years, during which he developed and refined his powers of observation while delving deeply into the nature of consciousness, exploring its relationship to body, mind and spirit. And when not engrossed in his practice, he was exploring and observing the natural world both as a backpacker and sailor.

Doctor Robert comes from a family of sailors and explorers who arrived with the first settlers in this country in 1607. He was born in the Midwest mid-century, and has never been in the middle of anything since, with the exception of the profound beauty and drama of the landscape. A maverick in everything he has ever done, (he was said to have invented the term "holistic psychiatry"), he came to painting naturally, if not exactly willingly. Drama was his first love; he turned down an offer for the professional theater to go to medical school. With one successful children's play to his credit, his reading of his muse's call was to write for the stage; drawing his material from the human dramas he attended as a psychiatrist.

As fate would have it, it fell to him to care for his ailing mother, a successful artist herself for 40 years. In an effort to find a way to have a meaningful relationship with her, he began to paint under her tutelage and later at the Otis College of Art and Design. He found not only that he loved painting, but that it gave him both the vehicle for communicating his experiences of encountering spirit in the natural world as well as the opportunity to continue to use his powers of observation in the further development of his craft. So as a painter and world traveler, he followed in his family footsteps, his sister and niece also being fine artists of some repute. Following his retirement from medicine, he obtained an Otis certificate in fine arts and has continued his studies with private teachers.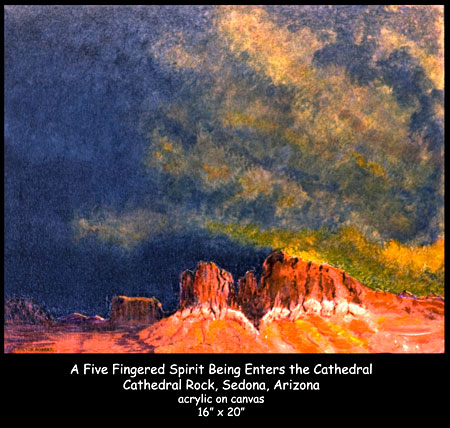 On another note, I just discovered Newport recently released From Haiti to Guinee' on the Immamou — A Tale of Redemption. Get yourself a copy of enlightenment.
Lastly, we share with you Newport's take on our latest book, Historia Discordia: The Origins of the Discordian Society:
Whether or not reading Historia Discordia will "blow your mind" or simply show you what a bunch of already blown minds can come up with, is besides the point. The point is that it is fun!
And now, back to our regular programming… whatever that is.