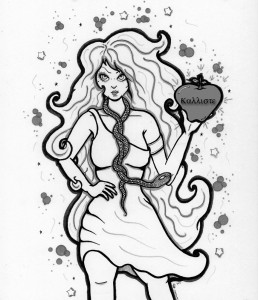 For many years on my Untamed Dimensions blog, I featured a
Devil Girl of the Month
.
But after forsaking Eris and giving Christianity another whack, I stopped promoting Devil Gals and now spend most of my time posting Christian album covers, although I sometimes backslide and find myself posting pics of crazy Bongo Broads, of whom I also have a great fondness.
In the spirit of crazy bongo broads, devil girls and kooky Christian album covers, we present to you now a new feature here at HistoriaDiscordia.com called
Eris of the Month
where we'll post a pic of Eris, yes, you guessed it, on the 23rdish of each month!
We launch the inaugural edition of the Eris of the Month with a contribution from HD staff member Michele Witchipoo—but then after that it'll be up to you, dear readers, to keep the Golden Apple rolling.
In other words, we'll need your submissions to keep the Eris of the Month Club alive.
So don't delay!
Send your submissions by using the form at the bottom of The MGT. page.
Please obtain permissions and provide credit to the artists featured in your submissions.
Photos of Eris are acceptable, as well. Provided she is holding a Golden Apple. ('Kallisti' optional.)
Goddess speed to you!