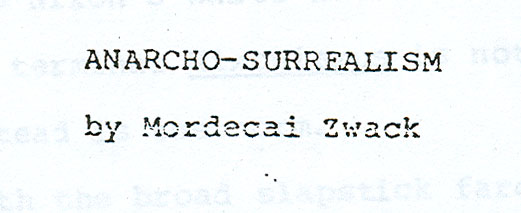 The following review of
Illuminatus!
entitled "Anarcho-Surrealism" was among the Discordian Archives I was first turned onto by
Bob Newport
in the early 2000s. At first blush, the document appeared to have been composed by
Greg Hill
— under the pseudonymous moniker of "Mordecai Zwack" — circa 1974-ish during the period he was living in NYC.
Later, while combing through correspondence between Robert Anton Wilson and Greg Hill from the period, I soon discovered that they actually collaborated on the piece. This would explain the Mordecai moniker in the byline, as Mordecai — it just so happens — was the first name of RAW's Discordian persona, Mordecai Malignatus aka Mordecai the Foul.
In retrospect, "Anarcho-Surrealism" seems a prime example of Discordian Culture Jamming, in the sense that RAW was writing his own clandestine review of Illuminatus! with the covert aid of Discordian Society co-founder Greg Hill, aka Malaclypse the Younger, Omnibenevolent Polyfather of Virginity in Gold (K.S.C.).
Get yourself Discordian Culture Jammed: