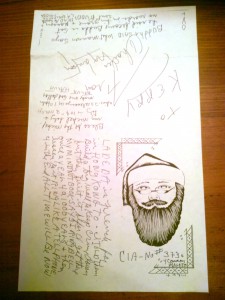 Twenty years ago this holiday season in 1993,
Kerry Thornley
, the Discordian Co-Founder & Pope known as Omar Khayyam Ravenhurst or more simply Lord Omar, was corresponding with a friend who was an inmate at the time in Georgia's prison system. This friend of Thornley's, as it were, just so happened to be a pen pal with none other than notorious Tate-LaBianca murders mastermind,
Charles Manson
, then being housed at Corcoran State Prison in California.
As Thornley told The Atlanta-Journal Constitution at the time, "I have a friend in jail who was a tattoo artist. He got into drawing pastels, and he drew a picture of Manson and sent it to him. And Manson wrote him back, and then he asked Manson to write me."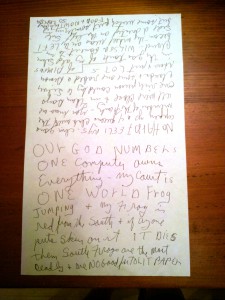 Charles Manson responded by sending Thornley a Christmas postcard of sorts. The card was a folded-up piece of paper featuring a sketch by Manson of a dark-haired Santa Claus on the "front" with hand-written rants ranging from God to Buddha to Dennis Wilson of The Beach Boys on the other "sides" of the postcard.
During this period, one of Thornley's Little Five Points friends from Atlanta, a young lady known as Molly, who Thornley characterized as "little brown-haired Molly," traveled to Los Angeles where she was brutally attacked and sexually assaulted.
According to Kerry's friend, Chris Wilhoite, "Molly had a mental breakdown over that and ended up in a public asylum. She wrote Kerry, asking for help and we Xeroxed the Manson Xmas card and raffled off the original to free Molly."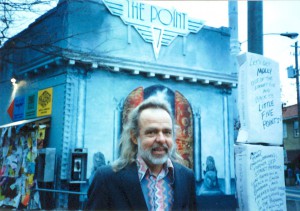 Thornley made up flyers, as was his wheelhouse, and contacted local press to announce he had an authentic Christmas card from Charles Manson and would be raffling off tickets to win the Manson postcard for $5 a pop. As Thornley stated on some of the flyers, "So we Friends of Molly Moonie Rainstar, a slightly schizoid but very warm and wonderful young Discordian lady in her late teens, are raffling off my Manson letter. According to all I have been able to learn on short notice, any letter from Manson is worth at least $850.00 to collectors. Some have auctioned for tens of thousands."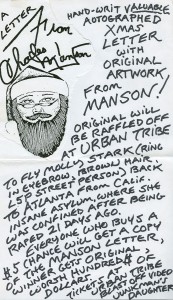 Molly was soon released and brought back home to Atlanta due to Thornley's fundraising efforts. Thornley thus declared, "Charles Manson, by the way, has been appointed Superintendent of Sunday Schools in the Discordian Society."
As Wilhoite recalls of Molly, "She turned out to be a handful and I remember babysitting her during a dissociative episode. Kerry eventually managed to reconcile her with her mum in Maine, so we sent her home…"
And Charlie bless us, everyone.