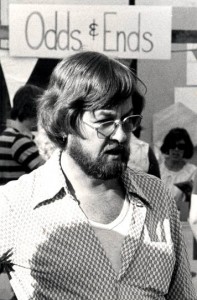 Welcome to the final installment (maybe!) of our
series on Roger Lovin
.
Before proceeding, I thought a short recap was in order.
Roger Robert Lovin was born in Knoxville, Tennessee on May 11, 1941—although there's conflicting evidence which suggests that his birth name was actually Watlington, and that he later legally changed his name to Lovin. (More on that kink in the thread later…)
According to the bio page of Lovin's Sci-Fi novel Apostle, he was "a minister of the Gospel at age 16," although I certainly wouldn't take Lovin at his word for that—but on the same hand I could totally see him doing the whole Marjoe Gortner teen preacher trip as a young lad growing up in Tennessee.
The first verifiable documentation we have on Lovin dates to 1962 when he was drummed out of Navy for stealing "a television set from a Naval Ammunition Depot in North Charleston, S.C." Lovin later admitted to assassination researcher Harold Weisberg that he'd been "kicked out of the Navy for a homosexual offense." Afterwards, Lovin moved to the New Orleans' French Quarter and cultivated the image of a bohemian renaissance man who—at one time or another—was a performing musician, painter, writer, and all around raconteur. Lovin also claimed to be a soldier of fortune who had smuggled guns into Cuba.
Lovin managed a coffee house/art gallery in the French Quarter where he'd occasionally stage happenings and—as the beatnik scene segued into the hippie era—he adopted all the trappings of the times, growing long hair and dabbling in psychedelics and free love whenever the opportunity availed itself, which as we'll soon see was frequently and in great abundance.
Lovin was married for roughly three years to a woman named Sandra Bankson, who I really haven't found out a whole lot about, other than she was employed as a professional dancer.
In-and-around 1964 or 1965, Lovin became friends with Greg Hill and Kerry Thornley and—along with bohemian scene maker Barbara Reid—was one of the early members of the New Orleans' Discordian Society, and after Hill and Thornley split New Orleans, Lovin became the official head of the Discordian Society's French Quarter cabal.
Due to his Discordian connections, Lovin came to the attention of Jim Garrison as a potential suspect in his investigation. Lovin passed along some Discordian materials to Garrison via Harold Weisberg and—probably due to this—Garrison came to suspect that the Discordian Society was a CIA front involved in JFK's assassination!
In 1968, Lovin started the first New Orleans alternative newspaper, The Ungarbled Word, which pretty much brings us up to speed… So away we go!
Jean Marie Stine (then known as Henry Stine, prior to changing gender identity) first encountered Lovin in New Orleans in early 1969. When Lovin learned that Stine was the author of Season of The Witch, he was exuberant with praise for the book, overwhelming Stine with his intensity and charm. A short time later, Stine heard that Lovin was the editor/publisher of The Ungarbled Word and made an appointment to discuss a writing gig.
After arriving at the scheduled time at Lovin's French Quarter office, Stine was informed by Lovin's secretary that, although Roger was in, he might be delayed a bit as he was presently 'busy' with a young woman there seeking a job. Lovin—the secretary explained—was quite the accomplished pick-up artist who successfully scored with every woman he ever hit on, and—due to the fact he inevitably hit on every attractive woman who crossed his path—it was likely that he and the young lady were having sex in his office at that very moment. An hour later, Lovin came out with the girl on his arm, and afterwards during their meeting confirmed that indeed he'd been doing the ol' bump-and-grind while Stine waited patiently outside.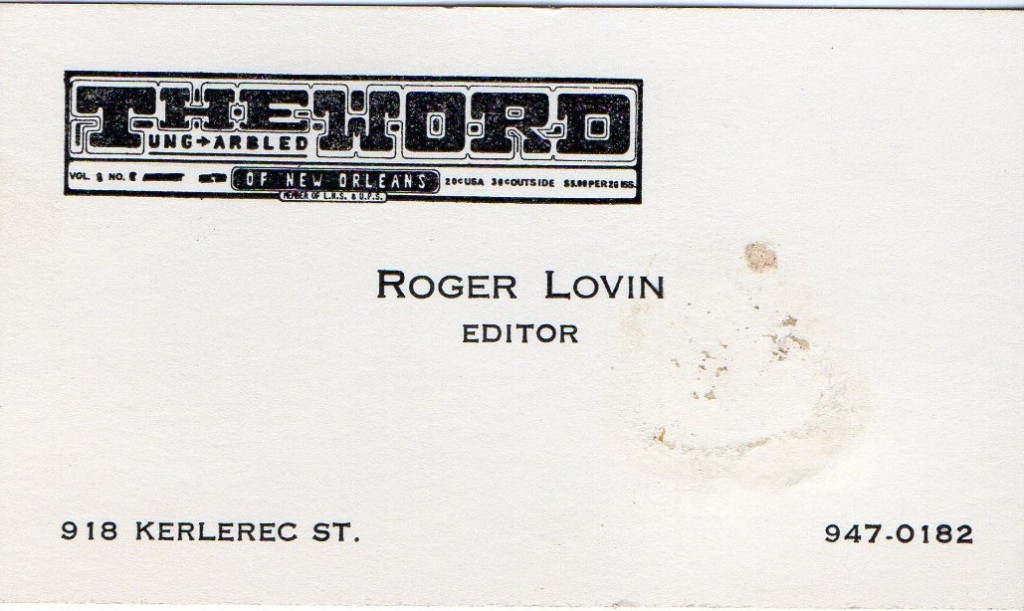 One night—while Stine and Lovin were making the rounds of various French Quarter bars—the subject of Jim Garrison came up and Lovin revealed that Garrison and his investigators were trying to build some sort of sketchy case against him using doctored evidence which included a photo that had been touched-up to make Lovin more resemble another suspect in the case.
Oddly enough, this scenario is strikingly similar to what occurred to Kerry Thornley when Harold Weisberg (using Garrison's official District Attorney stationary) contracted a California artist to touch-up a photo of Thornley to make him more resemble Lee Harvey Oswald and bolster the theory that Thornley was one of the notorious Oswald doubles. When I mentioned this to Stine, she was quite taken aback and insured me that she wasn't confusing or conflating the Thornley photo touch-up caper with what had occurred to Lovin, and that these were two separate incidents.
Early in 1969, a bookkeeper working for Lovin ran off with The Ungarbled Word proceeds. In order to keep things afloat, Lovin resorted to selling a stake in the paper to a couple of local characters who not long afterwards attempted a hostile take-over. Part of the plan of these interlopers was to install pre-gender-transition Hank Stine as the new editor/publisher, but when Stine clued Lovin into this planned coup, Roger immediately withdrew whatever Ungarbled Word funds were in the bank and along with Stine, and another writer named Alice Ramirez, (author of The Geek), the three high-tailed it out of town, eventually making their way to Los Angeles.
Shortly after arriving in L.A.—as Stine recalled—Lovin was literally starving, and to keep three square meals coming his way each day, he sweet-talked three waitresses (from three different restaurants) into bringing him food. One of the waitresses worked the morning shift; another work the afternoon shift; and a third, the night shift. And so—according to Stine—each brought meals to Lovin at different times—morning, noon and night—and, of course, Lovin would have sex with each of them during their visits.
A couple years later, Stine recalled visiting Lovin at his Hollywood apartment and was amazed to see a large chart Lovin had put up on the wall to keep track of all the women he was seeing, a system devised to schedule his revolving door of lovers. There have been some online estimates that Lovin bedded down somewhere in the area of around two thousand women. However, Jean Marie Stine suspects it was probably a far larger number, more in the range of ten thousand… and we're not even talking about the under aged ones yet!
If there was ever someone destined to write a 1970s "How To Pick Up Chicks" book, it would have been Lovin. And who knows, he very well might have (under a pseudonym). During his Hollywood days (1969-1973), Lovin worked in the smut industry as an editor for American Arts, which had several different imprints, and it was through one such imprint he published his novel Eleven (1970), which included this cover blurb: "Eleven by Roger Lovin is an unnatural twist on the Lolita syndrome, the story of the love affair between a three-hundred-pound man and an eleven year old girl, a grotesque situation which Lovin handles with understanding…"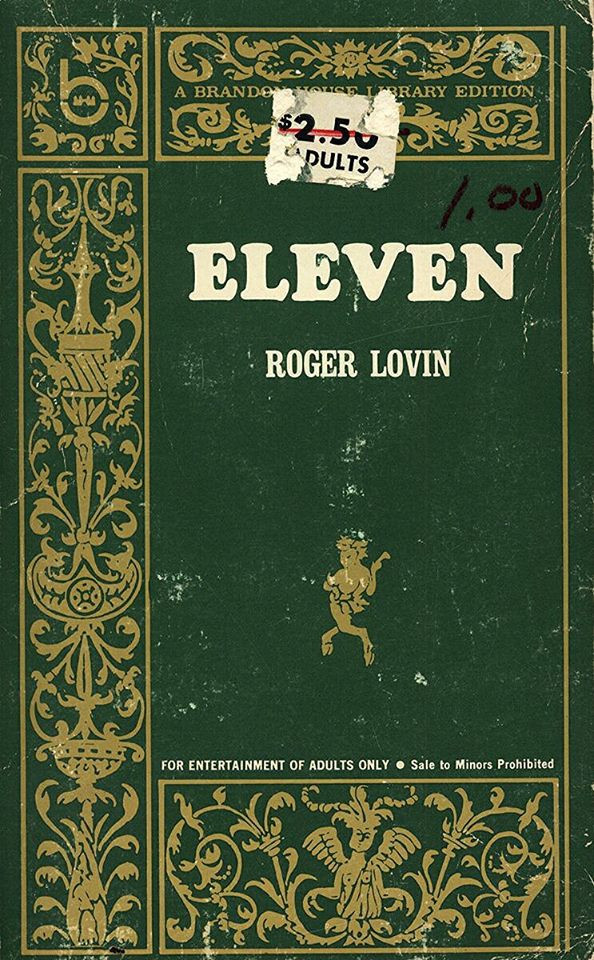 At the time—as Stine recalled during our recent interview—none of Lovin's friends suspected he had a thing for underage girls, and most assumed Eleven was simply just his spin on a taboo subject. Later, it would become evident that the roots of Eleven were much more than a mere fictional flight of fancy and had real world implications.
In 1974, Little, Brown and Company published Lovin's opus, The Complete Motorcycle Nomad.
Released as a Sports Illustrated selection of the month, it's still considered by many motorcycle enthusiasts as a classic in the field.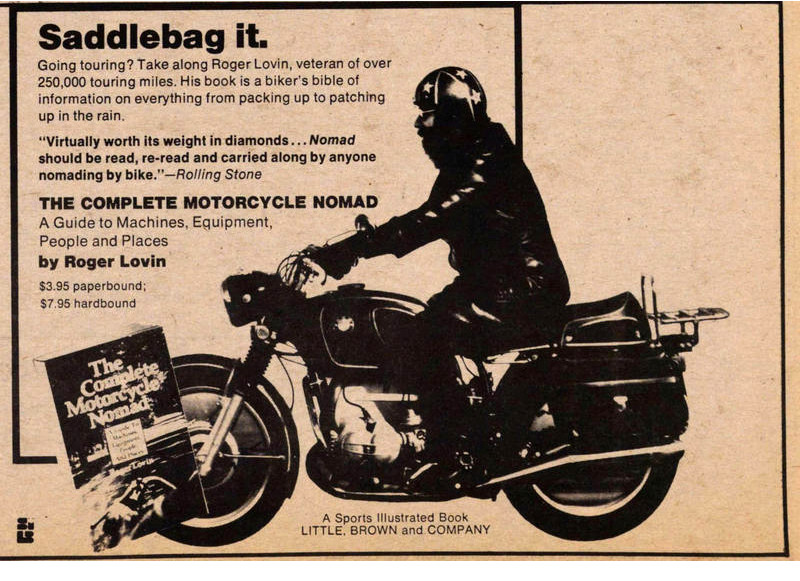 My first inkling of Lovin's illegal activities came by way of a news clipping (I'd stumbled upon in the Discordian Archives) from the science fiction fanzine Locus, the gist of which stated that Lovin had been arrested on "four counts of contributing to the delinquency of a minor, four counts of aggravated crime against nature, one count of carnal knowledge of a juvenile, and three counts of indecent behavior with a juvenile…" Lovin had been "released on $2,500 bond after being charged Oct.22 [1979] with possession of pornography…"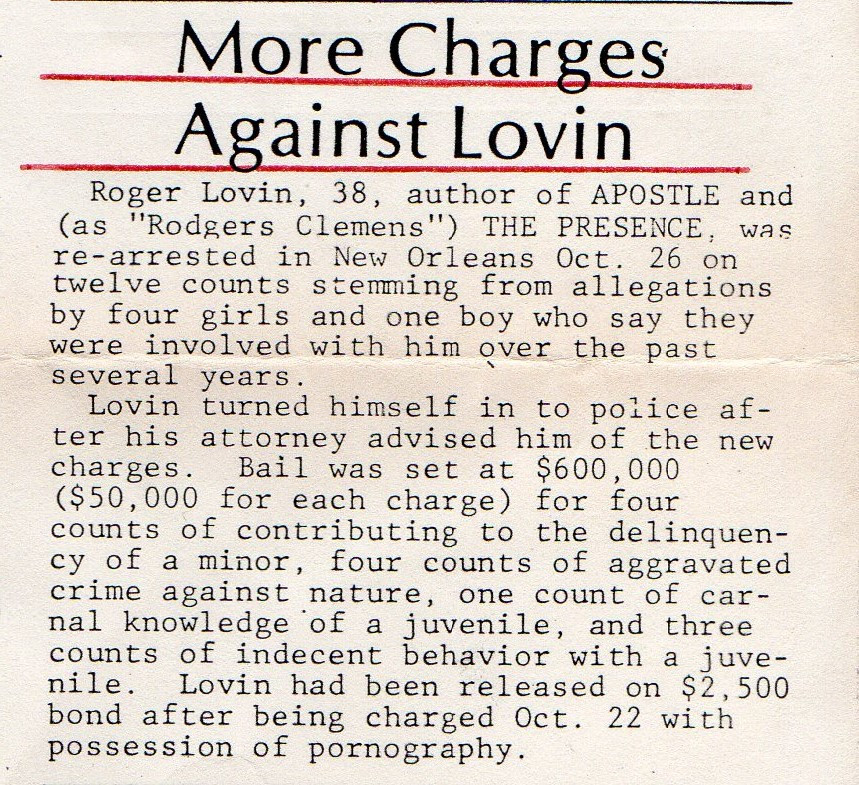 At the time, I wasn't quite sure what to make of these allegations. Nor did I have any other background on Lovin, so it was hard to know how deeply he was really into any of this, or if it was simply an isolated incident of showing pornography to some kids, or perhaps an instance of poor judgment in regards to having sex with an underage girl.
My curiosity about Lovin persisted over the years, and when I'd occasionally stumble upon some item related to him in the Discordian Archives, it would inevitably lead to a web search. About ten years ago or so I happened upon this thread at ancestry.com where a woman—who suspected Lovin was her biological father—was seeking further information on him. The thread (from 2005) consists of around thirty entries, many from people who claimed to have known Lovin, some of whom said he had gone to prison for pedophilia.
A post from someone claiming to be Lovin's sister (going by the name of "Freewind143") stated that she and her other family members "were never made aware" of any criminal charges against her brother, and that Roger had been sterile and never fathered any children. Freewind143 noted that he "died in New Orleans on November 1, 1991." Along with her post, Freewind143 shared a photo of Lovin with two of his sisters. The photo did indeed appear to be Roger Lovin—probably in his mid-to-late 40s—which would have put the timeframe the picture was taken around the mid-to-late 1980s.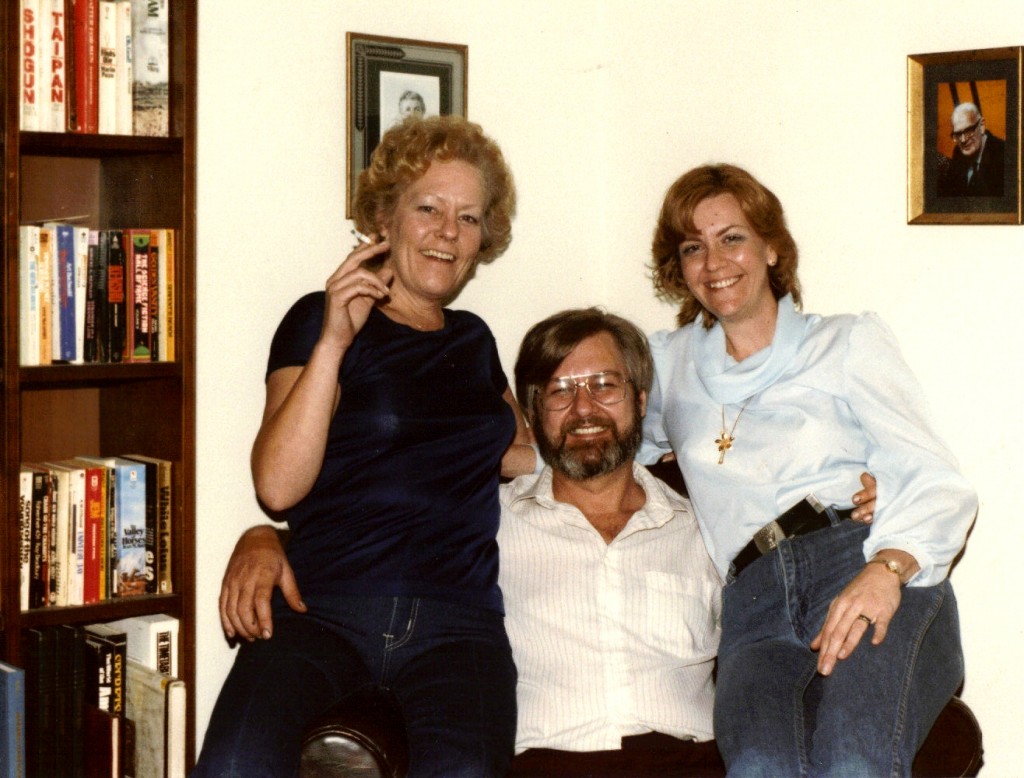 My friend Tim Cridland (aka Zamora the Torture King) has been of immense help in untangling this twisted Roger Lovin web… a web which still may have a few tangles in it yet! Tim, like me, possesses an unnatural interest in many odd and arcane tributaries, and the people who inhabit many of these strange lanes, such as the colorful French Quarter characters associated with the New Orleans Discordian Society, including Kerry Thornley, Barbara Reid and Roger Lovin. In his role of Zamora, Tim travels around the world performing feats of wonder, and on his off hours often haunts local libraries and other repositories of ancient knowledge. While in New Orleans last year, Tim was able to lay his hands on some Roger Lovin related news clippings which provided further confirmation that Lovin had indeed been arrested and charged with the crimes mentioned in the Locus article.
According to October 25, 1979 edition of the Baton Rouge States-Times Advocate, "A self-styled preacher and part-time writer has been arrested in a raid at his apartment where thousands of pornographic pictures of young girls were seized….[Police information officer] Gus Krinke said the photographs depicted nude and partially nude girls, sometimes involved in sexual acts. He said most of the girls were runaways, but others came from fatherless homes in New Orleans… police said Lovin's apartment was equipped with a darkroom enabling the film to be developed and printed there… Some of the girls may have posed for Lovin, officers said, after he convinced their mothers he simply wanted them for models."
The October 25, 1979 New Orleans Times-Picayune stated that—following Lovin's arrest—the police were "conducting a massive search for the identities of as many as 500 young girls who are believed to have been intimately involved with a man arrested here for possession of pornography" and that "Lovin may have been involved in a pornography network which stretches across the country… Lovin found many of his subjects by attending young people's functions… police have proof he lured one of more of his victims away from a recent science fiction convention." The article went on to state that Lovin was "originally from Tennessee" and "legally changed his name from Watlington to Lovin."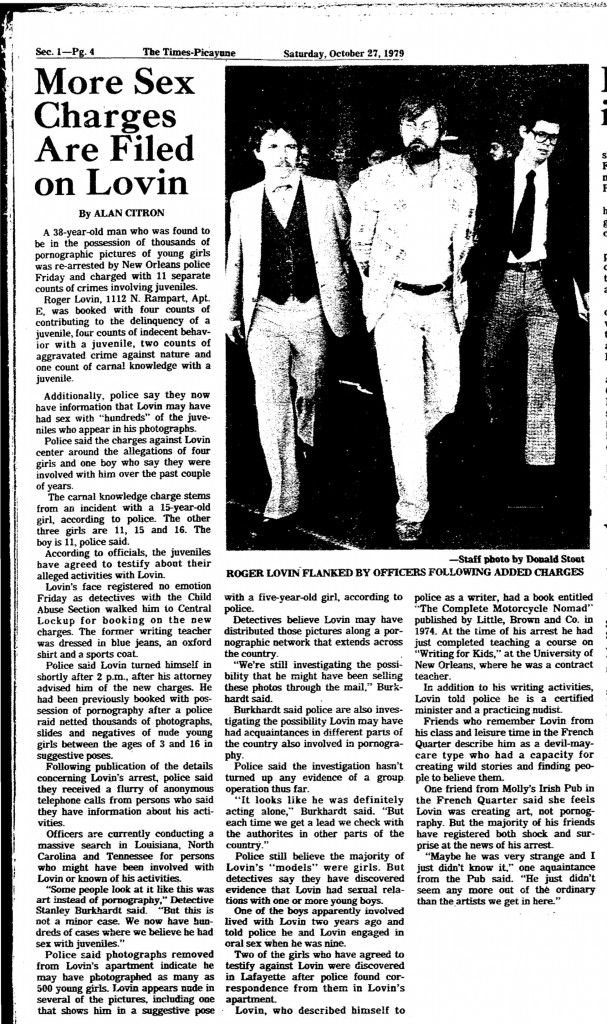 According to the October 26, 1979 edition of the New Orleans Times-Picayune:
One woman who took his course on "Writing for Kids" at the University of New Orleans, said he was an excellent teacher who never missed class.

"He was a very smooth talker," the woman remembered. "he gave the impression of being a very intellectual type person.

"He seemed to be a devil-may-care type of bachelor. But he was very balanced."

The woman added, however, that it was obvious he wasn't a run-of-the-mill type of person.

"Some of the things he said were a little strange," she remembered. "But I wasn't offended. Some of the older ladies were a little bit offended by his choice of words, but it was never anything serious."

The former student said she wasn't shocked when she heard the news, but was surprised that he could lead such a dual life.

"I got friendly with the man," she said. "He didn't seem like an absolute pervert. He just wasn't like that.

"He made it clear several times that he wished he was in bed instead of in class because he had had too much to drink the night before. But he was always there."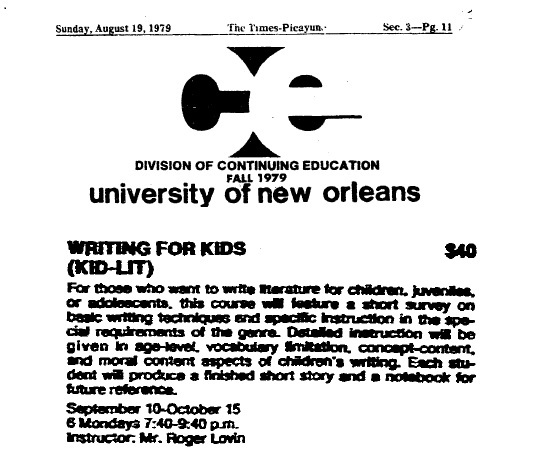 According to Jean Marie Stine, at the time of Lovin's arrest he lived in an apartment complex at 1112 N. Rampart St., and in a room across the hall lived a friend of Lovin's who was an illegal arms dealer—which brings legendary Science Fiction author Norman Spinrad briefly into the story. Spinrad—also friends with Lovin—took a cross country trip with him in the mid 1970s, and part of their travels included a stop-over in the French Quarter. It was there that Spinrad was introduced to Lovin's neighbor (the guy with all the guns) and this fellow took Spinrad for a ride up in the woods where he demonstrated some sort of rocket launcher, which completely blew Spinrad's mind. Anyway, this same fellow was later raided by the cops for unregistered firearms. During the raid—when Lovin attempted to intervene on behalf of his friend—the officers told him to back off, pushing Roger back into his own apartment, where they observed photos of nude young women (and very young girls) posted on the walls. In short order, the cops got a warrant and raided Lovin's apartment, leading to his arrest.
To friends, Lovin presented his side of the story that, yes, he'd had sex with underage girls, many that were runaways from broken homes home to whom he'd provided shelter and a warm bed, and without his 'guidance' they would have been out on the streets hustling sex for drugs or money. Lovin further insisted that he had taken these wayward youth under his wing with the consent of their parents, who were well aware of his sexual proclivities. During this period, Lovin was passing himself off as a "minister" of some sort, which might have been yet another ploy he used to ingratiate himself with both the parents and their children. Most of these parents were the girl's mothers, who Lovin presumably charmed with his notorious silver tongue.
Newspaper reports and other accounts I've come across alleged that some of the girl's parents had given Lovin permission to use them as photographic 'models.' After Lovin's arrest, police detectives tracked down a number of these parents and pressured them into signing a criminal complaint against Lovin or face being charged with child endangerment.
Another spin Lovin put on the story was that his arrest had been orchestrated to cover-up a deeper NOLA scandal related to government officials caught having sex with underage boys. The intent of this cover up—according to Lovin—was to create a media distraction while behind the scenes the officials were let off the hook with minor offenses, the details of which were buried in the back pages while Lovin's arrest was the front page news.
Jean Marie Stine felt there might have been some measure of truth to Lovin's conspiracy theory. At the time, Stine was living in Baton Rouge and remembered reading the initial news reports about this government-officials-in-bed-with-boys-scandal, but then suddenly it all but disappeared from the front pages and was apparently swept under the rug at the exact time Lovin was facing his own legal kerfuffle.
According to Stine, the story became ever more tangled after Lovin's trial, which should come as no surprise given Louisiana's long history of political corruption. As it turns out, Lovin never actually served time in prison, but was in lock-up at the city jail for a period of time awaiting sentencing. According to Stine's sources, an anonymous Lovin supporter—who suspected that Lovin would probably never make it out the Louisiana prison system in one piece—offered a sizable sum to the judge presiding over the case in the form of a "political contribution."
The judge—as the story goes—was seeking an office in a higher court, which was apparently an elected position, and ultimately the "contribution" was accepted. These negotiations took place over the course of several months, and in the meantime Lovin's stay in city jail—while not as bad as prison—was no cake walk, either. In fact, the first few weeks proved to be pretty rough, until one day when he was approached by a member of the Louisiana chapter of the Hell's Angels. As it turned out, the Angels were big fans of Lovin's The Complete Motorcycle Nomad and—after discovering that HE was THE "Roger Lovin"— let him know they "had his back" and from that point forward nobody messed with Lovin during the rest of his stint in jail.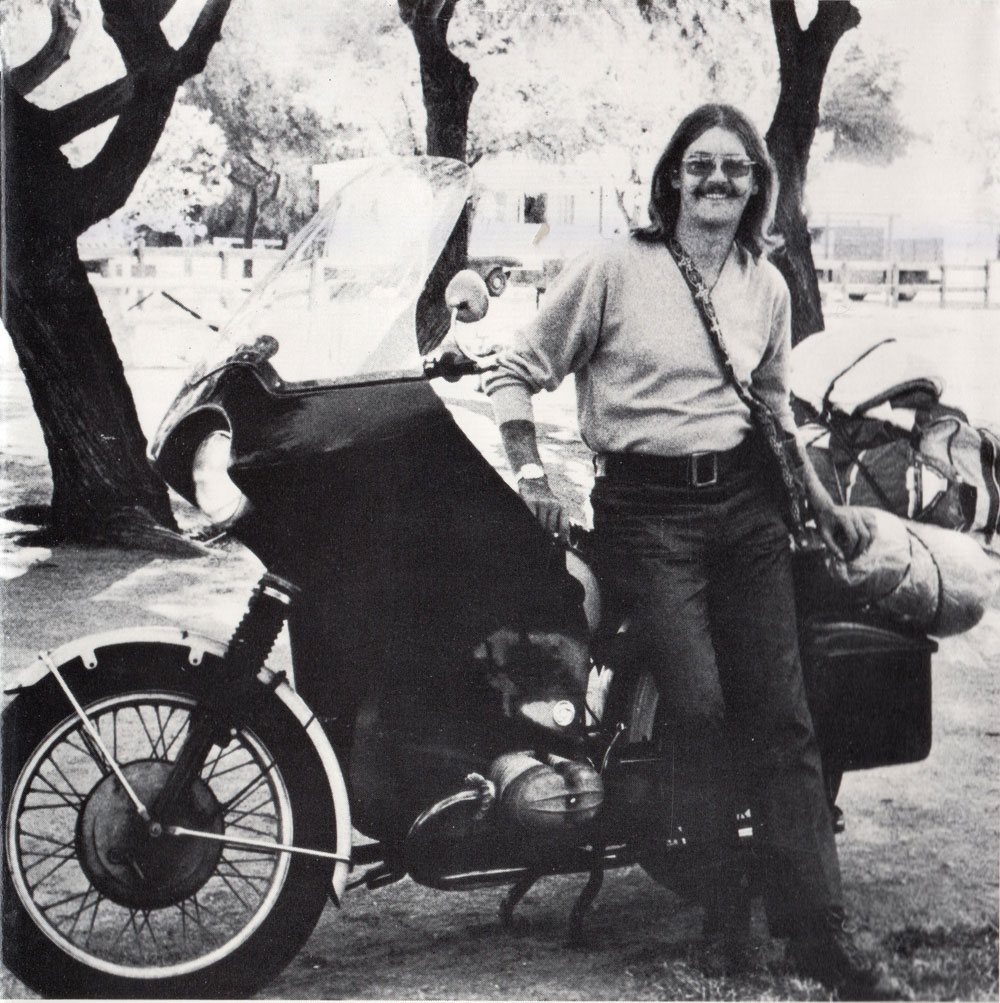 When all was said and done, Lovin was granted a suspended sentence, which consisted of something in the area of five years probation. The terms of the probation dictated that he could neither leave New Orleans nor have any contact with juveniles. Lovin managed to stay on the straight and narrow for the court-ordered term, and after his probation ended—somewhere in the mid-to-late 1980s—he started making frequent trips to Belize where he could have sex with underage girls and not worry about the consequences. According to Jean Marie Stine, Lovin eventually ended up living fulltime in Belize and the last she heard was that he'd died sometime in the early 1990s.
A while back, Tim Cridland came across Lovin's Social Security number on an old FBI memo. When Tim ran it through the online Social Security Death Index, it come up with no results for Roger Lovin… or any one named Watlington, for that matter. Tim hunted for death notices and obits in the Louisiana newspapers—as well as searching local cemetery records—but was unable to find any confirmation of Lovin's death. The only thing definitive we had in that regard was the statement by "Freewind143" (on the Ancestry.com forum) who claimed that her brother had "died on November 1, 1991."
However, some of Freewind143's other comments didn't quite jibe with the known facts, including her claim that neither she nor other family members were aware of criminal charges. Freewind143 also noted that "Roger Lovin" was her brother's real name, which contradicts the NOLA newspaper articles that reported Lovin had been born with the last name of Watlington and later legally changed it to Lovin. Lovin first mentioned his name change to Clarence Doucet of the New Orleans Times-Picayune in a January 13, 1974 interview. An October 25, 1979 article in the Times-Picayune confirmed that "Records show Lovin is originally from Tennessee. He had his name legally changed from Watlington to Lovin."
Given these discrepancies, Tim started entertaining the notion that perhaps Lovin had never actually died. I also began to suspect that Tim might be on to something, and that "Freewind143" may have been intentionally muddying the waters. Going out even further on this limb, the thought entered my mind that maybe Roger Lovin himself was posting as Freewind143!
Freewind143 noted that her brother had been sterile, this in response to the woman on the thread who was trying to figure out if Lovin was her biological father. Assuming Lovin had already changed his name once before, I began to wonder if this was yet another instance of creating a new identity to distance himself from the past, and that Lovin's move to Belize was also part of this disappearing act.
Like her brother, Freewind143 is a writer, and using the pen name of "Freewind Gingerblaze" has authored three fantasy titles.
Freewind's books could be considered in Lovin's literary wheelhouse, as he was an author of one Science Fiction title, Apostle, and had written a couple more Sci-Fi/Fantasy manuscripts that were never published. Could these "Freewind Gingerblaze" titles have been the previously unpublished Lovin novels?
Another web search revealed that Freewind Gingerblaze's real name is Molly Bressette, formerly Molly Annis Lovin. (On the Ancestry thread, Freewind143 noted that some of her family members call her Ann because her middle name is Annis.)
Googling "Molly Annis Lovin" led to a couple pertinent links here and here that appear to confirm her story.
Of course these findagrave.com entries could have been easily fabricated, but it seems like a lot of effort to go through (concocting an entire family tree) unless someone was really intent on faking their own death. Not that I wouldn't put it past Mr. Lovin, who always seemed to have something up his sleeve. With all that being said, I'd wager that the name change switcheroo—from Watlington to Lovin—may have been Lovin pulling the leg of reporter Clarence Doucet back in 1974, and later this name change story was repeated (without fact-checking) during the Times-Picayune's reportage of Lovin's arrest in the fall of 1979. Just the same, it certainly seems curious that Freewind143—and other Lovin family members—"were never made aware" of her brother's criminal history.


THE END. (MAYBE…)
Thanks again to Tim Cridland for his invaluable contributions to this craziest of all stories. Check out Tim's Off The Deep End blog for more related madness, including his evolving series on Rev. Raymond Broshears.
Also, check out my interview with Jean Marie Stine about Roger Lovin embedded into this web page below, or, you can listen on your preferred new fangled whatever SoundCloud podcast harvester via my new podcast show called Radio Gogo with Adam Gorightly.
Follow me on SoundCloud, you'll deliciously regret it!
Also, Millennials, share with your parents via Facebook, Instagram, whatever is hip now, they desperately want to understand what you're into, so throw them a curve-ball that will not only educate but also confuse them!
And lastly, you can download the Lovin Files (for supporting documentation) here.
Hail Eris!