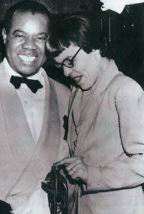 Read Part 2 of this series here.
Early Discordian Barbara Reid was a familiar figure in New Orleans bohemia of the 1960s. Known in the French Quarter as "Mother Witch," she was an avid voodoo practitioner, claiming to have learned the craft from an Orleanian Creole who was a spiritual descendent of Marie Laveau. According to Reid, she was the only Caucasian to whom this knowledge was passed on.00001
Reid worked as a writer and producer for New Orleans television station WDSU and made occasional appearances on local radio, including a 1970 episode of The American Legion Hour on WTIX-AM called "Witches and Metaphysics." She frequently appeared in newspaper stories, such as a June 1969 Times-Picayune article about Friday the 13th superstitions in which Reid informed the reporter: "I am not a witch, but I'll show you what a witch can do if you make me out as a kook."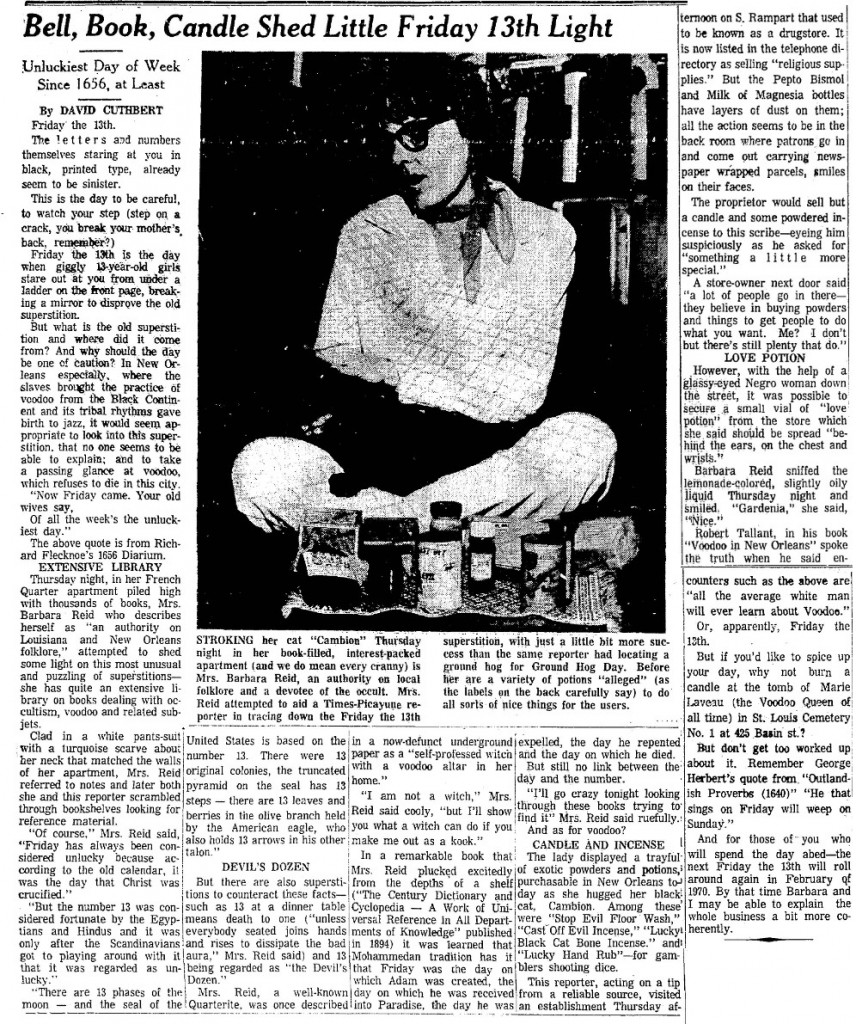 A Times-Picayune story from September 1964 concerned the closing of Kerry Thornley's favorite French Quarter hang-out, The Bourbon House. To mark the event, a mock funeral procession was staged, which—along with jazz band accompaniment—included Barbara Reid in a coffin "…clad in her usual all-black garb and sporting a black beret and cigarette holder."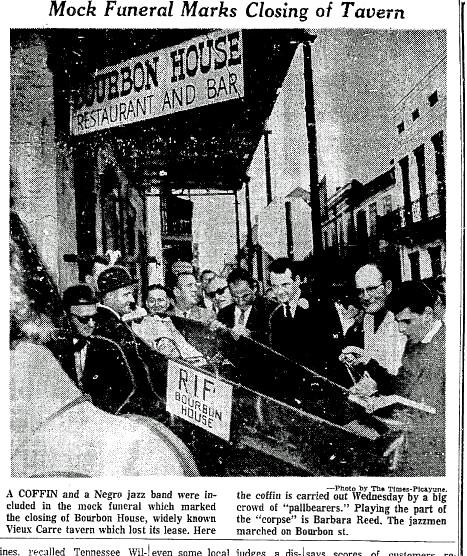 Known for its rag-tag collection of beatniks, poets and jazz music aficionados, many of the Bourbon House regulars—at the urging of Barbara Reid—began staging informal jazz sessions in the early-60s at Larry Borenstein's art gallery, an institution that would eventually be renamed—and gain international acclaim—as Preservation Hall, the legendary French Quarter music venue still in operation.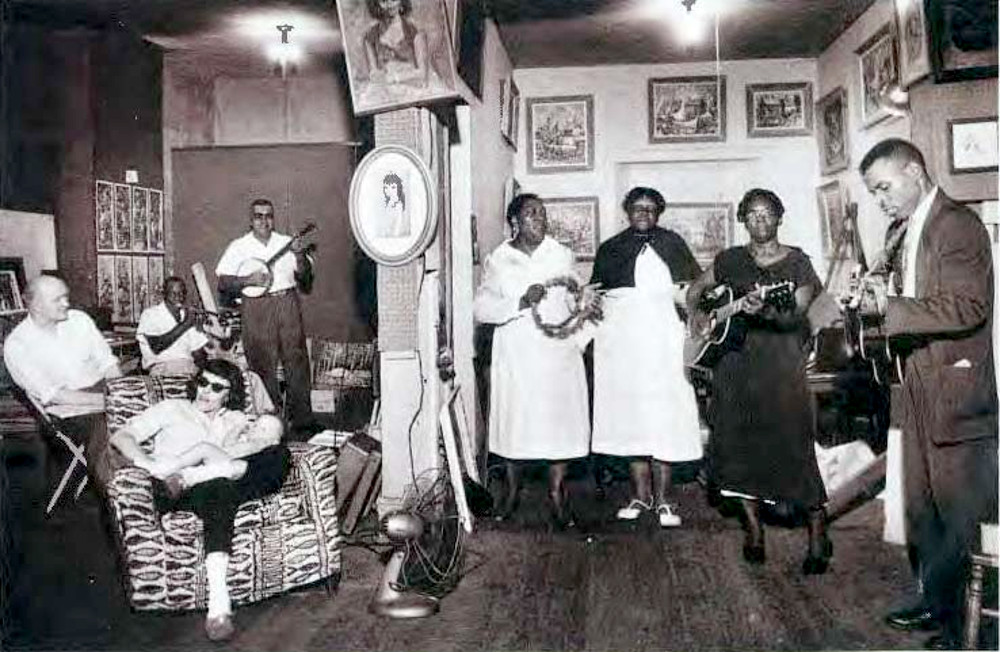 Preservation Hall officially opened its doors on June 10th, 1961, an enterprise launched by Reid and her partner in the venture, Kenn Mills. These activities—with Reid at the helm—led to a revival of the traditional jazz scene in New Orleans. However, Reid's participation in the early days of Preservation Hall has been mostly expunged from the historical records due to a falling out she had with Larry Borenstein, the owner of the venue.
Reid was instrumental in recording many of the local jazz musicians of the era and—according to her husband, Bill Edmiston—helped integrate the two New Orleans musician unions that had previously segregated blacks and whites.
If all that wasn't enough, Reid was one of the first members of the New Orleans branch of the Discordian Society, claiming at one time or another to be the reincarnation of Goddess Eris herself! Whatever the case, Reid certainly brought a high degree of chaos into Kerry Thornley's life during the Jim Garrison investigation period when she placed Kerry in the company of Lee Oswald in September of 1963, a couple of months before JFK's assassination.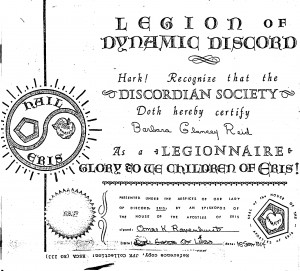 According to Discordian Society co-founder Greg Hill, Barbara Reid was an aspiring politician, pot dealer and former lover of Jim Garrison:
"When Barbara ran for City Council [in 1964], Garrison was absolutely against it and, she told me, repeatedly warned her to stop playing around where she might get hurt. And that, of course, made her all the more anxious to run. I was going to be her Campaign Secretary, but the draft caught up with me and off I went Ft. Polk. When I returned for a day, 8 weeks later, the election was all over with and she placed #3 out of four (not bad, considering). She was pushing for the black vote, and had some kind of lowdown on corruption with the Fed Housing section of the city. She also had the bohemian vote; her posters depicted a caricature of her, all glasses, beret and cigarette holder. It was during this time that she told me that Garrison was an ex-lover of hers and that his warnings to her were as a friend to a friend (though later I got the impression that he was pretty exasperated with her). Like everything else she told me, I didn't know if I should believe it or not and so, like everything else she did and said, I just enjoyed the circus and didn't bother believing or disbelieving. I think she said that the affair was sometime ago before Garrison became prominent. She spoke of him with fondness, though annoyed with his not backing her attempted sojourn into city politics.

"I left before Barbara was busted for pot (curiously enough, I felt that the Quarter was being very uncool narc wise, and predicted a giant bust by October—but nobody took me very seriously. I missed the mark by about a month, I think. Many people got it bad, according to what I heard later.). Anyway, she once spoke of not being too concerned with being busted because she 'could take care of it.' At the time I wondered if she meant Garrison, but didn't press the delicate subject…"00002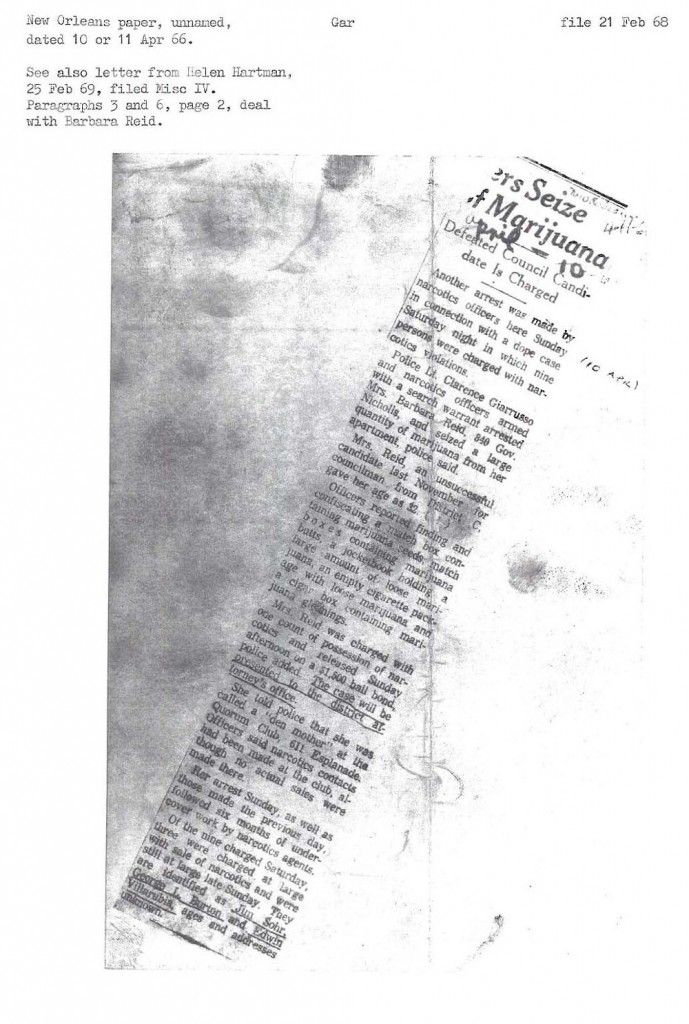 According to the New Orleans States-Item, Reid was arrested on April 10th, 1966 following a six month investigation when narcotics officers seized a large quantity of marijuana from her apartment. Reid—identified as an "unsuccessful candidate last November for District C"—told officers that she was a "den mother" at the Quorum Club, a bohemian coffee house in the French Quarter where she presided over a gaggle of hippie kids. Evidently, the Quorum Club was at the center of this six month investigation. Curiously, Reid's arrest record for the pot bust identifies her as a "fugitive from Arizona." These charges were later dropped.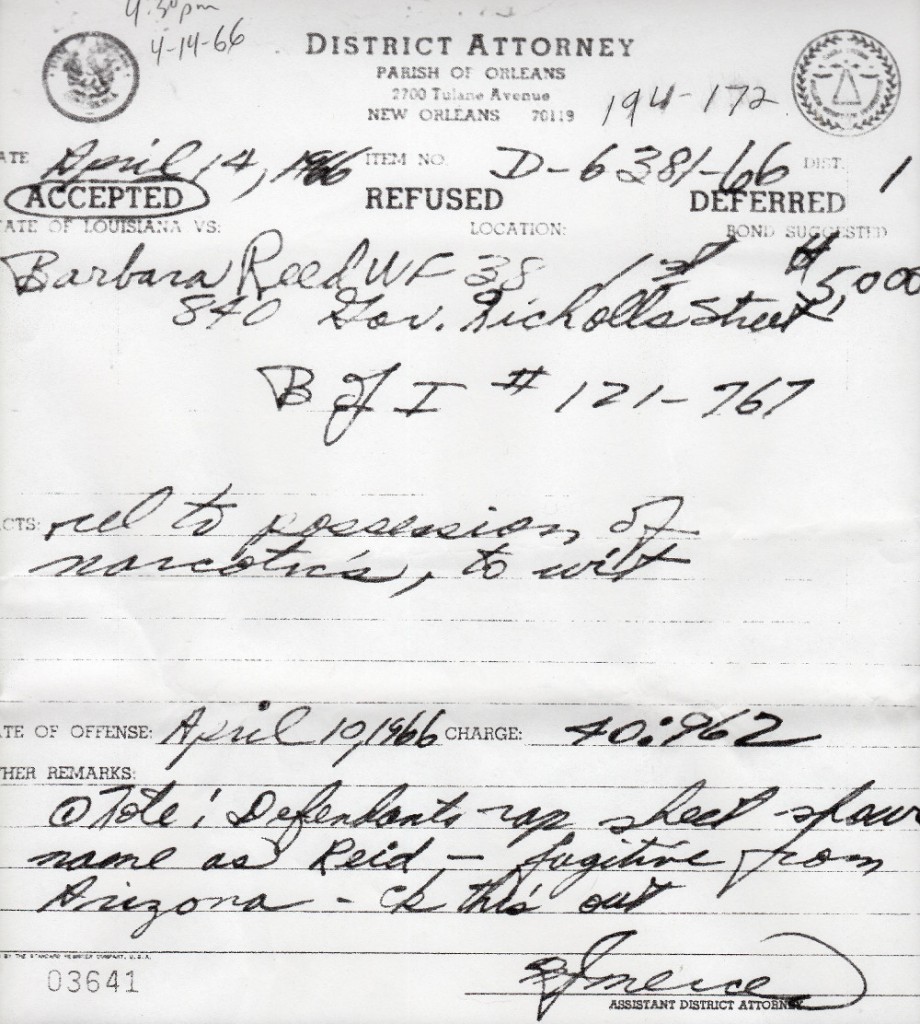 Perhaps what Reid meant by taking "care of it" was that—because of her inside track to Jim Garrison—she could either blackmail or bribe her way out of the charges. Contrary to popular mythology, Garrison was not immune to this type of corruption. In 1970—following a performance by The Grateful Dead at a New Orleans venue called "The Warehouse"—the band's hotel rooms were raided by police and several members were arrested on drug charges, an incident recounted in their song "Truckin'" and the line: "Busted down on Bourbon Street…"00003 Afterwards, The Grateful Dead tour manager was able to bribe Garrison to take the bust off the records.00004>
In February 1965, Reid was arrested with members of the Hell's Angels and charged with "bringing the Hell's Angels to New Orleans."00005 A February 25th, 1966 New Orleans States-Item article stated that the charges against Reid (identified as "Barbara Reed" in the arrest report) had been dropped, although the four Hell's Angels "would be held as possible fugitives…"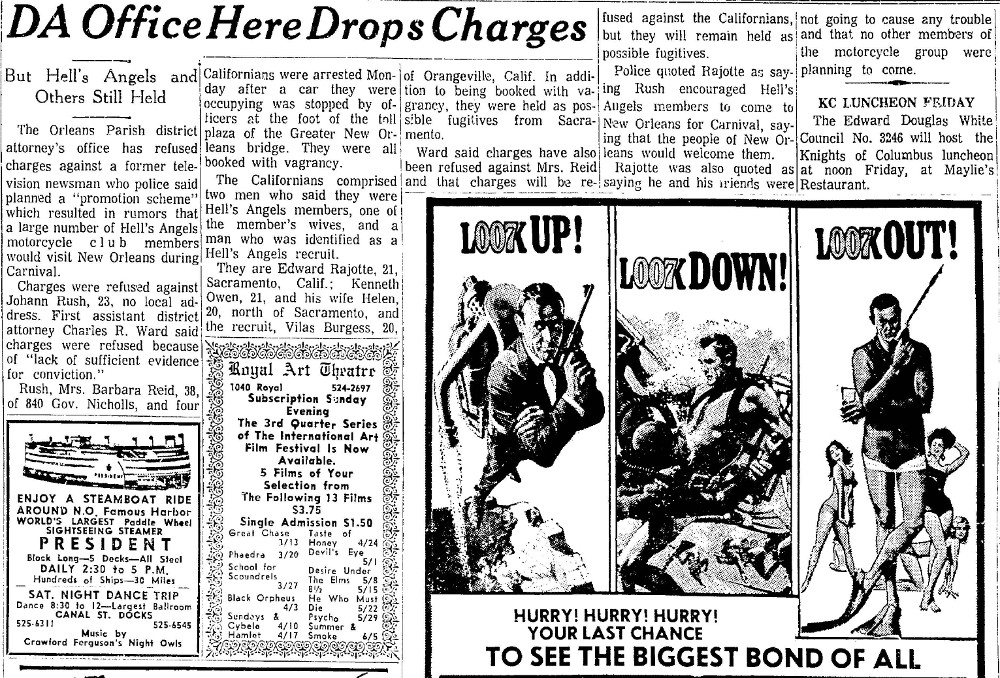 One of Barbara Reid's more obscure connections involved the Process Church of the Final Judgment, a counterculture cult that emerged in England during the mid-60s of which many dark legends have been spun over the years, first by Ed Sanders in The Family: The Story of Charles Manson's Dune Buggy Attack Battalion and later by Maury Terry in The Ultimate Evil.
Ed Sanders claimed that The Process Church had a "baleful influence" on Manson and his minions, while Maury Terry alleged that the group was implicated not only in the Tate-LaBianca murders, but the Son of Sam slayings, as well, and that Process Church leadership oversaw a vast Satanic network dealing in drugs, pornography and ritual murder.
In Love, Sex, Fear, Death: The Inside Story of the Process Church of the Final Judgment, ex-Process member Timothy Wylie paints a more benign portrait, stripping away the conspiratorial legends and revealing a group of sincere searchers ultimately manipulated by their charismatic leader, Mary Ann de Grimston.
In correspondence with this author, Kerry Thornley wrote that he "…first encountered the Process Church in New Orleans in Feb. '68 when I was there to testify, reluctantly, to the Grand Jury. Barbara Reid, the principal witness against me, and a friend (!) of mine, was said to be 'up to her ass' in The Process, which, indeed, maintained a coffee house half a block from Barbara's apartment. I went over there with Slim (Brooks)… and saw pamphlets about Satan On War and Lucifer on War and Jehovah on War—which I found confusing because I thought Satan and Lucifer were both the same guy, until then, (of course—heh-heh)… A bunch of pale, thin zombies were sitting around in this place. I was telling very funny Garrison stories but nobody was laughing…"
In the next installment we'll explore Barbara Reid's involvement with Jim Garrison's investigation and her role as a Dealey Plaza Irregular.
To read the whole crazy story pick up my book Caught In The Crossfire: Kerry Thornley, Lee Oswald and the Garrison Investigation (Amazon) while supplies last!
Thanks to Tim Cridland for unearthing many of the materials used in this post.
Read Part 2 of this series here.
---
00001 "Some Recollections On Barbara Reid" by Greg Hill, 1968. (Greg Hill's Discordian Archives.)
00002 Ibid.
00003 Lesh, Phil, Searching for the Sound: My Life with the Grateful Dead. Little, Brown and Company, 2005.
00004 Classic Albums: The Grateful Dead – Anthem To Beauty, Isis Productions, 1997.
00005 New Orleans magazine, June 2004.