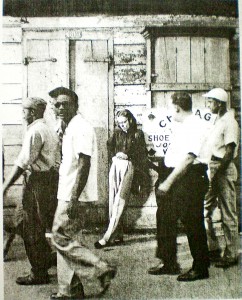 Read Part 1 of this series here.
Barbara Reid was not only a voodoo practitioner, beret wearing bohemian, Early Discordian Society member and traditional jazz buff, but she was also a key witness in Jim Garrison's investigation.
As Discordian history instructs, Reid claimed that she saw Kerry Thornley and Lee Harvey Oswald together in New Orleans in September 1963, although Thornley denied this accusation, insisting that the last time he'd been in contact with Oswald was at El Toro Marine Base in 1959.
According to Jim Garrison in On The Trail of the Assassins (Amazon):
"From his own admission, as well as from the statements of Barbara Reid and a number of others, we learned that Thornley had been in New Orleans in 1963, finally leaving the city only a few days after Kennedy's murder. Reid, a long-time French Quarter resident who had known both Thornley and Oswald, described seeing them together on several occasions. One of them was in early September 1963 at the Bourbon House, a combination bar and restaurant in the French Quarter. Thornley, who usually wore his hair extremely long, had just returned from a trip out of town. This time he was wearing his hair unusually short and closely cropped, as Oswald invariably did. Reid recalled having said to them, "Who are you guys supposed to be? The Gold Dust Twins?

"We were eager to talk to Kerry Thornley, but he was not an easy man to locate. It took us a lot of legwork and more than a year to do it. We had investigators going to every place in the French Quarter until we learned what had been his main hangout—Ryder's Coffee House. Except for occasional visits to the Bourbon House on Royal and Bourbon Streets, Thornley seldom went anywhere else." 00001
Inside the span of two mere paragraphs, Garrison was able to stuff a staggering amount of misinformation. His claim that Barbara Reid knew Oswald has no factual basis, as Reid's only encounter with Oswald (or someone she thought was Oswald) occurred during her supposed sighting of Oswald and Thornley at the Bourbon House in September 1963.
How Garrison came up with the notion that Reid actually knew Oswald is another head-scratcher. Reid never claimed that she knew Oswald. In her 1968 affidavit, Reid recalled "associating a sense of familiarity with this individual who had received some publicity as a Communist because of his earlier activity of distributing Fair Play for Cuba leaflets in front of the International Trade Mart in New Orleans."
Garrison further states that Reid saw Thornley and Oswald together on several occasions. However, Reid never said anything of the sort. The only time Reid claimed she saw Thornley and Oswald together (according to her affidavit) was at the Bourbon House.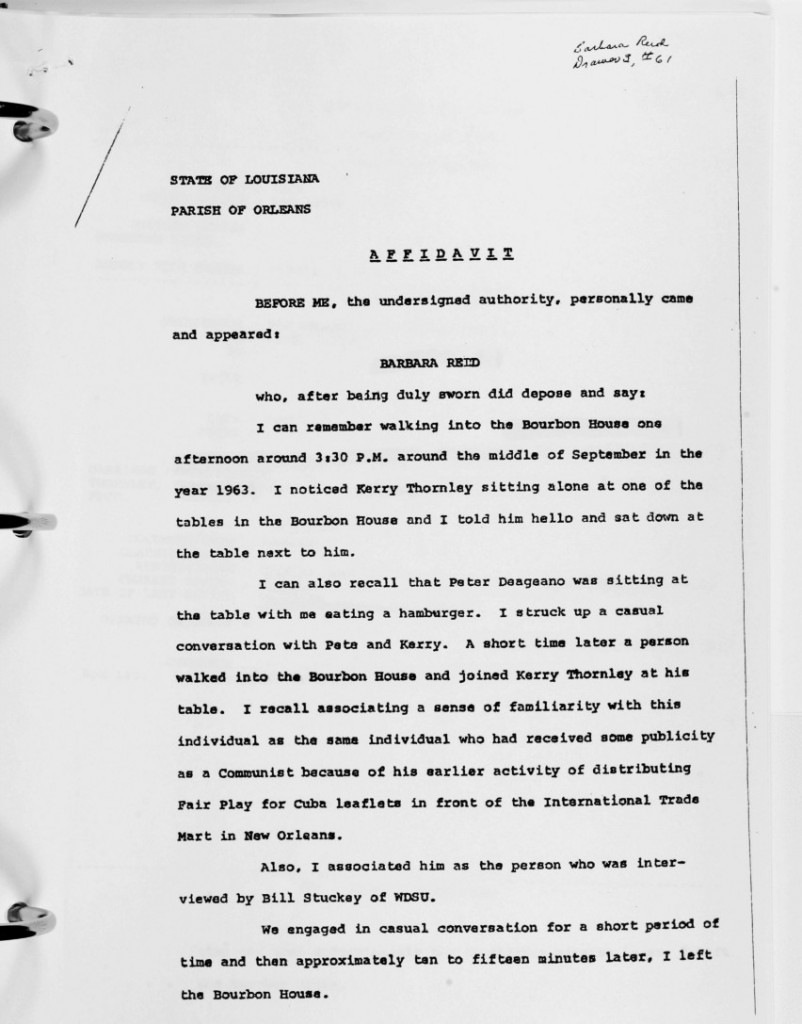 Reid's claim that she told Oswald and Thornley they looked like "the Gold Dust Twins" is another little nugget that didn't appear in her 1968 affidavit, suggesting that Reid later spiced up her story (during her 1978 interview with the House Select Committee on Assassinations) to fit with Garrison's theory that Thornley was one of the notorious Oswald doubles.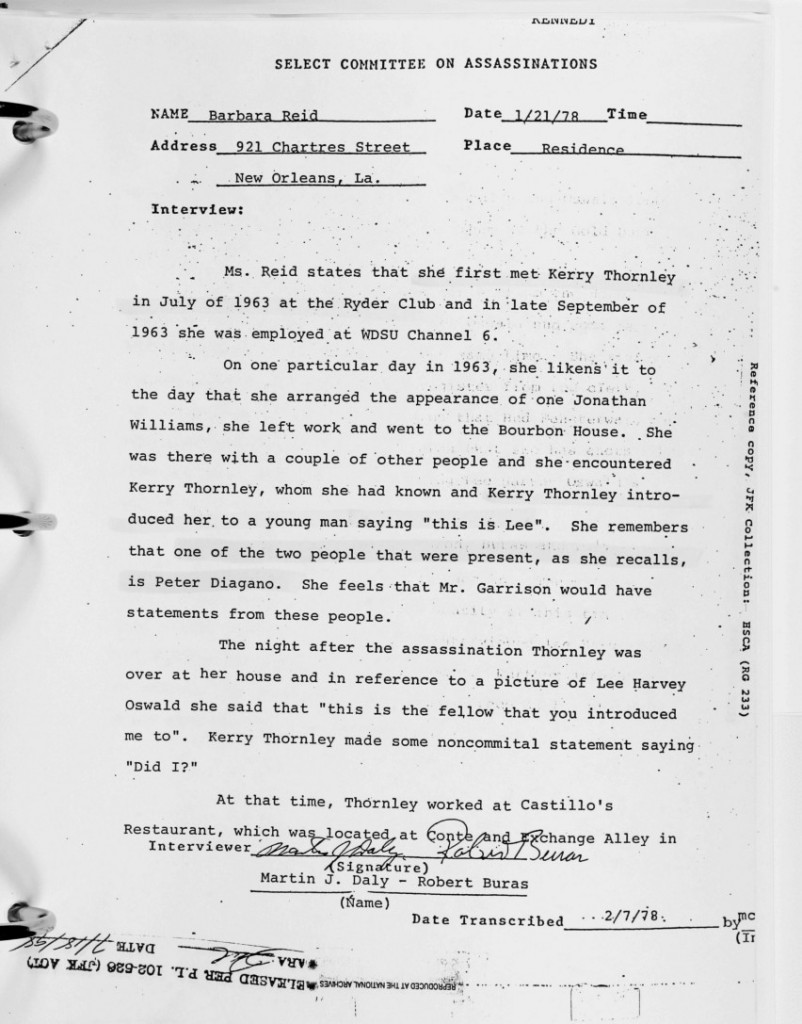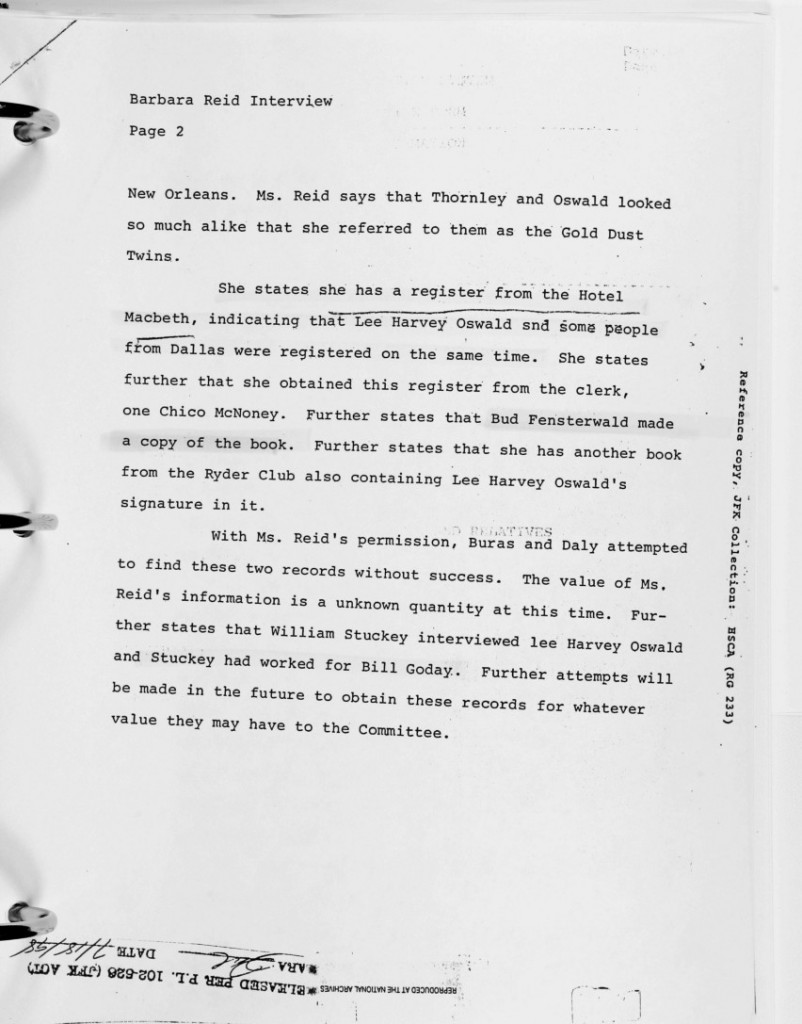 Garrison's claim that Thornley "wore his hair extremely long" has no substance. Thornley—as was the style of the day—let his hair grow long in the late 1960s, but the claim that he sported a new haircut to more resemble Oswald in 1963 is just another among Reid and Garrison's impossible-to-prove-allegations.
I suspect the reason Garrison glommed on to the notion that Thornley sported long hair may have been on account of a July 1967 memo (posted below) from Assistant District Attorney Jim Alcock documenting his interview with Clifford Wormser, owner of Cliff's Junkyard in New Orleans.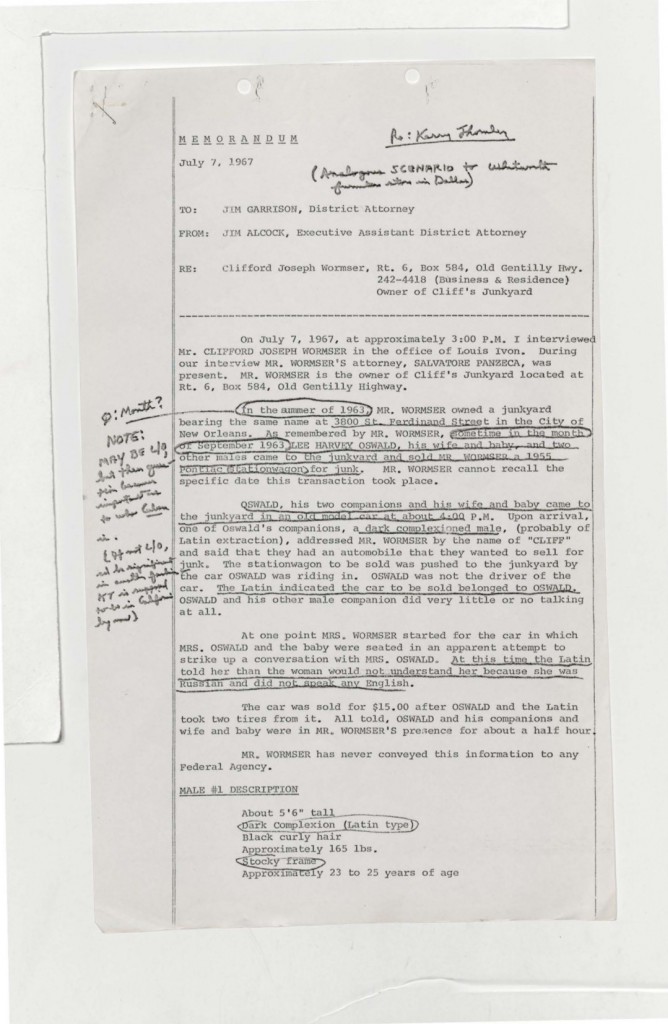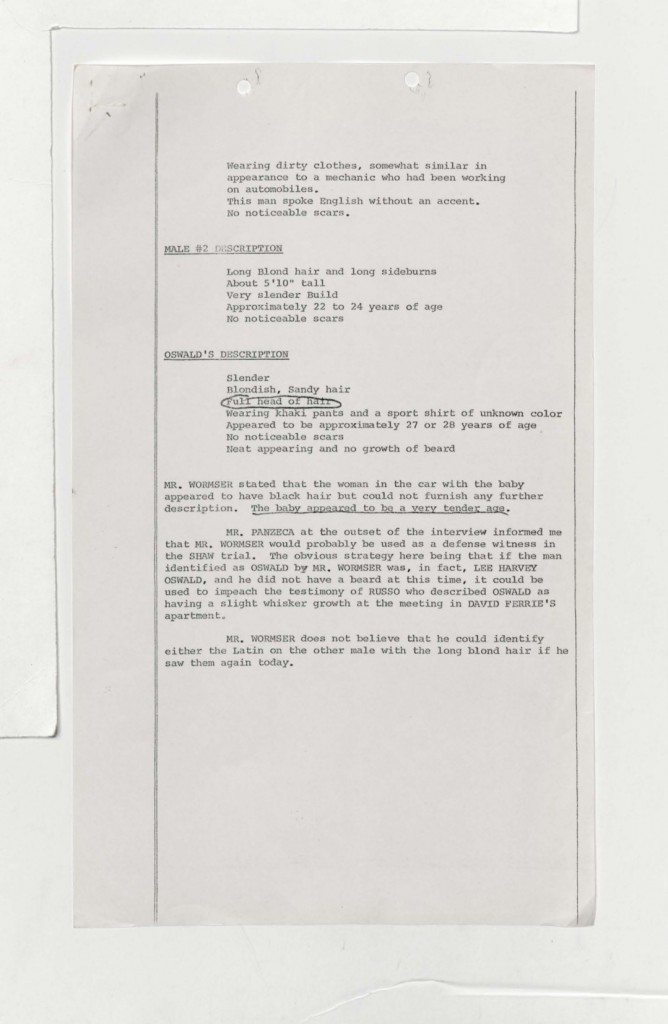 According to Wormser, he was visited in September 1963 by Lee Oswald, his wife and baby, along with two other men, one a Latin looking fellow and the other a Caucasian with long blond hair. At the top of the memo, Garrison scribbled 'Kerry Thornley' indicating his suspicion that Thornley was one of the individuals accompanying Oswald during this junkyard visit.
Late September 1963 was the time-frame when Lee Oswald and Kerry Thornley were both in New Orleans during a 2 to 3 week period, which evidently led Garrison to theorize that the long blond haired fellow identified by Cliff Wormser was actually Thornley, and that Kerry cut his hair shortly afterwards. One of the problems with this scenario was that Thornley had brown hair, not blond.
Whatever the case, the apparent intent of Thornley cleaning up his act with this fresh new haircut (once again according to Garrison's convoluted theory) was due to his recurring role as an Oswald double, which begs the question: If Thornley was masquerading as an Oswald double why would he have allowed himself to be seen in the company of Oswald? Wouldn't that have potentially compromised the whole Oswald double caper?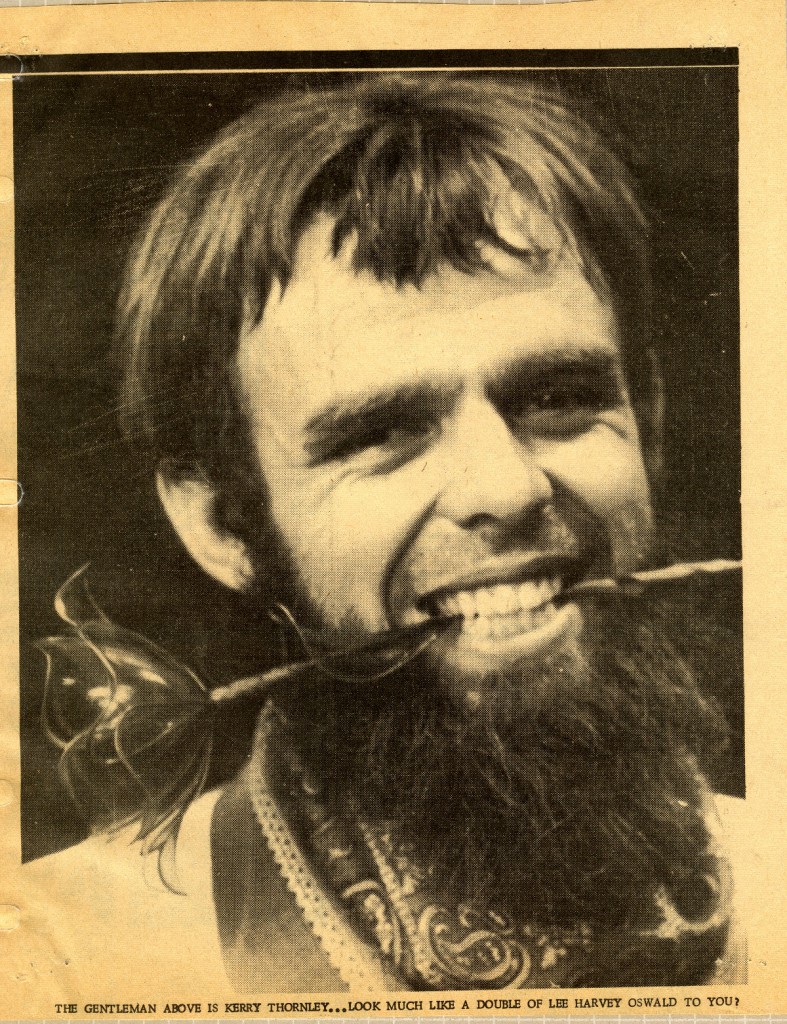 Garrison's assertion in On The Trail of the Assassins that Thornley left New Orleans a few days following the assassination was also inaccurate, as it was actually three weeks after the assassination that Thornley moved to Arlington, Virginia on December 13th, 1963. This might seem like splitting hairs to some, but it only goes to illustrate how—when it came to Thornley—Garrison never got anything exactly right, and more often got it totally wrong.
To suggest that Thornley was difficult to locate was another fallacy perpetrated by Garrison to create the aura around Kerry as someone always in hiding or on the lam. At the time, Thornley was married with an infant child and held down dozens of menial jobs, while living at a few locations, in California and later Florida. He was also doing a lot of writing during this period, and his articles appeared in numerous publications. That Garrison encountered such difficulty tracking down Thornley says more about Big Jim's dubious investigative skills than it does Thornley's supposed elusiveness.
Garrison's claim that the Ryder Coffee House had been Thornley's main French Quarter hangout is also inaccurate. Kerry noted in his writings over the years that the Bourbon House—not the Ryder Coffee House—had been his main base of operations where he spent his idle hours writing or shooting the bull with other patrons. In recent correspondence with your humble author, Thornley's French Quarter friend, Grace Zabriskie (formerly Grace Caplinger), confirmed that the Bourbon House was indeed Kerry's main French Quarter hangout, and to a lesser degree, Carlos Castillo's Mexican Restaurant.
In regards to the Ryder Coffee House, Barbara Reid claimed she had evidence of Oswald and Thornley both signing the guestbook belonging to Jack Frazier, the manager of Ryder's. In a memo from Harold Weisberg to Garrison, Weisberg noted that "several names may be disguised in this book, for example, Thornley's in the 'Discordian' language on the ninth page. You have the Discordian files that I obtained on a previous trip. These will reflect which Omar Khyam is who…." 00002
Make of this what you will, but apparently Weisberg thought he was hot on the trail of a diabolical Discordian conspiracy and provided Garrison with copies of Frazier's guestbook as evidence of this perceived diabolism. A review of the guestbook reveals that Thornley did indeed sign it using his Discordian moniker of Omar Khayyam Ravenhurst, which indicates that Thornley visited Ryder Coffee House on at least one occasion. However, there's no evidence that Oswald—using his real name or an alias—ever signed the guestbook.
Robert Karno—who in the absence of Jack Frazier managed Ryder Coffee House during the relevant timeframe—stated in an interview with Asst. D.A. Jim Alcock that he thought he met Oswald at Ryder's on one occasion, although he didn't sound completely positive: "Well, I—I believe I did. I'm almost sure I did…" As for Thornley, Karno remembered meeting him there only once, as well, and said nothing about having seen Thornley and Oswald together. 00003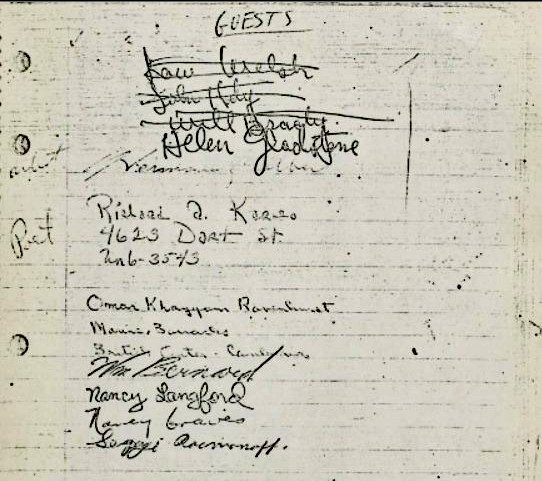 A second supposed witness to the Oswald/Thornley Bourbon House meeting was a French Quarter bookie named Peter Deageano. According to Deageano's affidavit:
"It was between 2:00 and 4:00 o'clock in the afternoon either in August or September of 1963. I was sitting at a table in the Bourbon House eating a hamburger. There weren't too many people in the Bourbon House and as I looked around I noticed Kerry Thornley, Jeanne Hack, and (Oswald) sitting at a table close to me, I looked at them and said hello and either Kerry Thornley or Jeanne Hack introduced him to me. I cannot remember how he was introduced or any of the conversation that we may have had as it was a very casual meeting. However, I remember thinking to myself that he might be related to Kerry Thornley as he resembled him quite a bit.

"After the assassination of President Kennedy a picture of Lee Harvey Oswald appeared on television and I immediately recognized him as being identical to the person that I saw sitting in the Bourbon House with Kerry Thornley…"
Although it's not indicated in Deageano's affidavit—which happened to be unsigned—he was in Barbara Reid's company during this alleged Oswald/Thornley sighting. That Deageano's affidavit remained unsigned speaks volumes (perhaps) to the methods of Garrison and his staff. Nowhere else in Garrison's files does an actual interview with Deagano appear, and it's my suspicion that Reid and/or the D.A.'s office drafted the affidavit, but when they presented it to Deagano he refused to sign it, assuming it was ever shown to Deagano at all.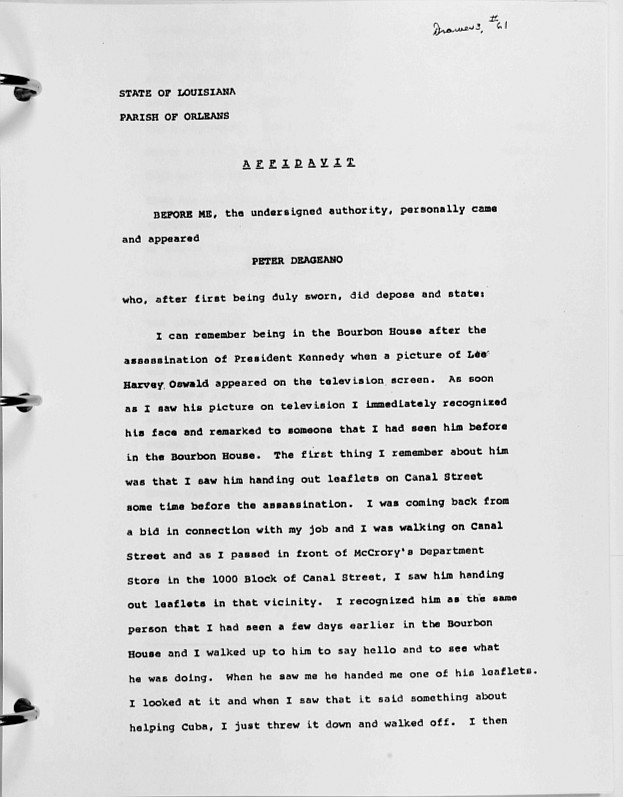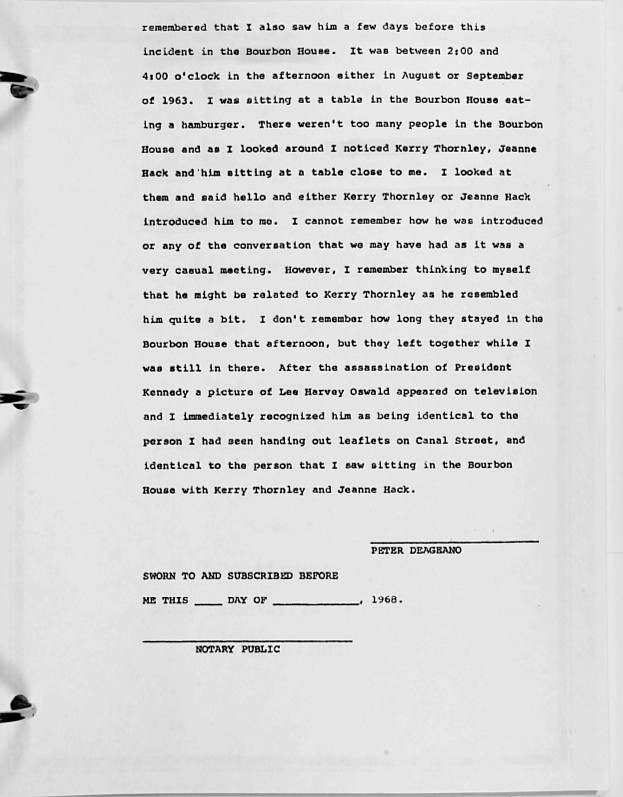 For more about Barbara Reid and the Dealey Plaza Irregulars read Caught In The Crossfire: Kerry, Lee Oswald and the Garrison Investigation (Amazon) .
Read Part 1 of this series here.



---
00001 Jim Garrison, On The Trail of the Assassins, p. 70-72.
00002 3/17/68 memo by Harold Weisberg, http://jfk.hood.edu/.
00003 May 14, 1968 conversation between James L. Alcock and Robert Karno. Jim Garrison Papers, National Archives, John F. Kennedy Assassination Records Collection.