On page 622 of
Illuminatus!
, Hagbard Celine's
Never Whistle While You're Pissing
reminded me of an early-80s letter in the
Discordian Archives
addressed to
Greg Hill
and
Kerry Thornley
courtesy of a Discordian named Semaj the Elder.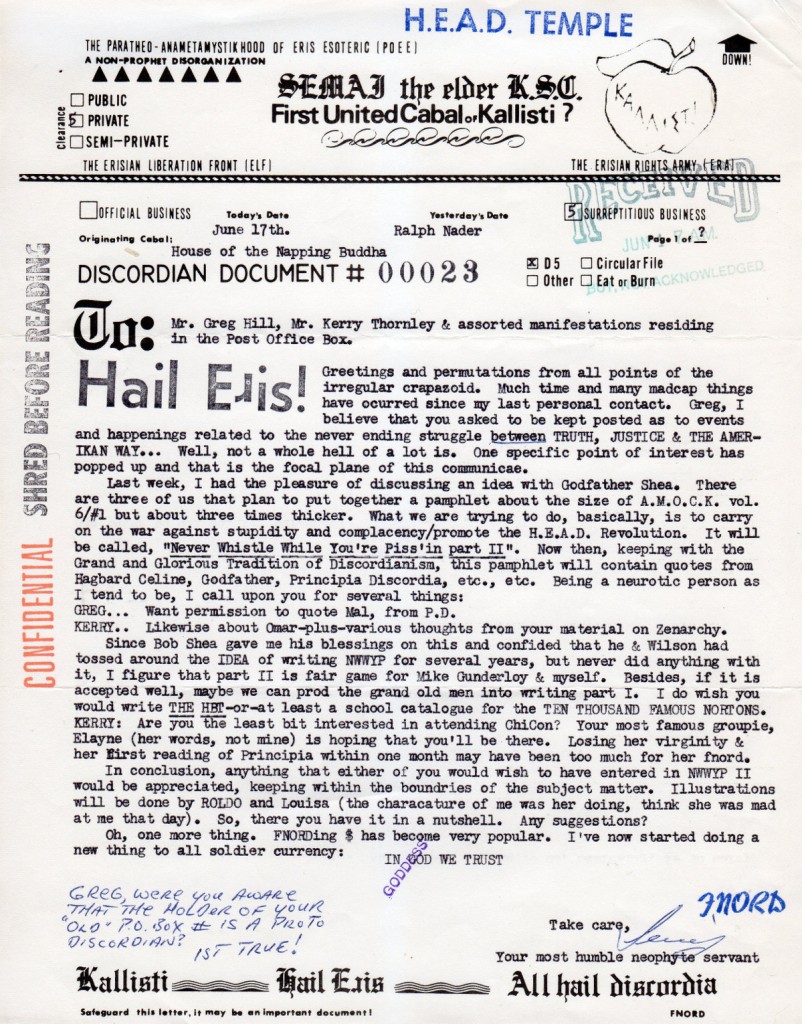 I really don't know much about Semaj the Elder (or whatever his real name was) other than he resided in Davenport, Indiana and published a Discordian zine during the early-80s called A.M.O.C.K. of which there were about a half dozen copies discovered in the Discordian Archives.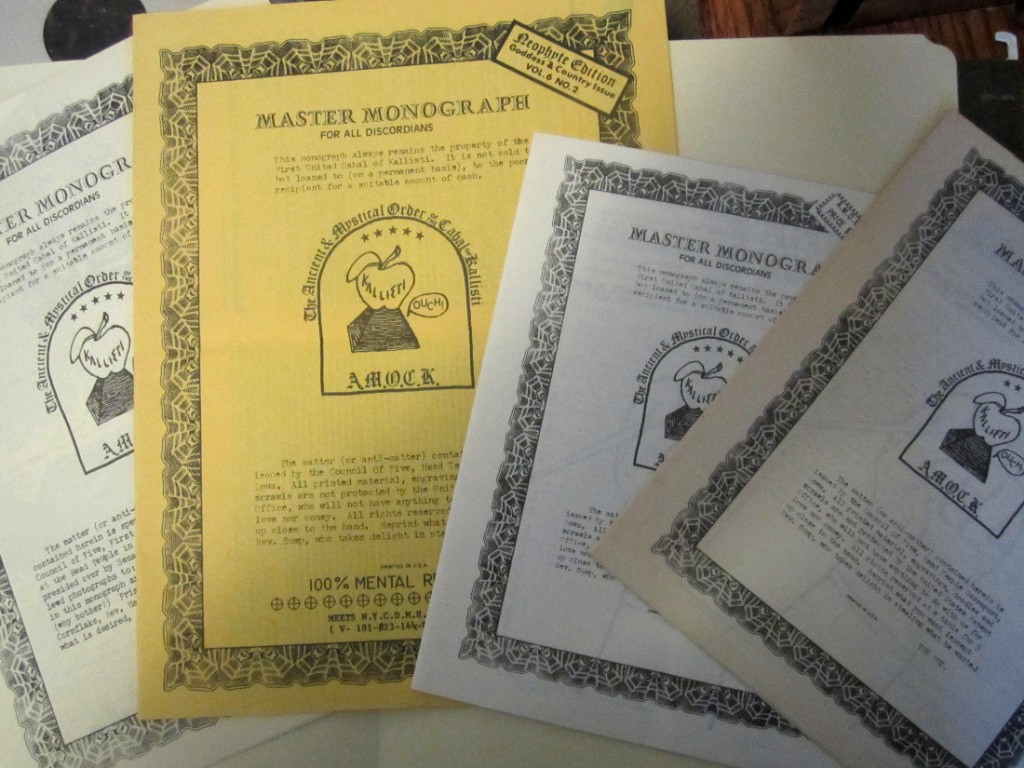 For the hell of it I googled Semaj the Elder, which led me to a Google Books page for (of all things!) The Prankster and the Conspiracy and a passage from a letter I'd totally forgotten about that pertains to Semaj the Elder written by Kerry Thornley to Greg Hill in 1982, during a period when Kerry was leading a vagabond existence:
"I will be ambling out to Tampa in the latter half of June, visiting [Elayne Wechsler] in New Jersey, a delightful psych student in Boston named Sean Hugh—maybe Arthur Hlavarty in Durham on the way—Bob McDonald in Virginia—some Oklahoma Libertarian, possibly the SubGenii, certainly Semaj the Elder in Davenport, et al. No telling how long it will take me to reach California, but I'll try to send you a postcard of advance warning…I'll probably come back to Tampa at least another year. Paula says that's okay if I work full time until Christmas, to which I've no objection. Next winter after that I'll probably go to Miami and find work long enough to get my own home until spring. Unless, somewhere along the line, I should find a publisher for one of my books—in which case all plans will be up for rethinking…." The Prankster and the Conspiracy, pages 236 – 237.
In Semaj's letter to Hill and Thornley, he mentions recent conversations with Bob Shea about a pamphlet project called Never Whistle While Your Pissing Part II, and was writing Greg for permission to quote from Principia Discordia. The letter indicates that Shea and RAW were contemplating at one point actually writing part 1 of Never Whistle While Your Pissing (NWWYP) but never got around to it.
Later, Semaj encourages Thornley to write HBT (The Honest Book of Truth)—assuming that HBT was the same as NWWYP1—a book that was never actually completed except for excerpts that appear in Illuminatus! However, this wasn't the case—Kerry authored a complete version of The Honest Book of Truth, which yours truly unearthed in the Discordian Archives and that appears in its entirety in Historia Discordia: The Origins of the Discordian Society available while supplies last from your finer internet book retailers.
Semaj also invites Thornley to CHICON, informing Kerry that Elayne (Wechsler) will be attending, as well. Elayne Wechsler—it should be noted—published a memorable zine back in the early days of the zine movement called Inside Joke, which featured stories and articles written by none other than Kerry Thornley and Greg Hill, and artwork by such notables as Ace Backwards and Roldo, the fellow who created the original artwork that appears on the cover of Historia Discordia: The Origins of the Discordian Society available while supplies last from your finer internet book retailers.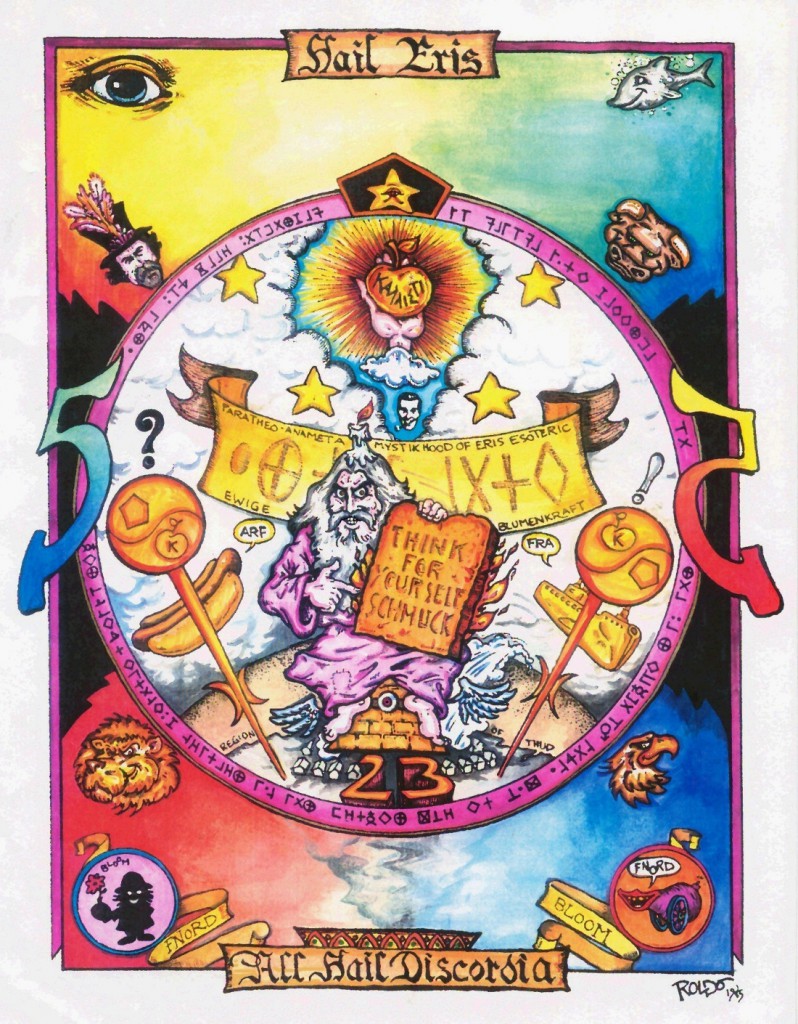 What I find most intriguing about this letter is that Semaj mentions he's working in cahoots on the NWWYP2 project with Mike Gunderloy, a legendary name in the annals of the Zine Revolution and publisher/editor of the famed Factsheet Five.
If it hadn't been for Factsheet Five, I probably wouldn't even be writing these words right now—nor would I have explored many of the arcane avenues that entered my frame of reference during those heady days of the late-80s and early-90s when I was writing for the many zines I discovered in the pages of Factsheet Five. In fact, it was in Factsheet Five that I was first introduced to Kerry Thornley who had a recurring column there called "Conspiracy Corner".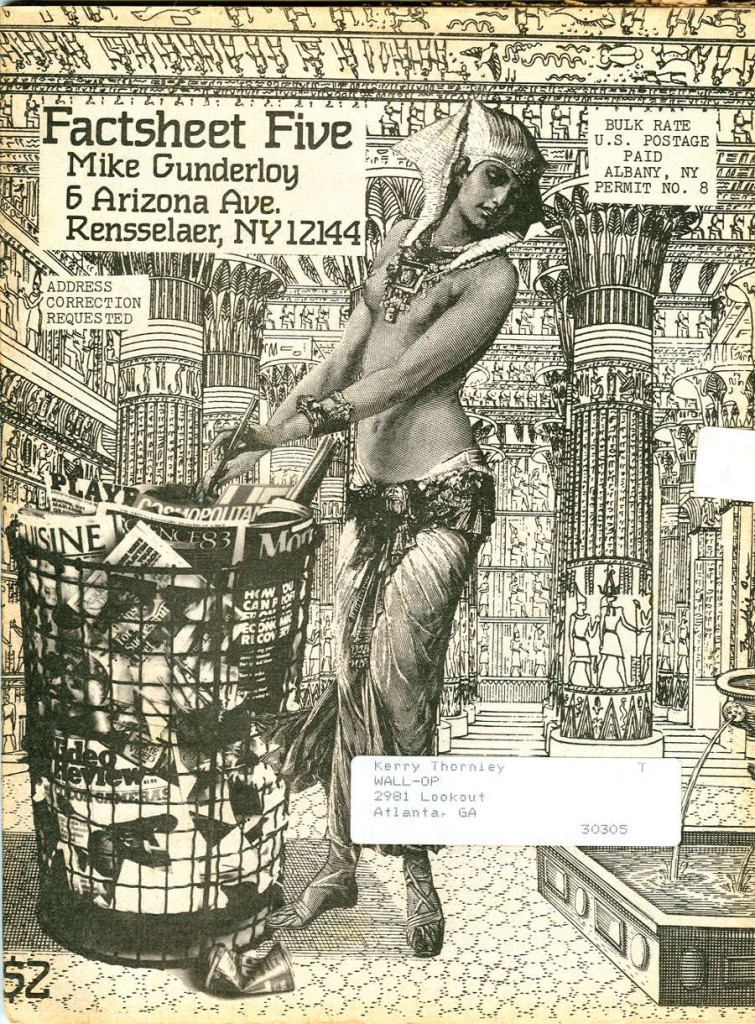 In one way or another, Factsheet Five introduced me to many zines I wrote for and friends I made during this period with 'zinesters like Greg Bishop, Robert Larson and Peter Stenshoel of The Excluded Middle; Kenn Thomas of Steamshovel Press; Tim Cridland's Off The Deep End; Wes Nations of Crash Collusion; SMiles Lewis of ELF Infested Spaces; Al Hidell and Joan D'Arc of Paranoia; Johnny Walsh of INFOCULT; Tracy Twyman of Dagobert's Revenge; Erik Bluhm and Mark Sundeen of The Great God Pan—and I'm probably forgetting a half dozen more so my apologies to any former zinesters out there I've failed to mention.