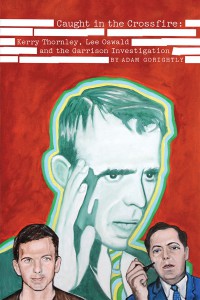 An excerpt from my latest book
Caught in the Crossfire: Kerry Thornley, Lee Oswald and the Garrison Investigation
, available at
Feral House
and
Amazon
.
---
Among Jim Garrison's more colorful unofficial investigators (otherwise known as the "Irregulars") was Allan Chapman who subscribed to the theory that the JFK assassination had been orchestrated by the Bavarian Illuminati, that infamous secret society much ballyhooed in the annals of conspiracy lore.
After catching wind of Allan Chapman's Illuminati theory, Kerry Thornley—with the support of some of his fellow Discordian Society pranksters—initiated what became known as Operation Mindfuck (OM), a campaign designed to screw with Garrison's head by sending out spurious announcements suggesting that he (Kerry) was an agent of the Ancient Illuminated Seers of Bavaria (AISB). Among the culprits who helped perpetrate OM was none other than Robert Anton Wilson. As Kerry later noted:
Wilson and I founded the Anarchist Bavarian Illuminati to give Jim Garrison a hard time, one of whose supporters believed that the Illuminati owned all the major TV networks, the Conspiring Bavarian Seers (CBS), the Ancient Bavarian Conspiracy (ABC) and the Nefarious Bavarian Conspirators (NBC).
Another of the "Irregulars"—assassination researcher Harold Weisberg—was also on the business end of OM communiqués as demonstrated in the following anonymous letter authored by Robert Anton Wilson: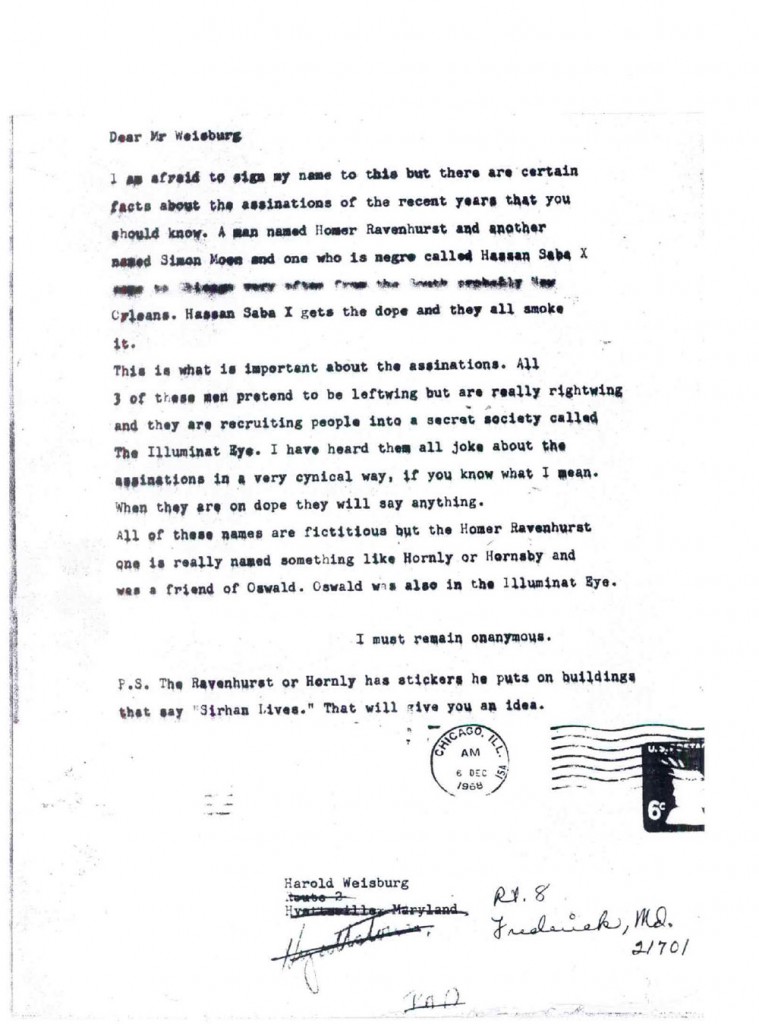 The above letter is unfathomable unless one is familiar with the Discordian antics that Thornley and his cohorts were engaged in during this period. Wilson's prank letter to Weisberg mentions someone named Homer Ravenhurst, another named Hassan Saba X, in addition to Simon Moon and the Illuminat Eye. In Discordian lore, Kerry Thornley's pseudonym was Omar Khayyam Ravenhurst, and so Wilson's mention of a "Homer Ravenhurst" was a playful way of messing with Weisberg's mind. As for Simon Moon, this was Wilson's sometime alias and a character that later appeared in Wilson and Shea's The Illuminatus! Trilogy. Hassan Saba X (or Hassan-i-Sabbah X) was a fictitious black militant character that Thornley and Wilson created to propagate the Illuminati mythology, later to be immortalized in a put-on letter planted in the April 1969 issue of Playboy during the period Wilson was an editor at the magazine. As for the Illuminati Eye mentioned in the Weisberg letter, this was an obvious wink and nod to that aforementioned all-seeing secret society from Bavaria. No telling what Weisberg thought of this letter; however, he found it important enough to place in his files for future researchers to ponder.
These OM communiqués led Garrison to suspect that the Discordian Society was a CIA front organization involved in the JFK assassination. As outlandish as this all sounds, those of a conspiratorial bent might find some merit to this theory, due to the fact that—among the handful of people involved in the New Orleans Discordian Society—each of them was, in one way or another, connected to the Garrison investigation as either a witness, suspect or correspondent.
According to legend, the first edition of the Discordian bible, The Principia Discordia: Or How The West Was Lost, was reproduced after hours on a mimeograph machine in Jim Garrison's office, of which only five copies were produced. This clandestine copying operation predated Garrison's investigation by nearly two years, and was allegedly perpetrated by a typist in the District Attorney's office named Lane Caplinger, who was friends with Discordian Society co-founder Greg Hill. (Lane just happened to be the sister of a French Quarter poet named Grace Caplinger who was friends with both Thornley and Hill. Grace later ventured to Hollywood and changed her name to Grace Zabriskie, and has made numerous Movie and TV appearances, including the role of Laura Palmer's mother in Twin Peaks.)
As for Greg Hill, his association with Garrison's investigation was minimal, consisting of a letter he wrote to Garrison in support of Thornley. Garrison, most likely having already made up his mind as to Kerry's guilt, probably placed said letter immediately upon receipt into his round file.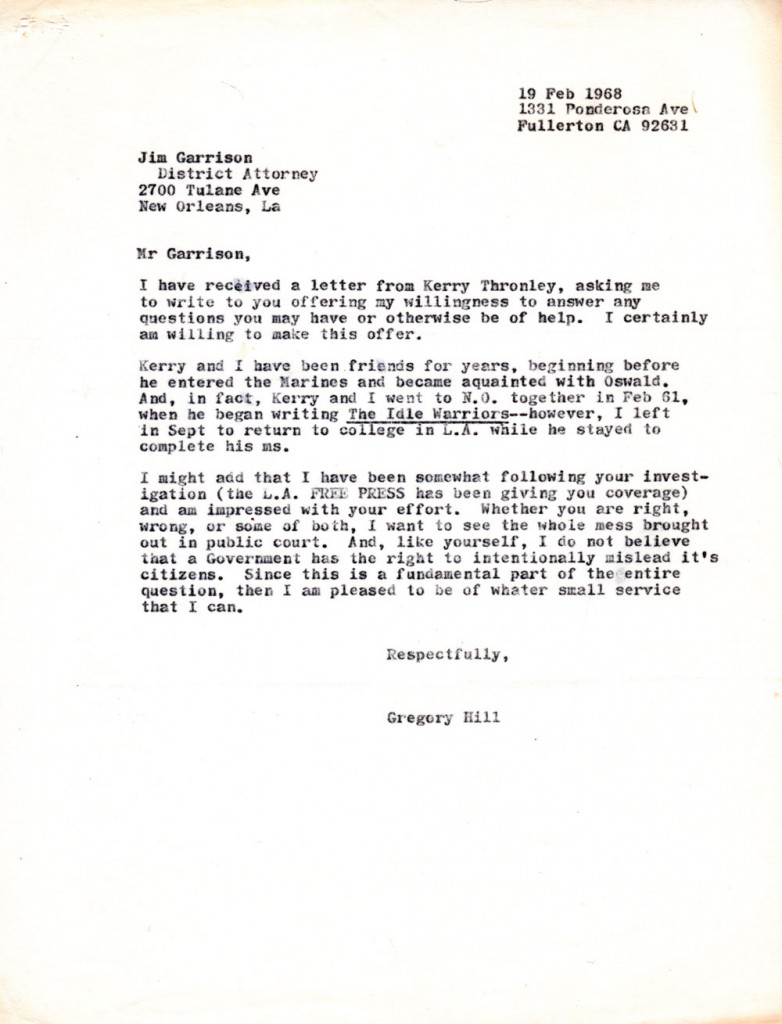 While it's a given that Hill and Thornley were both in possession of the first edition of The Principia Discordia, what is not commonly known is that Roderick "Slim" Brooks—another key player in the New Orleans Discordian Society—also received a copy of this rare first edition.
Slim Brooks—as it turns out—was the first person Thornley met when he moved to New Orleans. In early 1961, Slim and a shadowy character named Gary Kirstein—referred to as "Brother-in-law"—engaged Thornley in conversations about how to kill a president, and in particular, JFK. Thornley later suspected that he'd been manipulated into these conversations by Brooks and Kirstein with the intent of setting him up as a JFK assassination patsy.
It appears quite likely that Slim Brooks was actually Jerry Milton Brooks, a former Guy Banister employee and member of the Minutemen, a far-right anti-communist militia organization active during the 1960s. According to former Minutemen national spokesman R.N. Taylor:
The fellow mentioned as Slim Brooks, I think he was either Jerry Milton Brooks, or Jerry's brother… If it was Jerry, that was one of the most bizarre individuals I have ever encountered. One of a kind. For better and worse. I know he spent some time down there with Banister and that crowd in the sixties. He was a walking card reference file of names, addresses, phone numbers, etc. Had a very photographic mind, quite amazing at times. Never knew re¬ally what side he was on. He will forever remain an enigma to me.
It can also be assumed, with some degree of certainty, that the other recipients of The Principia Discordia first edition were Barbara Reid and Roger Lovin, both New Orleans Discordian Society members. In fact, a Discordian Society business card from 1965 lists Lovin as head of the New Orleans Discordian chapter.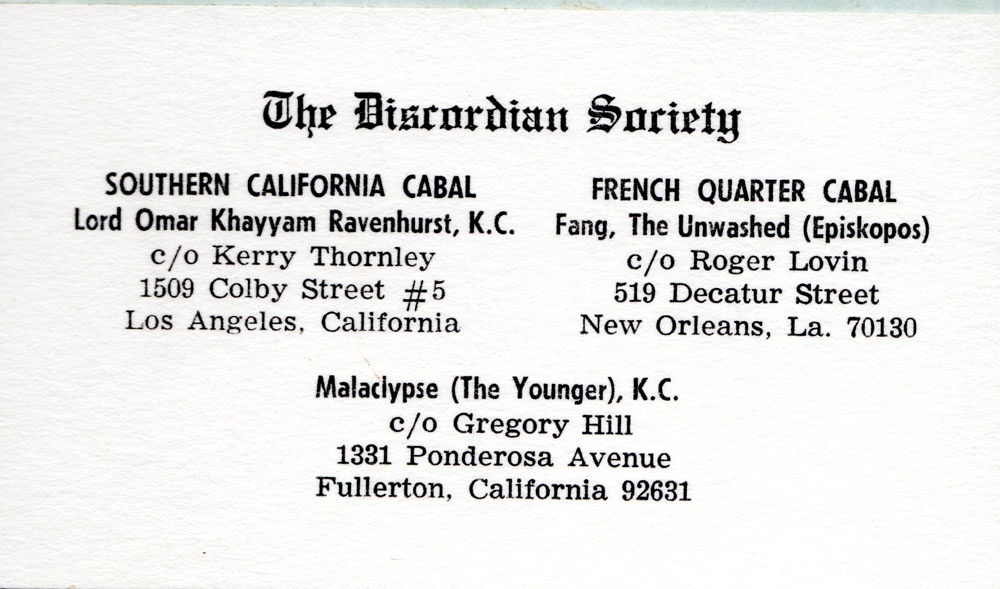 Lovin—known in the Discordian Society as Fang the Unwashed—was identified by Garrison witness Bernard Goldsmith as being connected to Lee Harvey Oswald in New Orleans, as well as allegedly involved with the Bay of Pigs invasion. Whatever the case, Lovin had a reputation as a charming con man who, for all we know, might have been pulling Goldsmith's leg about his connections to Oswald and the Bay of Pigs.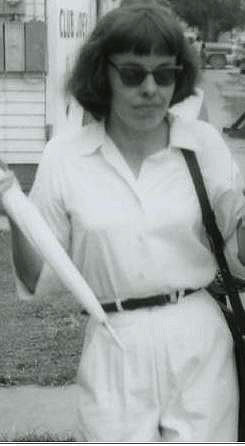 Perhaps the single most curious member of the New Orleans Discordian Society was Barbara Reid, the person most responsible—other than the District Attorney himself—for dragging Kerry, screaming and kicking, into Jim Garrison's three-ring circus. Reid claimed to have seen Oswald and Thornley in New Orleans during September of 1963, an allegation Kerry denied, insisting that the last time he'd been in contact with Oswald was at El Toro Marine Base in the fall of 1959. Curiously enough, Reid became one of Garrison's "Irregulars" and often accompanied Harold Weisberg during his rounds questioning French Quarter witnesses.
Among the House Select Committee on Assassinations (HSCA) files related to Kerry Thornley (now residing in the National Archives) one will find excerpts from the first edition of The Principia Discordia. It seems unlikely that Kerry would have provided these documents to the HSCA, unless he was trying to make a case that the Discordian Society had been infiltrated by the intelligence community, a theory he entertained upon occasion, particularly during the period in the late seventies when his paranoias ran high.
However, I suspect that it may have been Barbara Reid who provided these Discordian documents to the HSCA, as included among the HSCA files is a Discordian Society membership certificate awarded to Reid and signed by none other than the Bull Goose of Limbo (a.k.a. Kerry Thornley) dated September 18th, 1964. Reid also claimed, at one time or another, to be the incarnation of Goddess Eris, which would certainly explain the unbridled chaos that entered Thornley's life during the Garrison investigation period.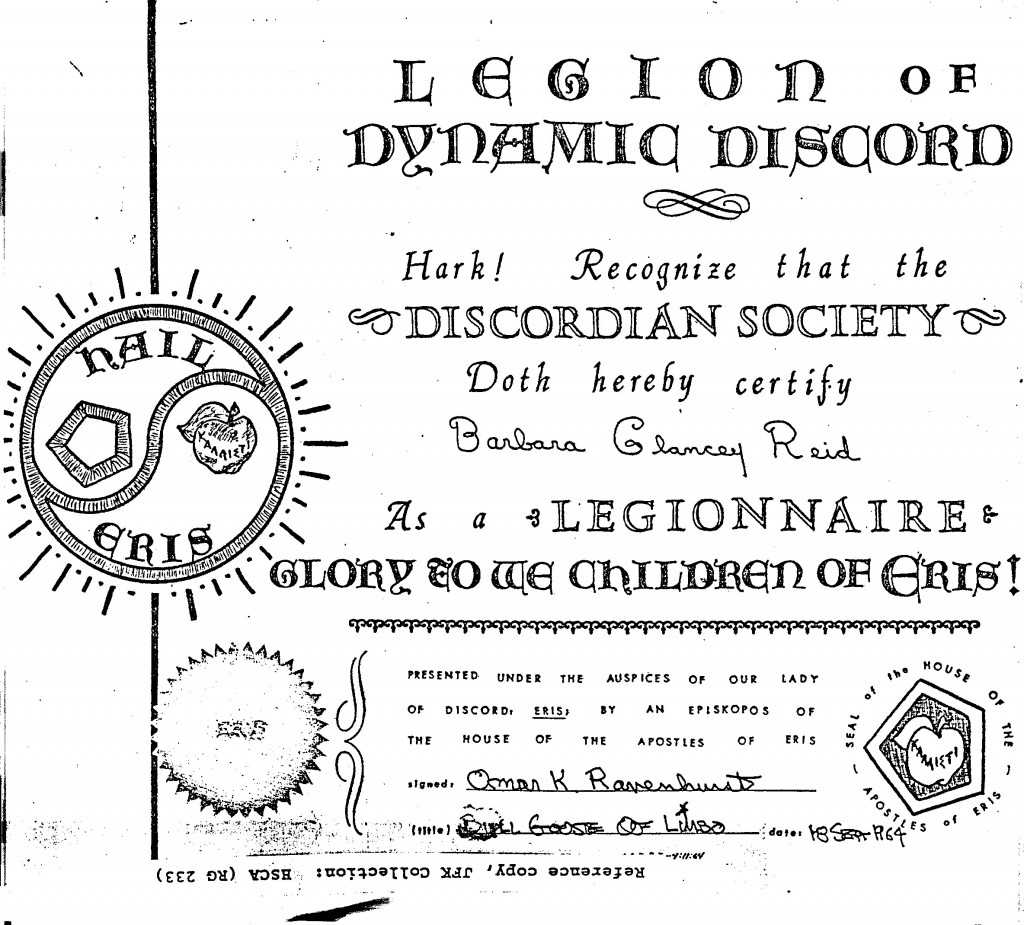 Another way these Discordian documents might have found their way to the HSCA files was through Harold Weisberg, who noted in an interview he conducted with Roger Lovin, that Lovin "…acknowledged his membership in the Discordians. Today he gave me his files on that outfit…" It could then be assumed that Weisberg copied these files and later submitted them to Garrison and/or the HSCA. That Weisberg was willing to entertain the notion that a religion worshipping the Greek Goddess of Chaos and Confusion was somehow involved is certainly one of the wilder theories in JFK assassination lore, right alongside such other Garrison mainstays as the homosexual thrill kill theory and the involvement of the dreaded Bavarian Illuminati. As Robert Anton Wilson observed in Cosmic Trigger:
Try to picture a jury keeping a straight face when examining a conspiracy that worshipped the Goddess of Confusion, honored Emperor Norton as a saint, had a Holy Book called "How I Found Goddess and What I Did to Her After I Found Her," and featured personnel who called themselves Malaclypse the Younger, Ho Chi Zen, Mordecai the Foul, Lady L, F.A.B., Fang the Unwashed, Harold Lord Randomfactor, Onrak the Backwards, et al….
Allegations that Thornley and Oswald met at Ryder Coffee House came courtesy of Barbara Reid, who claimed she had evidence backing this up in the form of a guest¬book belonging to the manager of Ryder's, Jack Frazier, that both Oswald and Thornley had allegedly signed. In a memo Harold Weisberg sent to Garrison, he noted that "several names may be disguised in this book, for example, Thornley's in the "Discordian" language on the ninth page. You have the Discordian files that I obtained on a previous trip. These will reflect which Omar Khyam is who…." Make of this what you will, but apparently Weisberg thought he was hot on the trail of a Discordian conspiracy and provided Garrison with Frazier's guestbook as evidence of this. A review of the guestbook reveals that Thornley did indeed sign it using his Discordian persona of Omar Khayyam Ravenhurst, which indicates that Kerry visited Ryder Coffee House on at least one occasion. However, there's no evidence that Oswald—using his real name or an alias—signed the guestbook. (Sometime Discordian conspirator Lane Caplinger's name appears elsewhere in the guestbook, which provides further incontrovertible evidence of the Discordian Society's sinister role in JFK's assassination!)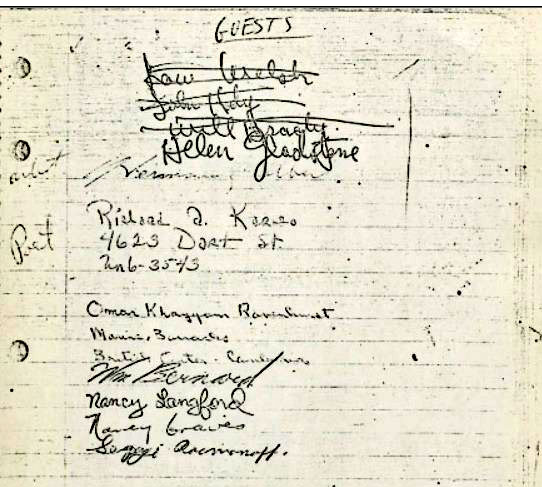 Robert Karno—who in the absence of Jack Frazier was managing Ryder Coffee House during the relevant time frame—stated in an interview with Garrison investigator James Alcock that he thought he met Oswald at Ryder's on one occasion, although he didn't sound completely positive: "Well, I—I believe I did. I'm almost sure I did…" As for Thornley, Karno remembered meeting him there only once as well, and said nothing about having seen Thornley and Oswald together.
Thanks to Tim Cridland for unearthing the Robert Anton Wilson letter to Harold Weisberg.
---
Purchase Caught in the Crossfire: Kerry Thornley, Lee Oswald and the Garrison Investigation from Feral House and Amazon.