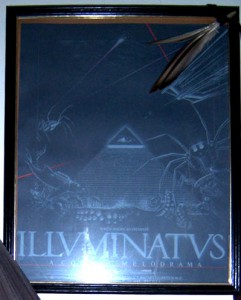 In a
recent Historia Discordia post
we mentioned the London stage production of
Ken Campbell
and Chris Langham's famed
Illuminatus!
as well as the duo's lesser known Seattle production.
Shortly afterwards, visual artist, psychedelic chronicler and all around multimedia magus Iona Miller posted the following images to my facebook page of which she has agreed to share here.
Though not the crispest images, they document the Illuminatus! Seattle production in all its chaotic grandeur.
As I learned from Iona, the Seattle stage production took place at The Empty Space Uncommon Theatre in 1978. At this link is a listing of The Empty Space Uncommon Theatre productions for 1978/79, listing Illuminatus! in three parts. Also listed were a couple other Ken Campbell productions with such interesting titles as Skungpoomery and Psychosis Unclassified.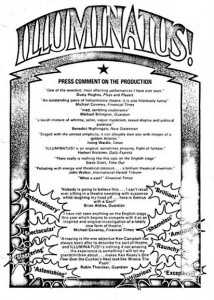 In the promotion poster below, British Sci-Fi author Brian Aldis had this to say about the Illuminatus! play:
"Nobody is going to believe this… I can't recall ever sitting in a theatre sweating with suspense while laughing my head off…. here is Genius with a Gee!"