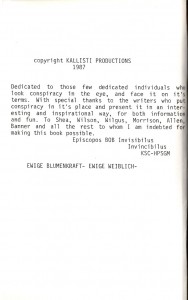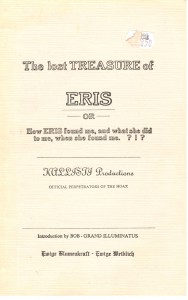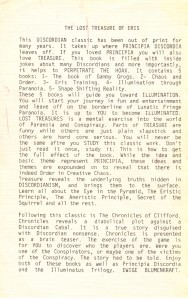 Thanks to Alfred Vitale for sharing these scans of a rare and for the most part unknown
Discordian
tract entitled
The Lost Treasure of Eris: Or How Eris Found Me, and What She Did to Me, When She Found Me !?!
published by KALLISTI Productions in 1987 with an introduction by Episcopos BOB Invisibilus Invinsicilus—which seems like an appropriate name for someone introducing a Discordian book due to the fact that darn near ⅓ of the first wave of Discordians were named Bob—and trust me that's no exaggeration. This early Discordian Bob Cabal included
Wilson
,
Shea
,
McElroy
, Yeager,
Newport
(and I'm probably forgetting 2 or 3)—not to mention
Roger Lovin
, whose middle name was Robert. (
Bob Dobbs
is another story.)

The Lost Treasure of Eris also happens to be dedicated to a number of Bobs—including the aforementioned Wilson and Shea—not to mention a certain someone named Banner. In this case, I assume Episcopos BOB was referring to Bob Banner, former editor and publisher of the late, great conspiracy magazine Critique that during the course of its run would occasionally feature articles by RAW.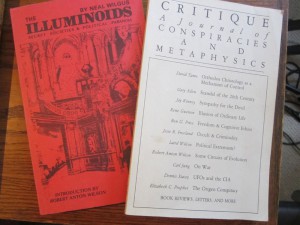 Here's an excerpt from Jesse Walker's The United States of Paranoia (Amazon) that talks about Bob Banner and Critique.
The Lost Treasure of Eris dedication page also acknowledges Neil Wilgus, author of The Illuminoids, another must-have book for one's Illuminati Discordian-library back in the day when the Eye in the Pyramid had suddenly become all the rage.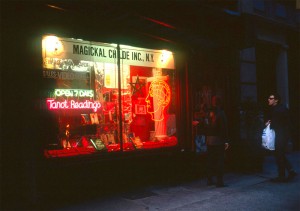 Alfred informs me that he discovered The Lost Treasure of Eris at the Magickal Childe book store in NYC in the 1980s. If memory serves me correctly, this is where Mark Philip Steele (creator of the Illuminatus! comix) told me he came across a copy of the ultra rare Revisionist Edition of the Principia Discordia (circa '76.)
So it appears that the Magickal Childe had an affinity for Discordian obscurities such as these.
Alfred and I would like to track down the origins of this strange relic—The Lost Treasure of Eris—that was supposedly first published 10 years or so before its '87 re-publication. So if you have any info please let us know!