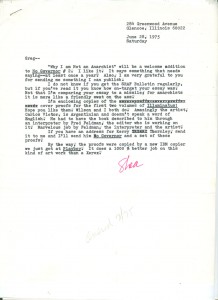 One of my favorite finds in the Discordian Archives is this letter from Robert Shea to Greg Hill sent the summer before the release of Illuminatus!.
The letter includes some great Erisian Mysteries insights. Such as Shea's back-story on how cover artist Carlos Victor (Carlos Ochagavia) learned about Illuminatus! to create the individual book covers. I find this amusing as it must have been quite an endeavor by editor Fred Feldman and the interpreter to communicate to Victor such a strange and bizarre concept, which Victor nails solidly.
Another great nugget is Shea's admiration for the latest in 1975 photocopier tech, provided by his employer, Playboy magazine, used to photocopy the Illuminatus! book cover proofs attached to the letter.
Photocopiers as hip-tech were something Shea and the Early Discordians used-well in the production of personal zines, like Shea's No Governor mentioned in the letter, and various Erisian tracts, including the Principia Discordia.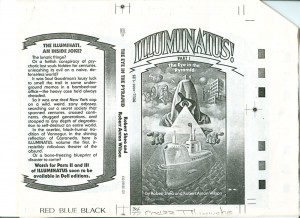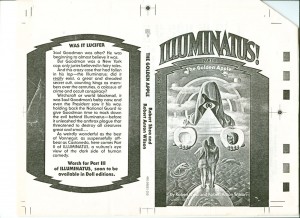 Greg Hill had, by the time of this letter, long-ago hacked how photocopiers could be used with paste-ups to produce artwork that left no cut-marks or seams when reproduced and liberally employed this production technique for Third and Fourth Editions of the Principia Discordia. Eventually this approach was ubiquitous in the mid-to-late-80s zine scene explosion, no doubt also helped along by Kinkos' great photocopier equipment and liberal policies of photocopy production (while looking the other way on copyright infringement).
One can imagine "Faster/Clearer/More Gradients!" as a mantra that Shea and Hill would have embraced in their pursuit of top-notch photocopier tech of the time.
More to come of such correspondences betwixt these Erisian Masters. Stay fnord!