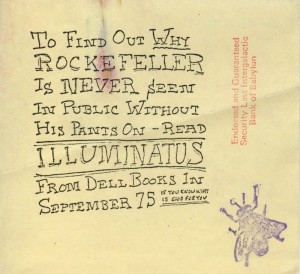 Several posts ago, we presented
a letter
from
Robert Shea
to
Discordian
co-founder
Greg Hill
concerning the
Illuminatus!
book cover art proofs that proved quite interesting with some great background insights into that effort before the release of the book.
After the release of Illuminatus!: The Eye in the Pyramid, co-author Shea and Hill continued their correspondence through the fall of 1975, attached below for your reading pleasure. Shea is referenced and signs as "Josh" in two of these letters acknowledging his Discordian nom de plume "Josh the Dill."
From this exchange, we learn some interesting tidbits about the publication of Illuminatus!, such as the book's publisher, Dell, initially printed only 75,000 copies of The Eye in the Pyramid. We also gain some insights into how the book was being received and what efforts were being made by Shea and his co-author Robert Anton Wilson to market the book via radio interviews.
In the November 11, 1975 letter from Hill to Shea, Hill enclosed a copy of the fake Illuminatus! review he and Wilson had been working on under the name of Mordecai Zwack and were sending out to various newspapers like The New York Times as a part of their ongoing "Operation Mindfuck."
This exchange of letters also contains an extensive discussion and analysis of Discordian co-founder Kerry Thornley's recent-at-the-time state of mind, his growing paranoia, and his theories regarding his involvement in the JFK Assassination, including Thornley's experiences with the mysterious "Brother-in-Law" Gary Kirstein. Shea and Hill's take on Thornley and what he was personally going through around this time is quite revealing in context of what this whole era of realization would eventually mean for Thornley and his life in the years to come.
Also of note is Shea's response to various Illuminati "true believers" during his promotional radio interviews leading him to confide to Hill, "We are definitely dealing with volatile materials."
Indeed, Hail Eris! Enjoy.
Letters: Robert Shea and Greg Hill, Fall 1975