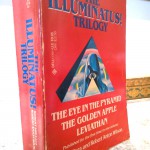 And now yet more revelations of certain Erisian Mysteries in
Week 6
of the
Illuminatus!
group reading…
On page 54, 00005 (Of Her Majesty's Secret Service) is introduced, otherwise known elsewhere in Illuminatus! as the character Fission Chips.
00005 is the first reference in Illuminatus! to the Discordian Law of Fives, which states that all things happen in fives, or are divisible by or are multiples of five, or are somehow directly or indirectly related to five.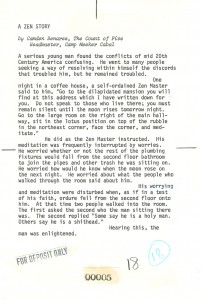 00005 is also an example of the same five digit numbering system Greg Hill devised for the Principia Discordia. Illuminatus! is permeated with such Discordian allusions, which very few people at the time of its publication in 1975 would have been able to pick up on—or had even heard of Discordianism, for that matter. During this period there were only a few hundred copies of Principia Discordia in circulation, and so these Illuminatus!-Discordian allusions (such as this obscure reference to The Law of Fives) were initially inserted into the narrative as nothing more, it would seem, than inside jokes to the few who would understand them: a small cabal of Early Discordians numbering no fewer than five and probably not more than 23. The ultimate design of including all these Discordian winks and nods in Illuminatus! was part of a well thought out (albeit semi-covert) Discordian campaign to bring the Principia Discordia and Discordianism to a larger audience. The subsequent success of Illuminatus!, as a result, led many in turn to seek out the Principia Discordia, which was no easy task to track down at the time given its limited availability.
This limited availability of the Principia Discordia—coupled with its repeated referencing in Illuminatus!—no doubt intrigued and motivated the likes of Michael Hoy at Loompanics, and later Steven Jackson Games, to come out with new editions in the years to follow, thus unleashing an insidious plague that would soon envelop the planet, and usher in modern day Discordianism as we now know it.
On page 58 is a direct quote from Malaclypse the Younger, aka Greg Hill:
Hang on for some metaphysics. The Aneristic Principle is that of ORDER, the Eristic Principle is that of DISORDER. On the surface, the Universe seems (to the ignorant) to be ordered; this is the ANERISTIC ILLUSION. Actually, what order is "there" is imposed on primal chaos in the same sense that a person's name is draped over his actual self. It is the job of the scientist, for example, to implement this principle in a practical manner and some are quite brilliant at it. But on closer examination, order dissolves into disorder, which is the ERISTIC ILLUSION.
—Malaclypse the Younger, K.S.C., Principia Discordia

From this passage one can see the philosophical inspiration Greg Hill provided to RAW and Bob Shea, which once again attests to the overarching role that Hill, Kerry Thornley and Discordianism played in the creation The Illuminatus! Trilogy.
As for the "K.S.C." tagged on to the end of Malaclypse the Younger, this appellation is an acronym for Keeper of the Sacred Chao, which we will of course learn more about as we progress further down the Illuminatus! rabbit hole.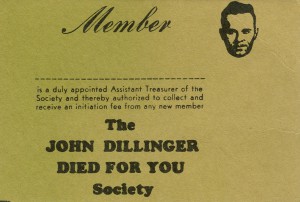 On page 59, the legend of John Dillinger is first introduced, a mythology that'd been evolving in certain Discordian circles since at least 1970 in the form of the John Dillinger Died For You Society (JDDFYS), a legend largely inserted into the Discordian mythos by RAW.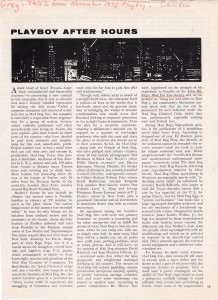 An early mention of JDDFYS appeared in one of the more obscure articles found in Playboy magazine, no doubt penned by RAW and/or Shea or both when they were editors there. As I've mentioned in previous reading group posts, many of the conspiracy theories in Illuminatus! contain equal amounts of fact mixed with fiction, although it's hard sometimes to figure out where one ends and the other begins. Included in this Playboy "After Hours" article from November 1970 is an early reference to the JDDFYS, which was a real society created in a large part by RAW and based on fanciful legends mixed with an equal measure of historical fact. So once again we have a real article in a real magazine, about a group of writers, artists and radicals launching their own "independent republic" in Mad Dog, Texas—that was probably totally made-up although the article included some elements of truth mixed with fiction, as well as real people (such as Warren Hinckle and George Plimpton) co-existing with some imaginary people mentioned in the article. Reality tunnels within reality tunnels…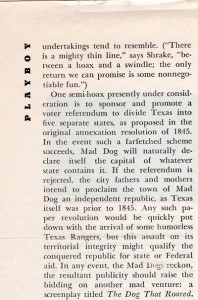 Mad Dog, Texas—as the reader shall soon discover—later plays a key role in the Illuminatus! narrative, although it really seems to have next to nothing to do with the Mad Dog, Texas group discussed in the Playboy "After Hours" article.
All Hail the Goddess of Confusion!