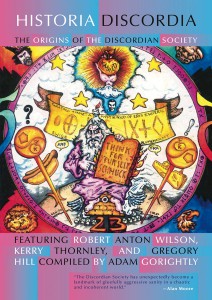 The most extensive collection in print documenting the Discordian Society's wild and wooly legacy,
Historia Discordia: The Origins of the Discordian Society
features the unique worldview and wit of such illuminated iconoclasts as
Robert Anton Wilson
and Discordian founders
Greg Hill
and
Kerry Thornley
.
Chronicling Discordianism's halcyon days, Historia Discordia presents a fun and freewheeling romp through rare photos, holy tracts, art collages, and fnords, many of which appear for the first time in print.
Included among the contents are such chaotic wonders as the 1st edition of Principia Discordia: How The West Was Lost, which no one has really seen for a long, long time—besides a handful of Early Discordians back in the day. Also featured is Kerry Thornley's The Honest Book of Truth, another rare and hardly seen holy tract that many thought never actually existed.
Here's what Alan Moore has to say about Historia Discordia:
"Like communication-god Thoth with his yammering ape, like the all-important noise that Count Korzybski assures us must accompany our every signal, no harmony is possible without an acknowledgement and understanding of discord. Born from the bowling-alley epiphanies of Greg Hill and Kerry Thornley, its disruptive teachings disseminated through the incendiary writings of Robert Anton Wilson and other Eristic luminaries, the Discordian Society has unexpectedly become a landmark of gleefully aggressive sanity in a chaotic and incoherent world. Through this book, we can all involve ourselves in their gloriously constructive quarrel."
See the fnords and buy the book at Amazon. Enjoy!