I really didn't have much planned for
this week's Illuminatus! group reading
until I happened upon a note by
Greg Hill
in the Archives which caught my attention because it's addressed to someone named Pat. Having gone through a lot of Hill's correspondence, I'm usually able to figure out (in most cases) to whom he was corresponding—but in this instance I haven't a clue.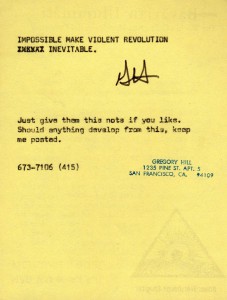 When I saw the name Pat, I immediately flashed on an enigmatic character by the same name who appears in Illuminatus! in relation to a series of Illuminati memos exchanged between she (or at least I think Pat is a she) and Joseph Malik, editor of Confrontation magazine, a character that is based—to some degree—on both Greg Hill and Kerry Thornley. In fact, you can see an upside down Mad Malik stamp on the note, which was Hill's Bavarian Illuminati persona, further linking this curious little note to Illuminatus!
In Greg's note to Pat, he encourages him/her to pass it on to BofA, and one can only assume he is referring to Bank of America, who—as synchronicity would have it—later employed Greg for 23 years (Hail Eris!), which we'll no doubt discuss in more depth at some later date here at Historia Discordia.
Oddly enough, a web search for Joseph Malik, editor of Confrontation magazine, led me to this publication at bookfinder.com which appears to be something RAW and Shea probably cooked up prior to the publication of Illuminatus! as a promotional stunt. Here is the magazine's description:
Published by Confrontation Magazine, New York, 1975. , 15 pages, includes interviews with 'illuminatus' authors Robert Shea and Robert Anton Wilson, plus poems by Joe Malik, black & white illustrations, appears to have been the only issue of the magazine ever published First Edition , light spots to covers, pages slightly yellowed at edges otherwise clean, in good+ condition , printed wraps 30 x 22 cm Paperback ISBN: Bookseller Inventory # 53469
An additional Joseph Malik web search left me even more perplexed.