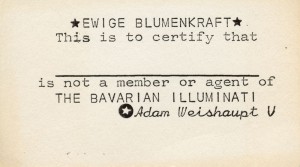 No time to lose, so diving right into
The Illuminatus! Trilogy
(
Amazon
) book's
Group Reading
.
Let's fnord! On page 108 (more or less depending on how my ipad kindle reader syncs up with the paperized version), the '68 Chicago riots were first introduced into the kaleidoscopic Illuminatus! narrative:
…Liberalism, clubbed to death by Chicago's heroic peace officers.
Surreal street scenes such as these reappear periodically throughout Illuminatus!, as Simon Moon and Hagbard Celine stumble through the teargas madness and good-ol' fashioned ass whuppins doled out by the Chicago cops during the '68 Democratic Convention.
There was a sound from the crowd, like a subway opening all its doors with a suck of air, and I saw the police coming, crossing the street to clear the park.

"Here we go again," I said. "All hail Discordia."
Scenes such as the above snippet from page 150—where we currently reside in the Illuminatus! reading group timeline—illustrate the autobiographical nature of the series.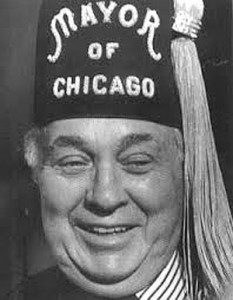 RAW participated in the '68 Democratic Convention demonstration, marching (and sometimes running!) shoulder-to-shoulder with counterculture figures such as Ginsberg, Hefner, Mailer and Burroughs. This event no doubt had a profound impact on him, as it did to so many other millions of Americans (either witnessing the confrontation firsthand on the front lines in the streets of Chi-town or viewing the mayhem from their TV screens); a nation outraged by the heavy-handed tactics of Democrat Mayor Daley, who was meanwhile supposedly shouting "Ewige Blumenkraft!" from the convention floor, all part of an apparent Illuminati plot to Immanentize the Eschaton, which can never be a good thing—especially if it's happening during your lifetime!
Illuminatus! often seems a collection of composite characters sewn together from those Robert Shea and RAW met, and corresponded with, during those heady days of the 60s-and-70s, and in many ways Simon Moon resembles RAW (or at least certain aspects of RAW) as well as others, such as Neil Rust, another of the purported Simon Moon composites who was featured in a recent RAWIllumination.net blog post.
Page 151 introduces ILLUMINATI PROJECT: MEMO #16, (for a second time!) as another ILLUMINATI PROJECT: MEMO #16 previously appeared on page 146 which could perhaps be chalked up to some sort of mix-up on the part of RAW or Shea or both… or perhaps our heroes did this intentionally for Goddess knows what reasons… or maybe it was a mistake on the part of the Patricia Walsh character… or maybe Pat was intentionally messing with Joe Malik's mind, although JM didn't seem to notice the MEMO #16 duplication and I'm starting to think that perhaps I'm the only one who has noticed this anomaly—if this second memo does indeed actually exist—as meanwhile fnords march across the page and my ruminations about all this are making me suspect that I'm the person (what's my name… Barney Muldoon?) who actually created this second ILLUMINATI PROJECT: MEMO #16—although I have no actual memory of creating it which can only mean that I was brainwashed to forget it!
(Now back to our regular "programming…")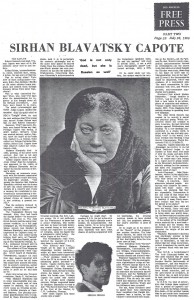 ILLUMINATI PROJECT: MEMO #16 (on page 150) concerns a rumor Truman Capote spread claiming that Sirhan Sirhan had been negatively influenced by the writings of Madame Blavatsky—to the point that it blew Sirhan's mind, which is what he literally (or allegedly) did to RFK—all part of an insidious Illuminati/Communist plot that somehow got mixed up with Madame Blavatsky and Theosophy.
Apparently Capote got hipped to this Blavatsky trip from a couple of John Birch Society members—Anthony Hilder and John Steinbacher—who shortly after RFK's assassination held a press conference exposing this aforementioned Illuminati-Commie-Madame Blavatsky plot. In subsequent talk show interviews, Hilder created further confusion (Hail Eris!) by alleging that Sirhan was a Eugene McCarthy supporter, which ostensibly connected elements of the political Left to RFK's assassination.
Previously, Hilder self-published It Comes Up Murder which outlined a vast conspiracy starring Adam Weishaupt in the leading role, who in Bavaria in 1776 organized "the secret and evil cult of the Illuminati in order to wage Satan's war against Christian civilization." In due time—according to Hilder—the Illuminati coalesced into the modern International Communist Conspiracy which, in turn, evolved into such evil New World Order fronts as the United Nations and the Council of Foreign Relations. Such worldviews as these became an easy target of Operation Mindfuck as documented in Bavarian Illuminati hoax letters that the Discordian Society sent to leaders of The John Birch Society during this period.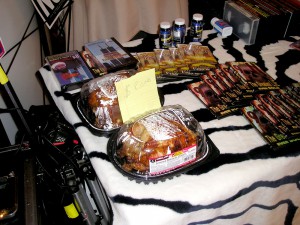 As for Hilder, he remains active on the current-day conspiracy research scene appearing at such events as Conspiracy Con held each year in San Jose, CA where you can find him holding court while peddling DVDs along with an occasional Rotisserie chicken or two!
Here's a current vid of our man Hilder still bustin' the Illuminati's chops! Hail Eris! (Editors Note: He makes some good points.)
http://www.youtube.com/watch?v=24nZIVX_1r0
In The Assassination of Robert F. Kennedy (1978),
authors William Turner and Jonn Christian suggest that Steinbacher and Hilder's Illuminati-Commie assassination plot theory was actually a well-orchestrated disinformation campaign designed to create a general theme that stuck in the public mind, whether people accepted the theory or not. According to Turner and Christian, one effect of this Commie-Illuminati disinformation campaign was that it permitted the LAPD to suppress evidence leading in the opposite direction of the true assassin, toward the Far Right of the political spectrum from whence the authors suspected that the assassination plot had been hatched.
All of this, of course, is almost as convoluted as some of the conspiratorial scenarios that Shea and RAW played around with—a case of life imitating art or vice versa, perhaps—as, throughout Illuminatus!, the authors seemed to have been channeling the rampant paranoia that became so prevalent following the almost endless parade of political assassinations that assaulted America in the late-60s.
Hilder and Steinbacher, as it turns out, had been protégés of another famous Bircher named Myron Fagan. Fagan was a prominent player in the McCarthy Era Hollywood blacklisting brigade. Curiously enough, Hilder and a band of brother Birchers had visited the Ambassador Hotel the night before RFK's assassination, passing out anti-RFK handbills.
This story gets even more curious with the involvement of a fellow named Ed Butler, a former Army intelligence officer who was the person that arranged the Hilder-Steinbacher press conference. Earlier in the 1960s—it so happens—Butler had been based out of New Orleans, LA during the period that future alleged JFK assassin, Lee Harvey Oswald, was going around handing out pro-Castro leaflets and coming across like some sort of commie symp.
Discordian co-founder Kerry Thornley was also in NOLA during this same period, which is way too much to get into at the moment, but you can find out much more on the topic in my forthcoming book Caught in the Crossfire: Kerry Thornley, Oswald and Garrison's JFK Investigation.
On August 16th, 1963—as Oswald was handing out his leaflets in front of the New Orleans Trade Mart, he was physically confronted by a surly anti-Castro Cuban named Carlos Bringuier—who supposedly just happened on scene—thus inciting a shoving match which a local news camera crew from WSDU-TV also just happened to capture on film. Not long after, WSDU's sister radio station, WSDU-AM, conducted a live radio debate between Oswald and Bringuier, which was "moderated" by the aforementioned Ed Butler. It's a small world after all…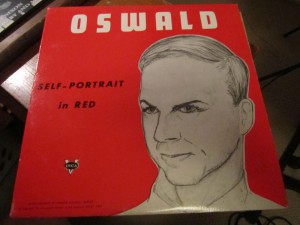 In the aftermath of JFK's assassination, the Oswald/Bringuier radio debate was pressed to vinyl on the recording Self-Portrait In Red, which presented posthumous evidence that Oswald was inspired to blow the proverbial crown from Camelot's head due to his Marxist affiliations. The organization that produced Self-Portrait In Red was the Information Council of the Americas (INCA), with whom Ed Butler was associated. In retrospect, many now suspect that the Oswald/Bringuier confrontation was staged, the ultimate design of which was to build a false history around Oswald that could later be used against him.
The theory that a red herring Commie-Illuminati-Blavatsky plot was orchestrated to muddy the RFK assassination waters (and divert attention from the Right side of the political spectrum) seems not so far-fetched a notion when one delves deeper into the involvement of the LAPD, who set up a unit named "Special Unit Senator" (SUS) to investigate RFK's assassination. SUS included in its ranks a couple of former CIA agents named Manny Pena and Hank Hernandez, who are alleged to have destroyed crucial RFK Assassination evidence, including door jambs and ceiling panels containing multiple bullet holes, suggesting that more than one shooter was involved. (Enter Thane Eugene Cesar…) It was SUS who put together the evidence that later formed the basis for the prosecution's case against Sirhan.
SUS discovered, among Sirhan's possessions, Healing, the Divine Art (Amazon) by Manly Palmer Hall, founder of the Philosophical Research Society which was tangentially connected to Blavatsky's Theosophy, Freemasonry and other mystical schools, and it was alleged that Sirhan attended Hall's Institute of Reflection in Los Angeles. Among Hall's clients was Los Angeles Mayor Sam Yorty, which provides another strange twist to this caper, as it was Yorty—following Sirhan's arrest—who branded Sirhan a commie-influenced occultist who had been brainwashed by Leftist and New Age propaganda.
During the RFK Assassination investigation, Mayor Yorty visited LAPD's field command post set up near the Ambassador Hotel where the dirty deed had gone down. While rooting around through evidence there, Yorty discovered some Rosicrucian literature and a pair of spiral notebooks belonging to Sirhan which provided alleged evidence that he'd been involved in the occult.
Afterwards, Yorty informed the press that Sirhan was "…a member of numerous Communist organizations, including the Rosicrucians." When it was pointed out to Yorty that the Rosicrucians were not Communists, he amended his miscue by stating: "It appears that Sirhan Sirhan was a sort of loner who harbored Communist inclinations, favored Communists of all types. He said the U.S. must fall. Indicated that RFK must be assassinated before June 5, 1968."
As it turns out for us, this was today in RFK Assassination history.