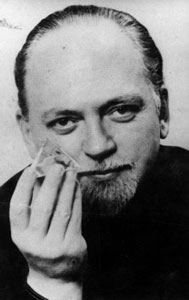 Recent conversations with J Fox Sircy have led me down a certain
RAW
-OTO-Illuminati rabbit hole first mentioned in
Cosmic Trigger Volume I, The Final Secret of the Illuminati
—page 225, to be exact:
I have now encountered the "real" Head of the "real" Illuminati several times…. The first real Head I met was Rev. Thomas Patrick McNamara of San Francisco. He is a charming and witty person. The second real Head is Robert Shell from Roanoke, Virginia. I haven't met him in person yet, but we've corresponded quite a bit, and he seems charming and witty also. The third real Head is an individual in southern California who shall be nameless and who is neither charming or witty. He threatened to sue me for a put-on letter I had written to an occult journal, Green Egg, in which I had jokingly pretended I was the real Head of the Illuminati. I sent him back a form saying his letter would not program into my computer and would he please resubmit it in Fortran; I haven't heard back from him since. Another real Head of the Illuminati is a chap called Frater Paragranis, in Switzerland, who registered his to that title in Francis King's book, Sexuality, Magick and Perversion.

I have also been corresponding for a year now with a 33º freemason in Texas. Part of the time I think he's the real Real Head of the Illuminati. Part of the time I think that he thinks I'm the Real Head. And part of the time I think he just likes to correspond with professional writers about occult subjects…
Over the years (as RAW notes in Cosmic Trigger) some suggested that he was the Real Head of the Illuminati, which of course RAW would never actually confirm or deny—not because it was either true or false—but because it was more amusing to let people believe whatever they wanted to believe… and it probably didn't hurt book sales of Illuminatus! either. Whatever the case, around 2003 I posed to RAW this very same question, inquiring if he was indeed the one and only Head of the Illuminati, and his answer, in typical satiric fashion, was "No, I'm the toe." This wasn't exactly the response I was looking for, but just the same I asked if he'd appoint me an Illuminati High Priest, to which he didn't hesitate one second: "You are hereby appointed." And although this lofty position hasn't improved my sex life or finances to any measurable degree, you must admit it's one hell of an honor belonging to a secret order associated with Robert Anton Wilson.
However—due to information shared with me by J Fox Sircy—there is evidence to suggest that RAW (in the previous passage from Cosmic Trigger) may have identified the Head of the Illuminati and the Head of the Ordo Templi Orientis (OTO) as one and the same person—which hopefully will become more clear to you, dear readers, as you continue on through this post. To this end, certain conspiracy theorists have suggested that OTO grand poobah Aleister Crowley was also a high level Illuminati Master, whatever that actually entails.
As history instructs, a freemason-enthusiast named Theodor Reuss founded the OTO in Germany in 1906, which at its outset was a seemingly mundane mystical order that Crowley later joined in 1912. In short order, Uncle Al finagled his way to the position of Head of the British OTO branch, introducing many new rituals into their ceremonies, including some with a decidedly sexual spin, ooh la la.
Crowley—as he was wont to do—eventually burned his bridges with OTO leadership, who in short order kissed his ass goodbye, in the process stripping Uncle Al of all his illustrious OTO titles, which probably didn't mean all that much to Crowley anyway. Just to spite his former OTO brethren and sistern, Crowley proclaimed himself the Outer Head of the OTO (OHO), a sort of outcast leader in exile who, in the years to come, would serve as spiritual father to upstart OTO chapters in the US, such as Jack Parsons' Agape Lodge, active in Los Angeles during the 1940s and early-50s.
Prior his death in 1947, Crowley appointed as his successor (otherwise known in OTO-speak as 'Caliph') a fellow named Grady McMurty, a former member of Parson's Agape Lodge, who would later become good friends with RAW during the period both lived in Berkeley in the early-70s. However, some disputed McMurty's appointment to Caliph-hood, claiming that they (the people disputing McMurty) were the true Caliph(s), among them British occultist Kenneth Grant, Hermann Metzger (who I suspect was RAW's correspondent in Switzerland, Frater Paragranis, mentioned in Cosmic Trigger) and Brazilian Marcelo Motta.
Such disputes as these led to seemingly endless internal OTO squabbles throughout the years, as documented in the following editorial by Marcelo Motta from the 1981 edition of The Equinox (Vol. 5, No. 4), in which Motta lists a countercultural rogue's gallery engaged in unsanctioned OTO pursuits that included such notables as experimental film director Kenneth Anger, Grand Caliph Grady McMurty and, most notably, RAW.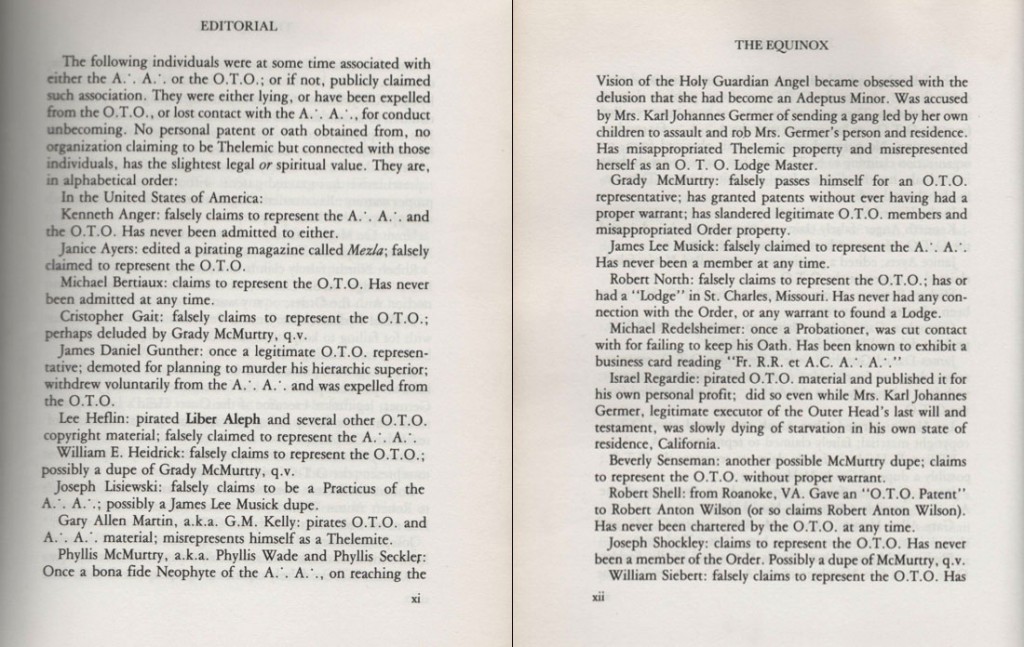 Motta's main bone of contention in regards to RAW related to the above quoted Cosmic Trigger passage about the charming and witty Robert Shell of Roanoke, Virginia, who—according to Motta—granted RAW an "OTO Patent" which allowed RAW to proclaim himself an OHO and, in turn, print his own OHO cards (authorized by Baphomet, no less!) thereby allowing each recipient thereof to likewise proclaim themselves an OHO (in the OTO!) much in the same manner that anyone anywhere anytime could proclaim themselves a Discordian Pope.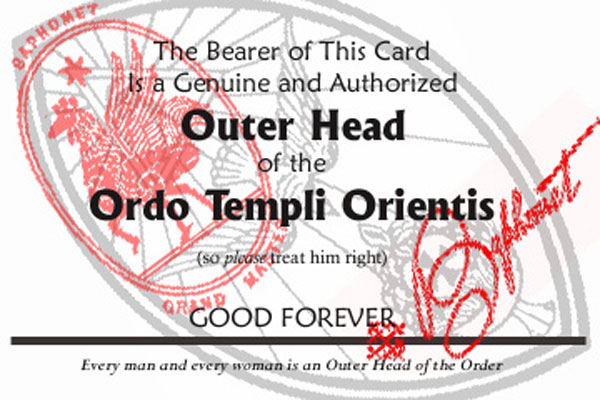 In fact, these OHO cards greatly resemble the famous Discordian Pope cards we've all grown to know and love. And, of course, OTO leadership (or those who claimed to be the true OTO leadership) didn't dig this one little bit as it allowed the uninitiated (read: the profane!) OHO status while not having jumped through all the required and authorized OTO hoops that are supposed to be passed through to attain such lofty status. (I'm sure RAW was laughing his ass off about all this.) To confuse things even more, RAW (in Cosmic Trigger) seems to have intentionally misidentified the Head of the OHO as the Head of the Illuminati—unless he was privy to certain secret society secrets which confirmed that the Illuminati were, in fact, OTO adepts!
Although unsubstantiated at this point, our crack research staff here at Historia Discordia have heard rumor that—during the period RAW was passing out these OHO cards in the 1970s—the official OTO "patent" had lapsed and, in the interim, he had achieved a high enough OTO rank to make his OHO cards "official." So, in effect, RAW owned a "patent" that legally permitted him to distribute these cards. It can be further conjectured that the aforementioned Robert Shell of Roanoke, Virginia was the OTO Adept who—through written correspondence—awarded RAW his highest OTO level thus authorizing his "patent," an offense that purported Caliph Marcelo Motta considered so egregious that he publicly denounced RAW.
And this pleased the Goddess.
UPDATE: While we strive for least 23% accuracy with at least 5% of our posts, I've just been informed that the OHO Card discussed above was actually created in the mid 90s by a fellow named David Schlesinger (aka Stone Mirror, the Great and Terrible!) who then shared it with RAW. For further clarification you'll have to consult your pineal gland.