Among the more prodigious correspondents of the 1970s
Discordian
letter writing circle was a fellow named Stan Jamison (aka Coman Ra – Lt. Colonel, Commanding 1st Intergalactic Confederacy Advance Detail—Planet Shan) who was a rather enigmatic sort in that he didn't fit the typical mold of what some might consider a Discordian. Of course, using the term "typical" to describe a Discordian is oxymoronic, as there was nothing close to typical about any of the
Early Discordians
.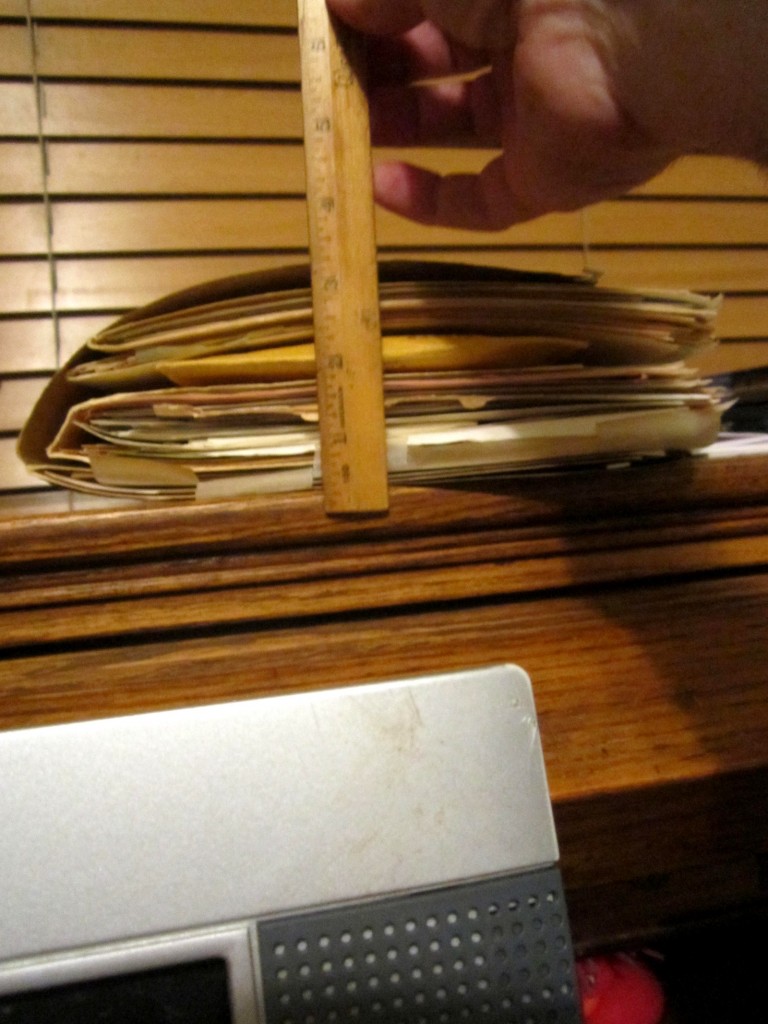 Many have associated the early Discordians with the hippie movement (whatever that actually was) and it can't be denied that Greg Hill and his fellow travelers were heavily immersed in and influenced by the 1960s counterculture, and were students and practitioners of its myriad forms of expression, including alternative religions, non violent political protest, Anarcho-Libertarianism, and an irreverent sense humor that permeated their colorful network of guerilla ontologists.
Even though he was described, at times, as a semi-fascist right wing kind of guy, Jamison was into what some might consider some pretty hippy dippy type shit himself, and to some degree his interactions with Discordian Society members certainly rubbed off on him in terms of being able to see different sides of an issue and immerse himself in different reality tunnels he might not have normally ventured into or engaged in.
Jamison was a self described "naturopath," a practitioner of natural healing and out of the box therapies who ran a mailing list dedicated to a wide range of topics such as growing organic sprouts, how to cure cancer via oxidation, and other alternative healing cures.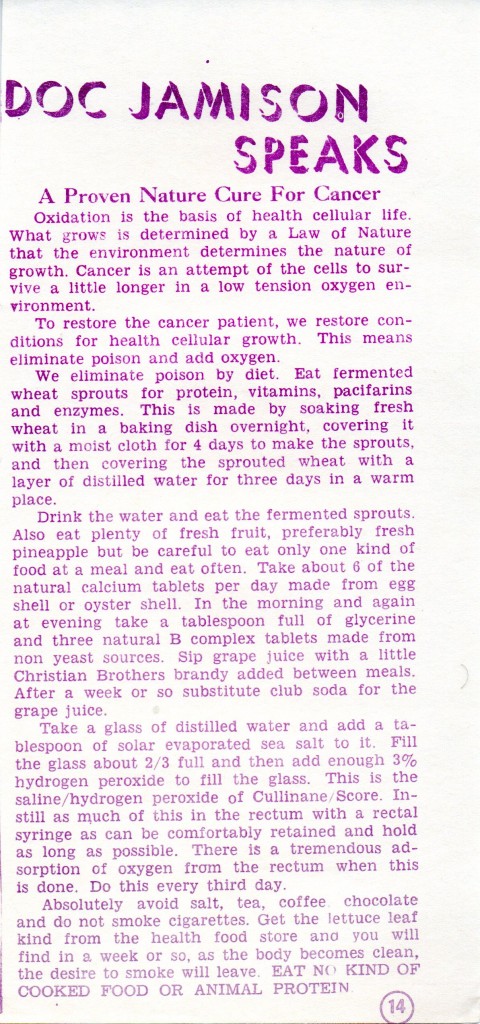 In this circa 1970 memo to Louise Lacey, Greg Hill shared his thoughts about the semi-enigmatic Doc Jamison.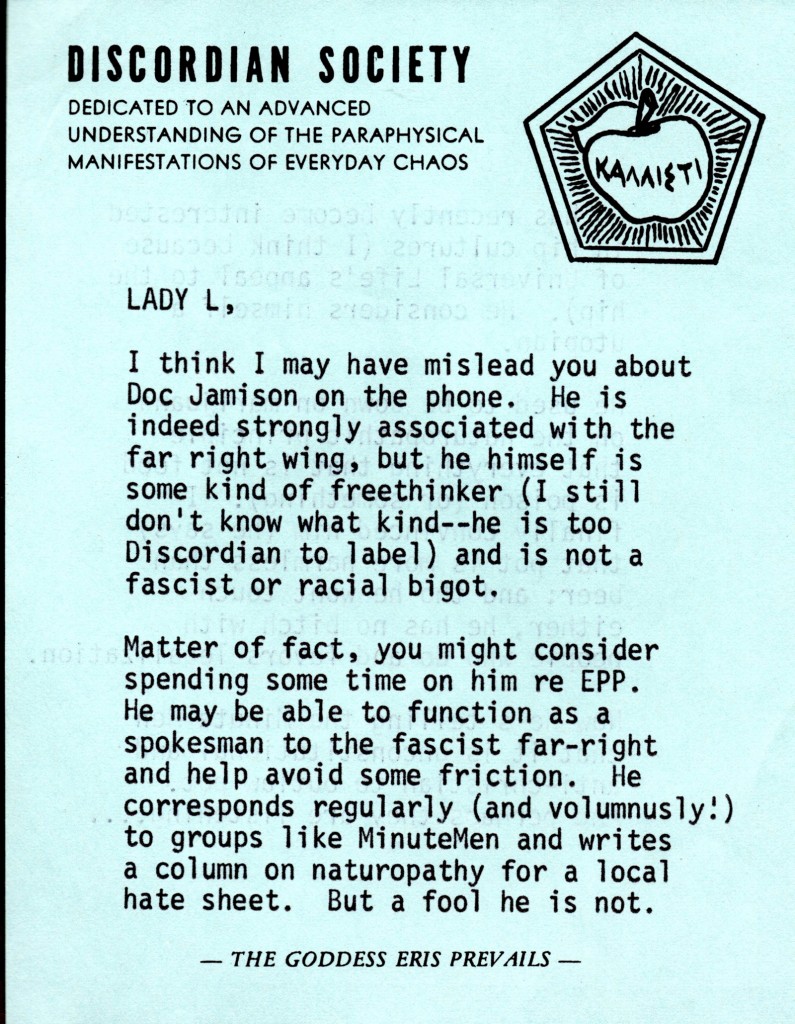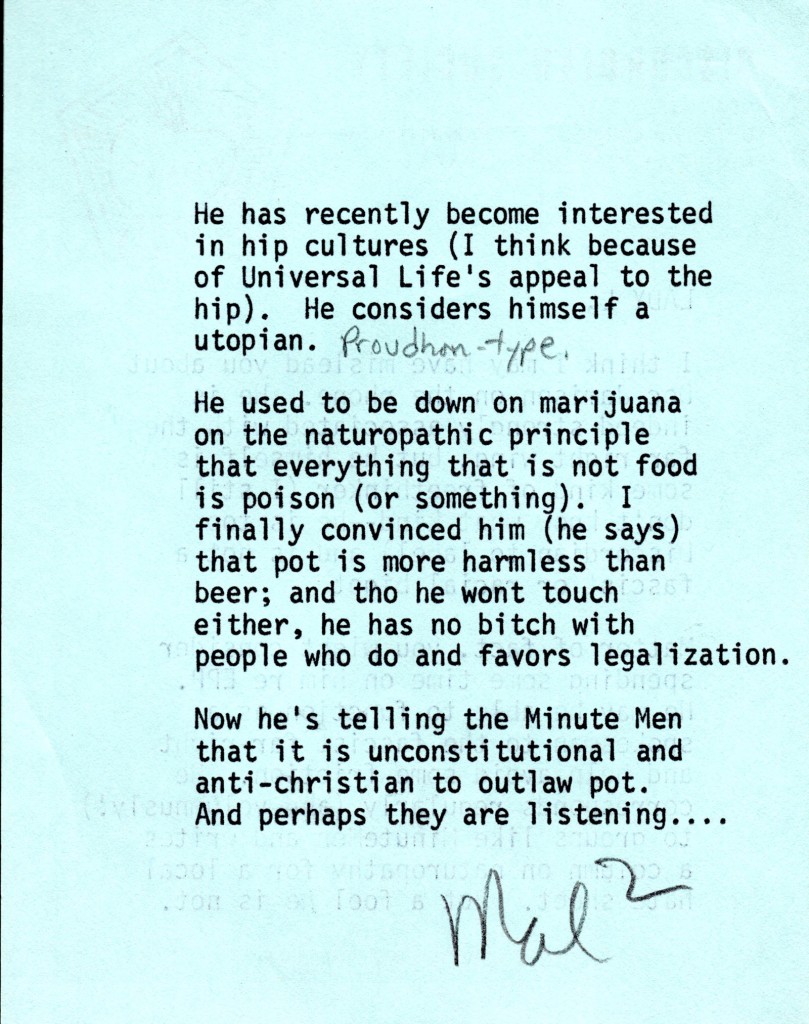 At the time, Louise was the secretary of the Earth People's Park (EPP).
To this end, Greg Hill's comment (re Jamison supporting EPP) was emblematic of the sort of out of the box strategic thinking he often showcased in his writings. In this case the notion that Jamison could help promote a left leaning concept like EPP to a right wing audience who under normal circumstances might view EPP as a manifestation of Socialism. In reality, EPP slid more toward the anarchic side of the political scale, i.e. less government, which was the sweet spot where mutual interests between the left and the right sides of the political spectrum could find common ground.
Like his fellow Discordian conspirators, Jamison took part in many of the prank letter writing campaigns referred to as "jakes." Once such jake was initiated by Discordian Thomas Patrick McNamara (aka Thomas the Gnostic) to The Rag, a counterculture mag out of Austin, Texas.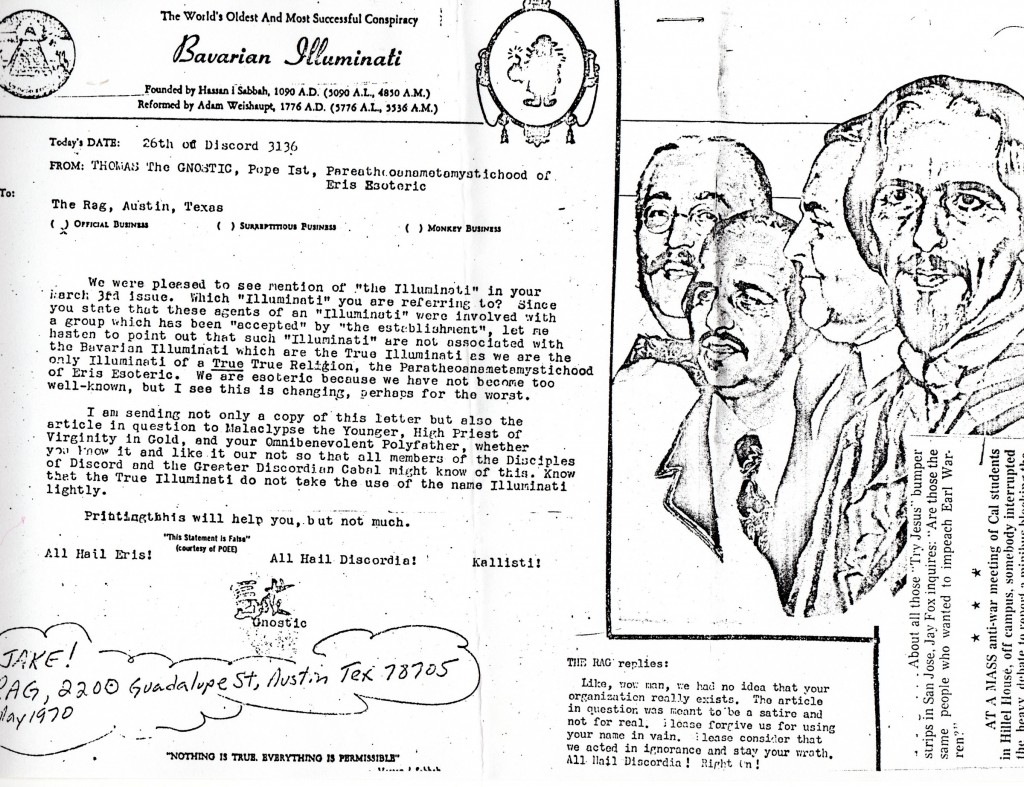 Others, of course, soon joined in on the fun, including Jamison with his own Illuminati letter to The Rag that included an honest to goddess pope card for The Rag's "Illuminati Editor."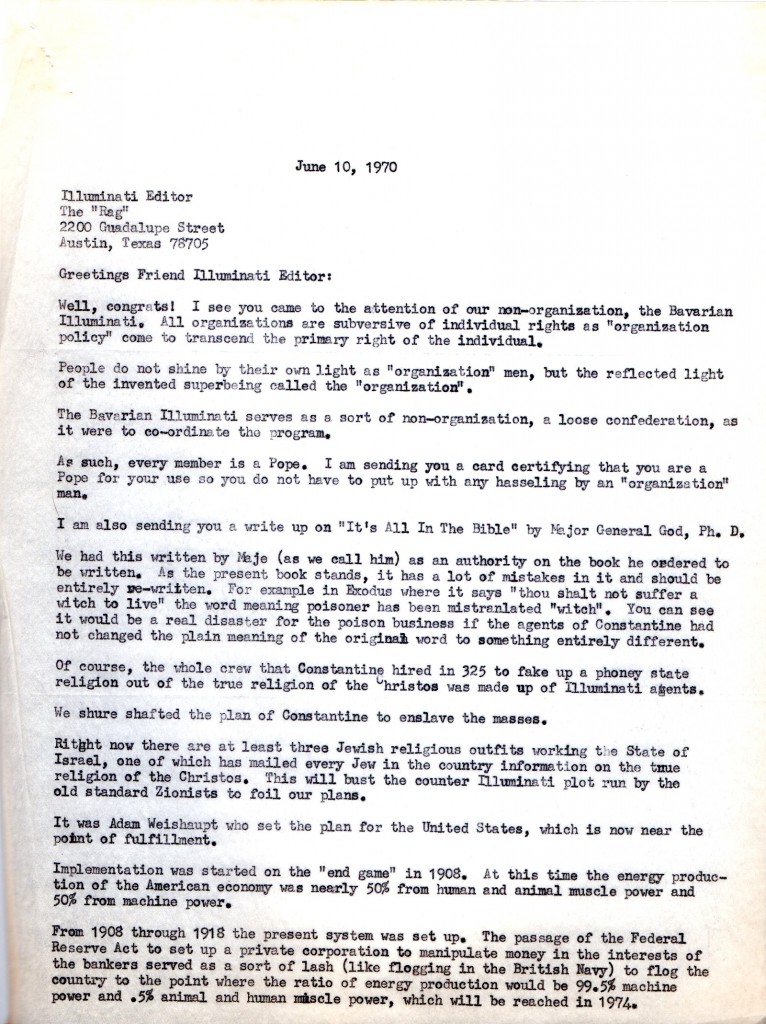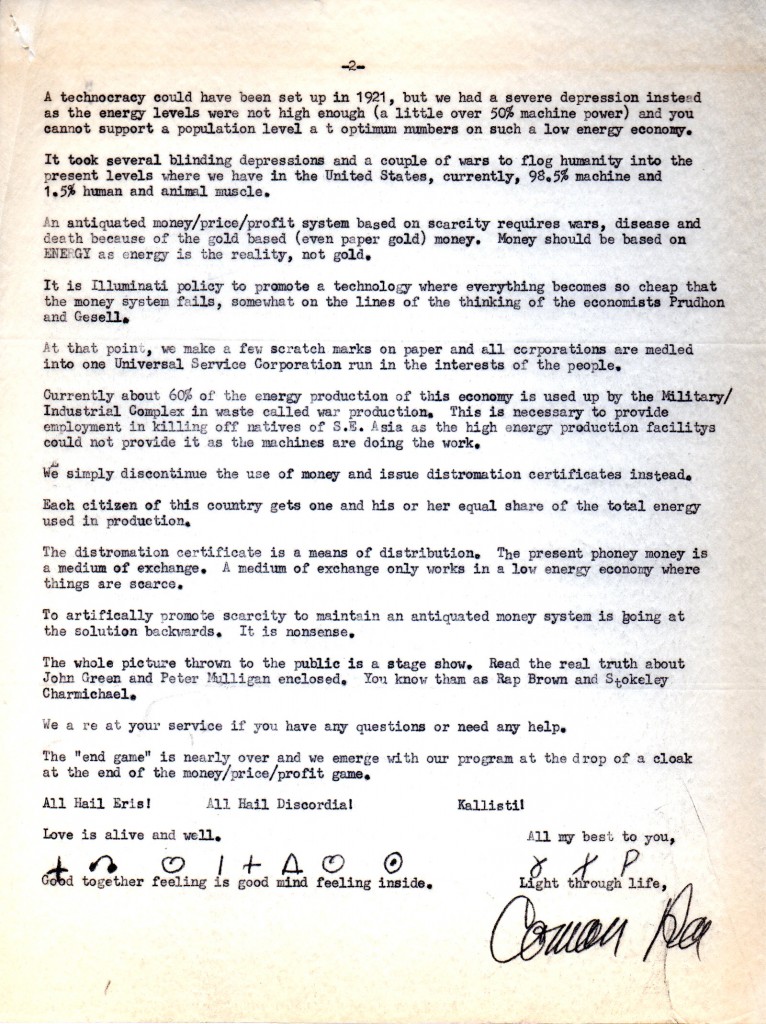 During the late 1960s, Jamison resided in Irwin, California, or—as he called it—"The Free City of Irwin" where I guess he had his own branch of The Universal Life Church (ULC), a non-profit ministry whose headquarters were located in the nearby town of Modesto.
ULC became famous (or infamous, as the case may be) for ordaining ministers for a "free will love offering" and was a huge influence on The Discordian Society. Greg Hill, in fact, became an ordained ULC minister, and in the decades to follow thousands in the U.S. and abroad would receive their minister's credentials through the organization.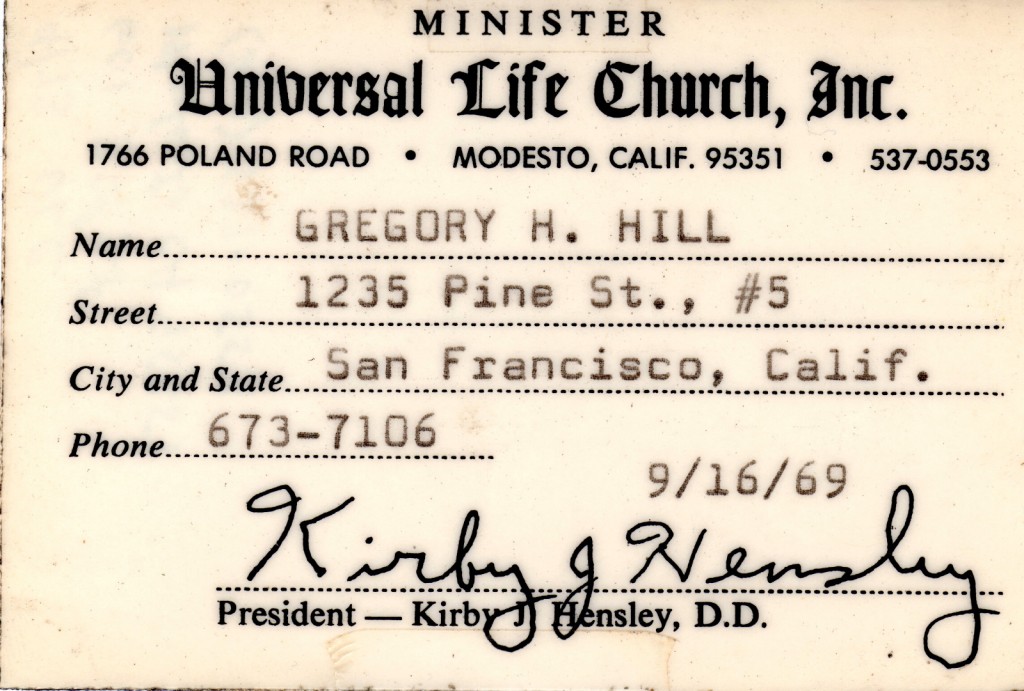 One aspect of ULC that resonated with Greg Hill—and that became part of the Discordian ethos—was the idea that anyone anywhere at any given time could become a holy man or holy woman (a pope or mome.) ULC became popular during the Vietnam War era when many potential draftees from across this great land of ours obtained their very own ministerial credentials in the hopes it would help them steer clear of the war (on religious grounds), a notion that resonated deeply within the Discordian ranks and led to other like-minded correspondences/interactions, one of which was with Archbishop Gordon L. Cruikshank, an anti-gov/anti-tax advocate/militant of a certain stripe who had created his own religious organization called The Life Science Church in Rolling Meadows, Illinois.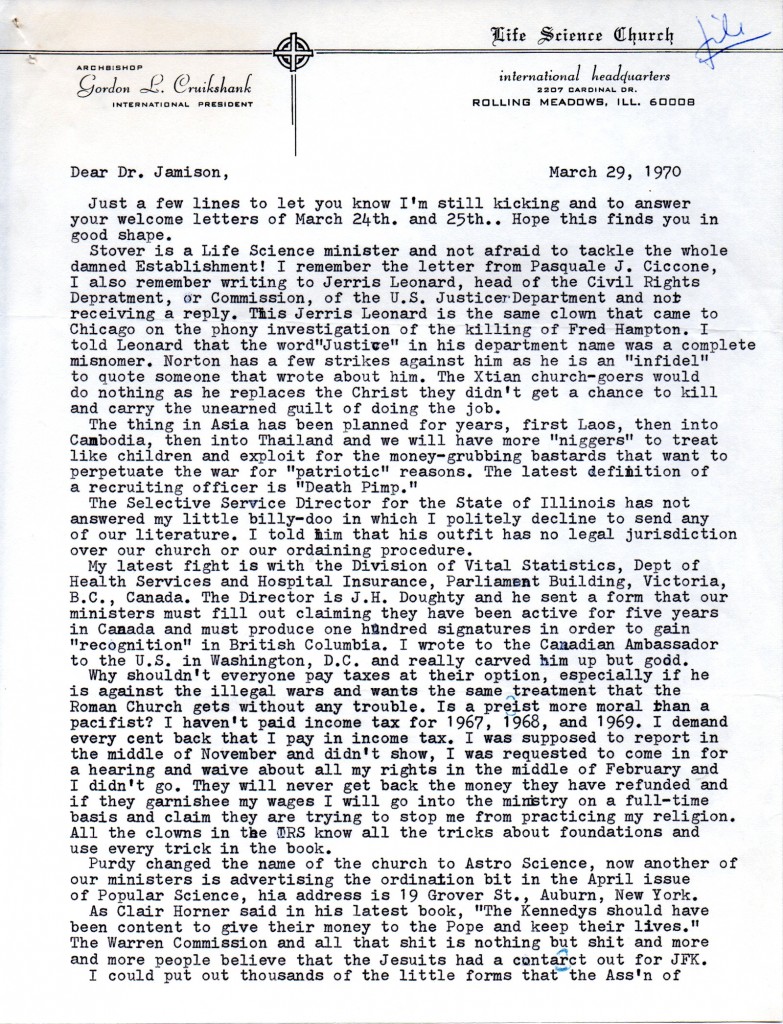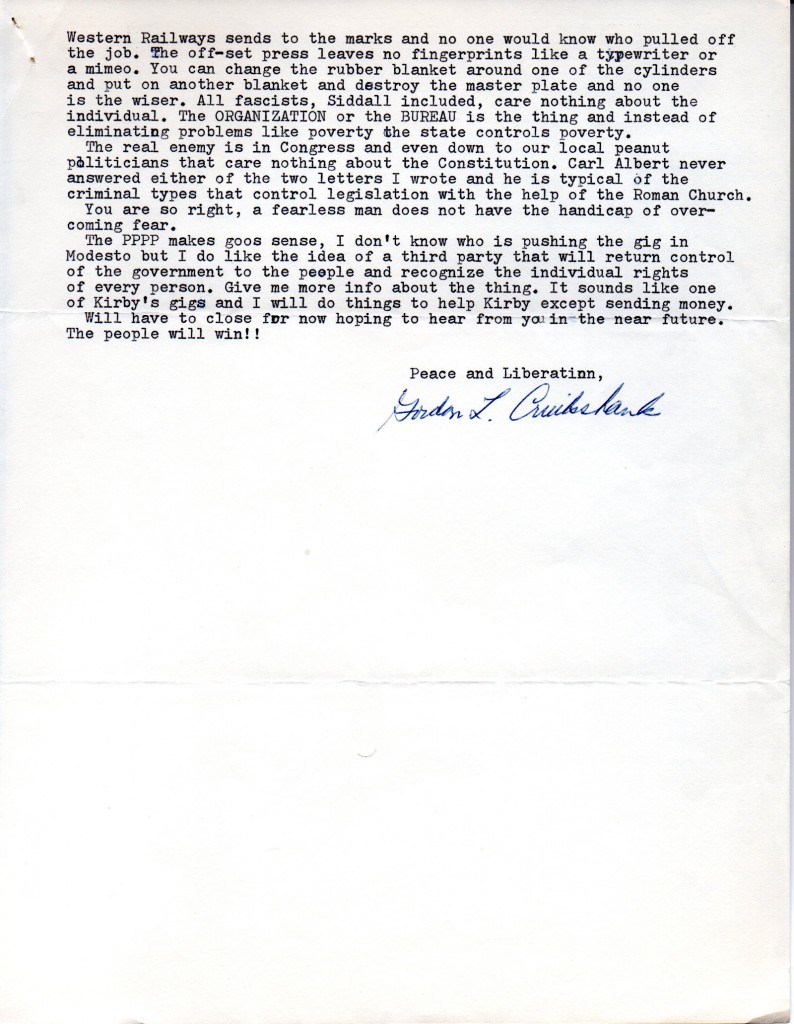 Greg Hill was also a card carrying member of this outfit. (Of course there was never an alternative religion that Greg Hill met that he didn't like.)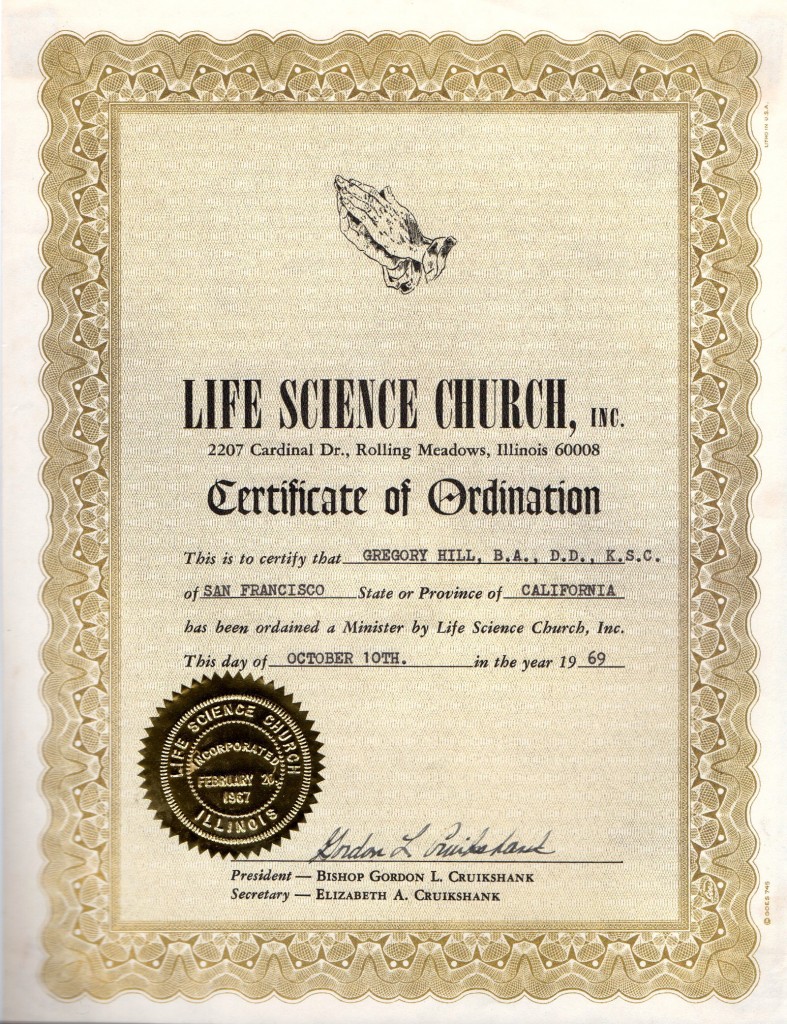 Another colorful character who came into the orbit of Hill and Jamison was W. John Weilgart, an Austrian philologist/psychoanalyst and the mastermind/madman behind "aUI," a so-called constructed language or what Weilgart referred to as "the language of space."
According to Brad Steiger, as a child Weilgart learned about aUI from a literal "little green spaceman" who informed him that this "space language" was used by all sentient beings throughout the cosmos, and that if adopted by humankind it could cure every one of irrational thinking patterns.
This aUI Wikipedia entry describes aUI as:
Weilgart's motivation for inventing the language was to create a form of communication based on what he proposed to be universal, basic elements of human thought and expression, and incorporated it into his psychotherapy work.
A good summary of aUI can be found at The Anomalist.
Jamison forwarded three items to Louise Lacey that included a one page explainer on aUI; a letter about aUI and how it could be used as the official language of Earth People's Park; and a letter from Weilgart to Jamison and Doc Iggy (aka Greg Hill) that apparently was in response to material The Discordians were circulating about nudes in San Francisco that "were soldiers in the Om United New World Nude Brigade."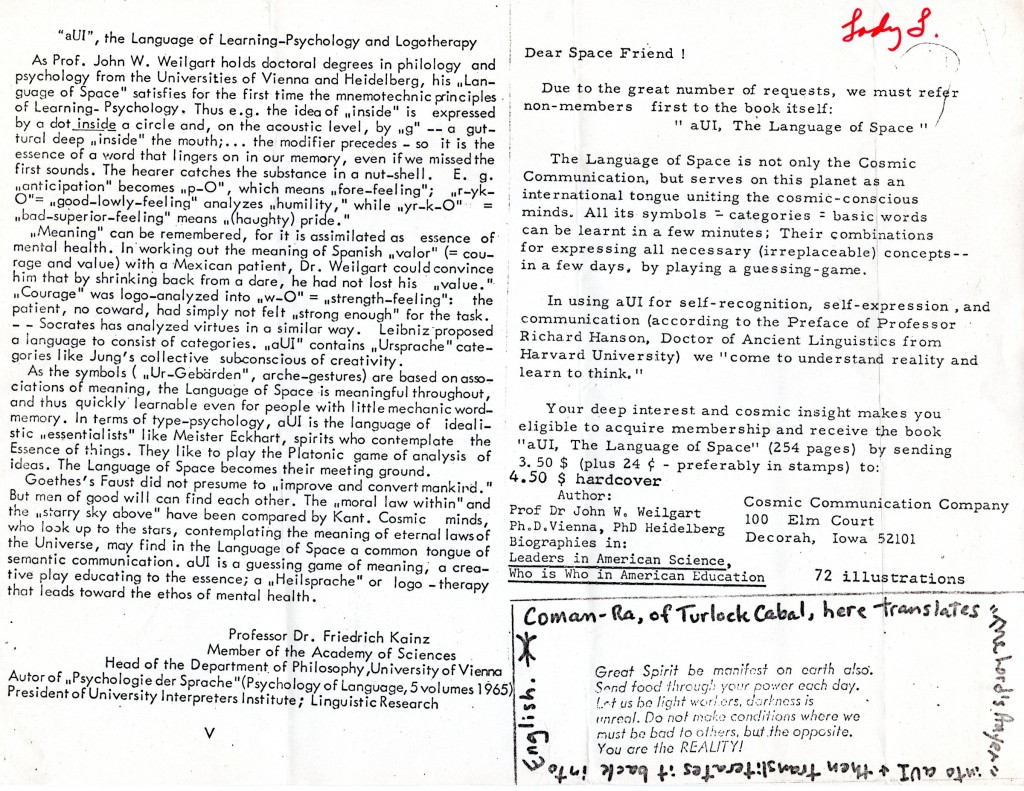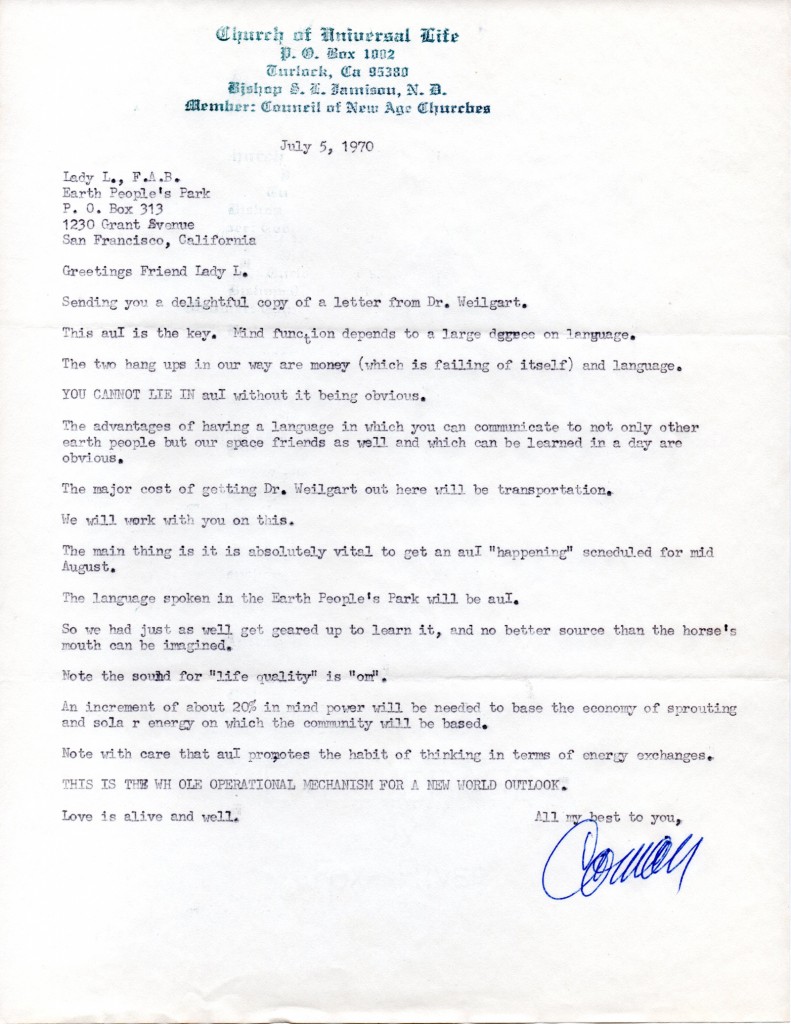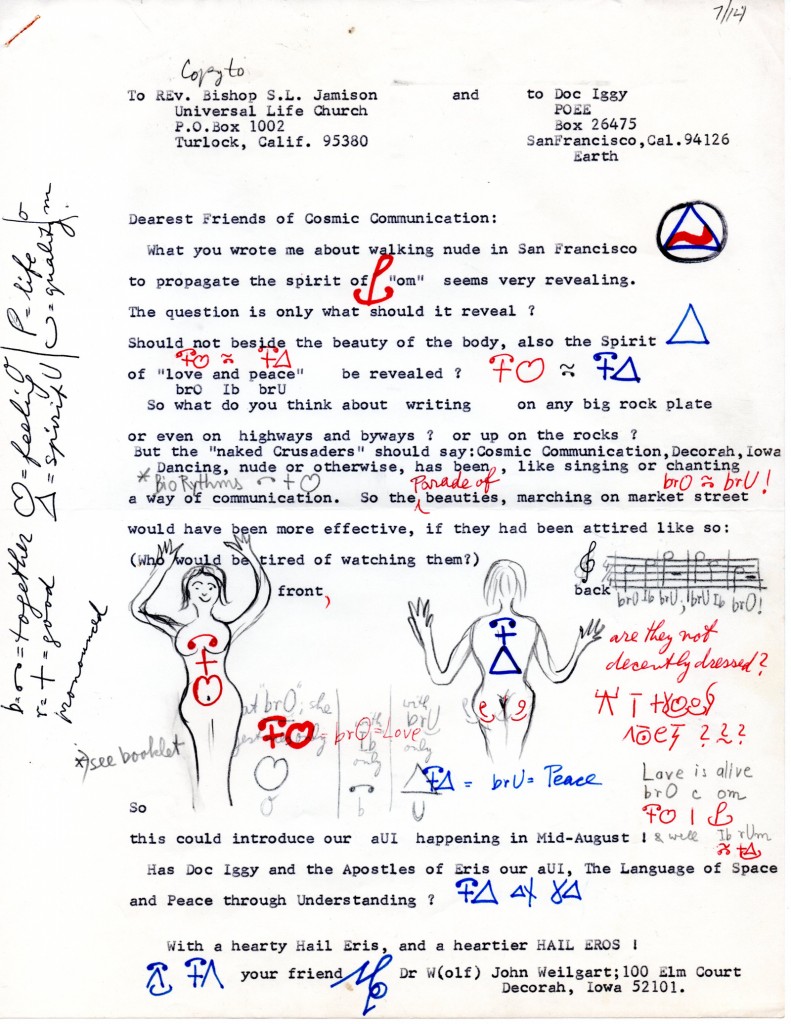 Jamison received a couple more letters from Weilgart detailing plans for a summer of 1970 West Coast visit that would be coordinated by Jamison and Hill to include speaking gigs and media appearances not to mention Weilgart trying to wrangle some nudie models for a body painting exhibit dedicated to his space language.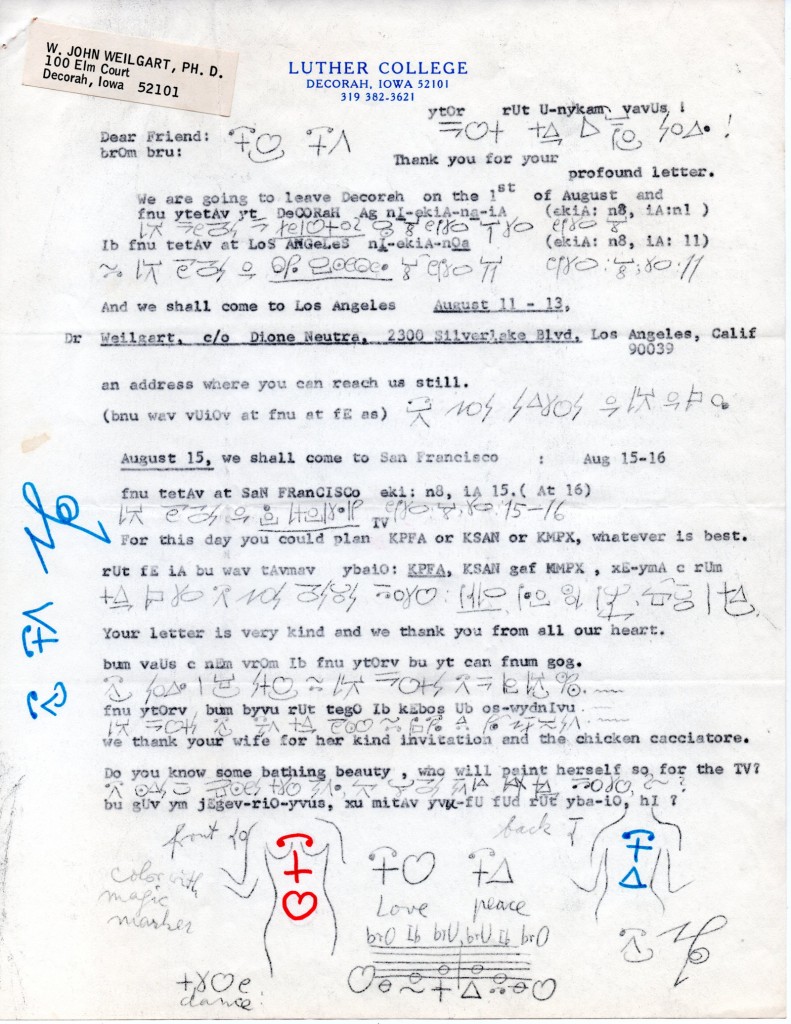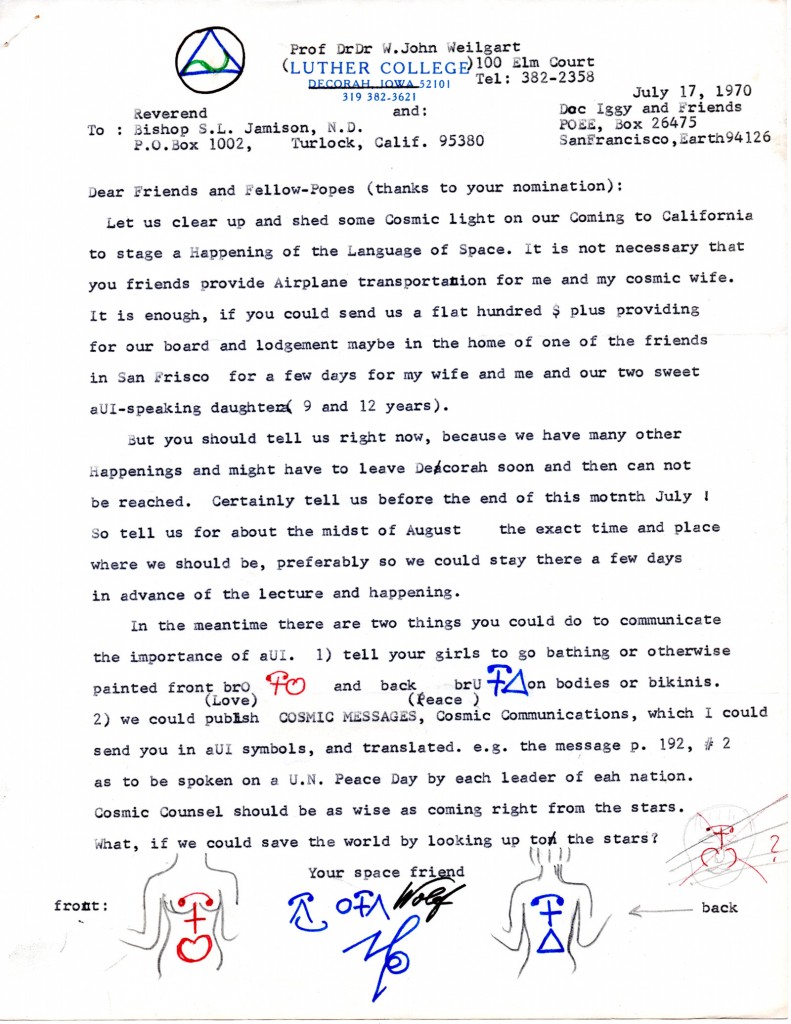 There was more back and forth correspondence, but suffice it to say I could no evidence that this Discordian-Weilgart hook-up ever actually took place, though the vision of voluptuous nudes with aUI body paint shines bright in my mind's eye.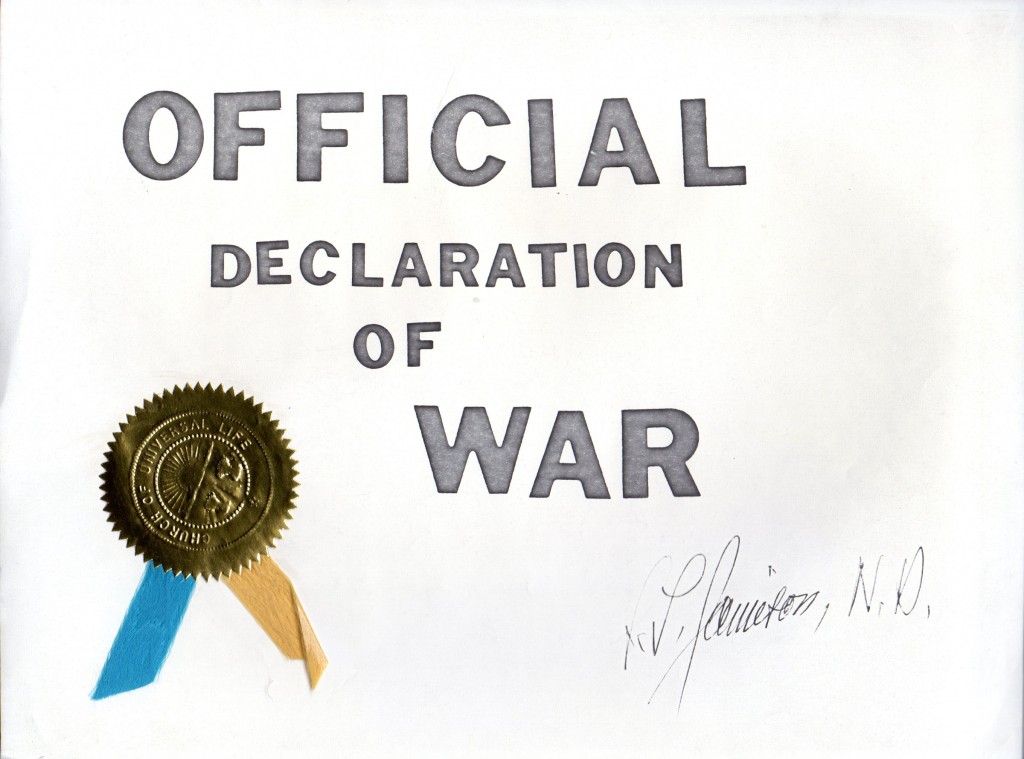 In his 1986 broadsheet Kultcha Issue #28 entitled "Coman-Ra," Jamison's Discordian name, Kerry Thornley wrote:
Since 1970, though, Greg Hill and I both had been receiving from him everything from advice about how to grow organic sprouts to racist newspapers published by White Christians who were armed and quite dangerous. In reply to one of my memos about Kirstein [aka Brother-in-Law] that had fallen into his hands indirectly, he wrote me to say that the tragedy in Dallas [Kennedy's assassination] was plotted by the Secret Order of Thule in such a way as to assure that no cover-up could remain convincing forever. Motive: to make the American public paranoid about their government and mass media. For paranoia, he told me, is a big step in the direction of mental health.

People who become paranoid, Coman-Ra [Stan Jamison] wrote, will not rest until they discover every last shred of truth. Among the devices used to encourage awareness of conspiracy were the many crude Oswald impersonations that occurred just previous to the assassination. Puzzled for more than a decade about exactly that mystery, I had to admit this was the first credible hypothesis to explain it without making the assassins look like idiots. And had they been less than geniuses, there'd have been no cover-up at all.

Coman-Ra further informed me that the conspiracy was constructed in concentric circles, like Chinese boxes, with descending levels, so that only the "man at the center" understood afterwards exactly what had happened. Of course, I could not ignore the possibility that man might have been the person I call Brother-in-law.

What brought the many loose ends in the John Kennedy murder mystery together for me was this realization that it was a maximum complicity crime. Various factions must have been deliberately implicated on a blind-alliance basis, so that once the event occurred, every group of conspirators was startled at evidence of participation by someone besides themselves.

What brought the many loose ends in the John Kennedy murder mystery together for me was this realization that it was a maximum complicity crime. Various factions must have been deliberately implicated on a blind-alliance basis, so that once the event occurred, every group of conspirators was startled at evidence of participation by someone besides themselves.

Like Brother-in-law, Jamison seemed morbidly fascinated with Hitler and Nazi Germany. Both men mentioned in particular little-known aspects of the Third Reich — such as the secret pagan rituals of the SS and the occult beliefs of Hitler's cohorts. Both repeated a rumor that Nazi rocket scientists discovered energy secrets the oil companies were repressing to this day. And whether either or both were living some kind of macabre hoax or were absolutely fanatical was impossible to decide, since neither man was without humor. For instance, [Jamison] always signed off with: "Love is Alive and Well."

As might be anticipated, it struck me that perhaps Jamison and Gary Kirstein were the same person, so in 1977 I dropped in on Jamison unexpectedly at his address in Turlock, California. Not only was he not the same man I had conversed with in New Orleans, but it was plain that the spine-chilling ranting in his letters was just a big put-on. That isn't to say his information about the assassination could not have been valid. A warm, intelligent human being obviously unsympathetic to Fascism, he nevertheless seemed quite versed in secret society politics.

"I come on all hairy like that in my letters," he told me, "to scare off government agents."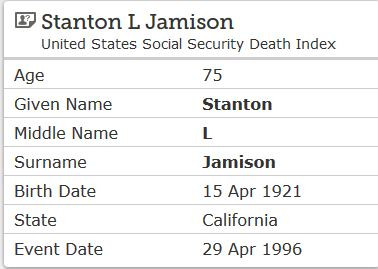 Even though he put out a lot of articles about how to cure cancer with oxidation and live forever by eating wheat germ, it appears (according to the U.S. Social Security Index) that Jamison lived only to the age of 75, dying in California on April 29, 1996, around that same time period (give or take a year or two) that so many of his Discordian brethren likewise cashed in their chips: Thornley in 1998, Camden Benares in 1999, and Greg Hill in 2000.