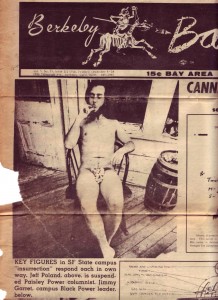 During the late 1960s and early-70s, the
Discordian Society
's own
Greg Hill
interacted with a wide range of counterculture figures, including such luminaries as
Rev. Jefferson Fuck Poland
, co-founder of the
Sexual Freedom League
(SFL).
On August 25, 1965, Poland staged a "Nude Wade-in" along with compatriots Ina Saslow and Shirley Einseidel at Aquatic Park in San Francisco. The "Nude Wade-in"—as you might have guessed—was exactly that: the three of them wading naked into a public pool to the shock and amazement of other wide-eyed waders. If that wasn't enough, in May 1968 at the Fillmore West, Poland orchestrated a public sex orgy in cahoots with the Diggers.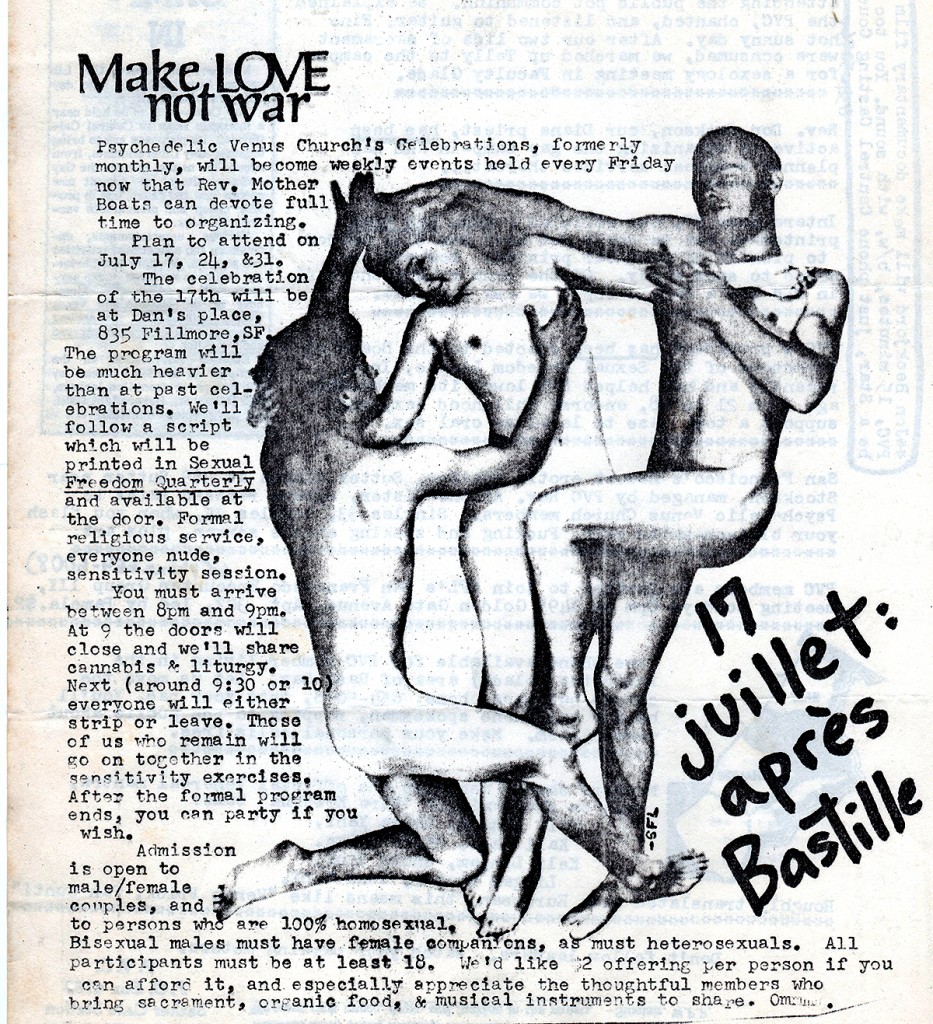 In 1970, Poland founded the Psychedelic Venus Church with bisexual Navy submariner and Vietnam vet, Brian Traynor (aka "Mother Boats"). The official sacrament of the Psychedelic Venus Church was marijuana "…and, after lighting up, at each meeting a woman was chosen to be Venus. At the beginning of services, she was placed on an altar, candles were lit on each side of her, and her vulva was smeared with honey. Each of the males (and some women if so inclined) at the meeting licked the woman's vulva in order to honor the goddess Venus. Then the orgy began in earnest…" Source: https://en.wikipedia.org/wiki/Sexual_Freedom_League
The Psychedelic Venus Church had amassed 700 members before disbanding in 1973. One of these members was our Discordian co-founder Greg Hill, although it's doubtful Hill ever partook of the divine sacrament in a group orgy setting. However, he did receive his very own membership card.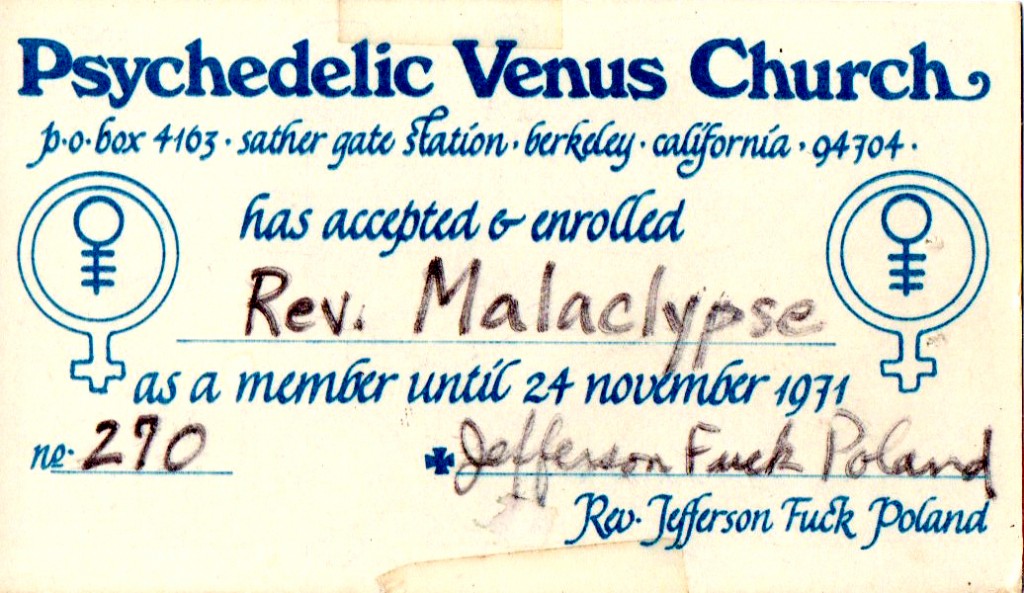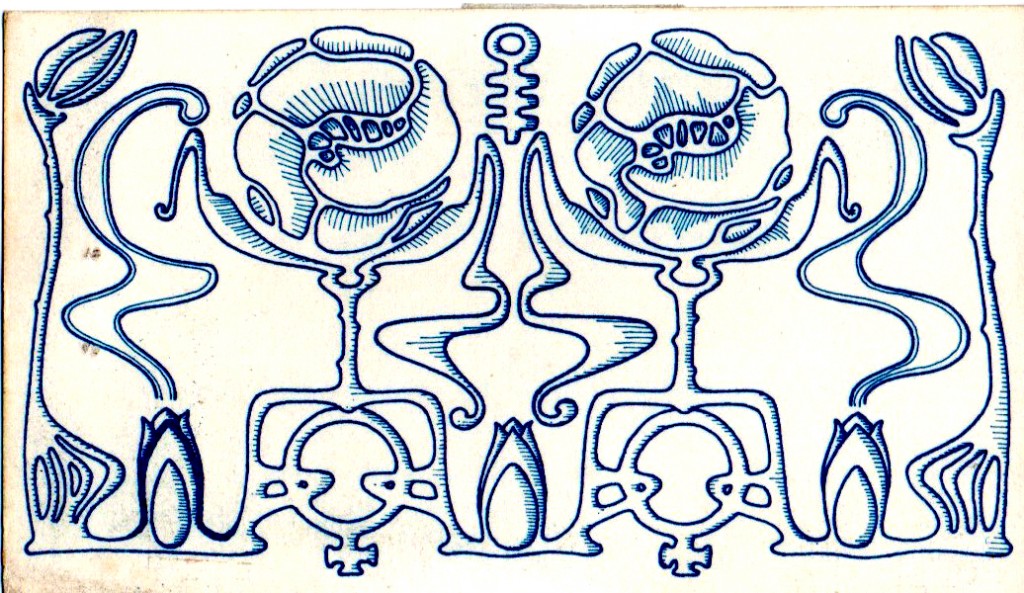 In June of 1971, Poland was attempting to start a collective known as the World Council of Psychedelic Churches, which he was encouraging the Discordian Society to join.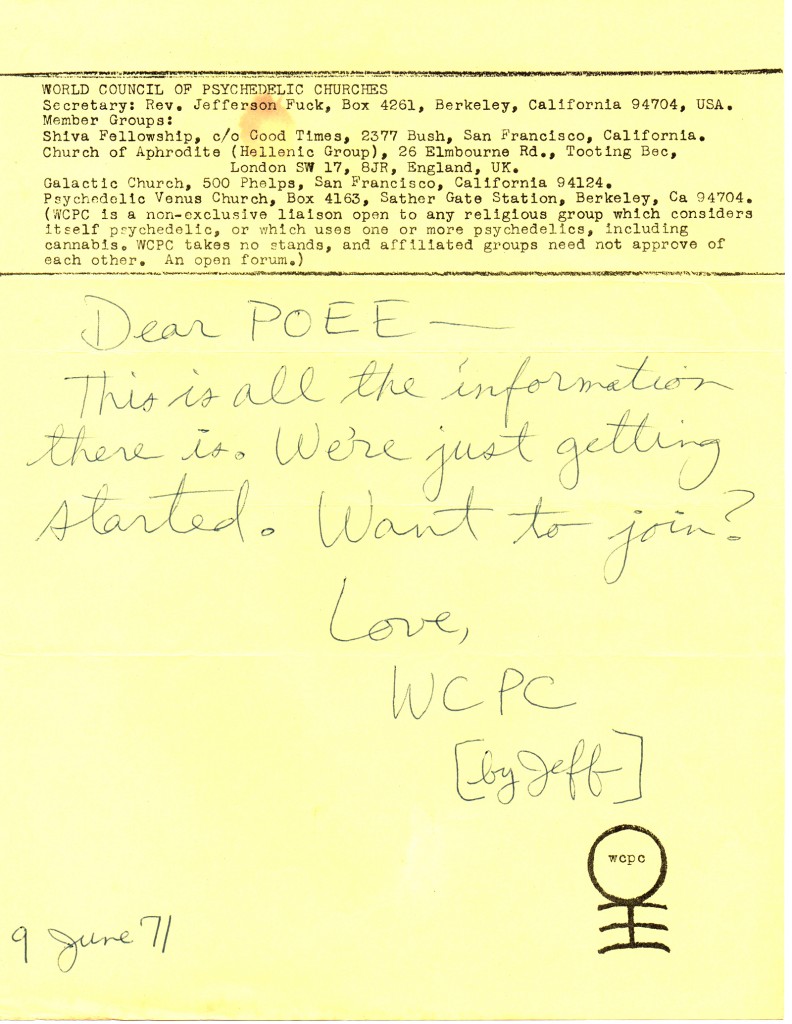 The Hill-Poland correspondence included the group's newsletter, Intercourse, as well as this index card suggesting Poland, or someone in the Psychedelic Venus Church, was dealing acid at one time or another.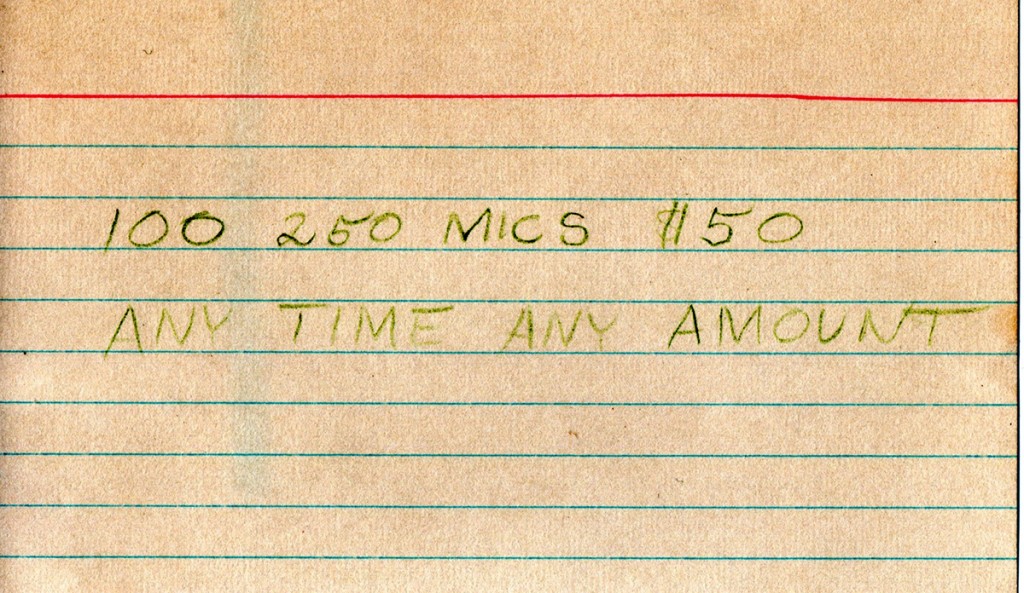 Poland, it so happens, had a general physical resemblance to Discordian Society co-founder Kerry Thornley, especially in his younger adulthood. There were other parallels as well:
* Like Thornley, Poland was both highly intelligent and deeply disturbed, spent most of his life living in voluntary poverty, and had *boundary issues* when it came to sexuality (he molested a preteen girl in San Diego during the 1980s, and earned jail time and Sex Offender status for that act.)

* Like Thornley, he operated under *noms de guerre* for his communications. In his last years in San Francisco he called himself "Tortuga Bi-Liberty"; earlier he'd used such monikers as "Tahanga" ("naked" in Maori) and "Jomo Kabouter."

* Like Thornley, he spent much of his life publishing crude broadsides and zines to publicize sexual/body freedom and other causes he advocated.

* Like Thornley, he founded his own half-serious Goddess-centric religion: The Psychedelic Venus Church, an early neo-Pagan sect that used cannabis as a sacrament, and held nude orgiastic rites among Bay Area hippies.

* Not sure if the two ever met in real life, but they have a connection: Richard Thorne, a ranking member of the East Bay Sexual Freedom League, was a close associate of Poland's. Thorne, as readers may recall, called himself "OM" and led nude parades through the streets of Berkeley and San Francisco, which earned him Discordian Pope status and a story in the SF CHRONICLE.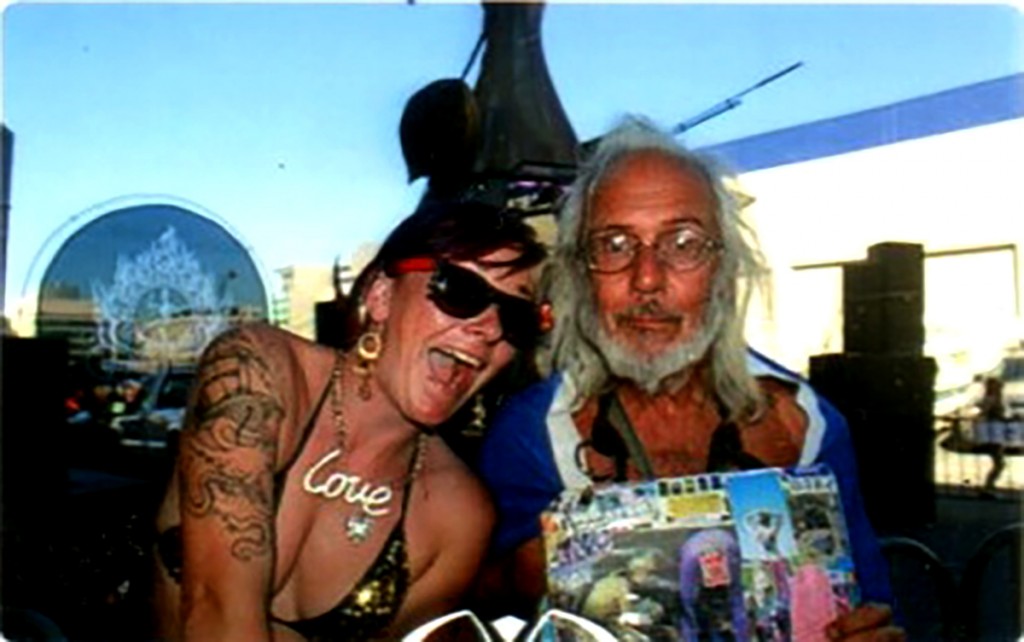 ---
Mike Marinacci is the author of CALIFORNIA JESUS, WEIRD CALIFORNIA, and other books about fringe culture and history. He is currently working on a biography of Jeff Poland.