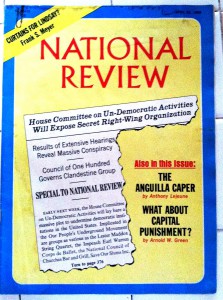 We share with you a long forgotten Discordian classic that appeared in, of all places, William F. Buckley's
National Review
, titled "Our People's Underworld Movement" and written by famed
Early Discordian
Harold Randomfactor (aka
Tim Wheeler
).
Download a PDF copy of the National Review article found in the Discordian Archives and labeled "POEE ARCHIVE LOAN COPY." Please remember to return your PDF copy to the Discordian Archives after you are finished.
Let's have Tim's wife, Mary Wheeler (aka Hope Springs), tell us more:
Early Discordians
Tim and Mary Wheeler.
Photo Courtesy of Mary Wheeler.

"Tim wrote an article for National Review which Bill Buckley loved. He published the article and made it the cover story. It was all about conspiracy theories and all sorts of stuff he had picked up from these guys, so that makes me think that article came after our association with them [the Discordian Society]. But that article certainly would have cemented the friendships. Remember we were on totally opposite sides of the political fence… Well, maybe not too opposite. Everyone seemed to be a libertarian/anarchist at the time…

"In those early years when Tim worked in the office [of the National Review], as an editorial assistant, there was a lot of joking about the Illuminati. I can remember conversations with fellow conservatives where the conspiracy of the Illuminati ballooned into a conspiracy of left-handed people, or those with first cousins named Jeffrey. It spawned fantastic letterheads! Nobody at NR took it seriously, and we made fun of those that did. I think that is why it was so much fun to discover the Discordians, who also didn't take any of that seriously. We had discovered like-minded people who tended to be liberals, or at least anarchists. And we were right-wing crazies, although Tim was very much a libertarian…"
Check out our full Mary Wheeler interview here:
The Secret History of Immanentizing the Eschaton: The Mary Wheeler Interview.