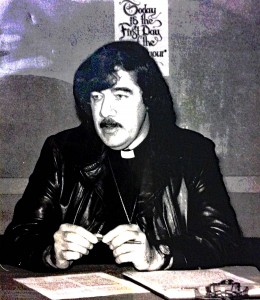 Our last entry recounted Rev. Broshears' association with Jim Garrison's investigation, and what Garrison called "Odd Sects" (not to be confused with "odd sex"!) that included a cast of characters scattered not only across JFK assassination lore, but also the funky field of ufology.
Ufology—for those not in the know—is the study of flying saucers, and the spacemen (or spacewomen) who flew in them. As good a place as any to start tugging on this Broshears-UFO thread is with Fred Crisman, who as noted in past installments was (allegedly) one of the three mystery tramps (apparently up to no good) picked up in Dealey Plaza following the JFK's assassination. But long before Kennedy's assassination was but a gleam in his eye, Crisman—along with a buddy named Harold Dahl—gained notoriety (or infamy, as the case may be) for their involvement in the Maury Island UFO Incident.
Before traveling back in time to Maury Island, we should acknowledge Kenneth Arnolds' sighting of "nine gleaming objects" over Mt. Rainer in Washington State on June 24, 1947, an incident that essentially launched the Modern Era of UFOs. An experienced pilot with over 9,000 hours of flight time, Arnold's sighting added an air of seeming legitimacy to what was considered, at the time, the playing field of crackpots and hoaxers. Not long after his seminal sighting, Arnold became acquainted with Ray Palmer, publisher of the science fiction pulp magazine Amazing Stories, which featured not only the standard sci-fi fare, but also Richard Shaver's supposedly non-fiction accounts of encounters with diabolical subterranean creatures called Deros who first appeared in his story, "I Remember Lemuria."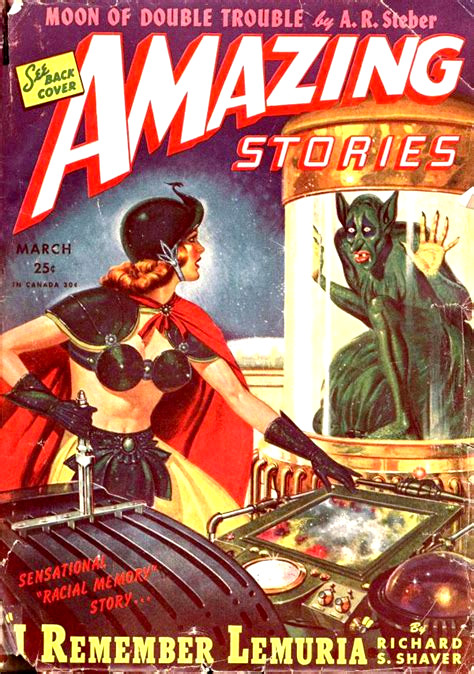 In July of '47, Palmer received a cigar box filled with "flying saucer fragments" mailed to him from two men in Tacoma, Washington: Fred Crisman and Harold Dahl. Needless to say, Palmer was a tad dubious about these "flying saucer fragments," as he'd previously corresponded with Crisman a year earlier. At that time, Crisman claimed that during World War II he and another soldier engaged in a firefight with the some Deros in a cavern in Burma at which time his fellow soldier had been shot with a ray gun that left a dime sized hole in his hand. But that wasn't all: Crisman offered to travel to a cave in Texas to recover some ancient Dero machinery if Palmer was willing to pony up $500 for expenses. Palmer wisely declined Crisman's come-on. Not sure what to do with the box of "flying saucer fragments," Palmer enlisted Kenneth Arnold to investigate what would become known in the annals of ufology as the Maury Island Incident.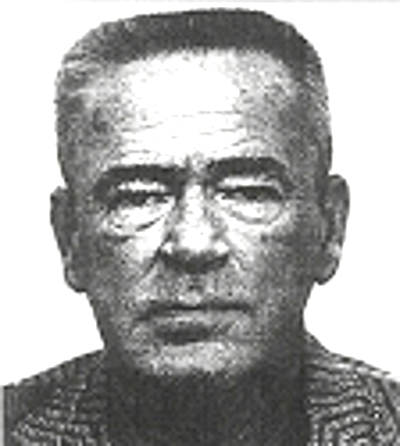 On July 29, Arnold flew to Tacoma and his first order of business was to find a hotel room for his stay. After calling around to the cheaper hotels and having no luck securing a room, Arnold phoned the most expensive hotel in town, the Winthrop, and was informed by the desk clerk that there was already a room reserved in his name. When Arnold informed the clerk he hadn't made a reservation—and that it was probably another person by the same name—he was told that the reservation was indeed booked for a Mr. Kenneth Arnold of Boise, Idaho. Later that day, Arnold interviewed Dahl and Crisman, and this was the story they shared…
On June 21, Dahl (a timber salvage worker/harbor patrolman) was out on his boat on the eastern bay of Maury Island along with his teen-age son and dog when "six large donut-shaped machines" appeared in the sky. One of the ships began laboring when another of its companion craft descended and touched the laboring donut ship as if to repair it, after which it "spewed out" molten fragments—later referred to as "slag"—that rained down on Dahl's workboat, killing his poor pooch and severely scorching his son's arm. After ejecting slag spew, the craft rejoined its fellow donut ships and zoomed away. Dahl gathered up some of the slag fragments and returned to the harbor to give his supervisor the lowdown. Dahl's "supervisor" was Fred Crisman.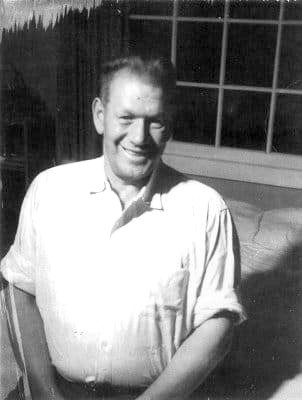 Uncertain as to the veracity of Crisman and Dahl's claims, Arnold called in his friend, Captain E.J. Smith (Big Smithy)—a pilot with United Airlines—to assist in the investigation. On the evening of July 30, Arnold received a phone call from UPI reporter Ted Morello, who said he'd received information from some "crackpot" who repeated a full account of Arnold's investigation up to that point. This led Arnold to suspect his hotel room had been bugged, and that his reservation surreptitiously arranged so that his activities could be monitored. Throughout his investigation, Arnold attempted to keep it on the down-low, and the only ones privy to his activities were Palmer, Big Smithy, Crisman, and Dahl. Because of this, Arnold grew to suspect that Ted Morello had been tipped off by either Crisman or Dahl in an attempt to promote their story. Concerned he was being set up by a couple of confidence men, Arnold placed a call to Air Force Lt. Frank Brown and Captain William Davidson inviting them to join the investigation. The officers accepted Arnold's invite and flew to Tacoma that same day, but after questioning Crisman and Dahl, they apparently were unimpressed by the men's story.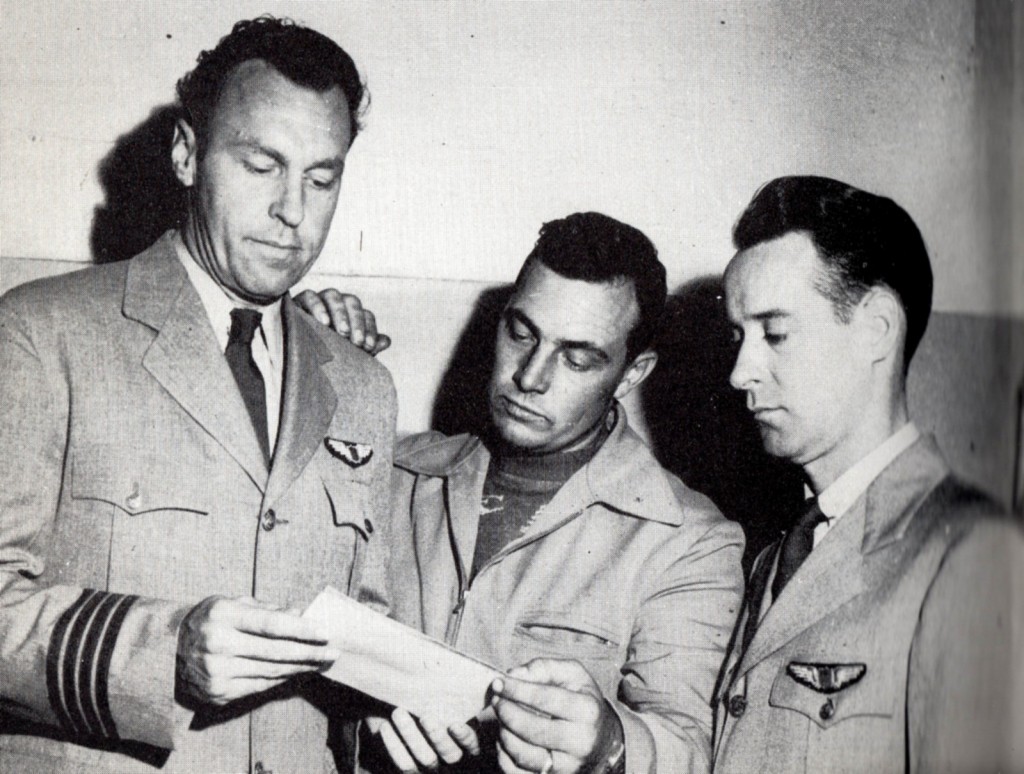 Crisman and Dahl invited the Air Force officers to a boat trip to Maury Island, but Brown and Davidson declined, stating they had to return to California early the next morning. As a parting gift, the officers were given a box of Kellogg's Corn Flakes filled with slag fragments. Arnold and Big Smithy, however, agreed to the Maury Island trip, which ultimately turned out to be a bust. According to Dahl and Crisman, their "patrol boat" had been severely damaged by the slag that had rained down, but when Arnold and Big Smithy examined the vessel there were no signs it'd been damaged, or recently repaired; nor was there any indication of it actually being a patrol boat, and it appeared totally unseaworthy. Unsurprisingly, Crisman and Dahl were unable to start the engine of the boat, which seemed like a convenient excuse to cancel the outing.
Shortly after take-off from McChord Field in Tacoma—in the early hours of August 1, 1947—the B-52 transporting officers Brown and Davidson caught fire and went down in flames, killing both men. The next afternoon, the Tacoma Times featured a curious headline: SABOTAGE HINTED IN CRASH OF ARMY BOMBER AT KELSO. The article reported that the B-52 "had been sabotaged 'or shot down' to prevent shipment of flying disc fragments…" and "that the ill-fated craft had been carrying 'classified material.'" One can assume that Crisman had a hand in spinning this tale, which—if such was the case—seemed like a tasteless PR stunt. To this end, many suspect that Crisman cooked up the Maury Island caper, the intent of which was to sell it to Ray Palmer and cash in on the sudden saucer-craze sweeping the nation. This would support the theory that Crisman, under an assumed identity, contacted reporter Morello to leak details of Arnold's investigation, and that Arnold's hotel room had not actually been bugged—it was simply Crisman (affecting an anonymous identity) repeating conversations he'd had with Arnold.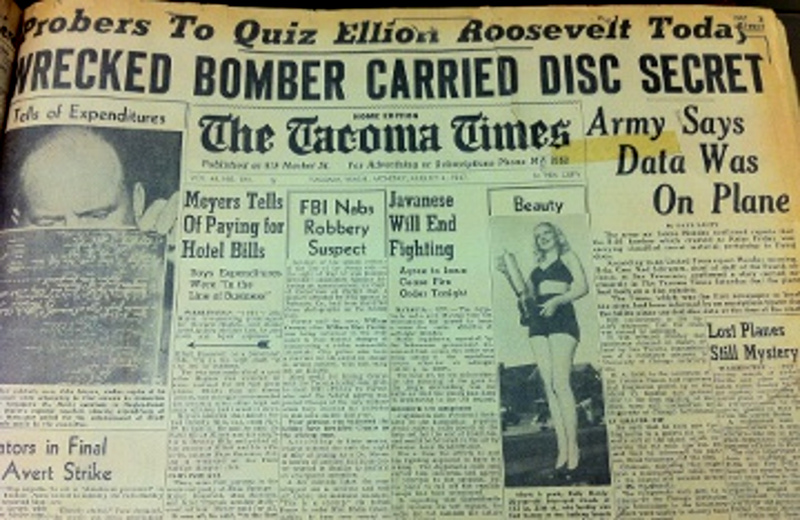 In the aftermath of the B-52 crash, Ted Morello contacted Arnold and Big Smithy telling them he'd received another phone call from an anonymous tipster who informed him that the B-52 had been shot out of the sky.00001 Morello's source added that, immediately following the crash, Crisman had been reactivated for military duty and assigned to Alaska, which suggested the Feds swooped in and spirited him away as a means of quashing further Maury Island inquiries.
Before leaving Tacoma, Big Smithy contacted an Army intelligence officer stationed at McChord Field named Major George Sanders, who met with Arnold and Big Smithy and informed them that the B-52 crash had been an accident, and not the result of sabotage.00002 Sanders then drove the men to a local steel mill to show them a smelter which he believed was the source of the supposedly otherworldly slag.
On Arnold's flight home, the apparent veil of doom hanging over this episode reared its head when he lost power to the engine of his plane. Fortunately, Arnold was able to land safely in Boise, although afterwards he needed a change of undergarments. Shaken by these events, Arnold dropped the Maury Island case, as he felt no conclusive evidence had emerged during his investigation, as well the suspicion that Crisman and Dahl had been trying to pull a fast one.
A few days after Arnold left Tacoma, Crisman and Dahl visited the local FBI office claiming they had no clue about anything related to Maury Island or a saucer sighting there.00003 Crisman and Dahl's story was that they'd discovered fragments of what they believed might have been flying saucer, then afterwards sent them to a lab at the University of Chicago for analysis. Somewhere along the way—according to Crisman and Dahl—Ray Palmer learned about the slag and contacted them, which in turn led to Kenneth Arnold's involvement with the case.

The deeper one delves into the Maury Island Incident, the more conflicting stories emerge, which is to be expected when you have an apparent flimflam man like Crisman involved, as demonstrated in this New York Times story from August 10, 1947.
After the dust (or slag) had settled, Project Sign investigators determined that the Maury Island Incident was a hoax, and at one point the Air Force considered filing charges against Crisman and Dahl. Crisman sent a letter to Fate Magazine in January 1950 denying he'd perpetrated a hoax or that he bore any responsibility for the deaths of the two Air Force officers.00004
Contrary to popular legend, Crisman hadn't actually been spirited away to Alaska immediately following the Maury Island caper, although he had been called up for active duty in the Korean War in 1951 and assigned overseas as a P-51 fighter pilot. According to researcher Mike Sylwester: "[Crisman] suffered a great deal from a premonition he would be killed, and he was reassigned to fly transport flights between Korea and Japan. Eventually, he began to suffer such anxiety that he was hospitalized in Japan. He began to abuse tranquilizers during this period…"00005
In 1953, Crisman separated from the military, leaving with the rank of reserve major. That same year he became a high school teacher in Elgin, Oregon, and then later, in 1956, the Superintendent of Schools in Huntington, Oregon.
Crisman became "involved in the UFO fringe with Frank Stranges and Wayne Aho" in 1958.00006
That same year, in an issue of Ray Palmer's Flying Saucer magazine, Crisman (using the pseudonym of Eldon Everett) wrote in to the letters section to recount his Maury Island yarn, in addition to other saucer encounters he'd supposedly experienced in the ensuing years. Also in 1958, Crisman was arrested for drunk driving and disorderly conduct, at which time it was discovered he was under the influence of barbiturates. Due to this incident, Crisman was fired from his teaching job. According to Mike Sylwester: "[Crisman] aggravated this situation [with the police] by making strange remarks, such as that he had a metal plate in his head." Following his firing from the teaching job, Crisman worked for a couple years at Boeing Aircraft as a "personnel representative."
In the mid 1960s, Crisman was joined in his flying saucer hobby by the one and only Thomas Edward Beckham, a colorful and criminally inclined character introduced in Part 00002 of this series.
In his testimony before the House Select Committee on Assassinations (HSCA) in 1978, Beckham stated that "Crisman had been a CIA agent and he had worked on a thing called Project Bluebook…"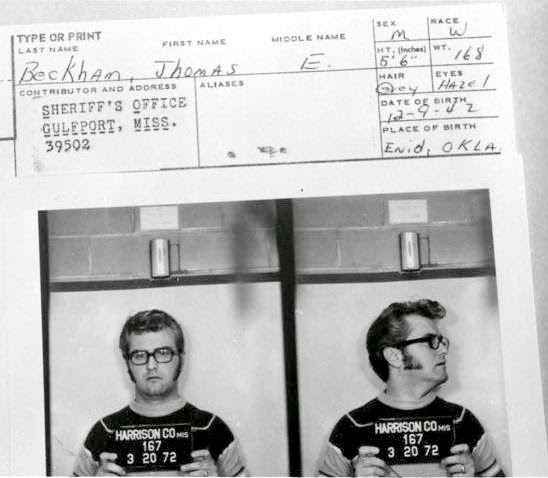 Crisman claimed it was Harold Dahl who first introduced him to Tom Beckham, which differed from Beckham's account, who said he was living in Olympia, Washington, in late 1964 when he came across a magazine ad for membership with a "Parapsychology Association" operated by Crisman. Afterwards, Beckham traveled to Tacoma to meet with Crisman and the two men became partners in a wide range of dubious activities. During this same period, Crisman re-entered the teaching profession with a job at Cascade Union High School in Salem, Oregon, a position that lasted only two years before he was fired for "forming a secret student organization… Crisman formed the organization and conducted meetings on school premises without authority." A school board ruling stated that the "organization is of such a nature that it should not be condoned or authorized to exist in this district."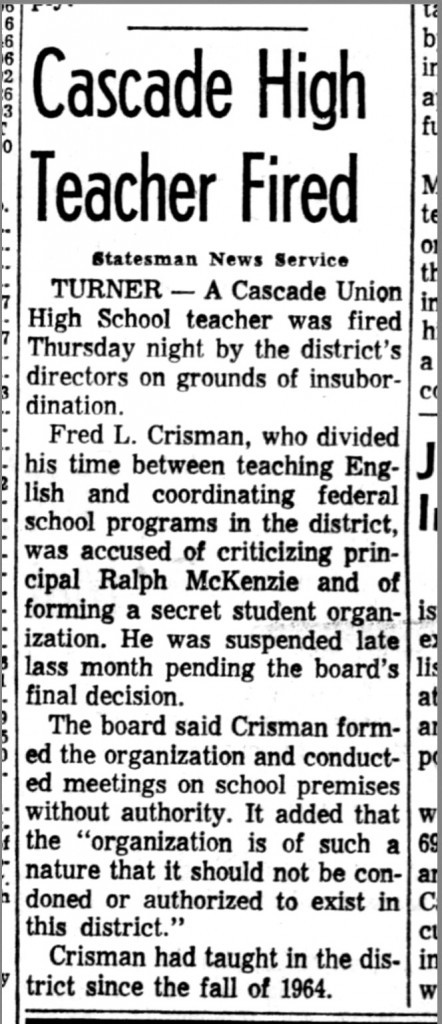 After his dismissal from Cascade Union High School, Crisman began a career as what some have described as a right-wing propagandist employed by the Riconosciuto Marketing Agency. Crisman's job description included speech writing and PR for conservative politicians in the Tacoma area, activities that overlapped with a daily radio show Crisman hosted, using the alias of Jon Gold, on radio station KAYE. At the time—according to certain accounts—Crisman was involved in spreading political propaganda, which he presented as an anti-corruption campaign waged against local government. Crisman's version of events was later recounted in Murder of a City… Tacoma (1970), authored by Crisman under his Jon Gold pseudonym. The book blurb for Murder of the City… Tacoma reads:
"Fred L. Crisman, known to his radio and television audiences as Jon Gold… born in Tacoma… was swept up in the battle of political philosophy that now rages in that city… Naming himself a Liberal Democrat, he has been classified as a Far Right extremist… He denies being anything but what he is, a sincere man, dedicated to seeing the return of decent, honest, representative government to his home town. His planned broadcasts of political propaganda were never… other than… propaganda. (A) conspiracy… worked to bar him from the airwaves…"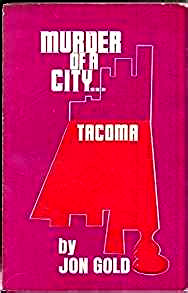 Murder of the City… Tacoma is quite rare, so I haven't been able as of yet to lay my hands on a copy, but an industrious researcher named Jeff Suwak has been posting about the book here.
One of the players involved in the Murder of a City saga was Crisman's boss, Marshall Riconosciuto, the father of Michael Riconosciuto (aka "Danger Man"), a scientific whiz kid who referred to Crisman as his "mentor." In the early 1980s, Riconosciuto was involved with a secret version of the Promis software a la the Inslaw affair, all part of an elaborate conspiracy laid out in The Octopus: Secret Government and the Death of Danny Casolaro.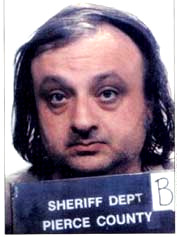 In the Martinsburg, West Virginia, hotel room where Casolaro allegedly committed suicide in August of 1991, notes were discovered that mentioned "MJ 12—extraterrestrial," and "Area #51." The source of Casolaro's UFO info was Michael Riconosciuto, who also alleged that Fred Crisman had hoaxed the Maury Island Incident to cover up a radioactive liquid metal that had been sprayed over Maury Island by Boeing Aircraft as part of a secret experiment. As previously noted, Crisman worked at Boeing in the late 1950s/early 1960s, and due to this association conspiracy researchers have connected Boeing and Crisman as agents of the dastardly military-industrial complex that also allegedly had a hand in the JFK assassination dance party.
More saucer news! On August 12, 1967, Fred Crisman and Thomas Beckham organized the "First Midwest UFO Conference" in Omaha, Nebraska, although Crisman was a no-show for the event.00007 That same year, Crisman appeared at the "Northwest UFO Space Convention" in Seattle where he recounted the Maury Island Incident and claimed that he possessed photos of the slag spewing donut ships, but for whatever reasons decided not to present them, nor have these photos ever surfaced, if indeed they ever existed (which of course they probably didn't).
In early 1968, Crisman (using the pseudonym of Fred Lee) wrote to Lucius Farish of the Parapsychology Research Group, stating that, "Mr. Crisman is probably the most informed man in the United States on UFOs and also one of the hardest to find—as the FBI has learned several times!"00008
Researcher Mike Sylwester interviewed Crisman's son, Fred Lee Crisman, Jr., who informed him that: "In the last weeks of his life, [Fred Crisman] was at home reading a book about alien abductions, and he suddenly passed out because of kidney failure. When he regained consciousness, he was in an intensive care ward, hooked up to a lot of hospital equipment and surrounded by personnel in masks and gowns. For a few moments, [Crisman] wondered if he himself had been abducted on to a spaceship…"00009 Crisman, at one time or another, claimed that the character of David Vincent, portrayed by Roy Thinnes in the '60s TV series The Invaders, was based on his life.
Another odd UFO twist in the Crisman saga was his association with a group called the "Servants of Awareness" that nowadays goes by the name "Cosmic Awareness Communications." According to JFK assassination researcher Joan Mellen: "By 1968 Crisman would be investigated for narcotics activity in connection with… [the] Servants of Awareness."00010 In the late 1980s, I became aware of this group courtesy of Tim Cridland's Off The Deep End zine that featured, on occasion, Cosmic Awareness Communications broadsides and advertisements, such as the kooky one below.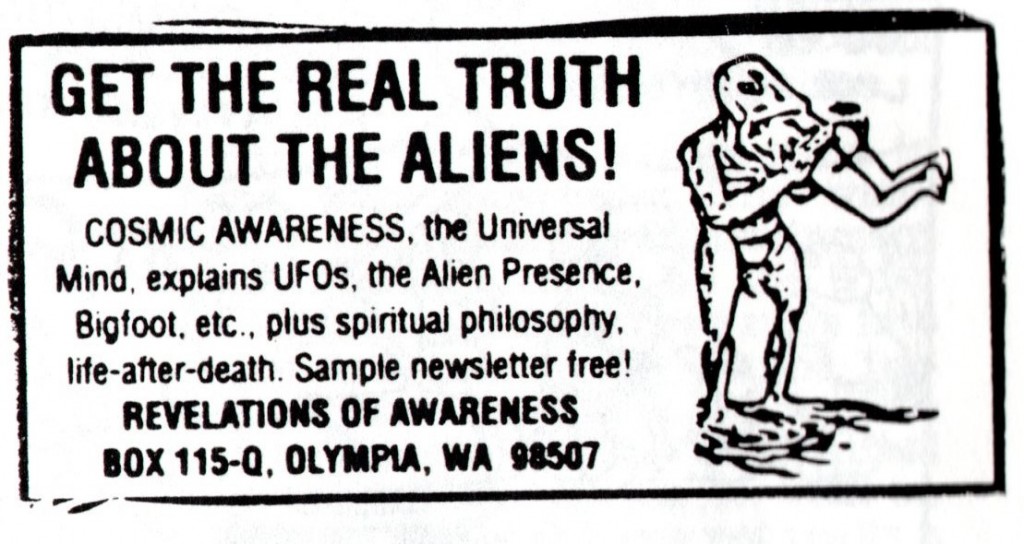 Although there's no evidence that Rev. Broshears ever met Crisman in the flesh, he corresponded, on occasion, with Thomas Beckham. Beckham, Crisman and Broshears were acquaintances of the Reverend (or Dr., depending on how he wished to present himself) Frank Stranges, author of Stranger At The Pentagon, the story of Venusian Captain "Valiant Thor." According to Stranges, after Val Thor had met with the President and members of the Joint Chiefs, he had a meeting with Stranges at the Pentagon.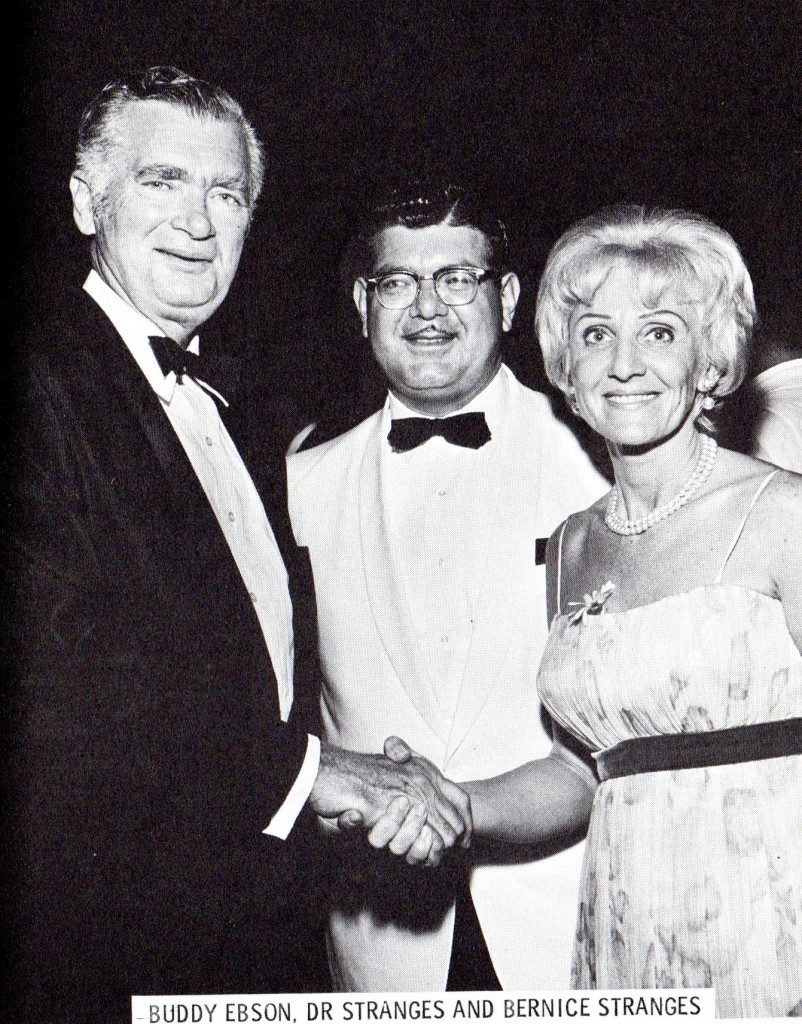 Stranges was director of the National Investigations Committee on Unidentified Flying Objects (NICUFO), a group he started after being kicked out of the more well-known and quasi-respectable National Investigations Committee on Aerial Phenomena (NICAP).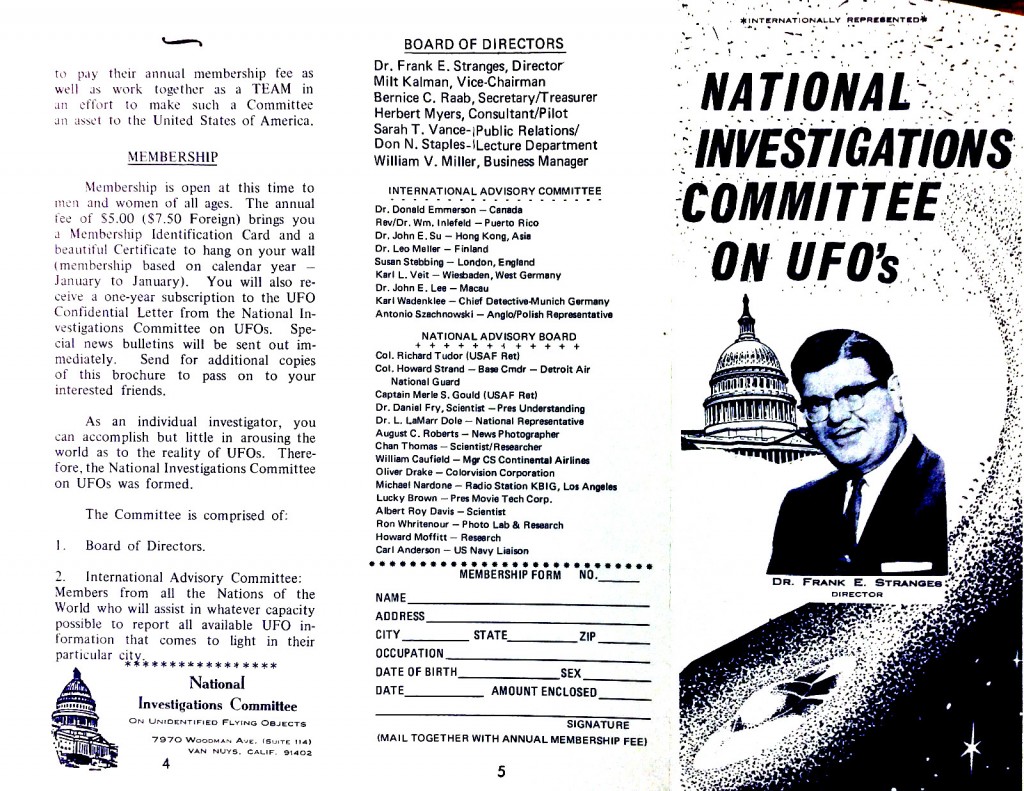 In addition to his saucer activities, Stranges was President of the International Theological Seminary of California, which appears basically to have been a diploma mill he cooked up. To this end, Stranges was famous for bestowing titles upon himself, including the prestigious FBI Gold Medal, which in reality was also a totally made up award. Stranges' supposed association with the FBI drew the ire of the Secretary of NICAP, Richard Hall, who contacted the Feds on April 27, 1962, as documented in the letter below: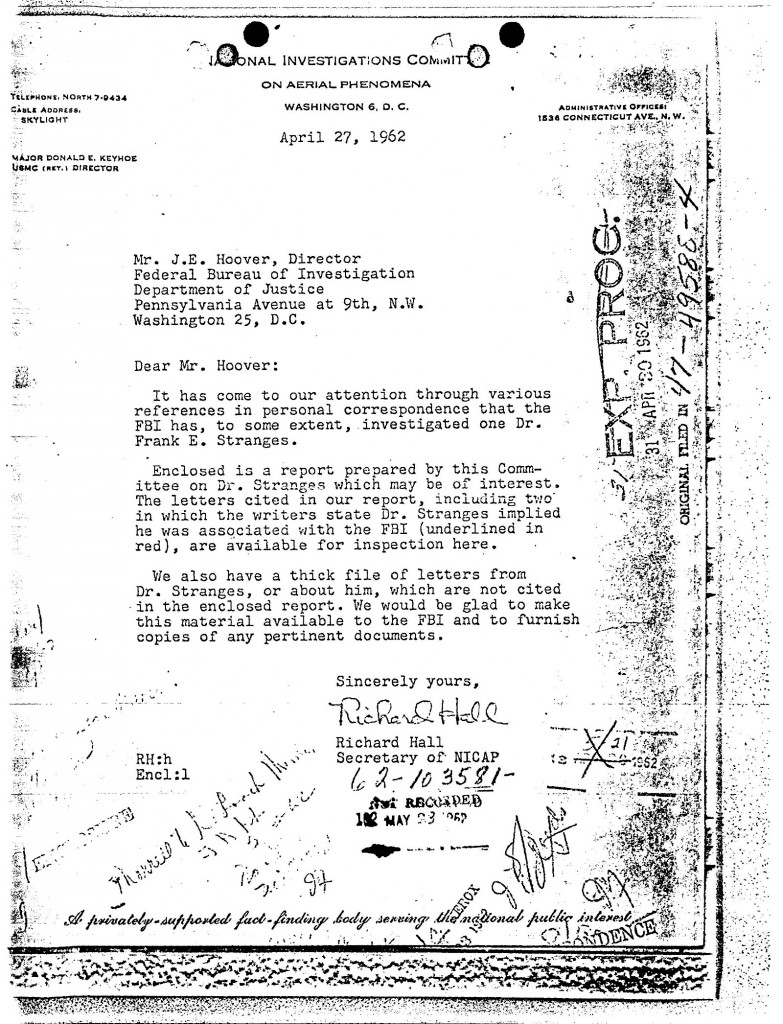 According to an FBI memoranda dated May 3, 1962:
"…a review of the enclosed material indicates that allegations against Dr. Stranges pertain to a period in August and October, 1960. In October, 1960, the Seattle Office conducted an investigation concerning Dr. Stranges after information was received that he was implying that he was at that time or previously connected with the FBI. During the investigation no one was located who had actually heard Dr. Stranges make any such allegation although it was generally conceded that he had left a number of people with such an impression. Dr. Stranges is an evangelist. Based on his background, numerous addresses and organizations which he has had and the fact he claims to have talked to an individual from the planet Venus, it appears he may be also something of a confidence man…"
Rev. Broshears hosted a number of UFO events at which Stranges appeared as guest speaker, such as this following promoted in Broshears' Light and Understanding from November, 1968.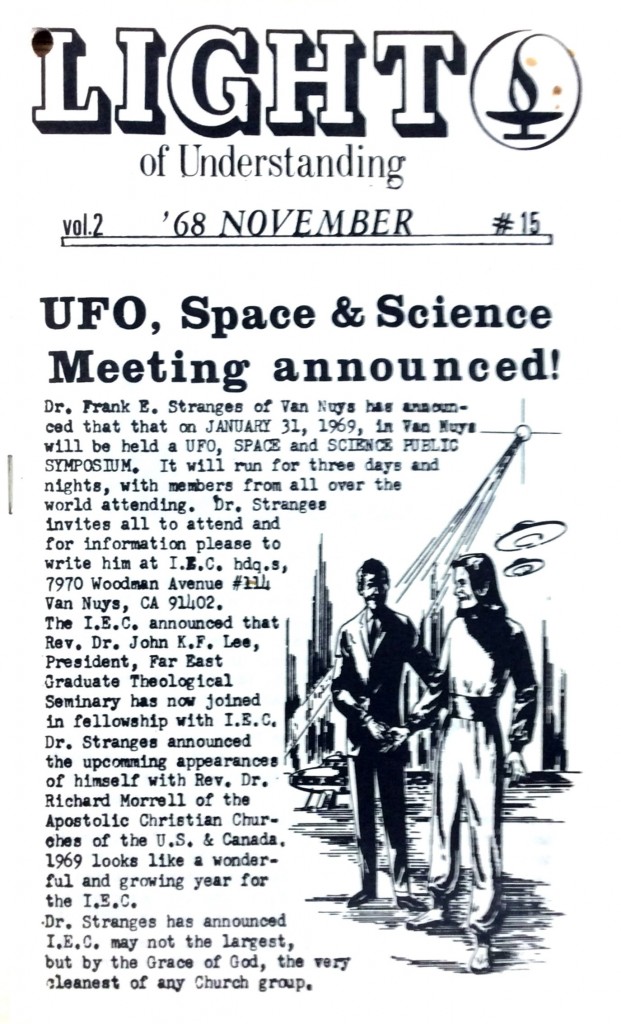 That same year, Stranges assumed leadership of a "religious organization" formerly overseen by Rev. Broshears called The Council of New Age Churches (CNAC). It's not clear what CNAC was about, but some of Broshears correspondence suggests it never really amounted to much, but was yet another title that Stranges could add to his ever expanding rolodex of fake titles.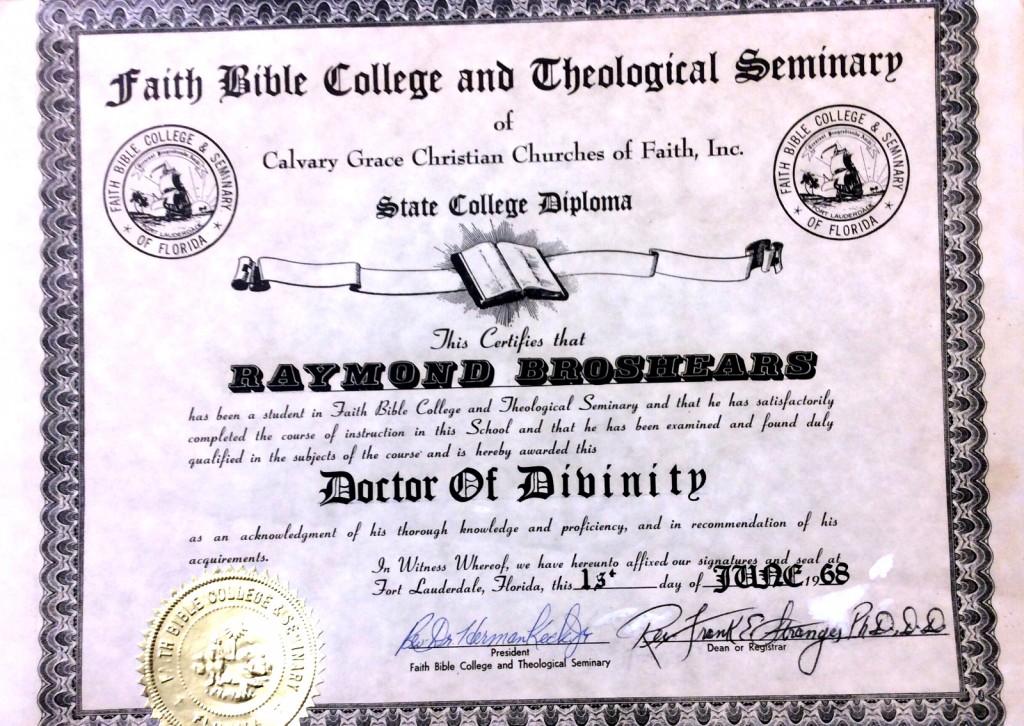 Crisman and Beckham likewise ran a number of dicey diploma mills, and it was from one such that Dr. Stranges earned a Ph.D. from the National Institute of Criminology, a title listed on the back cover of The Stranger from the Pentagon.
Although Stranges presented himself as a pseudo law enforcement official, there's no indication he was ever on the right side of the law, and on many occasions found himself leaning more towards the dark side. In 1972, an aircraft with a bent propeller attempted to take off from Thermal, California. Besides the pilot, the only other person on board was Rev. Stranges. Police found about 400 pounds of marijuana in the plane. Stranges was convicted of attempting to transport an illegal substance and sentenced to eight months in prison and three years probation.
In 1974, Stranges hosted the "8th Annual UFO Space and Science International Convention" in Anaheim, California, advertising William Shatner, astronaut James Irwin, and U2 pilot Francis Gary Powers as featured speakers. All said they had either refused, cancelled, or never heard of Rev. Stranges.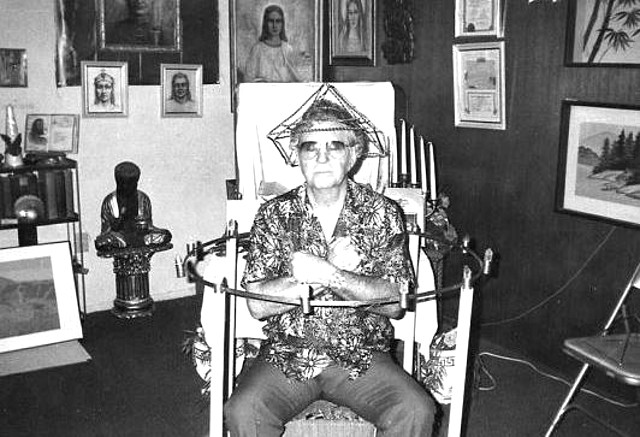 Another of Broshears' ufological allies was Rev. Robert Short, for whom Broshears organized an event at the Los Altos Public Library chronicled in a July 9, 1968 Long Beach Independent Press-Telegram entitled "Outer Space Chef Tosses Bewildering Salad." Staff writer Frank Anderson described Short as:
…an outer space chef, [who] cut some green cheese from the moon, mixed it with horse radish and served it up on flying saucers…

Billed as a lecturer of unidentified flying objects, Short confined most of his remarks to communiqués from extra-terrestrial sources which have been published in the Solar Space Letter of his Solar Space Foundation at Joshua Tree.

The audience of 30 persons appeared mystified by it all, for the knowledge by Short flew by faster than the cafeteria line at a tape worms' convention.

Short was introduced by Rev. Raymond Broshears, pastor of the sponsoring Church of God of Light. After some Hawaiian music, the lecture began with Short telling his audience how outer space beings tune in on earthlings.

It's done, he said, by means of a resotron, a device that fits on the head like a hair-dryer and immediately translates earthlings thoughts and language into super space intelligence.

Having cleared up this awesome technology, Short read some documents, the substance of which is that the United Nations just isn't interested in UFOs and "please stop writing to this office."

Next came the slides. The first one purported to be outer space lights seen through pink clouds—but if you thought it was a slice of liver left too long in the hot sun, you wouldn't be far off the mark.

This was followed by what appeared to be a human eyeball the day after New Year's—or an under-fried egg.

Short —perspiring freely in his royal blue turtleneck, dark blue blazer and canary yellow slacks—got the next slide in upside down and backwards. But his apology was wasted—the audience didn't know the difference…

Pity the poor Martian trying to decode Monday night's proceedings on his resotron. He'll think he blew a fuse.
Like a number of UFO contactees, Rev. Short channeled Commander Ashtar and by the mid-1950s (under the non-de-plume of Bill Rose) started an organization called "Ashtar Command" to monetize his otherworldly communications. Rev. Short and his spunky wife Shirley operate the Blue Rose Ministry out of their home in Cornville, Arizona, and publish The Solar Space Newsletter where "You can learn the mystic connection between the Hopi's, the Pope's and the UFO's!" For many years, the Shorts were familiar figures on the flying saucer lecture circuit where the good reverend was usually more than happy (for a free will love offering of around $20 or so) to put on eye shades and perform psychic readings courtesy of Ashtar or Korton or whatever entity was possessing his vocal chords at the time. As my friend Greg Bishop recalled:
At the International UFO Congress in 2004, Bob Short set up a TV tray in the merch room (because he couldn't afford a table) and gave psychic readings. I gave him $20 and he gave me a $20 performance. He went into a trance and began to spout extreme generalities which could apply to almost anyone. I was not very helpful with any feedback to lead him, so he continued in this vein. It was a fun session, mainly because I just wanted to help him out with a few bucks and see how good he might be. I recorded the session, but mistakenly recorded over it with a bootleg recording of a Hasil Adkins concert.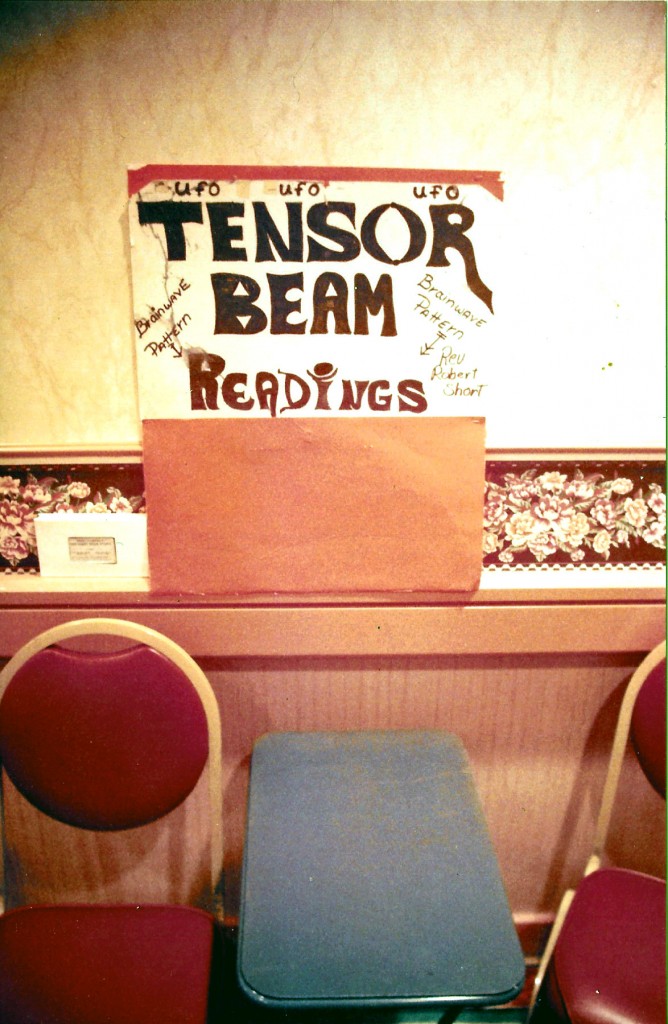 ---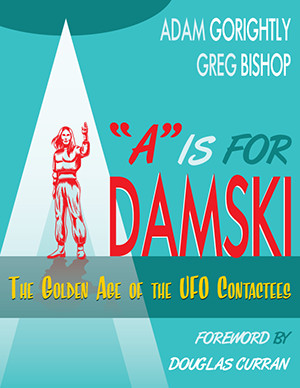 Thanks to Greg Bishop for assistance with portions of this article, some of which were ripped from the pages of our recently released "A" is for Adamski: The Golden Age of the UFO Contactees (Available now in a Black & White version or a Full Color version).
I've compiled a hot mess of Maury Island files, FOI and otherwise, here.
Listen to my Untamed Dimensions interview with Rev. Frank Stranges here.
And here's a link to Dr. Stranges' historic recording, Flying Saucers Unlimited! posted by Greg Bishop for his Stop Hitting Yourself show on WFMU.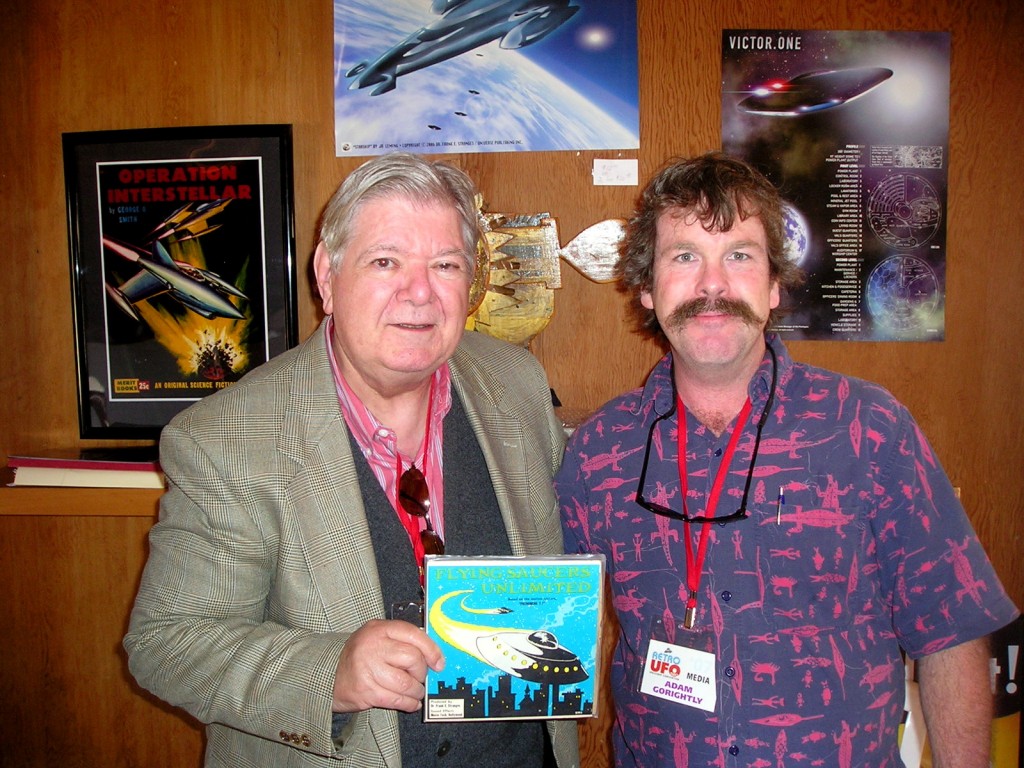 Previous Reading:
The Raymond Broshears Files Part 00001: Welcome to the Garrison Investigation Funhouse
The Raymond Broshears Files Part 00002: Odd Sects and Wandering Bishops
---
00001 Fred Nadis. 2013. The Man From Mars: Ray Palmer's Amazing Pulp Journey. Pages 130-131.
00002 ibid.
00003 ibid.
00004 ibid.
00005 The Crisman-Beckham Archives (JFK Lancer).
00006 Larry Hancock, The Crisman-Beckham Archives (JFK Lancer).
00007 Thomas, Kenn. 1999. Maury Island UFO: The Crisman Conspiracy. Lilburn, Georgia: IllumiNet Press.
00008 Gulyas, Aaron John. 2015. The Paranormal and the Paranoid: Conspiratorial Science Fiction Television. Lanham, Maryland: Rowman & Littlefield. Pages 30-31.
00009 Mike Swlvester interview with Fred Crisman Jr., August 4, 1993. The Crisman-Beckham Archives (JFK Lancer).
00010 Mellen, Joan. 2005. A Farewell to Justice: Jim Garrison, JFK's Assassination, and the Case that Should Have Changed History. Potomac Books. Page 282.