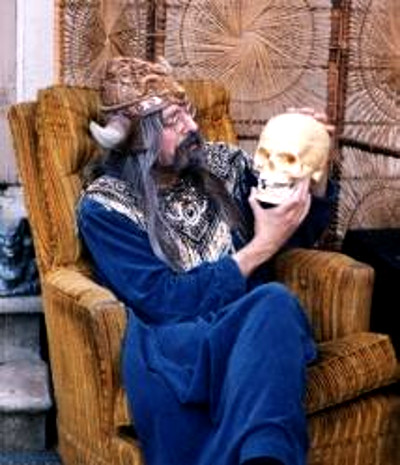 In 2015, a somewhat amusing bio of
yours truly
was posted at
Discordia Wikia
that is almost 23 percent accurate and presumably written by someone identified as Miley Spears, who in reality is a sock puppet of a self-styled Discordian named Reverend Loveshade who—it appears—has not only created this Miley Spears persona, but also a number of other phony Discordian characters such as
Pope Hilde
,
Gypsie Skripto
, not to mention a certain Johnny Shellburn (the same name of the protagonist in
Kerry Thornley
's
Idle Warriors
) who operates
KerryThornley.com
where you can find an imaginary interview conducted by the aforementioned Pope Hilde with a supposed early Discordian named
Richard Marshall
who also probably never existed—or at least never existed in the sense that the interview suggests.
Confused yet?
Richard Marshall—it so happens—also has a Discordia Wikia page which is also probably 23 percent accurate (at best!) although there actually was a real Richard Marshall who lived in San Francisco during the same period as Discordian Society co-founder Greg Hill, although none of the real Early Discordians I've talked to have ever heard of the guy.
According to Richard Marshall's Discordia Wikia page (written by Miley Spears), Marshall contributed to Principia Discordia and The Illuminatus! Trilogy although I've never come across anything in the Discordian Archives to even remotely suggest that these claims have the slightest relation to reality or that Marshall ever knew Greg Hill or Robert Anton Wilson or Kerry Thornley—let alone Michael Arthur Quinn (aka The Midget) who is another imaginary character (based on an Illuminatus! character) apparently cooked up (once again) by Rev. Loveshade, who—it should be noted—also has a Discordia Wikia page submitted by (you guessed it!) Miley Spears, who—as previously noted—is actually the one and only Rev. Loveshade. In other words, the whole thing is a giant sock puppet circle jerk perpetrated by somebody with a lot of spare time on their hands.
In 1970s—according to Loveshade— his mother was purportedly friends with Robert Anton Wilson's daughter and because of this Loveshade and his hippie mom became acquainted with Wilson, who he affectionately referred to as 'Grandbob' and along the way Loveshade "became obsessed with meeting the original Discordians" and that inspired him to (supposedly) track down Greg Hill in the 1990s at a San Francisco watering hole, an account of which appeared in Loveshade's Ek-sen-trik-kuh Discordia: The Tales of Shamlicht.
Some might suggest that a shaggy dog story about meeting Greg Hill is perfectly acceptable from an Operation Mindfuck standpoint, as a form of pranking and modern myth making. On the one hand—being a card carrying Discordian—I can appreciate this type of culture jamming. On the other hand—with Historia Discordia and related projects — I've taken seriously the task of chronicling, as accurately as possible, the early days of the Discordian Society and its influence on the 1960s counterculture and onward. So when imaginary sources create imaginary history, it certainly leads us down a slippery slope.
In 2012, I was contacted by an enterprising Australian lad named Brenton Clutterbuck (which totally sounds like another made up name, but no he's an actual dude) who informed me that he was working on a book project about modern day Discordianism entitled Chasing Eris.
While discussing with Clutterbuck different latter-day Discordians during a 2012 midnight Skype session, he informed me that as part of his Chasing Eris project he was planning a tour of the U.S. to interview prominent Discordians, including someone going by the name of Gypsie Skripto who had been introduced to him by Johnny Shellburn of KerryThornley.com, who—as previously noted—is another one of Loveshade's alter egos.
Using the email address given to him by "Johnny Shellburn," Brenton started a correspondence with Gypsie Skripto, who claimed that she had been friends with Greg Hill and part of the early Discordian scene in San Fran in the 1970s. In response, I told Brenton that I thought someone was yanking his chain, that the Gypsie Skripto in Greg Hill's Principia Discordia afterword was an obvious literary construct, and that this person posing as Gypsie Skripto had basically co-opted Hill's imaginary character as a way to troll the internet and create phony Discordian street cred.
Ultimately, Brenton's planned meeting with Gypsie Skripto in Austin, Texas failed to materialize when she stood him up, using the pretext that she had to attend some last minute political activist hippie rally fundraiser (or some-such) and Brenton soon came to the realization that I was correct in my assumption that "Gypsie Skripto" was just one among a host of other spurious Discordian sock puppets courtesy of Rev. Loveshade. 
With all this in mind, we'll soon have a post up from Mr. Brenton Clutterbuck himself regarding his take on adventures with the Rev. Loveshade and his various sock puppets.
Stay tuned!
---
UPDATE: Here is Mr. Clutterbuck's post on Rev. Loveshade.