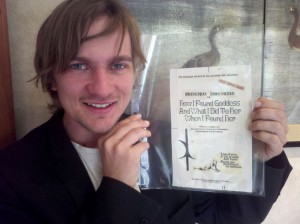 Five years ago (Hail, Eris! for the Law of Fives!) Brenton Clutterbuck began his mission to visit and interview Discordians around the world for his soon to be released book Chasing Eris.
Here are a few pics and clips of Clutterbuck, a Discordian Archives contributor, visiting the Discordian Archives West and the Discordian Archives East during his 2013 travels.
First up, Clutterbuck films Adam Gorightly explaining all the confusion surrounding the history of the First Edition of the Principia Discordia, at the home of Louise Lacey in Berkeley, California.
After leaving the Left Coast, Clutterbuck found himself in the most conservative Republican county in the United States, Cobb County, Georgia, where he got a good, hard look at the Discordian Archives East. Here are a few pics of his visit: