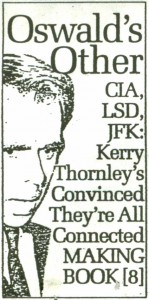 Jonathan Vankin
's chapter on
Kerry Thornley
in
Conspiracies, Cover-ups and Crimes
was one of the main motivating factors that launched me on this strange voyage of chronicling Kerry's life.
At the time, Vankin noted that he was considering writing Thornley's biography, a notion that excited me immensely, as Vankin's portrayal of Kerry in Conspiracies, Cover-ups and Crimes only whet my appetite for further revelations of one of the most curious characters to inhabit the counterculture and JFK assassination research scene of the 60s and 70s.
Of course, Vankin never got around to writing Thornley's biography, so by the early 2000s I took it upon myself to dive down that particular rabbit hole, a journey which amazingly enough is still ongoing. I eventually pulled my research together in my biography of Thornley, The Prankster and the Conspiracy: The Story of Kerry Thornley and How He Met Oswald and Inspired the Counterculture, currently still available in all those various formats we read now. Hail Eris!
Here's a fascinating article discussing Vankin's coverage of Thornley from 1991 by John Strausbaugh, then-contributor and editor of The New York Press, then later host of the The New York Times's "Weekend Explorer" podcast. This was a turning-point in Kerry's life as IllumiNet Press was starting to publish Kerry's works in a serious format, and subsequent coverage of Thornley, his works, and his story was being picked-up by earnest media types.