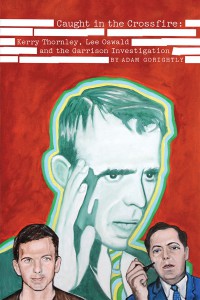 Caught In the Crossfire: Kerry Thornley, Lee Oswald and the Garrison Investigation
is now available through both Amazon (
Paperback
,
Kindle
) and our publisher
Feral House
, who has set up
a page for the book
which will include occasional excerpts, such as the chapter "A Homosexual Thrill Kill?" (Not that there's anything fnord with that!)
Feral House also has an article on the book The Kerry Thornley Mindfuck.
Here's the description of the book:
Kerry Thornley never imagined that after starting a spoof religion in the 1950s dedicated to the worship Eris—the Greek Goddess of Chaos and Discord—that such an irreverent yet light-hearted endeavor would unleash, in the years to come, a torrent of actual chaos into his life and turn his world upside down.
In 1959, Thornley served in the Marines with Lee Harvey Oswald and was actually writing a novel based on Oswald three years before JFK's assassination. These connections would later cause New Orleans District Attorney Jim Garrison to suspect that Thornley was one of the notorious Oswald doubles and part of a JFK assassination plot. Initially, Thornley denied these allegations, but later came to believe that he'd been used as an unwitting pawn in a conspiracy that ran far deeper than the JFK assassination and may also have included the RFK and MLK assassinations, as well as the disturbing specter of government sponsored mind control.