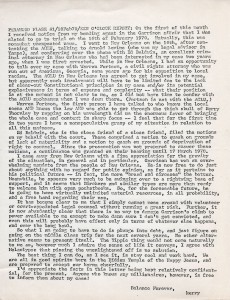 Near the tail end of the Garrison Investigation into the
JFK Assassination
, Discordian co-founder
Kerry Thornley
began a one-sheet newsletter,
Paranoid Flash
(later called
Paranoid Flash Illuminator
and
Paranoid Flash Illuminations
) that he sent out to keep his friends abreast about developments with the case and his involvement.
In issue #1 of Paranoid Flash, Kerry notes how he decided to hire legal counsel (as opposed to court-appointed representation) and that he was trying to get assistance from the ACLU.
As Kerry later recalled:
Garrison came after me one last time in 1970 just for harassment purposes because I had put an advertisement in a Libertarian magazine that said, 'Good looking, young District Attorney will do anything for, or to, anyone for a chance to jack off to the John Kennedy autopsy photos.' (Laughs) This was just to prove I wasn't afraid of him…It was just my way of saying, 'Look, you fucker, you're not going to push me around…'

"Anyhow, the lawyer I wound up with (Ed Baldwin)… who happened also to be Garrison's brother-in-law, told me in no uncertain terms to stop writing things about Jim. So I stopped, and never heard from the lawyer again, much less from Garrison…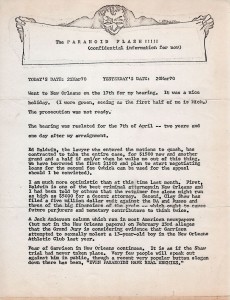 The title Paranoid Flash, I assume, came from Kerry's belief that Garrison was consumed with paranoia and because of this ran roughshod over the civil rights of those he targeted. Kerry, as well, grew paranoid during this period and later described the defining moment which triggered his paranoia (and eventual psychological problems) as having occurred in Tampa when several helicopters buzzed his house for over ten minutes. Kerry believed that Garrison was behind this helicopter-house-buzzing, and that he'd used his Florida law enforcement connections to orchestrate this harassment.
Assuming that this helicopter incident was the key factor that drove Kerry off the deep end, it was not simply a matter of him immediately snapping and going crackers. What I believe happened was a gradual disintegration, which reached its nadir in the mid-70s when Kerry believed that nearly everyone he ever knew was part of "The Conspiracy."
The helicopter incident notwithstanding, some suspect that an ill-fated love affair greatly contributed to his subsequent psychological problems. Kerry described it as an "eight-year-long, off-again-on-again, affair/friendship/rivalry/ego-game/karmic unraveling." The "affair" in question was with Grace Caplinger, who inspired a novel Kerry was writing in the early60s entitled Can Grace Come Out and Play? In a confessional letter from late 1969, Kerry addressed the matter:
For an opinionated sonofabitch like me, learning things and finding out you are wrong are inseparable—so it has been, since education, painful. I learned, for example, that the sort of polygamy I always advocated is precarious at best—since, I at least, cannot ordinarily, to my own surprise, really love (in the full sense of a life-time devotion) two different women to the degree each needs and deserves, not at the same time. And any conflict between them just tears me apart.

Put on top of this that most if not all else there is to it—or was—is that we happen also to be each others' ego trips, and the whole thing becomes as difficult to integrate as a queer spade in Mississippi…
When I shared the above letter with Grace Caplinger (now known as Grace Zabriskie, most recognized for her famous role in David Lynch's amazingly Discordian TV series Twin Peaks as Laura Palmer's mother), she replied:
I have no idea where this long affair thing comes from. Kerry and I and my then husband, Rob, had an intense friendship, which graduated, or from another point of view disintegrated into more of a friendship between me and Kerry. The friendship was centered around an intense shared love for and fascination with the philosophy of Ayn Rand. We were all in our early twenties. This friendship was briefly interrupted by an incident one evening while Rob was away. I was not happy with Rob, and Kerry was on the outs with his then girlfriend, Jessica (Luck). The incident consisted of several hours of Kerry ranting about how excluding sexuality from our friendship was "irrational…"

Worst thing one student of Objectivism could possibly say to another, I guess, and then perhaps four and a half minutes in bed before I asked him to leave. More haranguing about irrationality on the way out, as I remember, and that was it. That was the affair. There was no further sexual aspect to the friendship that eventually resumed, and continued until…

I'm not sure. I think Kerry left New Orleans. Within a year or so I moved to Atlanta, and Kerry and I corresponded for years. He asked me at one point to send him all his letters as he was trying to construct a timeline, for Garrison, of what he'd been doing during those years. I sent him all the letters. He wrote sporadically after that, and I stopped ever writing back after he informed me that he believed that

1), I was involved somehow in some conspiracy… to do what I wasn't ever quite clear on, and

2), that I was involved somehow in "snuff films." Maybe because I was an actor in films by then. I don't know…

I lost hope that I could make him see reason in these matters, and I stopped imagining that we could ever be friends again.
From Kerry's perspective, his affair with Grace extended over a decade, although according to Grace the sexual aspect of their relationship lasted only four minutes. It's my suspicion that the first seeds of Kerry's psychological issues began to manifest in the late-60s, and one way it exhibited itself was this fixation with Grace that, at some point, became magnified in his mind.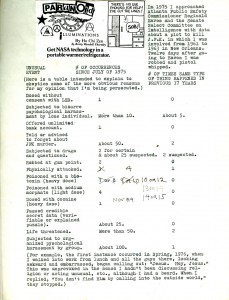 In a Paranoid Flash from the late-80s, Kerry's paranoias seem to be on full display. In a list of unusual events/occurrences, Kerry includes being dosed with LSD, which he suspected Robert Anton Wilson of being involved with as part of some MK-ULTRA mindfuck—or at least that's what I've been able to piece together. As RAW recalled:
I remember my last phone conversation with Kerry, during which he announced that just a week earlier I had come to Atlanta, argued with him about my alleged CIA connections, spiked his drink with LSD, and brainwashed him again. I told him that I had not left San Francisco in months, and that if he had a bad trip the previous week then somebody else gave him the acid, not me. I insisted on this as persuasively as I could.

Finally, Kerry relented—a bit. "Well, maybe you believe that," he said. "But that means your bosses have been fucking with your head and implanting false memories in you too!"

How do you argue that you haven't had your head altered? "Look," I said, "I'll put my wife Arlen on. She'll tell you I haven't left here in months."

"That won't prove anything," he said with the calm certitude of a Grand Master announcing checkmate. "They probably fixed her head too."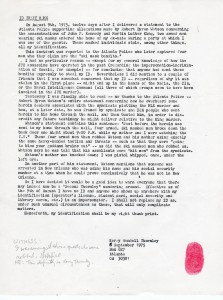 Kerry's "unusual occurrences" included having been poisoned with sodium morphate, a curious claim that anyone familiar with A Skeleton Key to the Gemstone Files may recall as a means of poisoning politicians—and others who had run afoul of The Conspiracy—by slipping them some sodium morphate (a supposed heart attack inducing drug, which may or may not actually exist) in a slice of apple pie.
The robbed-at-gunpoint incident is documented in a 1975 memo to which Kerry applied his thumbprint as a means of identification and supported by Greg Hill who was there for the robbery in Atlanta.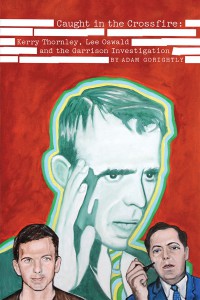 As mentioned in this memo, Kerry suspected that much of this ongoing harassment stemmed from his involvement with the Robert Byron Watson case, which you can find out more about in my latest offering, Caught in the Crossfire: Kerry Thornley, Lee Oswald and the Garrison Investigation.