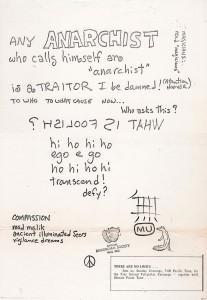 With the approaching release of Illuminatus! way back in 1975, Robert Shea was still producing underground zines, in particular Shea's then-new endeavor NO GOVERNOR (issues of which can still be had as PDFs on bobshea.net thanks to Shea's son, Mike).
During this pre-release era of Illuminatus!, Shea and Discordian co-founder Greg Hill were furiously exchanging letters and articles. Of course, "furious" being defined at this time, a decade before publicly available email, as maybe half-a-dozen letters over as many months. Crazy stuff.
Hill submitted an article to Shea's NO GOVERNOR and Shea responded via letter:
Greg—

"Why I am Not an Anarchist" will be a welcome addition to NO GOVERNOR #2. I like it. It says something that needs saying—at least once a year. Also, I am very grateful to you for sending me something I can publish.
For your pleasure and research purposes, here is the original article 'Why I Am Not An Anarchist' by Greg Hill, including the original proofing notes. Hail Eris!
WHY I AM NOT AN ANARCHIST
Gregory Hill
June 1975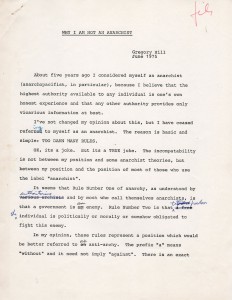 About five years ago I considered myself an anarchist (anarchopacifist, in particular), because I believe that the highest authority available to any individual is one's own honest experience and that any other authority provides only vicarious information at best.
I've not changed my opinion about this, but I have ceased referring to myself as an anarchist. The reason is basic and simple: TOO MANY DAMN RULES.
OK, it's a joke. But it's a TRUE JOKE. The incompatibility is not between my position and some anarchist theories, but between my position and the position of most of those who use the label "anarchist."
It seems that Rule Number One of anarchy, as understood by authoritarians and by most who call themselves anarchists, is that a government is an enemy. Rule Number Two is that to gain freedom the individual is politically or morally or somehow obligated to fight this enemy.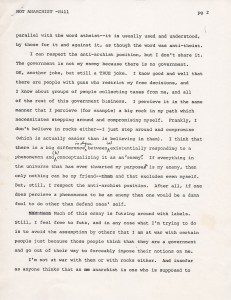 In my opinion, these rules represent a position which would be better referred to as anti-archy. The prefix "a" means "without" and it need not imply "against." There is an exact parallel with the word atheist—it is usually used and understood, by those for it and against it, as thought eh word was anti-theist.
I can respect the anti-archist position, but I don't share it. The government is not my enemy because there is no government. OK, another joke, but still a TRUE joke. I know good and well that there are people with guns who restrict my free decisions, and I know about groups of people collecting taxes from me, and all of the rest of this government business. I perceive it in the same manner that I perceive (for example) a big rock in my path which necessitates stepping around and compromising myself. Frankly, I don't believe in rocks either—I just step around and compromise (which is actually easier than is believing in them). I think that there is a big difference in degree between (a) existentially responding to a phenomenon and (b) conceptualizing it as an "enemy." If everything in the universe that has ever thwarted my purpose is my enemy, then only nothing can be my friend—and that excludes even myself. But, still, I respect the anti-archist position. After all, if one does perceive a phenomenon to be an enemy then one would be a damn fool to do other than defend ones' self.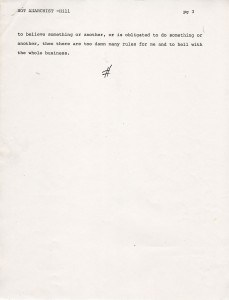 Much of this essay is futzing around with labels. Still, I feel free to futz, and in any case what I'm trying to do is to avoid the assumption by others that I am at war with certain people just because those people think that they are a government and go out of their way to forcibly impose their notions on me.
I'm not at war with them or with them or rocks either. And insofar as anyone thinks that an anarchist is one who is supposed to believe something or another, or is obligated to do something or another, then there are too damn many rules for me and to hell with the whole business.