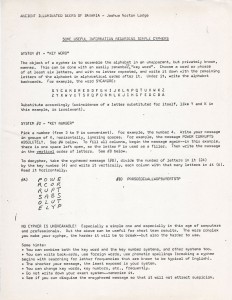 POWER CORRUPTS ABSOLUTELY.
The Discordian Archives are filled with Greg Hill's interests and hobbies. One such hobby of Hill's was the use of simple ciphers.
Hill's dabbling in cryptography and the promotion of secure communications is evident in this undated, but most-likely late 1960s, missive from the Joshua Norton Lodge entitled "Some Useful Information Regarding Simple Cyphers," probably sent to his Usual Suspects zine mailing list.
In it, Hill lays out a simple algorithm that replaces the same number of characters for each letter to encrypt and decrypt a given message. So not a secure code, per se, but a simple substitution cipher, used through-out history going back to at least Julius Caesar's reign of the Roman Empire and all the state secrets he had to secretly and securely communicate about across the World's Most Successful Empire to keep that shit going right-as-rain on a daily basis. Julius did a pretty damn good job with his ciphers and kept things a-moving for the Empire until he got him all stabbed-up by his buddies in the Senate. Yet, his cipher lived on. Hail Caesar!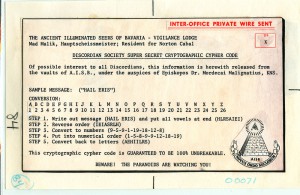 An interesting 21st Century Internet cypherdom tie-in to note is Hill's usage of the term "cypher" vs. "cipher" in the late 1960s, a very prescient pre-cyberpunk name-styling considering the era of the original missive in the 60s and how such geek-spellings were later adopted by fringe computer users and hackers starting in the mid-to-late-80s. Whether this is a "style" choice or a simple misspelling by Hill is hard to determine. Yet, also of note, is that Hill includes a "cypher" in the Fourth Edition of the Principia Discordia on Page 00071 entitled "Discordian Society Super Secret Cryptographic Cypher Code," a wonderful silly cryptic redundancy.
In the Principia Discordia, Hill encodes "HAIL ERIS" as the example and provides a step-by-step encryption methodolgy of the phrase that produces a nonsensical result once decrypted. In this Principia Discordia example, "HAIL ERIS" = "AEHILRS" as the decoded term. And then Hill declares, "This cryptographic cypher code is GUARANTEED TO BE 100% UNBREAKABLE." Indeed, it is.
On a side-note, this "cypher" page of the Principia Discordia appears in the Rip-Off Press Fourth Edition with the Eye-in-the-Pyramid base pasted-on the lower-right facing outwards towards the book's bleed, while the Loompanics Fourth Edition reproduction of the page has the Eye-in-the-Pyramid base facing inward towards that edition's staple binding.
I'm sure this is an encoded message I have yet to decypher.
AEHILRS!