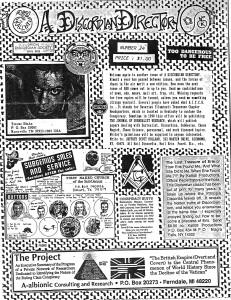 Reason Magazine
's Jesse Walker, author of
The United States of Paranoia: A Conspiracy Theory
—which delves a bit into Discordian History and the Bavarian Illuminati—just gave me a heads up about
A Discordian Directory #24
, a zine published circa late 1980s that he recently posted at
Scribd
.
The title at the top of page 1 looks distinctly like lettering/artwork produced by our old friend Roldo Odlor who, as noted in previous posts, collaborated with both Kerry Thornley and Greg Hill and was involved with producing artwork for other like-minded Discordian zines during the zenith of the Zine Revolution.
A Discordian Directory was produced by an outfit dubbing itself B.I.T.C.H (The Bavarian Illuminati Tennessee Chapter Headquarters) consisting of a six page listing of an eclectic hodge-podge of Discordian-SubGenius-Anarchist and conspiratorial tracts, among them an obscure book called The Lost Treasure of Eris we had discussed first here and then here, in addition to such alternative publishing mainstays as Mike Hoy's publishing company Loompanics that helped revive interest in Discordianism with the re-publication of Principia Discordia in 1977.
Page 2 includes an ad for Kerry Thornley's Spare Change as well as some outfit peddling Robert Anton Wilson tapes along with scattered images of the Golden Apple, Mr. Spock, and Bob Dobbs with only one eye on his forehead.
Page 3 features another Thornley publication, Decadent Worker, and an ad for Mark Philip Steele's Illuminatus! comix series.
Other offerings include Arthur Hlavaty's The Dillinger Relic, Bob Black's notorious anarchist manifesto The Abolition of Work, Donna Kossy's Kooks, and Elayne Wechsler's Inside Joke, a zine which featured the work of many renowned Discordians such as Thornley, Hill and Roldo. Also listed is Mike Gunderloy's Factsheet Five which was the go-to publication during this period to find out what was happening on the bleeding edge of the Zine Movement.
The Illuminati biker club card was also a nice touch, from an actual honest-to-Goddess cabal situated in these United States.
Again, you can get the whole fine mess on Jesse Walker's Scribd share.