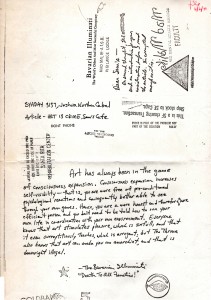 Perhaps the most notorious Discordian Jake ever perpetrated—or at least the one that received the most national media attention—was cooked up by a Discordian cabal called "Sam's Cafe," a three person art collective consisting of the husband and wife team of Mark and Terri Keyser, and their conspiratorial cohort, David Shire. Sam's Cafe operated out of a former greasy spoon of the same name located on University Avenue near the UC Berkeley campus.
Starting around 1970, Sam's Cafe orchestrated several Discordian flavored capers, a sort of cross between performance art meets culture jamming. In 1971, the group reached the pinnacle of prankdom with an op dubbed "Sam's Collection Agency" that entailed mailing "false collection notices to twenty thousand people, demanding that they each send $76.40 to the return address (which was the San Francisco Chronicle's TV station). The notice listed the phone numbers of news papers, TV stations, and the Bank of America, which were flooded with more than ten thousand angry calls. The artists made front page news in both local newspapers. Two days later, when Sam's Café revealed themselves at a press conference—at which they handed out press kits that included vials of human excrement—they were arrested and indicted…" 00001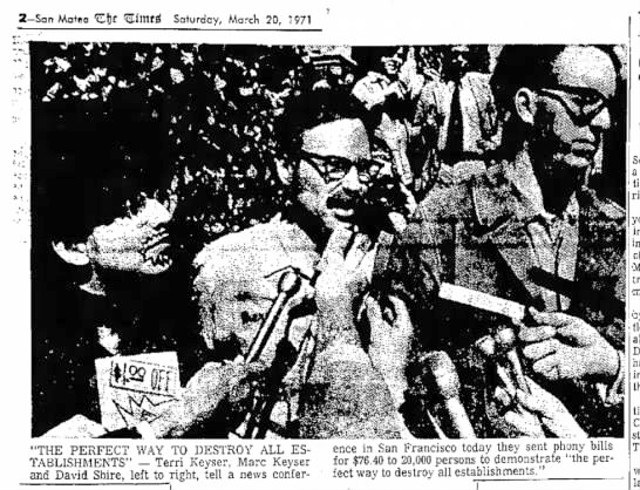 According to a March 20, 1971 article in the Cincinnati Enquirer entitled "Hippies Admit 20,000 Fake Bills In Attempt To Create Mass Chaos," Sam's Cafe was charged with mailing a "vile and filthy substance" in "small plastic jars of what appeared to be excretion. These were sent to news media Wednesday along with the announcement of the hoax…"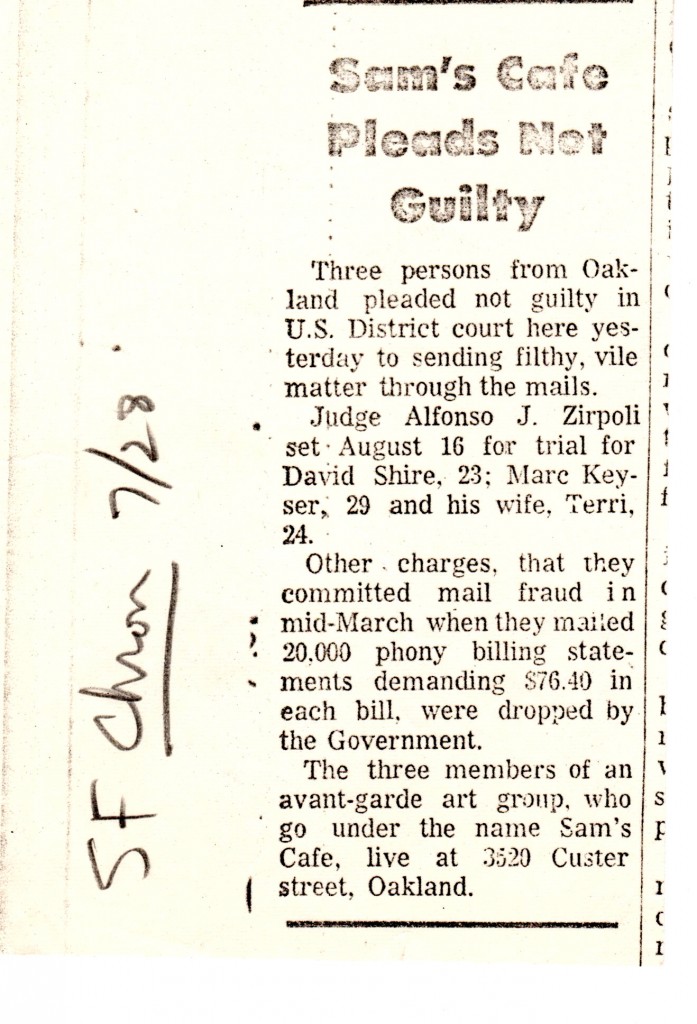 Ultimately, Discordian justice prevailed and Sam's Cafe was acquitted of all charges following a two-day trial, an acquittal based largely on the testimony of the expert witness in the case, San Francisco Chronicle art critic Thomas Albright, who stated "that the act was in fact conceptual art." 00002
"In the end, the judge shook his head and proclaimed, 'Well, if the expert says it's art, it's art, but don't do it again.' Sam's Cafe believed that by using print media, the postal service, and other ordinary means of communication, artists outside the system could reach a broad public audience. At the same time, they showed how easy it was to sabotage the U.S. Postal Service…" 00003
According to this note found in the Discordian Archives, Sam's Cafe put out feelers to Greg Hill to see if he was interested in testifying, although it's unknown how extensively Hill became involved in the case.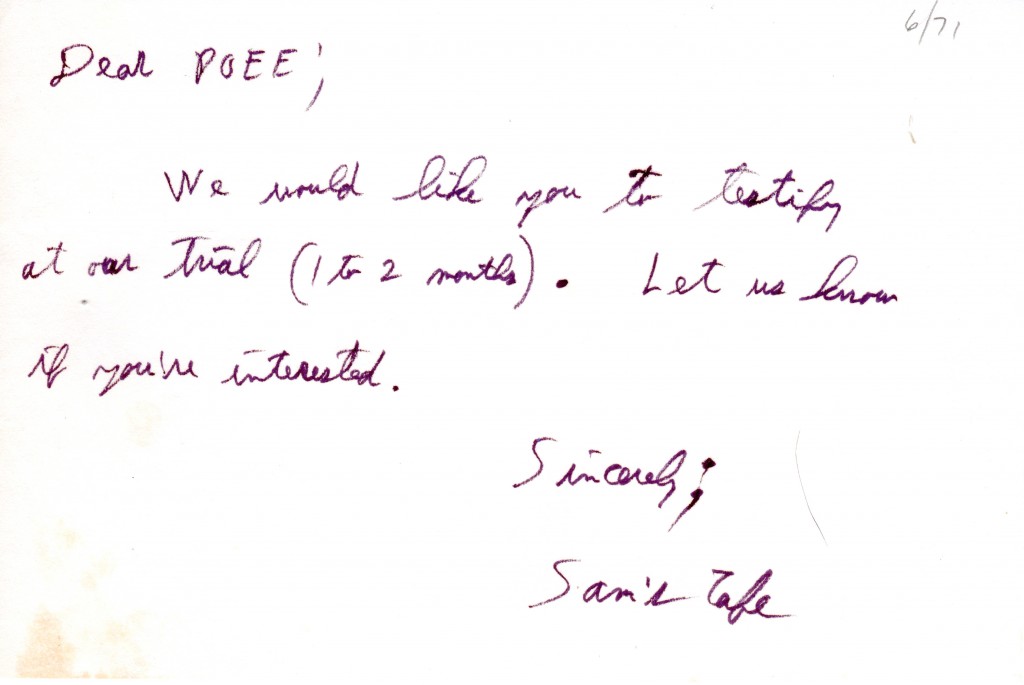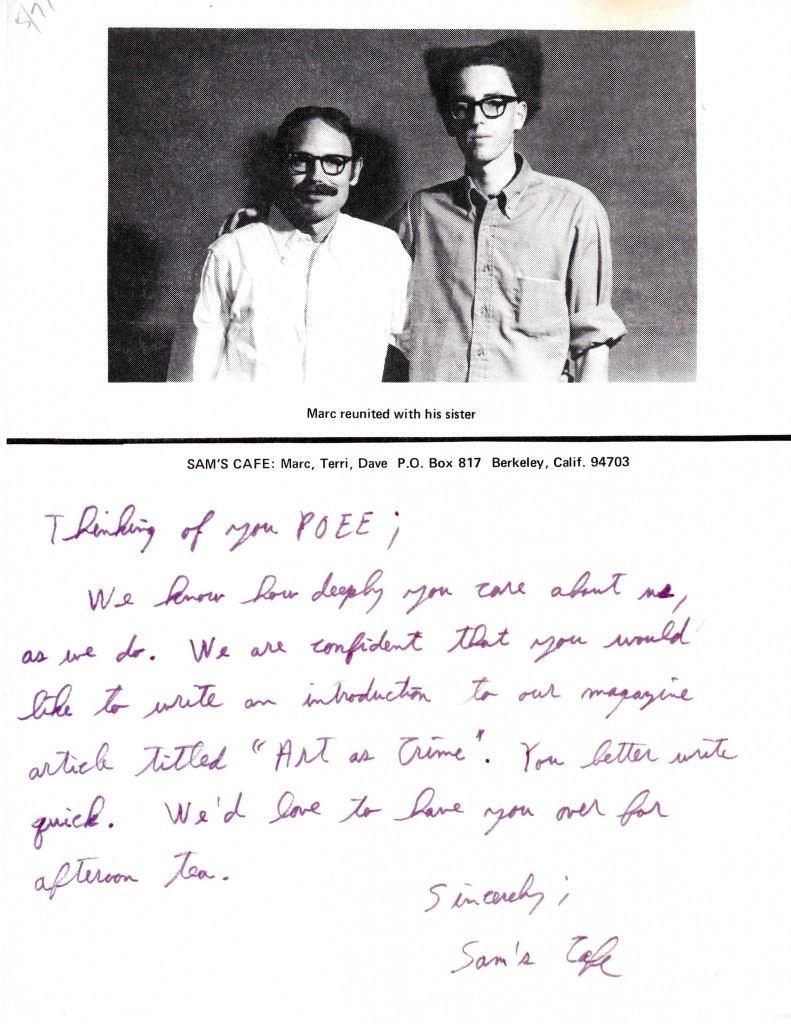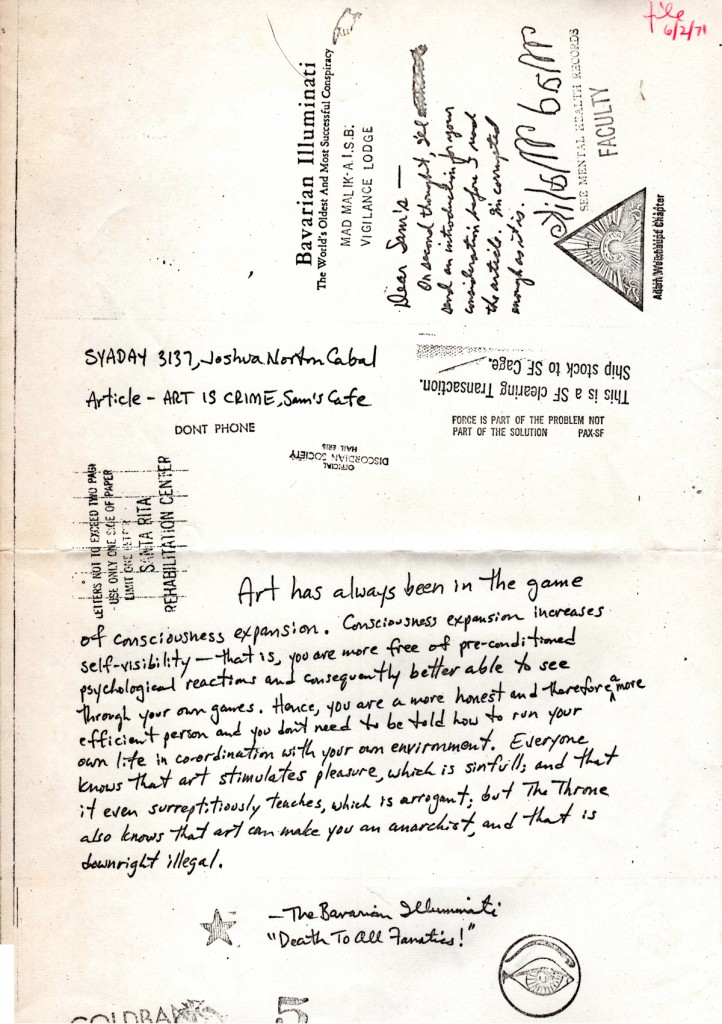 ---
Notes
---
00001 Lewallen, Constance M., and Moss, Karen. 2011. State of Mind: New California Art, Circa 1970. University of California Press.
00002 https://latimesblogs.latimes.com/culturemonster/2011/11/pst-a-to-z-state-of-mind-at-ocma.html
00003 State of Mind: New California Art, Circa 1970. University of California Press.