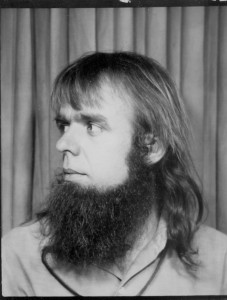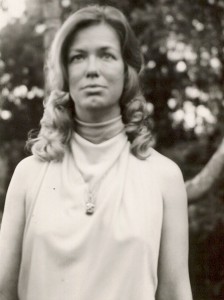 On page 557 of
Illuminatus!
we are introduced to Hassan i Sabbah X, a character who—it appears—was first conceptualized by
Kerry Thornley
in this August 1968 letter to fellow Discordian
Louise Lacey
(aka Lady L., F.A.B.), all of this part of
Operation Mindfuck
, the
Discordian Society
's clandestine conspiracy to illuminate the opposition.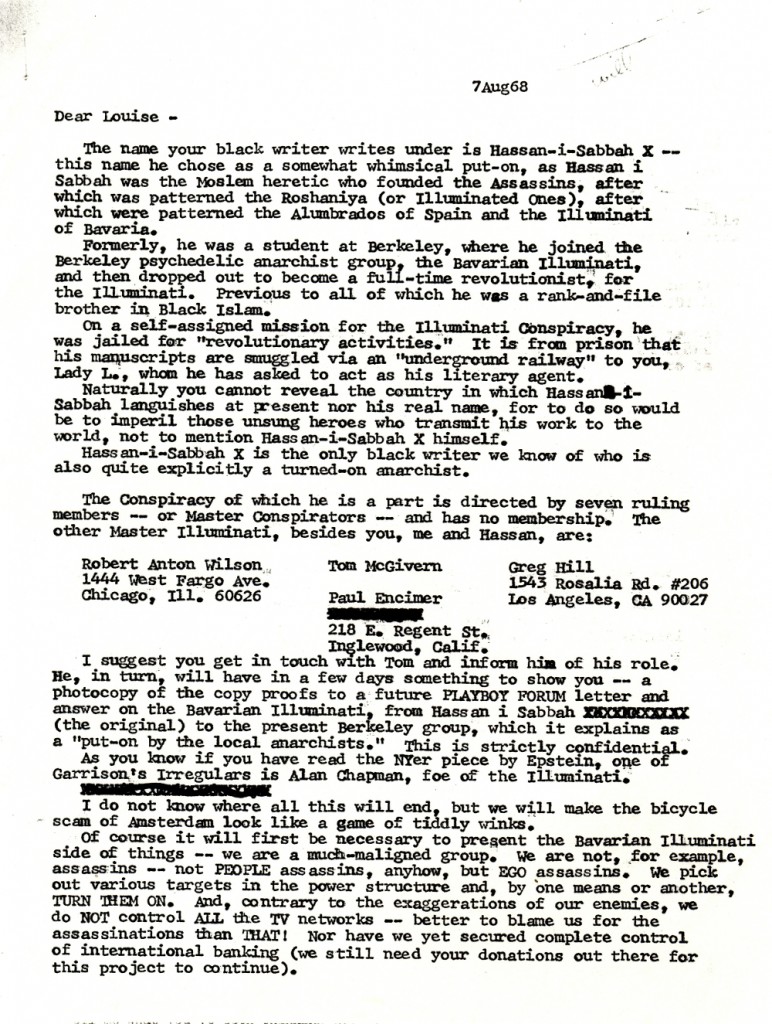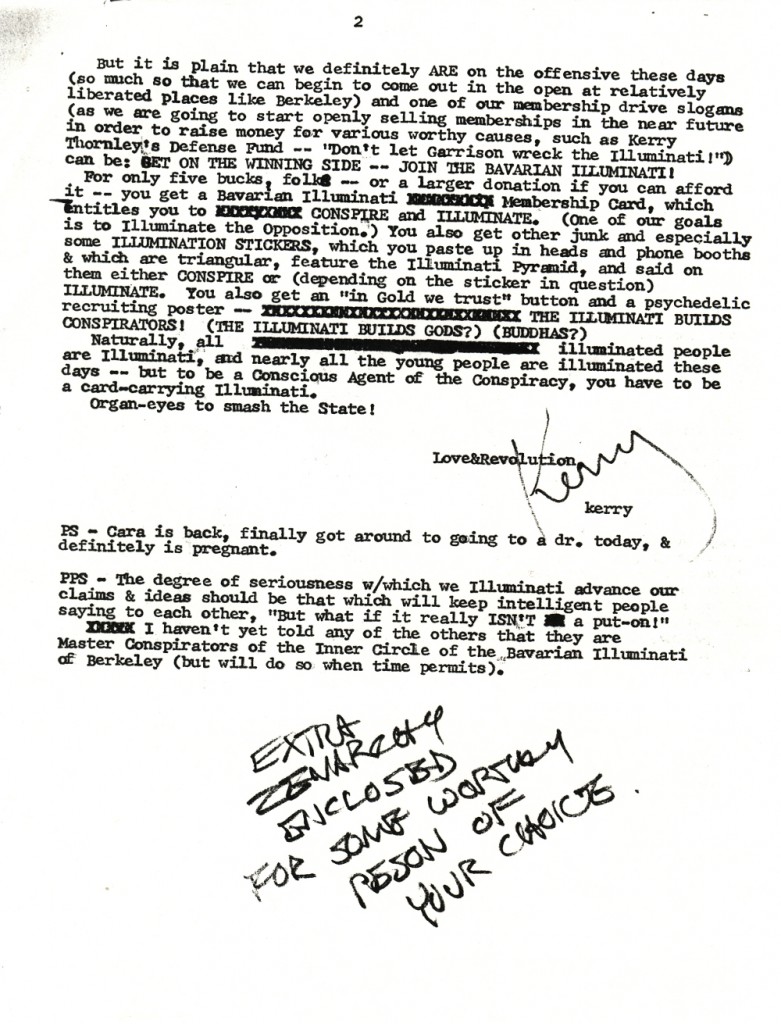 Thornley's vision for the character was that of a "black writer" who chose the name "as a somewhat whimsical put-on, as Hassan i Sabbah was the Moslem heretic who founded the assassins, after which was patterned the Roshaniya (or Illuminated Ones), after which were patterned the Alumbrados of Spain and the Illuminati of Bavaria…"
Hassan i Sabbah X seems a composite of other black radicals based out of the Berkeley/Oakland area of the era, perhaps inspired to a certain degree by Black Panther Eldridge Cleaver, who became good friends with Louise Lacey when the two worked together at Ramparts Magazine.
Also identified in Thornley's letter as part of this Discordian-Illuminati conspiracy was Paul Encimer (aka Dr. Confusion) who—among other endeavors—published St. John's Bread, a late-60s counterculture magazine that featured Thornley's classic poem, "Illuminati Lady," as well as other Discordian writings. (Encimer currently resides in Northern California where he is involved in activist causes.)
Thornley—like fellow Discordian Robert Anton Wilson (RAW)—was well versed in Illuminati mythology and the two were picking each other's brains on the topic during the period.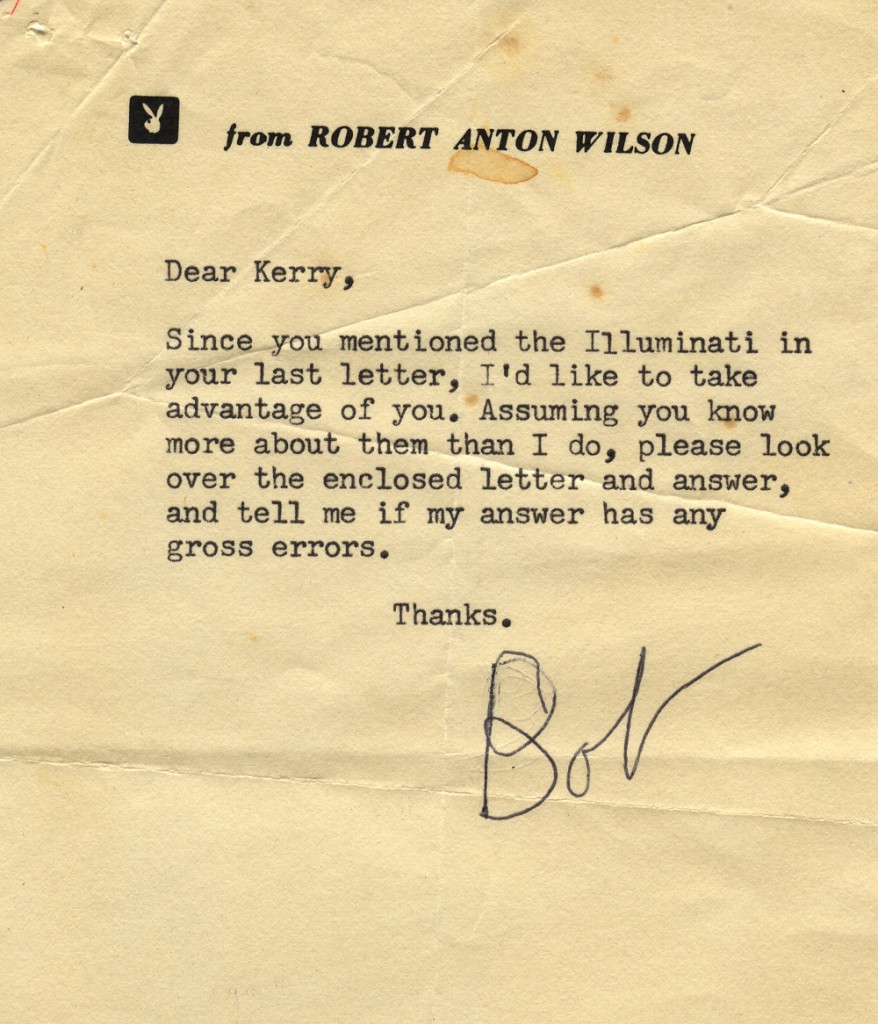 These Illuminati discourses ultimately manifested in a letter & answer in the April '69 Playboy Advisor, which RAW was then editing, and it was actually RAW—with input from Thornley—who composed both the question and answer.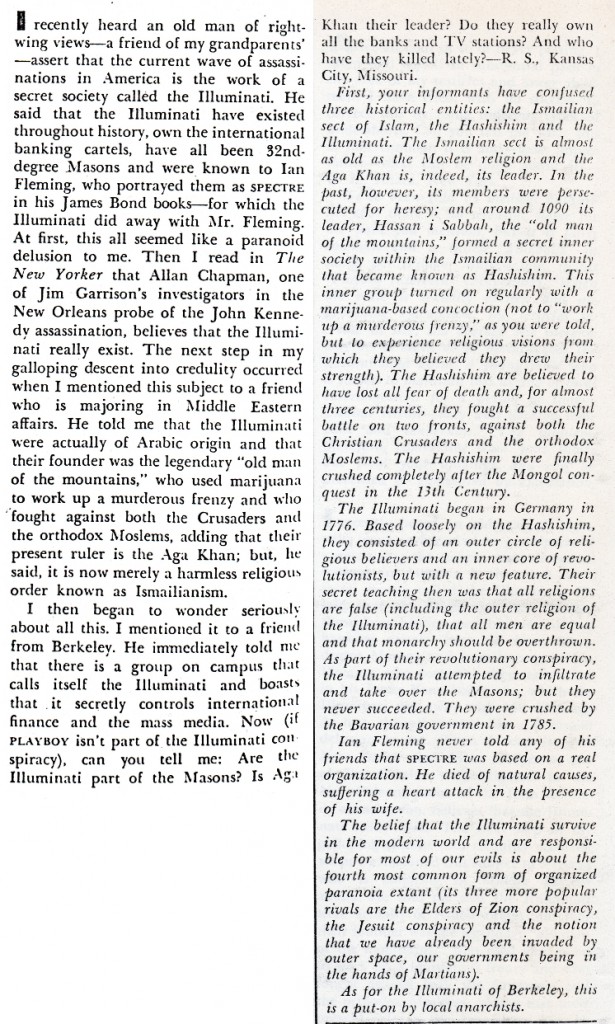 In addition, this Playboy Advisor letter & answer mentioned a Cal Berkeley campus group which identified itself as "The Bavarian Illuminati" and issued press releases on all sorts of weird subjects. Louise Lacey—as it turns out—was part of this Berkeley campus group, although she doesn't really remember a lot about that scene other than it was a collective of campus anarchists who did indeed disseminate made-up Illuminati stories in the same manner as Thornley, RAW and other Discordian conspirators who engaged in Operation Mindfuck.
Sharon Presley was another member of this Berkeley group. As Presley revealed to Jesse Walker in The United States of Paranoia: "We actually had a recognized student group at Cal called the Bavarian Illuminati… the by-laws were a hoot; obviously no bureaucrat actually read them."
Perhaps the key event that sent Thornley, RAW and their fellow Discordian colleagues down this Operation Mindfuck-Illuminati rabbit hole was a fellow named Allan Chapman (mentioned in the Playboy Advisor Q & A), one of the many unofficial investigators (also known as The Dealey Plaza Irregulars) who assisted in the Garrison Investigation.
Chapman subscribed to the theory that the Illuminati was behind the JFK assassination conspiracy, and that these very same illumined ones also controlled all the major television networks. As Thornley later noted:
"Wilson and I founded the Anarchist Bavarian Illuminati to give Jim Garrison a hard time, one of whose supporters believed that the Illuminati owned all the major TV networks, the Conspiring Bavarian Seers (CBS), the Ancient Bavarian Conspiracy (ABC) and the Nefarious Bavarian Conspirators (NBC)." (The Dreadlock Recollections, Kindle Edition, ovo127.com)
Chapman also authored the theory that one of the JFK shooters had hidden inside a Dealey Plaza storm drain. To this end, Garrison later informed the Illuminati-controlled media that the fatal shot was "fired by a man standing in a sewer manhole."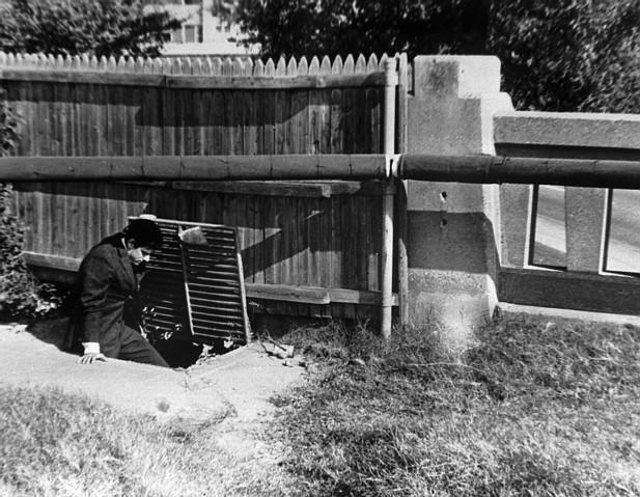 According to RAW, these Discordian Society hijinx set a new mythology in motion:
"The Discordian revelations seem to have pressed a magick button. New exposés of the Illuminati began to appear everywhere, in journals ranging from the extreme Right to the ultra-Left. Some of this was definitely not coming from us Discordians. In fact, one article in the Los Angeles Free Press (FREEP) in 1969 consisted of a taped interview with a black phone-caller who claimed to represent the "Black Mass," an Afro-Discordian conspiracy we had never heard of. He took credit, on behalf of the Black Mass and the Discordians, for all the bombings elsewhere attributed to the Weather Underground." (Cosmic Trigger, p. 64)
During a 2003 interview with this author, RAW noted that the black Discordian phone caller in the FREEP article identified himself as "Hassan-i-Sabbah X." Over time, Hassan-i-Sabbah X's name would appear in a number of Discordian related writings—including Illuminatus!—so, it would appear, the FREEP "Black Mass" article was a Discordian Society prank that may have been perpetrated by Kerry Thornley, although Thornley never admitted a role in this hoax. Whatever the case, the article in question deeply disturbed Greg Hill with its association of Discordianism to terrorist activities.
In a January 24th, 1971 letter to Greg Hill, Thornley wrote: "I'm fairly sure the FREEP interview was the work of Mord (Robert Anton Wilson)—as I see signs of his style and sense of humor in it…" However, it should be noted that Discordian Society member Roger Lovin (aka Fang The Unwashed) worked for the FREEP from 1969-1972, so his name can also be added to the list of suspects who may have perpetrated this ruse—if it was indeed a put-on. A more disturbing explanation is that neither RAW, Thornley or Lovin had anything to do with the "Black Mass" article and like so many other strange occurrences surrounding Kerry Thornley's life, the answer will forever remain a mystery.
For more insights into Illuminatus!, you can find the group reading page at RAWIllumination.net.