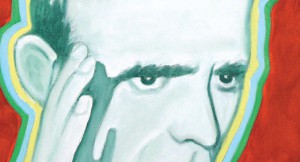 I recently happened upon a post at
To Seek A Newer World
blog entitled "Vindication for Kerry Thornley" where a fellow named Matthew Scheufele navigates some of the same choppy waters explored in my book
Caught in the Crossfire: Kerry Thornley, Lee Oswald and the Garrison Investigation
; in specific the famous
altered photo caper
hatched by Harold Weisberg, in addition to Judyth Vary Baker's claim (in
Me and Lee
) of two alleged Thornley-Oswald sightings in May of 1963.
In Caught in the Crossfire, I noted the same discrepancy Scheufele points out: that Kerry Thornley was in California during the same time-frame Baker places him in NOLA meeting with Lee Harvey Oswald and banging his wife, Marina, behind Oswald's back. Baker's version of events contradict Thornley's Warren Commission testimony as having arrived in California on May 5th and then returning to New Orleans on September 4th of '63. (Baker claims she saw Thornley and Oswald together on May 8th and May 28th of that year.)
In response, Baker supporters will no doubt counter that Thornley fibbed about traveling to California—or about the exact timeframe of where he was and when, etc. Having reviewed hundreds of letters written to and from Thornley during this period—as well as his many JFK assassination related writings—I've seen no glaring inconsistencies in any of Kerry's statements regarding his movements in the summer of '63. It was based on Kerry's own timeline (of having traveled through Texas on his way to California and then spending time in Mexico City on his way back to NOLA) that Jim Garrison cobbled together his theory that Kerry staged the famous doctored photo of Oswald (with his trusty Mannlicher Carcano) while passing through Texas and then on his return trip visited Mexico City in around the same time that Oswald (or someone pretending to be Oswald) was making a nuisance of himself at the Cuban and Russian Embassies.
Baker further asserts that Oswald's "Neighbors testified to the Warren Commission that Thornley was there so often they were unsure as to which one (Lee or Thornley) was really Marina's husband. Jim Garrison's investigation confirmed the same point." (Me and Lee, page 321.)
Baker's claim that the Warren Commission investigated Thornley's supposed relationship with Marina Oswald has no factual basis—unless someone can identify the specific Warren Report sections where the testimonies of Oswald's neighbors presumably appear. Nor did Garrison "confirm" any of these rumors, which from what I've been able to piece together first surfaced in a February 22nd, 1968 letter to Garrison from John Schwegmann, Jr., owner of Schwegmann Bros. Super Markets:
An employee of our store, Mrs. Myrtle LaSavia… says that she, her husband, and a number of people who live in that neighborhood saw Thornley at the Oswald residence a number of times—in fact they saw him there so much they did not know which was the husband, Oswald or Thornley…
(From In History's Shadow: Lee Harvey Oswald, Kerry Thornley & the Garrison Investigation by Joe Biles, pages 60-61.)
In 1977, Garrison resurrected LaSavia's allegations in a memo to the House Select Committee on Assassinations (HSCA), shown below. In said memo, Garrison states that "an effort will be made to locate these neighbors' statements…" However, there's no evidence that Oswald's neighbors "positively" identified Thornley, aside from the second hand account attributed to Myrtle LaSavia. Garrison never produced any of these neighbor statements (identifying Thornley) for the HSCA—for the simple reason that they probably never existed to begin with.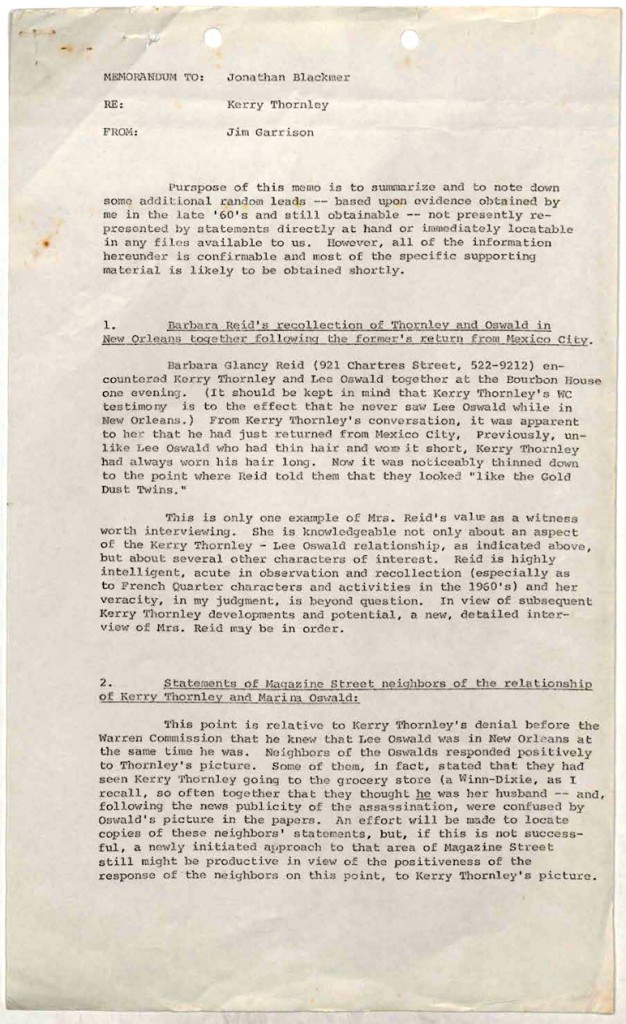 Assistant District Attorney Andrew Sciambra paid a visit to a Mr. and Mrs. Tony LaSavia on February 29th, 1968—a week after Garrison received the Schwegmann letter. From this meeting a memo was produced, which is cataloged among Jim Garrison's Papers (Box 7) in the National Archives. In Farewell to Justice, Joan Mellen—quoting from Sciambra's Feb. 29th, 1968 memo—states that LaSavia and her husband identified Thornley "…as being the person who used to walk with Marina to the Winn-Dixie food store."
When Garrison informed the HSCA that "neighbors of the Oswald's responded positively to Thornley's picture", he seems to be referring exclusively to the claims of Myrtle LaSavia, as well as her husband, Tony, who probably got roped into backing up his wife's story. However, let's not confuse a memo for a witness statement; documents of this nature are of subjective value, in my opinion, and in particular the many Garrison Investigation memos related to Kerry Thornley that were rarely, if ever, supported by witness statements. It confuses the matter even more when memos such as these are presented as "evidence."
Curiously, another woman bearing the last name of LaSavia—Mary Lee LaSavia—was interviewed by Andrew Sciambra during the same time frame as Myrtle LaSavia. It's unclear if the two LaSavia's were related—or if Sciambra had simply misidentified Myrtle as Mary Lee, which is my suspicion.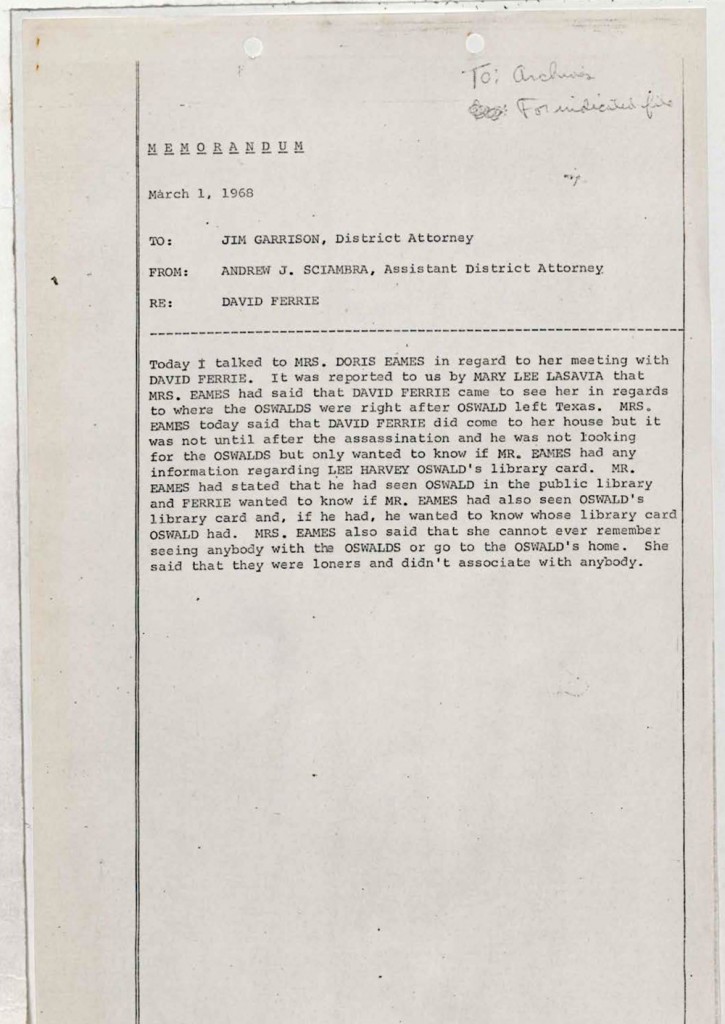 As noted in the memo above (from March 1st, 1963, a day after Sciambra's meeting with Mr. and Mrs. Tony LaSavia), Mary Lee LaSavia passed on information that Oswald's former neighbor "MRS. EAMES today said that DAVID FERRIE came to see her in regards to where the OSWALDS were right after OSWALD left Texas…" Later in the memo, Mrs. Eames states "that David Ferrie did come to her house but it was not until after the assassination…"
As hard-core JFK assassination junkies should be well aware, it was right after the assassination that Jack Martin (future Garrison witness) was questioned by the FBI, and at that time leveled a number of charges against David Ferrie, including the allegation that Ferrie's library card was discovered among Oswald's posthumous possessions. It appears that Ferrie's appearance at Mrs. Eames residence was probably to gather information to refute Jack Martin's claim.
In the same memo, Mrs. Eames states that "she cannot remember seeing anybody with the OSWALDS or go to the OSWALDS home. She said that they were loners and didn't associate with anybody." This comment seems to refute Myrtle LaSavia's assertion that a number of Oswald's neighbors had seen Marina in the company of Kerry Thornley—or, at least, it appears she was the only neighbor making this claim.
It's interesting to note that Andrew Sciambra neglected to ask Mrs. Eames about Kerry Thornley, as the timing of this interview was just a week after the emergence of the Schwegmann letter. Or perhaps Sciambra did ask Eames about Kerry Thornley, but neglected to include her answer in his memo.
On March 4th, 1968—three days after Sciambra met with Mrs. Eames, and a week after his meeting with the LaSavia's—Garrison staff member Tom Bethell compiled a list of residents in Oswald's neighborhood, in addition to visitors seen at the Oswald residence, none of whom included Kerry Thornley.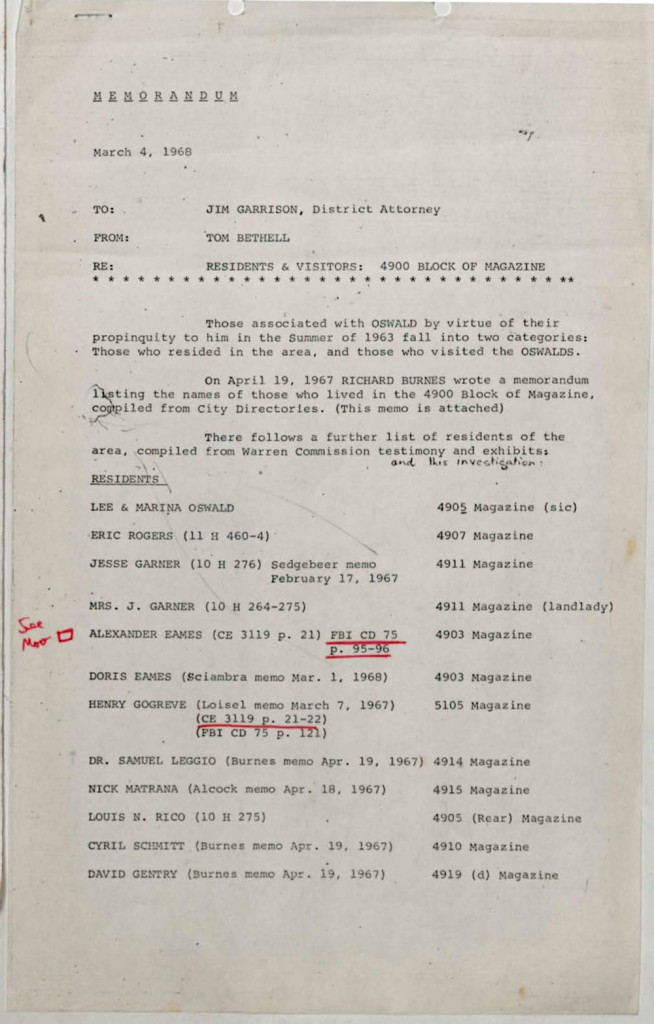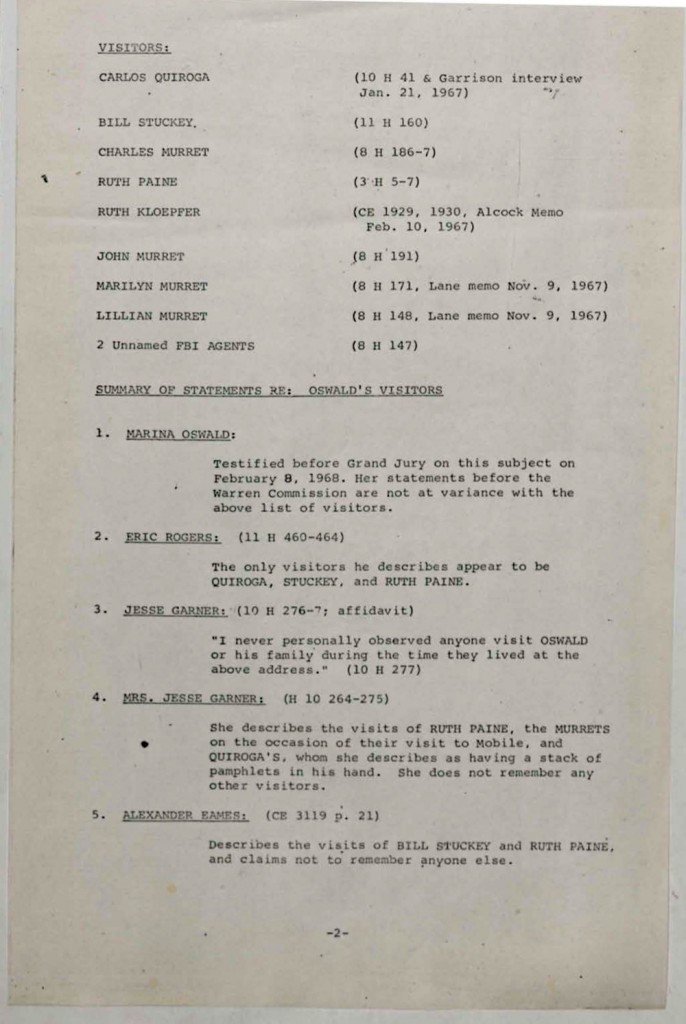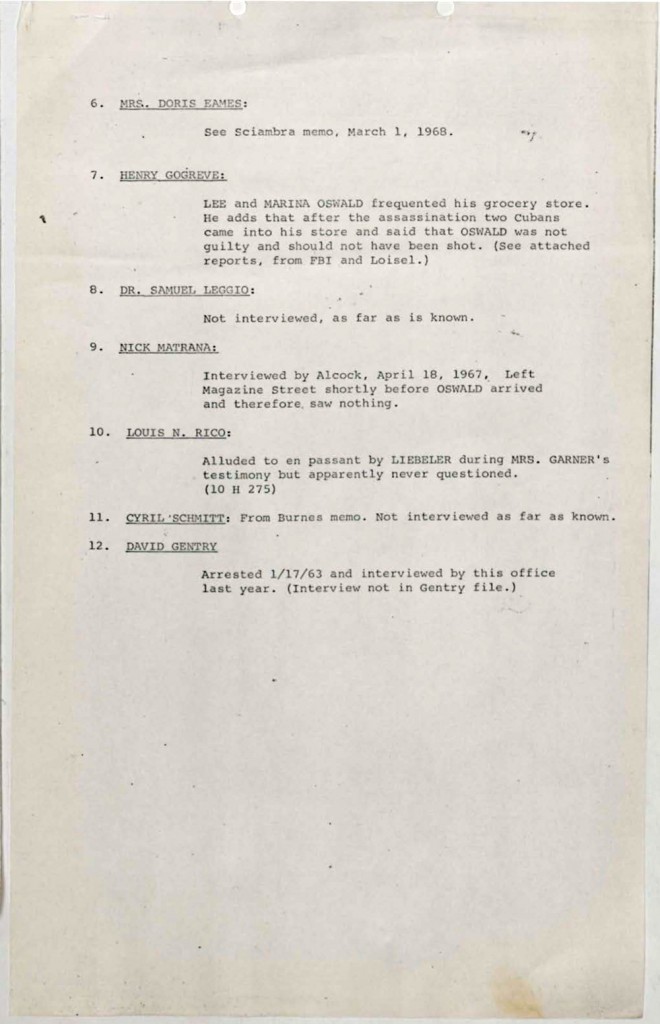 On instructions from Sciambra, investigator Gary Sanders interviewed Miss Rose Cavalier of 918 Upperline, the same street where the LaSavia's lived. During this interview, Cavalier indicated that, on several occasions, she'd seen Lee and Marina Oswald pass by her residence walking in the direction of the Winn-Dixie Supermarket. However—when presented with a photo of Kerry Thornley—Miss Cavalier apparently had difficulty distinguishing between the two: Oswald and Thornley. Gary Sanders also noted that Miss Cavalier "may have eyesight problems although she told me that she did not wear glasses."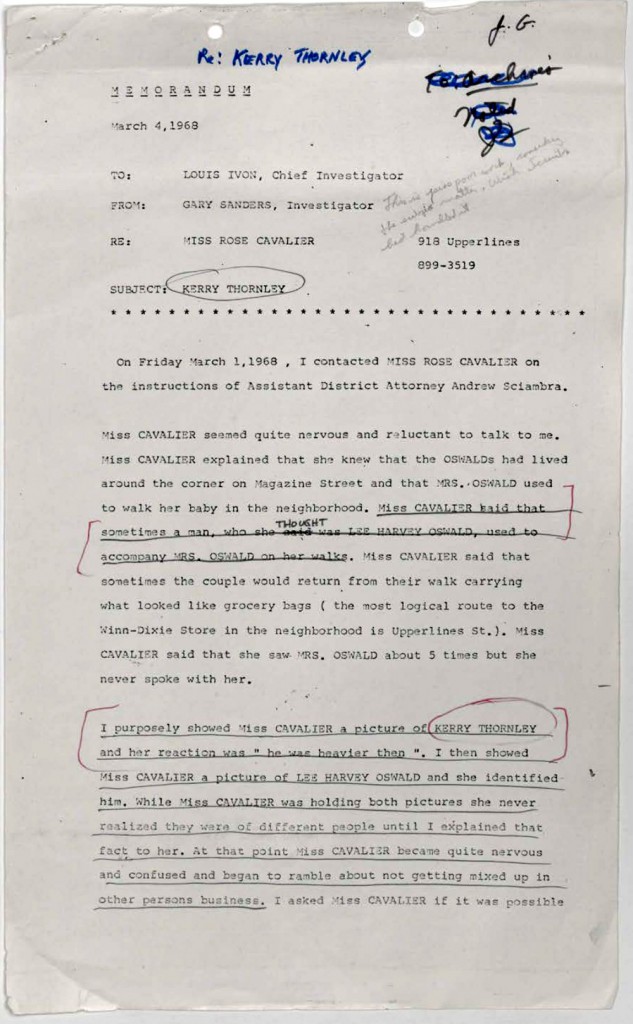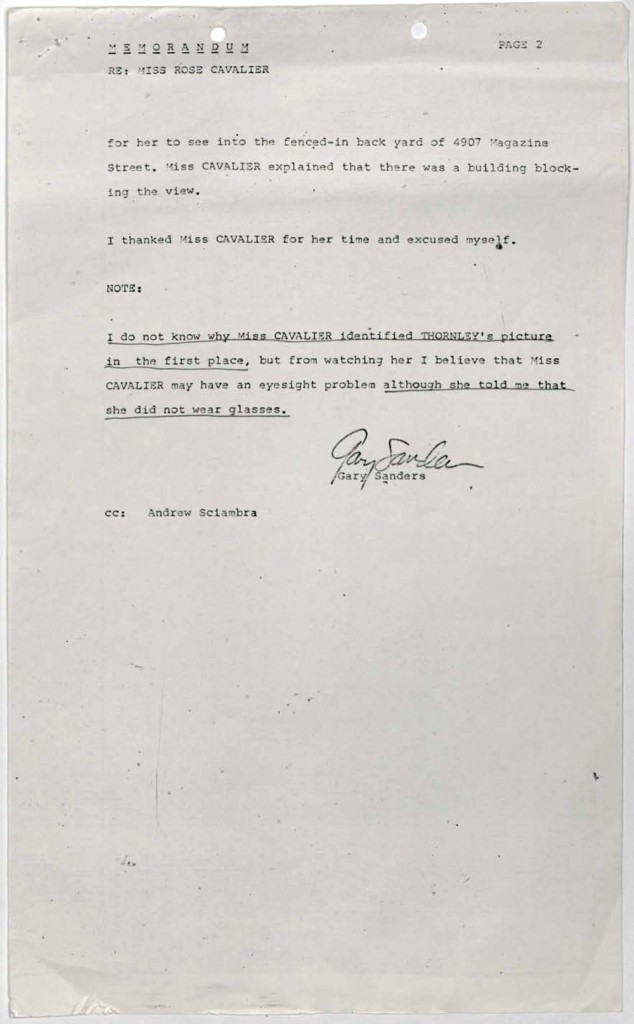 Although Thornley was similar in height and build to Oswald (depending on the source), their facial features were not at all similar—unless of course Sanders was showing Miss Cavalier the infamous touched up photo of Thornley. In this regard, any photo identifications of Kerry Thornley (courtesy of Garrison's investigation) inevitably leads us down that slippery slope we discussed in our previous posts Fred Newcomb, Harold Weisberg and Photographic Tomfoolery in the Garrison Investigation Part 00001 here and Part 00002 here.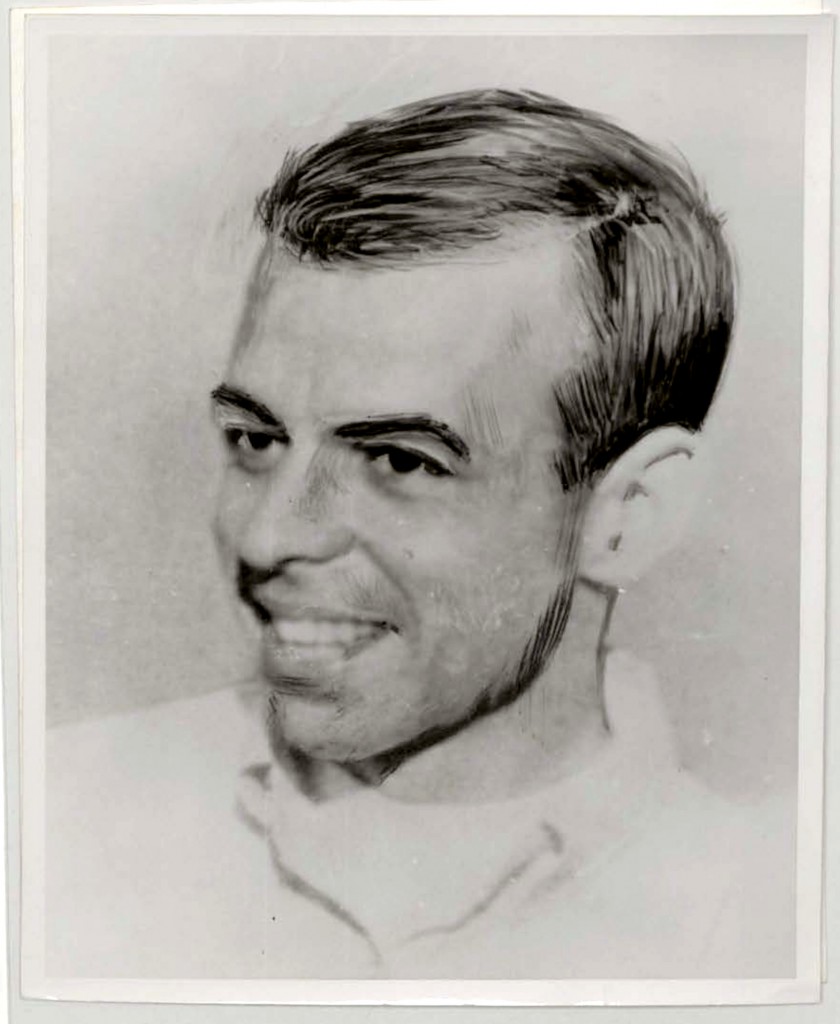 Whatever the case, I've come across nothing substantive (at least not yet!) to suggest that this Kerry Thornley-Lee and Marina Oswald-love-triangle was ever "confirmed" by Garrison's investigators, and that these allegations all seem to have originated from the same sole source: Myrtle LaSavia.
However, Kerry and Marina were spotted together on February 8th, 1968 as they passed one another in the courtroom hallway coming and going from their respective grand jury testimonies. Apparently, this "chance encounter" was staged by Garrison to place the two together in the prospect that Marina would react to Kerry's appearance and suddenly spill the beans about their supposed romantic tryst. According to Tom Bethell's account, Marina registered no recognition of Kerry, and when questioned by Andrew Sciambra if she knew him (Thornley), Marina responded to the contrary.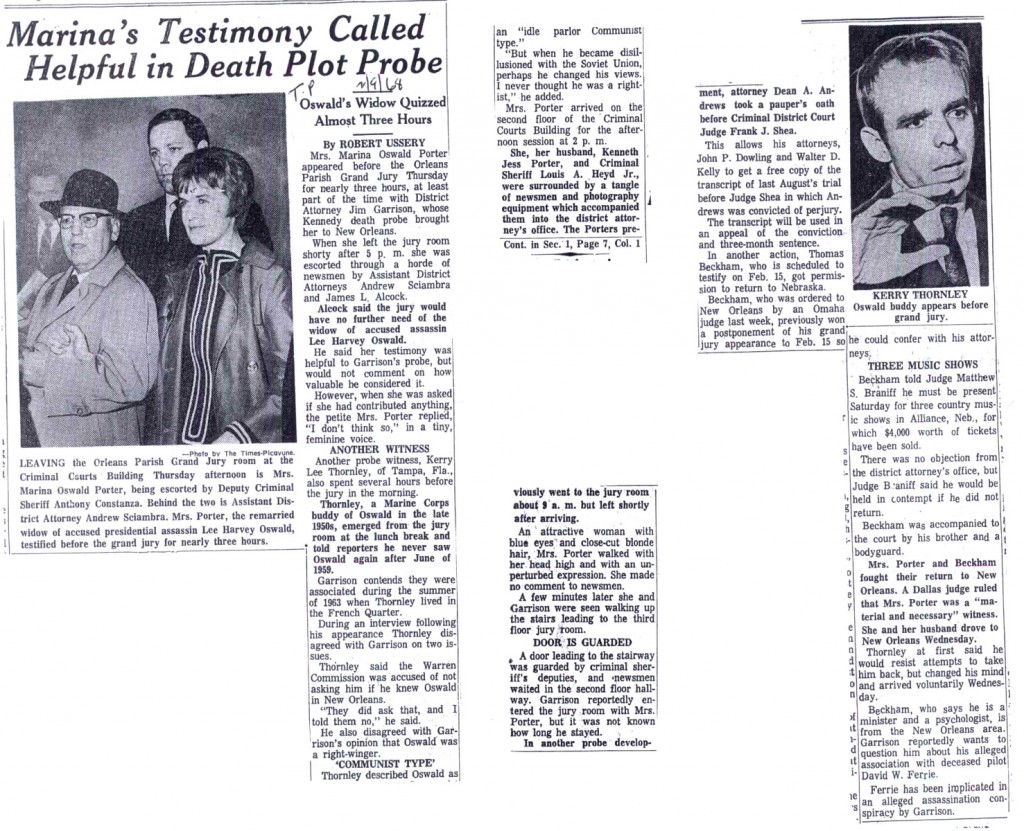 In his blogpost, Matthew Scheufele concludes that Baker is a faker, a theme trending of late at JFK assassination research forums where Judyth's apparently been taking it on the chin (from a rather vocal anti-Baker faction) who insist that Me and Lee is a largely fictional account backed only by a pay stub from when she worked at the Reilly Coffee Company concurrent with the employment of her purported paramour, Lee Oswald.
Whether Baker actually knew (and loved and lost) Oswald is fodder for endless debate in these aforementioned JFK assassination forums dating back over the last decade. If you're a part of this scene then you probably know exactly what I'm talking about—and if not, you're probably wondering what all the fuss is about. But say what you will about her, Baker is indeed a polarizing figure within the ranks of current day assassination researchers who appears to attract as many staunch supporters as she does detractors. Jesse Ventura is one such ardent Judyth Baker believer, for whatever that's worth.
Scheufele closes out his post: "Garrison concluded that Thornley was in California visiting his relatives" at the time of the Judyth Baker sightings—although it's hard to know what Garrison really believed, or if his many charges against Thornley were simply flavors of the week spoon-fed by the likes of Harold Weisberg and the other Dealey Plaza Irregulars. Although Garrison labeled Thornley a perjurer, he seemed content to endorse Thornley's summer of '63 travel log because it dovetailed with his claims that Kerry was working behind the scenes during this period to incriminate Oswald.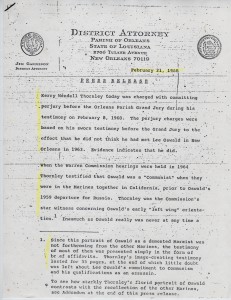 But if one is seeking vindication for Kerry Thornley, why stop at Judyth Baker? Baker's alleged Thornley sightings seem rather tame in comparison to the charges leveled by Jim Garrison in his February 21st, 1968 press release [Adobe PDF here.] that characterized Thornley as a diabolical CIA agent based on the startling revelation that Kerry had a post office box in a federal building where most post offices tend to be located… in federal buildings.
In this somewhat rambling press release (replete with footnotes), Garrison identified Kerry as part of a clandestine cabal engaged in "image creating" that falsely portrayed Oswald as a lone nut commie symp with a happy trigger finger. It could be similarly argued that Garrison played the exact same game by portraying Thornley as a rabid right wing super-spook, the ultimate intent of which was to implicate an innocent man in a convoluted JFK assassination conspiracy.
Granted, Kerry Thornley naturally raises some curious eyebrows—and deservedly so—due to his propinquitous associations to Oswald and Garrison's rogue gallery of spooks. To this end, I claim no ultimate certitude as to Thornley's innocence or guilt as a witting or unwitting participant in the JFK assassination.
My motivation for writing Caught in the Crossfire was not so much a case of seeking vindication for Kerry Thornley as to provide equal time to present Thornley's side of the story; to dig deeper beneath the surface story (The Gospel according to Garrison) and not immediately assume that Thornley was a CIA agent (or one of the notorious Oswald doubles or was staging fake photos or writing incriminating books or bedding down Marina) just because someone entertained "theories" that have been subsequently parroted as "facts."