Fellow HD staff member
Floyd Anderson
just recently posted to Vimeo an
Hour of Slack
interview the
Honorable Rev. Ivan Stang
conducted with
RAW
in 1987.
In said interview, Stang notes that "…Kerry Thornley was a famous SubGenius." It was statements such as these which led me to write—in The Prankster and the Conspiracy—the following:
By the late-80s, Kerry had become a major player in the Church of SubGenius, a spoof religion influenced to a great degree by its predecessor, Discordianism. Ever the sexual exhibitionist, Kerry once sent a photo of himself nude, fucking a chair, to Rev. Ivan Stang's SubGenius mag Stark Fist of Removal. Stang, of course, published it, albeit with Kerry's dick blacked out. As Stang later noted: "Kerry had love in his heart for all things, even chairs." The Prankster and the Conspiracy, page 237.
During the course of penning The Prankster—and coming across the aforementioned photo of Kerry carrying on with a chair—I contacted Stang for permission to use the photo, which he graciously granted. For his assistance, I sent the good Reverend a copy of The Prankster. In return, he shortly after dissed the book whenever he got the chance, basically on account of the above paragraph. Now, don't get me wrong, I have a pretty thick skin when it comes to criticism and tend to keep an open mind about such things. However, Stang's main (only) bone of contention about The Prankster concerned this single paragraph and the remark that Kerry had been "a major player in the Church of SubGenius" which he apparently took as some sort of slight (I think) as it suggested (perhaps erroneously) that Kerry had done a lot of the heavy lifting in creating the myth of Bob Dobbs. To this end, Stang went off on yours truly in a recent interview on Greg Bishop's Radio Misterioso radio show, even though, conversely, he suggested in his 1987 Hour of Slack interview with RAW that Kerry was "…a famous Subgenius."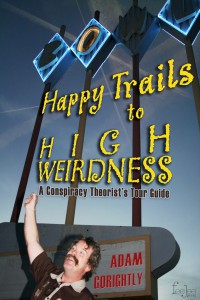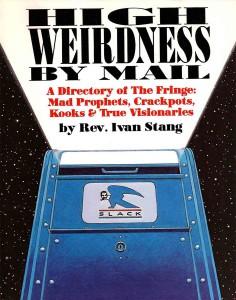 During the same Radio Misterioso episode, Stang suggested that I'd ripped off the title for my latest book, Happy Trails To High Weirdness: A Conspiracy Theorist's Tour Guide from his 1988 book High Weirdness By Mail, which I must admit is one of my fav all time books. Perhaps if he hadn't got his panties all in a bunch over The Prankster and The Conspiracy ten years or so ago, Stang would have cut me some slack over the apparent indignity of using the phrase "High Weirdness" in the title of my book. However, it should also be mentioned that my publisher at Feejee Press actually came up with "High Weirdness" as part of the title to replace the bland working title I'd suggested: "On The Road With Adam Gorightly."
Anyway, enough of me venting about the diabolical Rev. Ivan Stang. At the end of the day I consider him a great American, even though he gets a bit whiny at times.