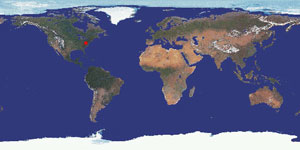 Since launching
historiadiscordia.com
(on
JFK Assassination Day
last year) we've had—upon occasion—some rather eyebrow-raising visitors to the site, among them the Dept. of Justice, not to mention the Church of Scientology, and most recently the Dept. of Homeland Security (DHS) and the U.S. Department of Defense.
We welcome you!
One can only speculate why THEY would be interested in little ol' us, though I no doubt suspect that certain agencies in our gubmint have long been trying to get a handle on just exactly what Discordianism "is" and to determine if it's a threat to National Security. (Why anyone would fear a religion based on the worship of the Greek Goddess of Chaos and Discord is beyond me!)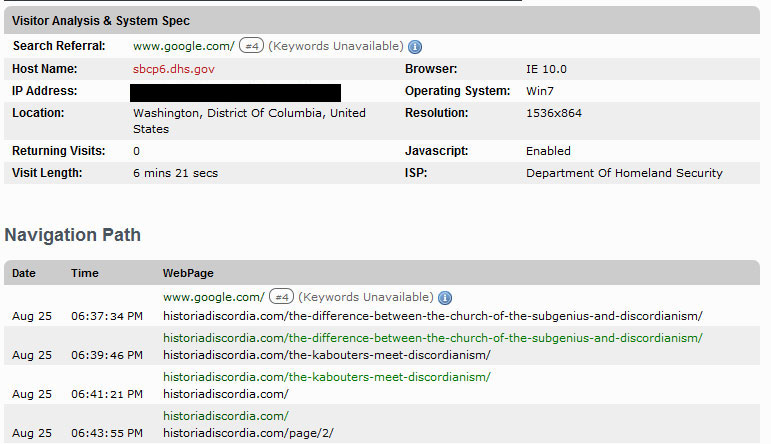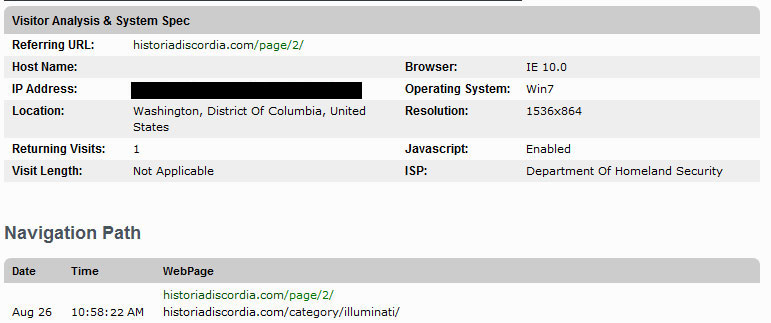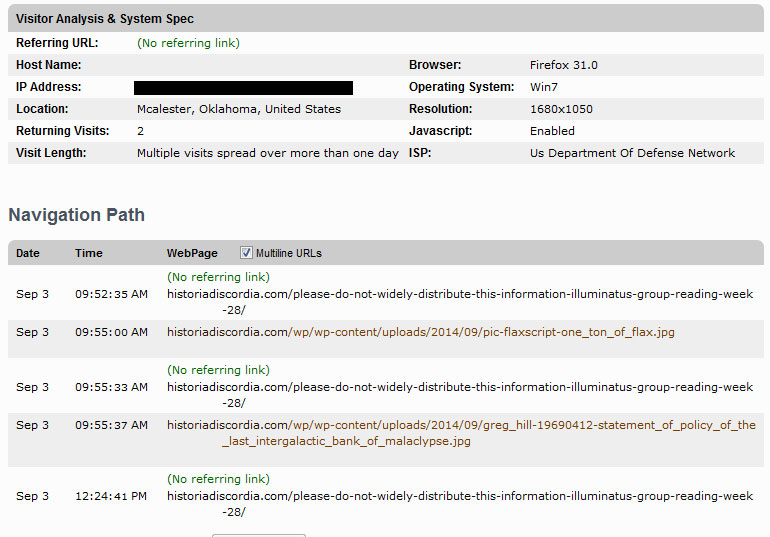 As seen in the assembled screen shots—which were captured during a couple of the DHS and DOD visits—at one point THEY hit the Illuminati tag, a Discordian connection that dates back to the glory days of Operation Mindfuck (OM) when Kerry Thornley—in cahoots with his other Discordian miscreants—cooked up the modern day Bavarian Illuminati (The World's Oldest And Most Successful Conspiracy).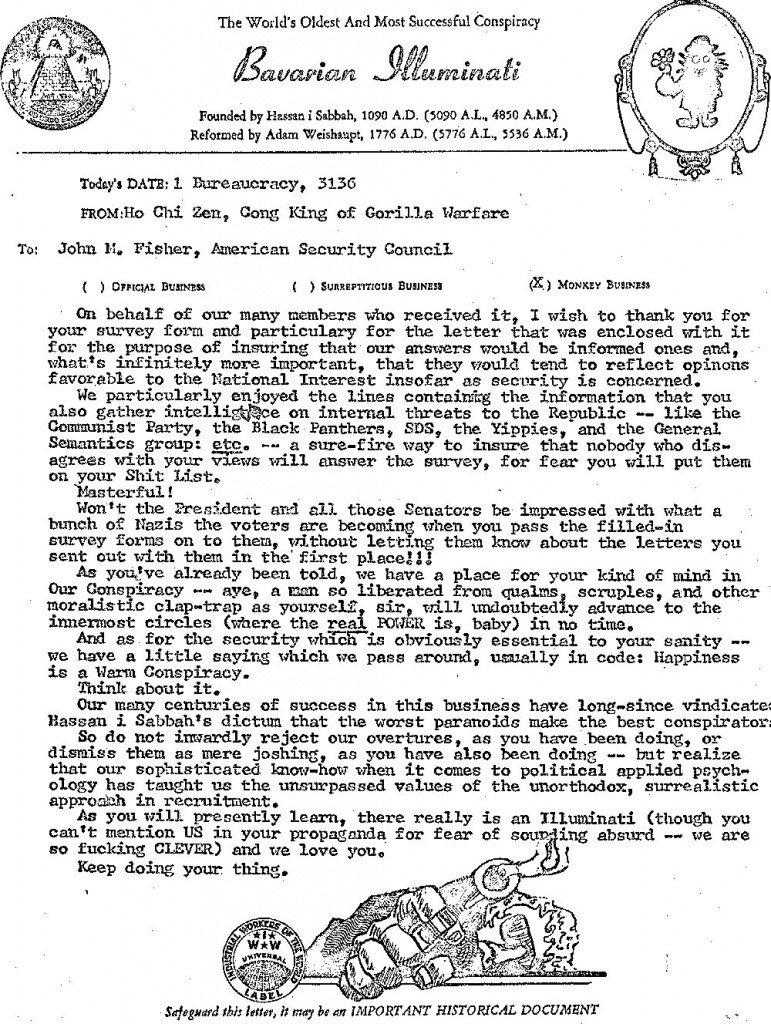 Discordianism—as Erisian history instructs—has enjoyed a long association with the Illuminati (which may secretly run the U.S. Government!) as well as certain other Governmental branches (because we all know where "true" chaos comes from!) among them the military, and in particular the Pentagon which is incorporated into the Sacred Chao, that most holiest of all Discordianism symbols.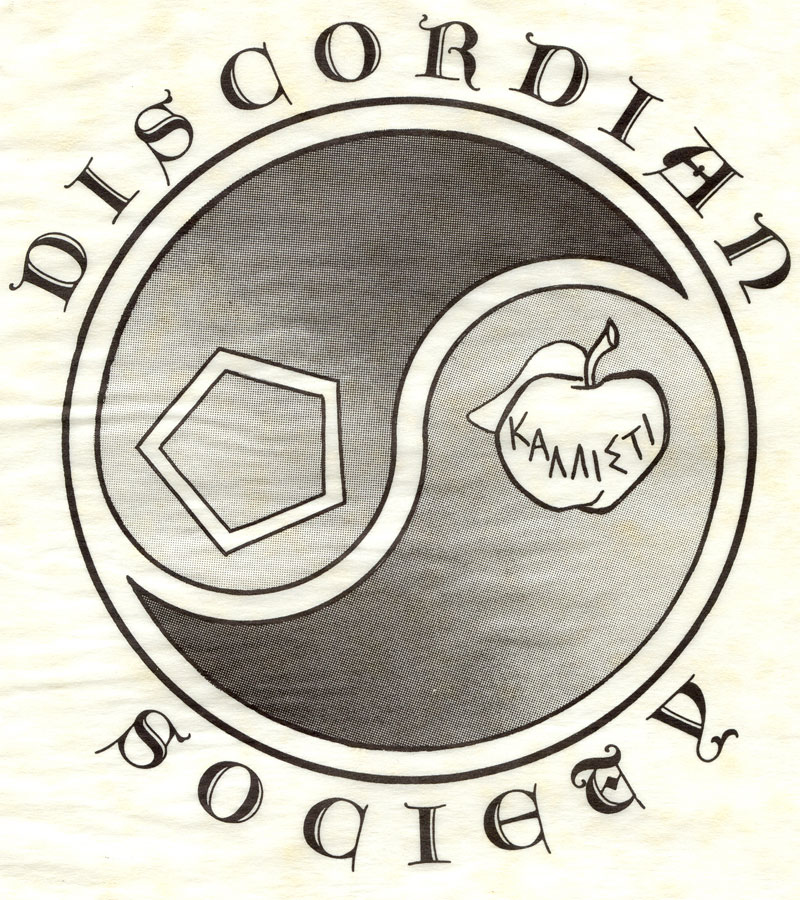 The Sacred Chao is a twist of sorts on Taoism's Yin and Yang, depicting as it does the opposing forces of The Pentagon and The Golden Apple, also known in Discordianism as the Hodge and Podge. The Pentagon—according to Discordian mythos—represents the Aneristic Principle (Apparent Order) in counterbalance to The Golden Apple, which represents The Eristic Principle (Apparent Disorder.) To find out more about all this you will have to consult your pineal gland and call me when the brain swelling goes down.
The 1st edition Principia Discordia lists several Orders of Eris, one of which is the Knights of the Five Sided Temple, "a movement that is specifically Anti-Discordian. Such people are almost invariably found to be either bureaucrats or militarists (frequently both). The Five Sided Temple referred to is The Pentagon Bldg. itself where there is an incredible concentration of Knights. In your own experiences with military service and bureaucracies, you will notice many people with a heavy tendency towards the Eristesque Principle, but every so once in awhile you will find a person who is absolutely wound up in all sorts of fantastic and technical formal order which due to its own weight ends up only in a comical-absurd cross-reference maze of nothing; and such a person who lives, thinks and breathes in such terms—he is a Knight."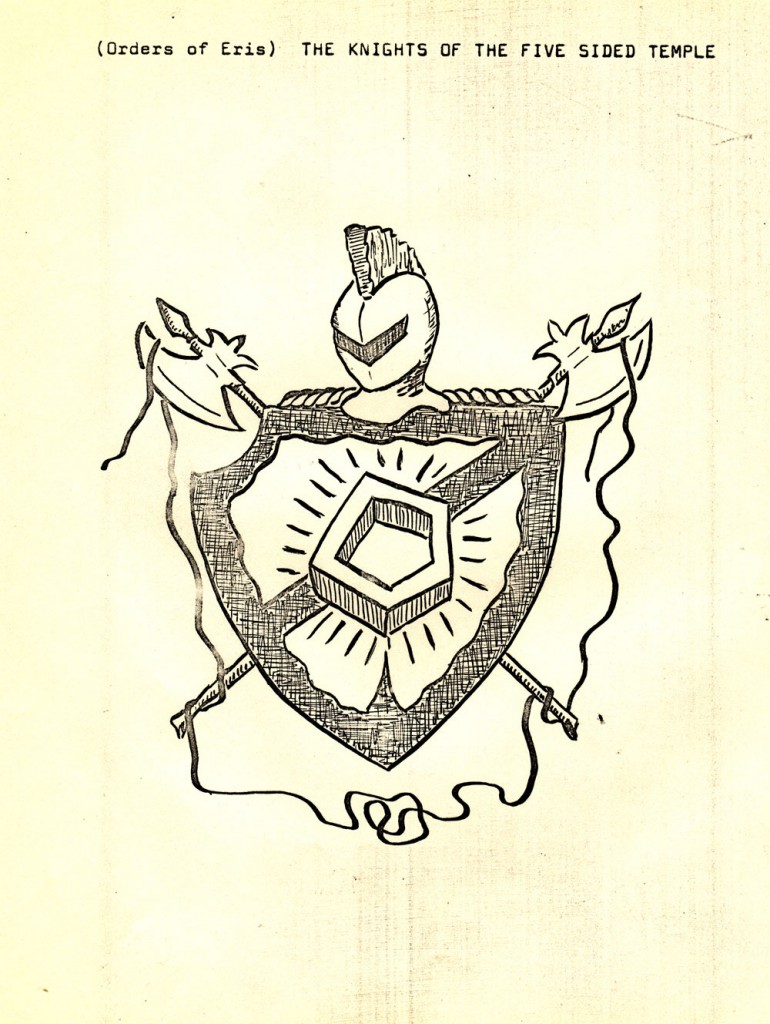 As you can see, Discordianism has long been connected to the Pentagon, which some may also find confusing, because many people considered those old school Discordians just a bunch of long haired pot smoking no-good hippie types—which of course many of them were!—so the Discordian Society's apparent veneration the Five Sided Temple might appear a bit perplexing to some. However, all of these five-sided Discordian endeavors were simply a means to demonstrate the dichotomy found in Discordianism—the Aneristic vs. Eristic principles—which is not unlike the ol' good vs. evil dualism of Christianity, because without one you couldn't have the other. (Maybe.)
If you'd like to find out more about the hidden history of Discordianism, Illuminism and its sinister connections to not only the U.S. Government, but all governments of the world, I would encourage you (and THEM) to pick up a copy of Historia Discordia: The Origins of the Discordian Society while copies last!
No government office should be without one!