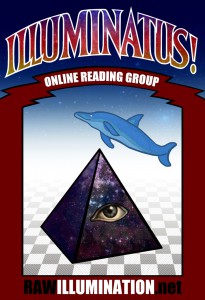 My comments on
Week 7
of the
Illuminatus! group reading
will deal primarily with
Kerry Thornley
's influence on
Illuminatus!
and, conversely, how some of the
Illuminatus!
characters began to manifest themselves in his life—the imaginary manifesting as real—at least from Kerry's perspective.
By the time Illuminatus! was published in 1975, Kerry began suffering severe bouts of delusional paranoia along with his growing belief that the shadowy character he'd met in New Orleans in the early-60s (referred to as "Brother-In-Law") was actually legendary CIA spook E. Howard Hunt, and that Hunt had manipulated Kerry to later set him up as an unwitting dupe in JFK's assassination. During this period, Kerry began to suspect that he'd also been a victim of MK-ULTRA mind control, that Robert Anton Wilson (RAW) was involved in a plot to deprogram him, and that Illuminatus! was at the root of a lot of the high weirdness then going down in his life. As RAW told me in The Prankster and the Conspiracy:
"(Kerry) had the impression that I came to Atlanta more than once and that I had given him LSD and had removed the programming the Navy had put into him when he was in the Marines—and that I was one of his CIA handlers."
When RAW informed Kerry that he didn't remember any of this taking place, Kerry said that was because they had brainwashed him (RAW), too. Because of these suspicions, the two eventually ceased communication because as RAW later explained:
"It's hard to communicate with somebody when he thinks you're a diabolical mind-control agent and you're convinced that he's a little bit paranoid."
On page 69, the character of Atlanta Hope is introduced, leader of God's Lightning, a group who are opposed (at least on the surface) to all things fun and immoral. Atlanta Hope has always reminded me as a sort of Anita Bryant type: a seeming Miss All America goody two-shoes who, in reality, is willing to sleep her way to the top of the Illuminati pyramid while using the trappings of Christian fundamentalism to further her own duplicitous ambitions.
Kerry came to believe that the Atlanta Hope character was actually modeled after a woman he knew in Atlanta, Georgia named Mary Jo Padgett who belonged to a group of Quakers that provided ministry and group counseling sessions. At the time, Kerry sought counsel through this group and, in time, came to believe that they had been infiltrated by the intelligence community. Mary Jo Padgett, Kerry surmised, was:
"…an extremely high-level intelligence community dirty work organizer for elements of the Southern Rim (military-industrial complex) of the ruling class, including very probably the Dupont family. I believe these elements have been conducting a virtual reign of terror in this area for some years, not to mention corruption of the various levels of government, and that they must have been involved rather deeply in the assassinations of John F. Kennedy and Martin Luther King, Jr…. I'm rather strongly convinced that the Illuminatus! character, Atlanta Hope, is based substantially on Mary Jo Padgett…"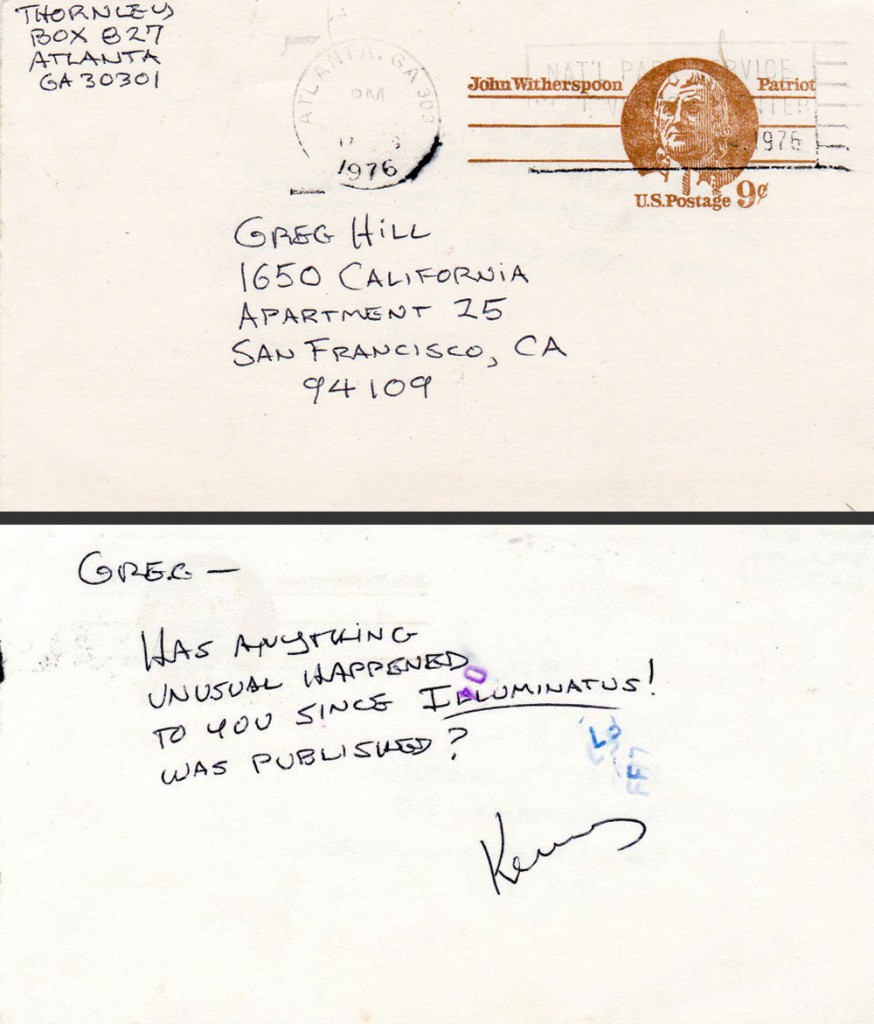 Back in 1966, Kerry was editing the libertarian newsletter, The Innovator, which had published an article entitled "Postman Against the State" dealing with various non-governmental postal systems throughout history that had functioned more effectively than government operated systems. As the "Playboy Forum" was then receiving a slew of complaints from readers about snooping on the part of the U.S. Postal Service, Kerry persuaded The Innovator's publisher to send a copy of the "Postman Against the State" issue to Playboy. RAW—then an associate editor at Playboy—received this issue of The Innovator and, in turn, responded to Kerry, which initiated a longstanding correspondence between the two.
Kerry and RAW discussed, among other things, the American Letter Mail Company operated in New England in the mid 1800s by the individualist anarchist, Lysander Spooner. The American Letter Mail Company, at the time, offered cheaper postage rates than the U.S. Postal Service, gave more deliveries per day, and earned a profit to boot. Spooner was finally put out of business when Congress made it illegal to deliver a first class letter for profit. Both Kerry and RAW agreed that the U.S. Postal Service was once again ripe for change, and the concept Spooner had spawned one hundred years earlier was the direction the current mail system should go.
Thornley later described his correspondence with RAW as "one of the longest, most intense, most stimulating, rewarding, enriching, enlightening—and certainly the most unusual—of my entire life."
As RAW noted in Cosmic Trigger:
"We began writing long letters to each other… astonished at how totally our political philosophies agreed—we were both opposed to every form of violence or coercion against individuals, whether practiced by governments or by people who claimed to be revolutionaries. We were equally disenchanted with the organized Right and the organized Left while still remaining Utopians, without a visible Utopia to believe in."
During this period, Kerry was promoting the idea of "floating ocean utopias" where Anarcho-Libertarians—such as he fancied himself—could live high and free on the sea. This is a concept that RAW and Shea entertain in Illuminatus! embodied by the character of Hagbard Celine and his golden submarine, the Lief Erickson, which first emerges on page 71.
Celine—like many other Illuminatus! characters—seems a composite of much of the idealism after which Kerry aspired during those heady days of the 60s: the dream of living on the high seas—like swashbuckling Captain Celine—free of governments and any limitations on the individual, devoted to pursuing true freedom and sensual pleasures while engaged in a battle to free men's minds.