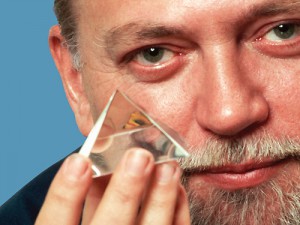 According to a
recent post on RAWillumination
,
Hilaritas Press
at long last, is poised to publish
RAW
's
Starseed Signals: Link Between Worlds
, a book project I worked on for what seemed like dog years (Sirius-ly) when I was involved with the initial publisher who signed onto the project, RVP Press. However, at some point in this cosmic caper, RVP had a falling out with the RAW Trust, and the book deal fell through—as book deals sometimes do—in the wacky world of publishing.
Among the contributions I made to the RVP-never-to-be-version was the following foreword I share with you now (which alas fell by the wayside in the fallout from the aforementioned RVP/RAW Trust kerfuffle) providing my perspective of what you can look forward to when Starseed Signals hits the streets, maybe as soon as July according to my sources on the Dog Star.
So hop aboard this mighty spaceship, ye psychonauts, and away we go…
Foreword
A Mission to the Stars
Adam Gorightly
Welcome to the future past. This book is a literal time/space capsule, recounting a golden era of possibilities, of searching and experimentation. Starseed Signals chronicles a significant period in the life of Robert Anton Wilson (RAW) as a writer and thinker, charting his explorations into consciousness expansion, knowledge acceleration, life extension, space travel and many other themes that set the stage for his subsequent literary endeavors. In addition, Starseed Signals laid the foundation for RAW's landmark work Cosmic Trigger: The Final Secret of the Illuminati, so don't be surprised if some of the passages in this book seem familiar, to be later lifted and inserted into the Cosmic Trigger narrative.
Starseed Signals was dashed off over a two-week period in early 1975, a burst of energy supplied by the sudden turmoil and controversy surrounding his friendship and collaborations with the infamous Dr. Timothy Leary, who RAW perceived as one of the most brilliant, yet misunderstood minds of not only his generation, but of any.
During this period—as Leary sat caged in prison on trumped up drug charges—he and RAW conceptualized a book project entitled A Periodic Table of Energy, a scientific system of neuro-psychology based on eight evolutionary circuits, or steps, through which humanity progresses, with the latter circuit propelling WoMan to the stars, the ultimate evolution, our union with the infinite and quest for immortality.
To many, now and then, such flights of fancy seem naught but the brain-damaged blatherings of aging hippies who blew their minds one too many times. Or, perhaps, Dr. Leary was too far ahead of his time for his own good. As documented in Starseed Signals—from those long-ago years of 1961-62—Leary conducted an inmate rehabilitation project using LSD therapy which achieved positive results in reducing recidivism in the Massachusetts Department of Corrections.
Now in this far out year of 2015, LSD research has experienced a renaissance and is once again on the radar of scientists and clinical psychologists as a tool to treat alcoholism and other maladies, including severe cases of autism. That it has taken 50+ years for such "groundbreaking" research to come full circle and again be taken seriously by the scientific community speaks to Dr. Leary's vision of the future, one in which tools such as LSD can be used to meta-program the human nervous system and ultimately evolve the species.
Just the same, Leary contributed to his own undoing by opening "the doors of perception" too abruptly for some, as the Establishment wasn't ready for the type of freedom he was peddling: "Turn on, tune in and drop out." And, frankly, a lot of young heads weren't ready for it either, although the sensationalized "bummer trip" stories of the period seemed highly exaggerated; all those supposed blown minds who stared at the sun until their eyeballs melted from the sockets; or like Art Linkletter's daughter jumping out of a tenth story window expecting she could fly. Such hysteria precipitated a Leary backlash as he was portrayed in the media as an acid gobbling mad scientist poised to corrupt an entire nation and generation, and so had to be brought down and made an example of.
Seen through a more rational lens—and in retrospect of nearly half a century gone by—Leary can now be viewed as a transcendent agent of change engaged in the process of accelerating our evolutionary cycle, who ran afoul of the Establishment, yet ultimately triumphed by living life on his own terms.
During the early seventies—as Leary had become ingrained as a household name that would live in infamy—RAW began trying alternative religions on for size, including wicca and magick, and in particular a Crowleyean ritual known as the "Conversation with the Holy Guardian Angel," which he invoked on the momentous date of July 23rd, 1973. In the ritual's aftermath, RAW encountered what he perceived as an ascended master who instructed him on the significance of the star system Sirius. RAW later discovered that July 23rd is the very day when Sirius rises behind the sun, the fabled Dog days.
During the same period RAW was experiencing "telepathic communications from Sirius"—a number of other writers and psychedelic researchers were entertaining otherworldly encounters, such as science fiction author Philip K. Dick (PKD) who experienced similar communications with certain entities from Sirius as recounted in his semi-autobiographical novel VALIS. Concurrently, British novelist Doris Lessing had began a series of Sci-Fi novels, a departure from her previous books. In the third novel of this series, The Sirian Experiments, Lessing relates a tale with stunning similarities to those of RAW and PKD. It was only later that Wilson, Dick and Lessing discovered they were having these experiences simultaneously, albeit unbeknownst to each other. Meanwhile—during the aforementioned Dog Days of July-August 1973—RAW's good friend Dr. Leary, then serving time at Folsom, formed a four-person telepathy team, the intent of which was "… to achieve telepathic communication with Higher Intelligence elsewhere in the galaxy." At the same time Leary received his "Starseed Transmissions," another psychedelic pioneer, Dr. John Lilly, was having his own series of interstellar communications with a network of entities known as ECCO, "Earth Coincidence Control Office." It should be further noted that 1973 was a peak year of UFO sightings, so something indeed was in the air.
As these apparent extraterrestrial communications were invading our earth-space, suddenly all contact with Leary broke off as he was held incommunicado amid rumors he'd become a fink for the Feds, ratting out his old counterculture cronies to cut a deal to get himself out of the joint. The hysteria and paranoia of this period is well documented in Starseed Signals, providing the background—the set and setting—for the climate of the times.
At the time of the writing of Starseed Signals, the sixties looked a thousand light years away in the rear-view mirror as the lost idealism of that decade bled over into the early seventies. A hung-over generation awoke one morning to discover President Nixon's "War on Drugs" in full force, its crosshairs trained on the country's youth, poor and minorities; draconian drug laws designed, it seemed, to create a prison state of mind, with Dr. Timothy Leary—who Nixon proclaimed "the most dangerous man in America"—serving as the poster boy for all things immoral and indecent.
Early on in Starseed Signals, RAW warns about this Second Coming of the Holy Inquisition, Nixon's "War on Drugs," and how it led to Leary's political persecution. RAW's pronouncements—which, to the more sober minded in 1975 probably came across as a bit on the paranoid side and seemingly steeped in rhetoric—are now but a cautionary tale come true, as seen in the aftermath of 9/11 with the advent of the Patriot Act, and the countless other resurrections of the "War on Drugs" that are rolled out every decade or so to remind us of the consequences of having too much fun, or being allowed to operate our own brains in the manner we see fit.
Eventually the dust would settle in early 1976 when California Governor Jerry "Moonbeam" Brown released Leary from his prison sentence. This, naturally, turned another page in the many lives of Dr. Leary—and RAW, as well. Afterwards, Starseed Signals was jettisoned into deep space as the impetus to publish the book lost steam and relevance amid these happenings. Nonetheless, the historical significance of Starseed Signals as an autobiographical period piece is well worth the price of admission, starting with RAW's peyote peregrinations of the early sixties all the way to envisioned space explorations in cahoots with Leary, in addition to several other tributaries and trajectories explored along the way.
Join us now on our mission to the stars. Turn on, tune in, turn the page…
---