During our recent
Raymond Broshears spectacular
we featured a post on
Rev. Billy Hargis and the Christian Crusade
, a commie bashing evangelical outfit pretty much dead set against anything those dirty rotten liberals wanted to teach in school, particularly sex education and other "radical" ideas pushed by the Reds, who had apparently infiltrated not only the halls of congress, but your local PTA.
In 1968, around the same time the Discordians launched Operation Mindfuck, Rev. Hargis and his Christian Crusade propaganda mill pooped out a pamphlet called "Is the School House the Proper Place to Teach Raw Sex?" authored by the honorable Gordon V. Drake. According to our good friends at Wikipedia:
The 40-page document, described by Time magazine as, "an angry little pamphlet," was originally distributed as part of a direct-mail fundraising campaign for the Christian Crusade, so that the organization could lobby against sex education in schools. It became a source of unfounded anecdotes about the supposed horrors of sex education for groups such as Mothers Organized for Moral Stability.

School House targeted the Sexuality Information and Education Council of the United States (SIECUS), and in particular its director Dr. Mary Calderone. It described her as the "SIECUS Sexpot", and said that the group sought to "toss[…] God aside" and "to teach American youth a new sexual morality independent of church and state." Besides arguing that sex education undermined Christian morality and promoted promiscuity, the document said it is part of a "giant Communist conspiracy." It said, "[If] the new morality is affirmed, our children will become easy targets for Marxism and other amoral, nihilistic philosophies—as well as V.D.!" The pamphlet also identified the National Education Association as an enemy.

The pamphlet was the most widely circulated attack on sex education in the 1960s. Drake estimated that it sold over 90,000 copies in the three months after it was published, while Hargis claimed one million overall. A more conservative estimate is 250,000 copies…
In response to "Is the School House the Proper Place to Teach Raw Sex?", Greg Hill issued a Discordian dispatch entitled "Is The Schoolhouse the Proper Place to Teach Raw Math?"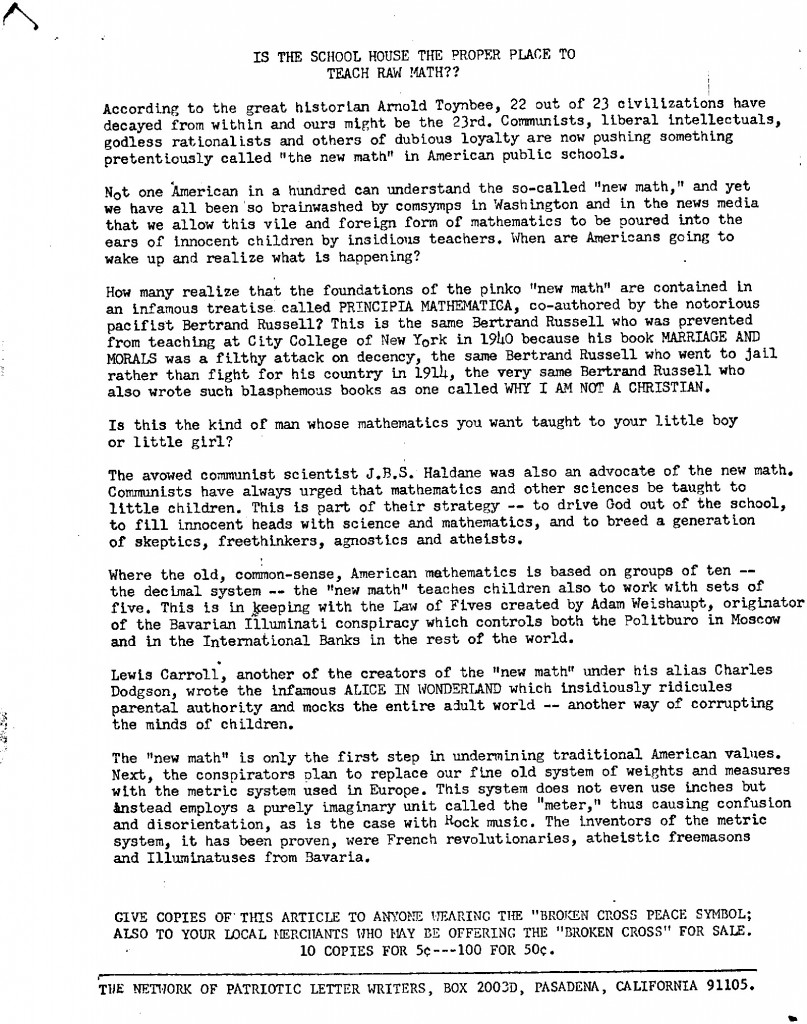 Hill distributed the above dispatch to his network of Illuminati conspirators, who likewise propagated this polemic-parody under different names and Discordian disguises, one of which appeared in Playboy in October 1969 under the moniker of Arnold K. Ravenhurst of Chicago, Illinois, that was mostly likely planted by Robert Anton Wilson, then editing the Playboy Forum.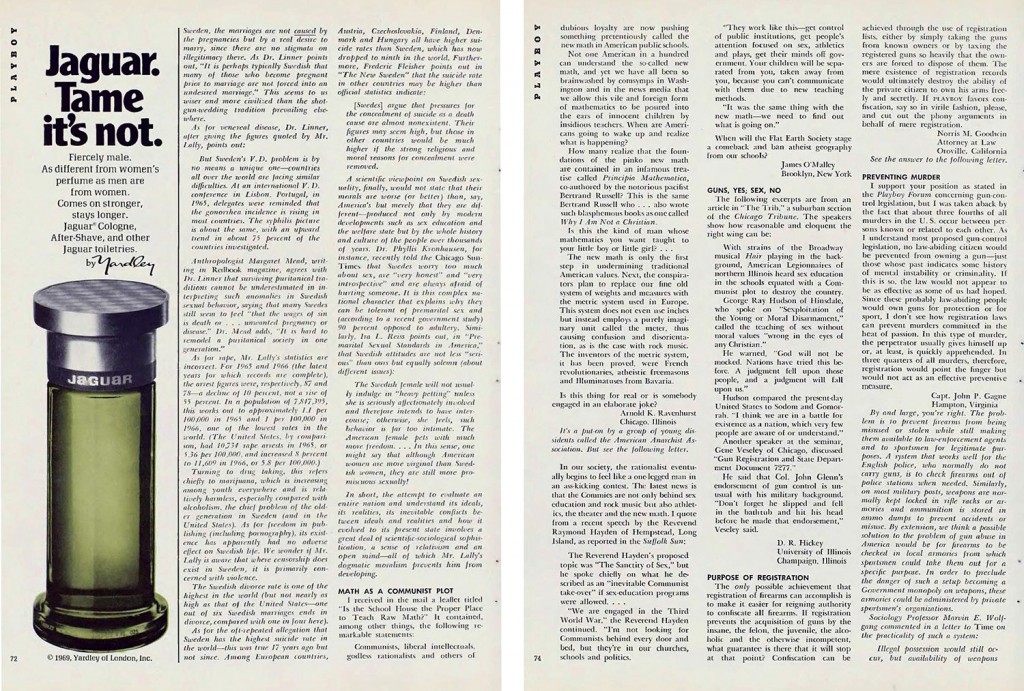 The above letter was pointed out to me by Martin Wagner who maintains a growing archive of RAW rarities at the Robert Anton Wilson Fans website. Not only did Martin point out the Ravenhurst letter, but also a follow-up response by James O'Malley of Brooklyn, New York, who was also most likely a Bob Wilson bot.
At the end of Greg Hill's "Raw Math" dispatch he mentioned "the broken cross peace symbol," a controversy that seems to have gathered a head of steam during this period, as documented in a New York Times article which you can view here—assuming you're not thwarted by the dreaded pay wall effect.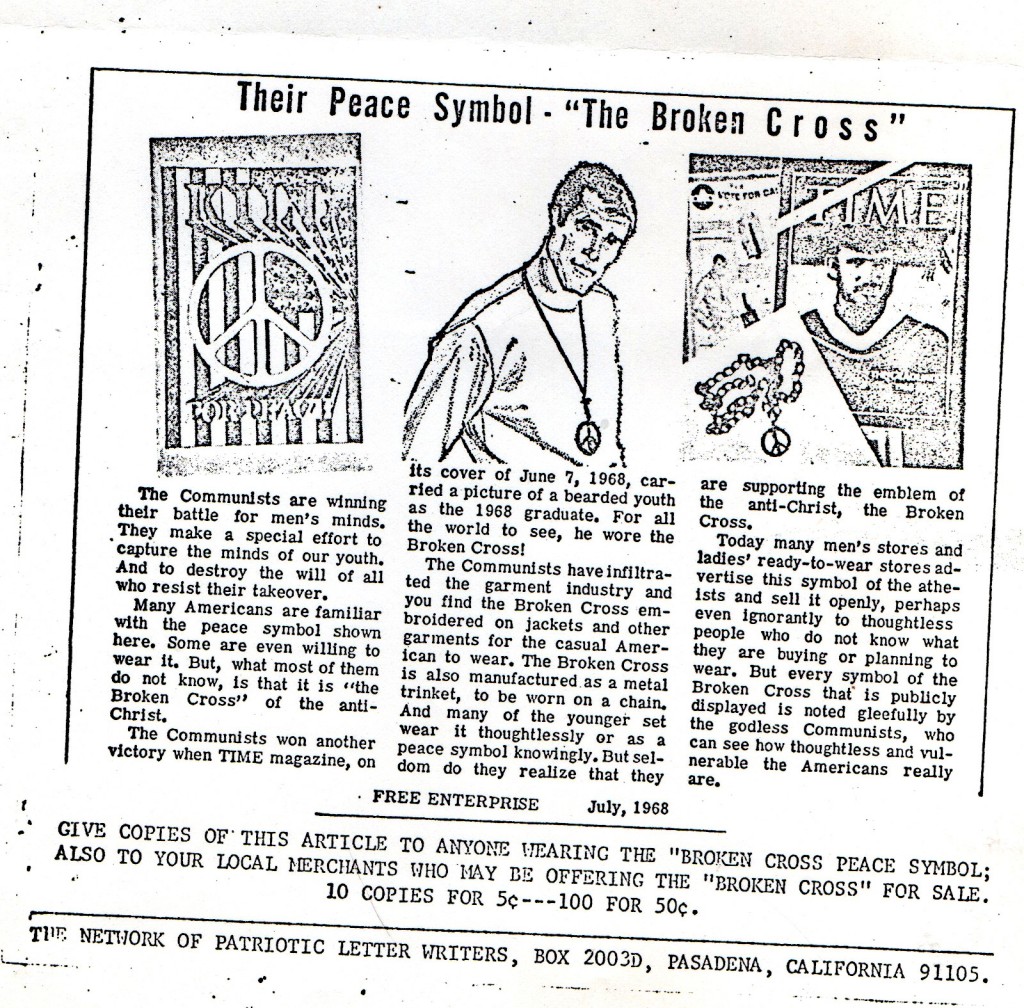 In regards to the "broken cross peace symbol," apparently Greg Hill (using the Mad Malik persona) considered it his patriotic duty to warn the GOP of a similar menace relating to the secret symbolism of "3 inverted pentagrams on your elephant's riot helmet… specifically used to conjure evil spirits…"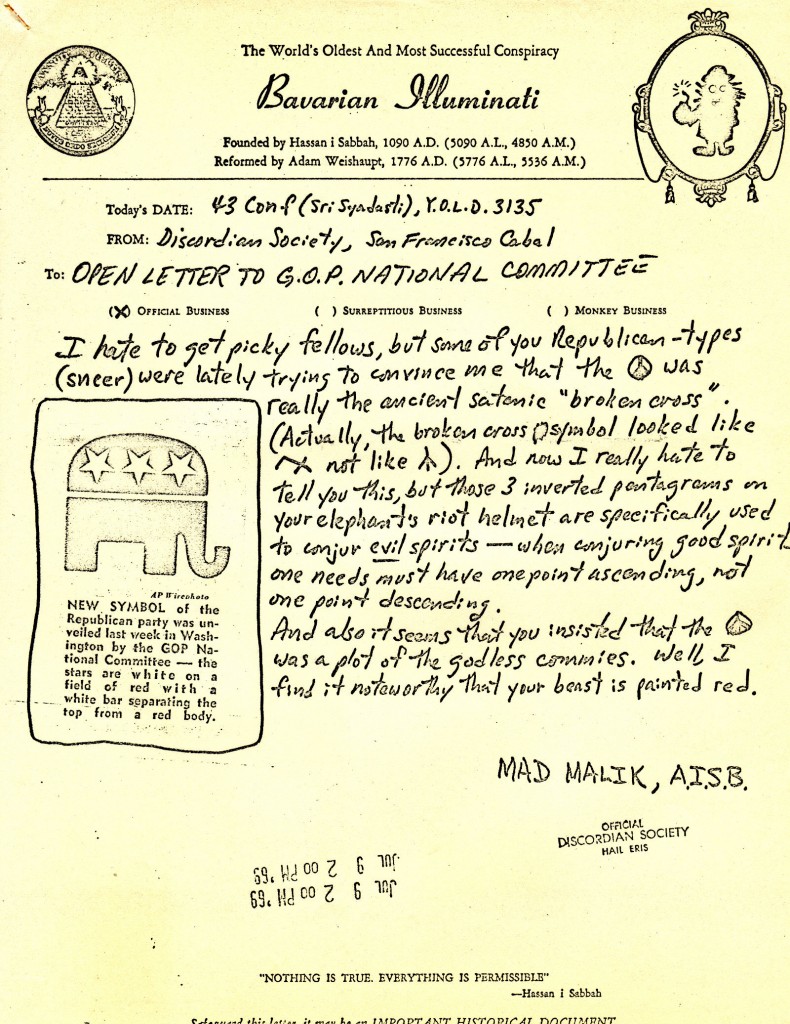 And as a special added bonus, enjoy Jack Chick's groovy take on "The Broken Cross"!