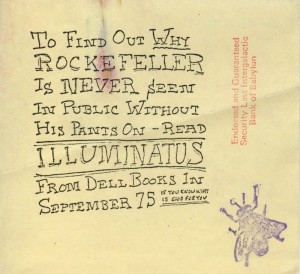 Tom Jackson, who runs the right-fine
RAWIllumination.net
site, has organized a group reading of
The Illuminatus! Trilogy
set to begin
this coming Monday, February 24, 2014
.
Here's more info from the press release for the group reading:
The ostensible subject of the book is the Illuminati, an alleged secret society that seeks to control the world and is still the subject of many conspiracy theories. Many of the book's protagonists are either battling the Illuminati or struggling to figure out what is really going on.

The Illuminatus! Trilogy, 'candy apple red' edition from Dell Trade Paperback, January 1984. Courtesy of the Discordian Archives.

The work makes liberal use of Discordianism, a tongue-in-cheek religion devoted to worship of the Greek goddess Eris, who was blamed for starting the Trojan War, and of the Kabbalah, an esoteric mystical system that began as part of Judaism. The text also reflects the authors' strong interesting anarchism and libertarianism.

Readers of the RAWIllumination.net website will participate in an online discussion of the book beginning on Feb. 24. The discussion will proceed at a pace of 10 pages a week, to give readers time to untangle many of the esoteric references and meanings in the text. The slow pace also will allow time for readers who missed the initial announcement to get caught up and participate. The standard paperback edition has 805 pages, so the discussion is expected to take well over a year.

Each week, an entry on a 10-page section of the book will be posted on the website's blog, and readers will be invited to weigh in using the comments.
If you've never read The Illuminatus! Trilogy, this is a fine opportunity to get in on this underground classic of subversion.
As one character in the book, Epicene Wildblood, puts it while reviewing Illuminatus! in Illuminatus!, it's "a fairy tale for paranoids."