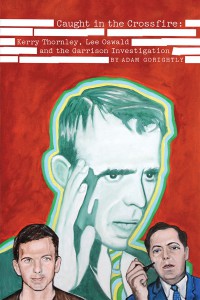 In the early 1990s, I corresponded on a couple of occasions with
Kerry Thornley
(long before penning
The Prankster and the Conspiracy
).
These letters aren't dated—nor have I retained carbons of the originals from my end, so I don't remember specific dates—but as I recall along with my letters I included an article I'd written for Paranoia Magazine that theorized that the Beat Movement and their subsequent Hippie/Yippie offspring—including the Manson Family—may have been part of a grand conspiracy that employed psychedelics as mind control agents (ala MK-ULTRA), all part of a plan designed to influence and undermine the 60s counterculture.
In response, Kerry shot back:
I harbor no conspiracy theories about The Beats, but did hear the rumor, several times, that Nixon and Nelson Rockefeller were behind them. Why, I don't know. Dean Moriarty (Neal Cassady) was a lot like Nelson, evidently—an energetic psychopath.

I'm sorry to say I wasn't impressed with your articles. You seem to have no conception of the effects of LSD, and your picture of Manson is fucked.

Why the CIA introduced acid, I have no idea. But I suspect they hadn't the faintest notion of what to expect. I knew many people, including my ex-wife and one nuclear physicist, who gave up good defense industry jobs because acid turned them against war. And it certainly doesn't turn the brain to mush, etc., etc.—quite the opposite!

Manson never held any mysterious power over anyone. That was a myth created by the girl's attorneys to get them off with a lighter sentence. Read Manson In His Own Words by Eddowes [sic]…One of the most fascinating books I've ever read—a very no-bullshit account of what happened.

I suspect there may be some truth to the Oswald/FBI informant theory. I went to the FBI (five or six) times myself in the years after the assassination—exactly why, I don't know (but suspect mind control may have been involved.) Right after Hoover's death… I wrote some letters to Clarence Kelley, upon becoming convinced a bunch of local radicals were actually Nazis in drag. It is, however, incomprehensible to me that I would do anything so stupid, except once when I thought FBI agents were setting me up and wanted to cover my ass.

Robert Anton Wilson—whom you mention in connection with Leary (whom I hear was a munitions corporate espionage agent) was my mentor from 1967 until about 1971. I hear he was connected with a Nazi secret society known as MAAGI6 , because it infiltrated MAG-11 (Marine Air Group Eleven) to which both Oswald and I belonged at different times. But the same sources of information held him in great respect as someone who in spite of his affiliation was very independent and a sincere anarchist, etc. Wilson introduced me to the individual anarchists–Proudhon, Warren, Tucker, Spooner, Bersodi, Labadie, etc.

Later,
Kerry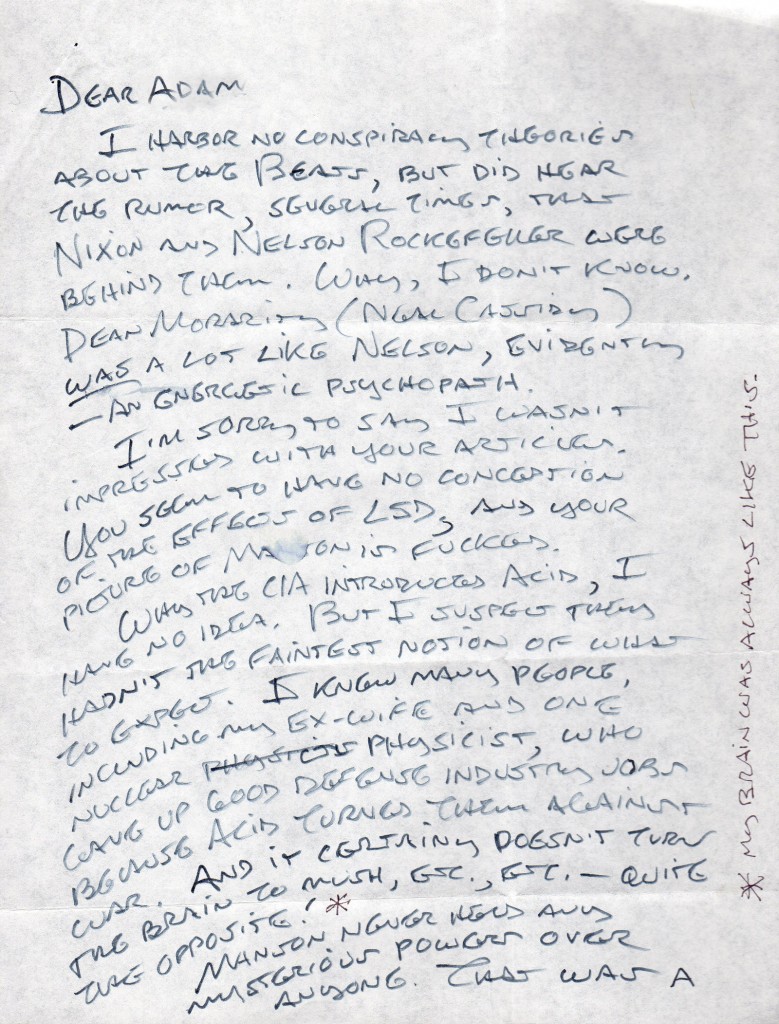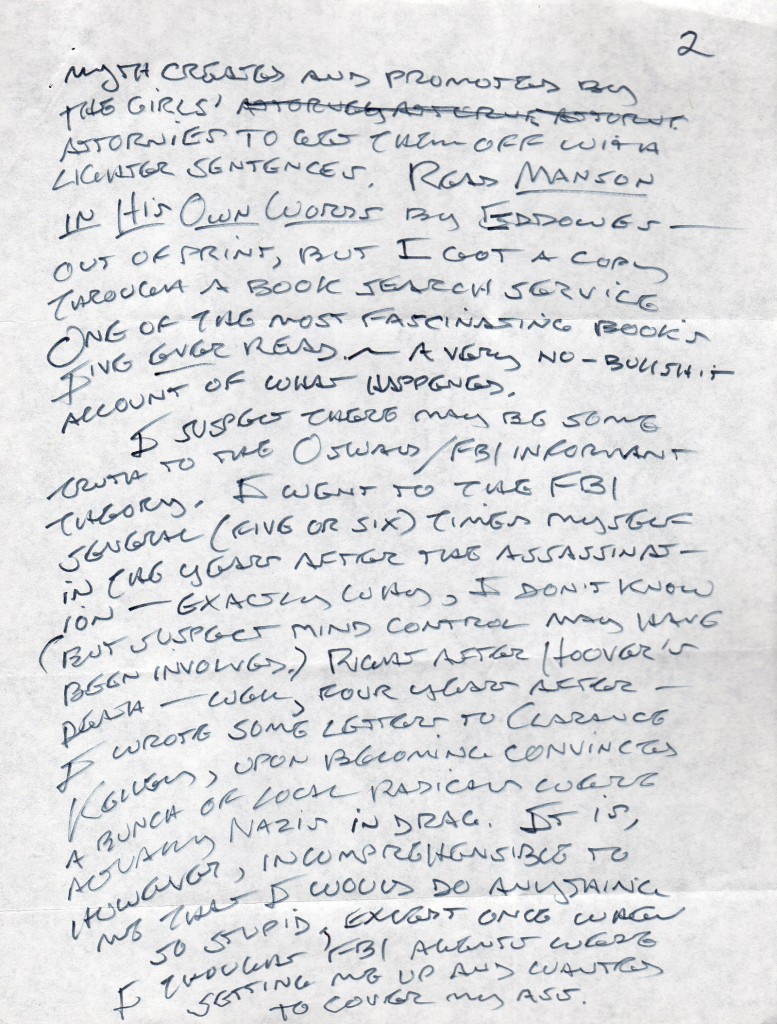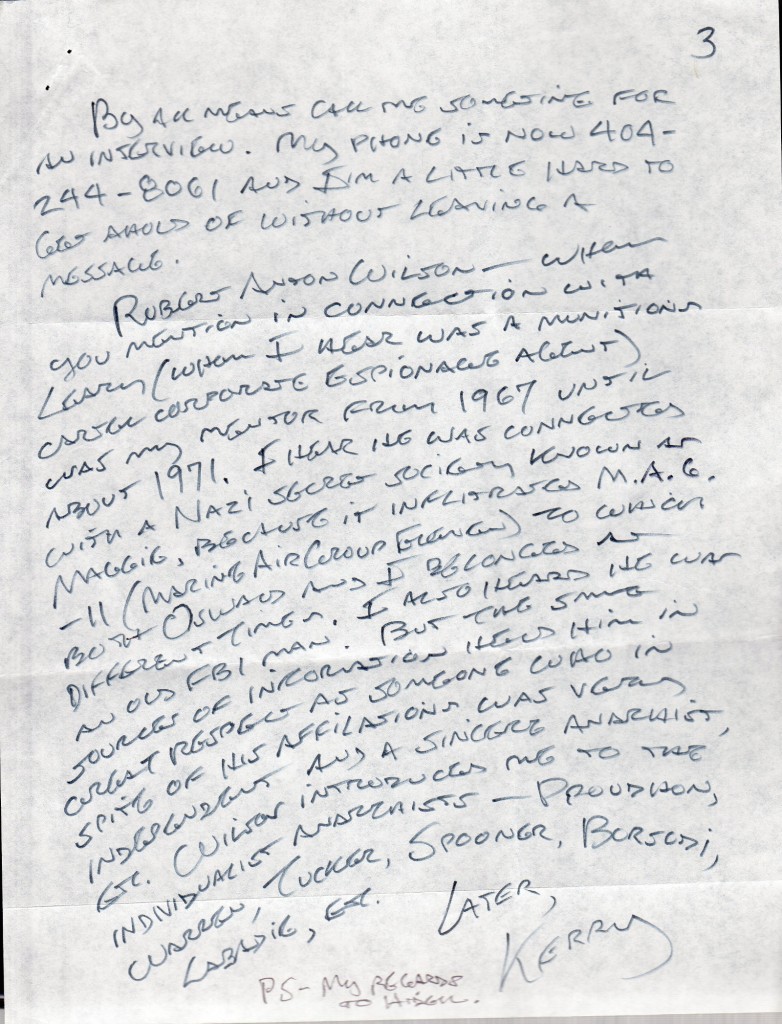 In the above letter, Kerry mentioned sending a letter to FBI director Clarence Kelley about his belief that he was being monitored by some secret society of sorts with connections to US intelligence which indeed was a sort of wild thing to do—sending a rambling letter like that to the Director of the FBI—but hey, we're talking about Kerry here.
This missive to Kelley is in a batch of Thornley-FOIA documents I've collected over the years that I'll post here at HD sometime in the near future. Kerry also states his belief (or suspicion) that Robert Anton Wilson was an intelligence agency spook or asset, aligned to some Nazi secret society. Make of that what you will!
In response to Kerry's letter, I evidently brought up the Process Church of the Final Judgment, which—in turn—launched Kerry off on one of his classic conspiratorial screeds in this follow-up letter: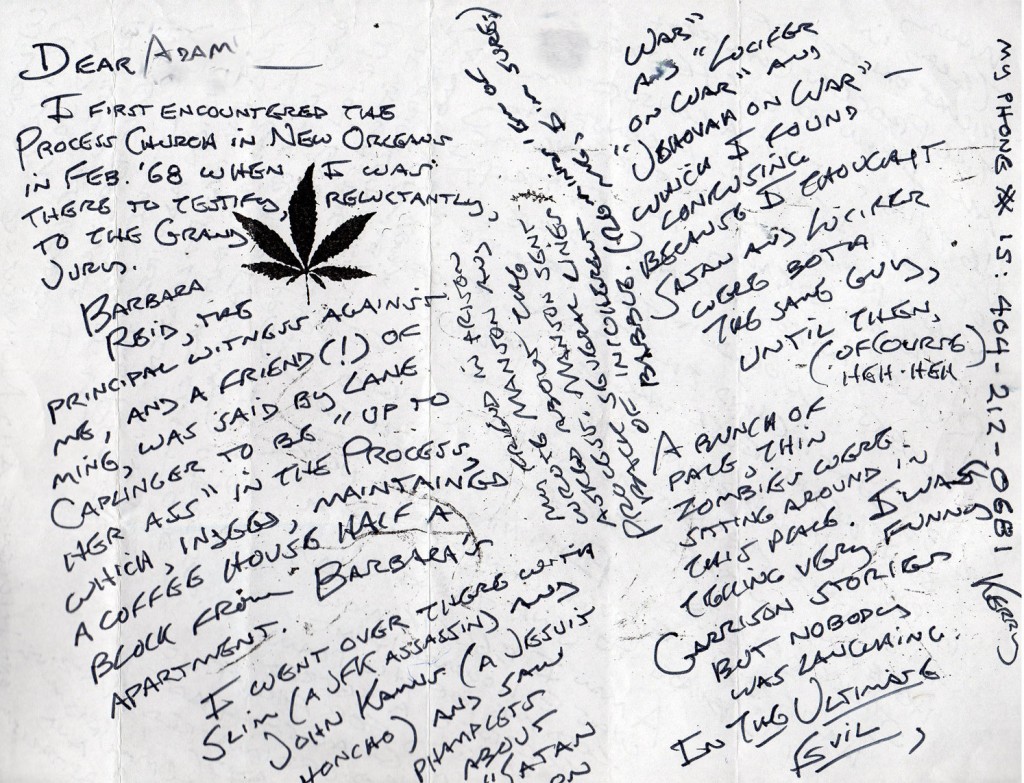 Page 1 of Kerry's reply letter recounts a brush he had with the Process Church in New Orleans in 1967 when he'd returned there to appear before Jim Garrison's Grand Jury looking into the JFK assassination. Weirdly enough, the person who took Kerry by the Process Church headquarters was none other than Slim Brooks, the same shadowy character who he suspected had lured him unwittingly into a JFK assassination conspiracy.
On Page 2, Kerry connects Robert Anton Wilson with The Process, referring to an incident that occurred in 1975 at a place called the Celestial Mansion where Kerry believed that Wilson and a group of clandestine intelligence agents/secret society adepts met with him as part of some sort of debriefing regarding the JFK assassination.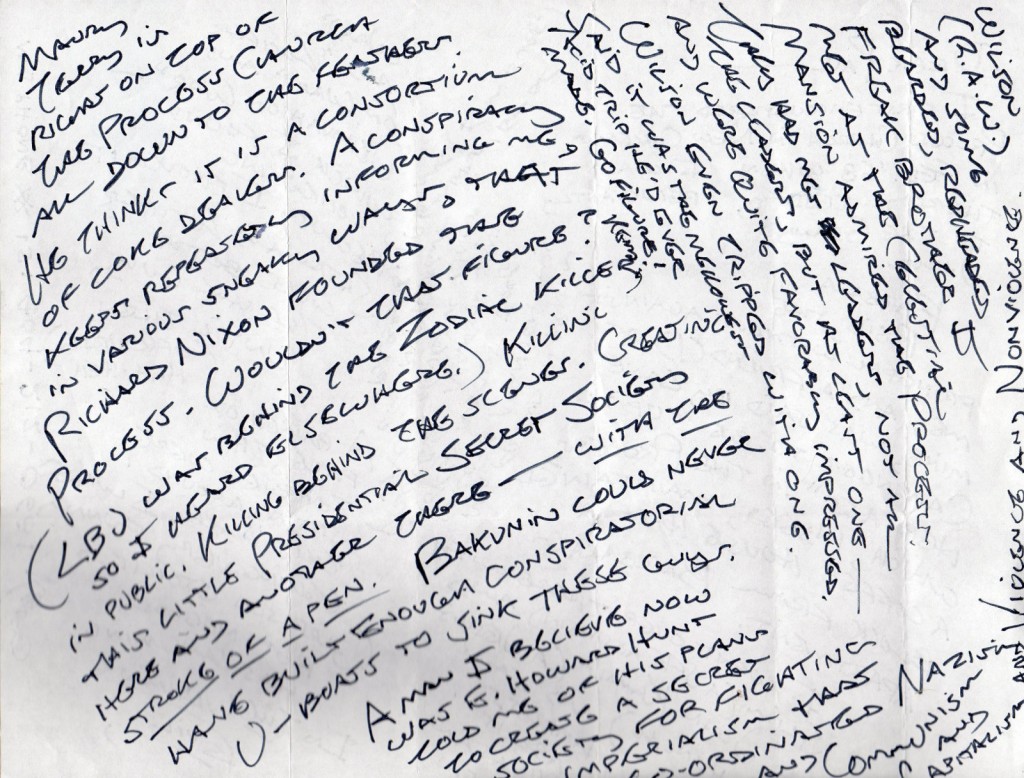 I know. It gets deep.