Over at our
Early Discordians facebook group
, a friend of
Kerry Thornley
's named Lori Dyann shared this photo literally ripped from the pages of
Creative Loafing
sometime in the mid-90s that features Mr. Thornley decked out all apocalyptic-like in Little Five Points, Atlanta.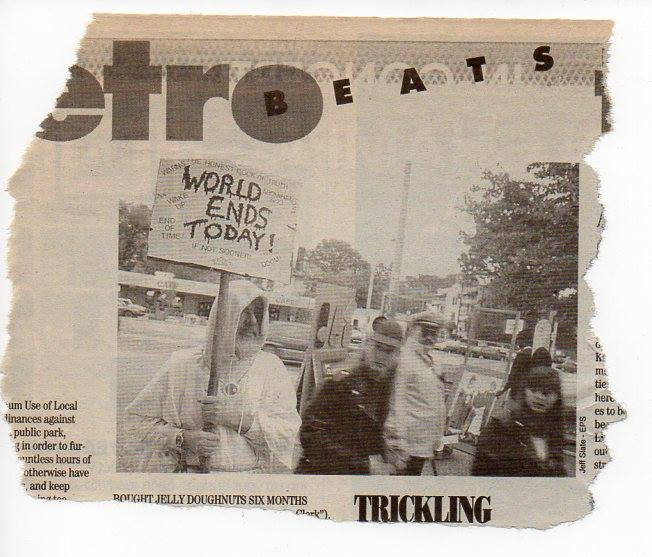 Our previous post LFP Memories relates to the Creative Loafing article and Chris Wilhoite's first memorable encounter with Lord Omar while immanentizing the eschaton. As Chris recalled in The Prankster and the Conspiracy:
"I was living in a VW campervan behind a restaurant in L5P. I had just had breakfast and was standing at the corner across from the park, when Kerry comes walking from the far end of the square, wearing a white cloak with a hood and carrying a sign reading 'World Will End SOON. Get your tickets NOW!'

As he passed down the street, snowflakes (unseasonal for Oct 31 in Atlanta) began to fall right behind Kerry, and as he passed across my field of vision, the snow came in like a curtain drawn by Kerry. My friend Wolf, standing directly behind me said: 'Yep, hell just froze over!'"
Apocalyptically enough, the Creative Loafing photo looks strikingly similar to the cover image of the very first Discordian zine Apocalypse: A Trade Journal for Doom Prophets cooked-up way back in 1960.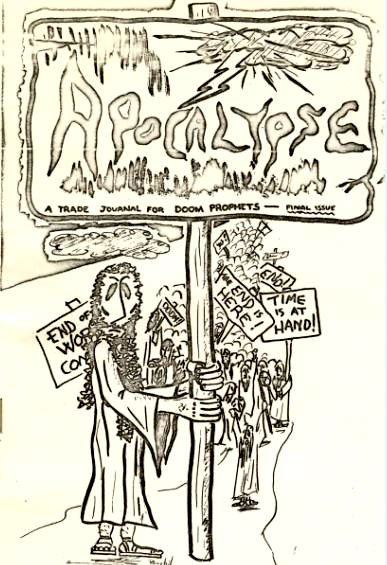 The reason co-author Greg Hill and Kerry Thornley published only one issue of Apocalypse was because no one else, besides them, found it the least bit humorous. As Kerry later noted: "Things we thought were funny, nobody else did."
Here is the PDF of Apocalypse: A Trade Journal for Doom Prophets for your possible reading enjoyment.