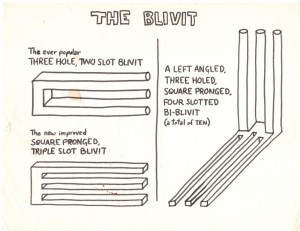 The two pages of images presented here called "The Blivit" [
sic
] were drawn by
Greg Hill
in 1965 and I would suspect were inspired by
issue #93 of Mad magazine
from March of that year which has a blivet on the cover.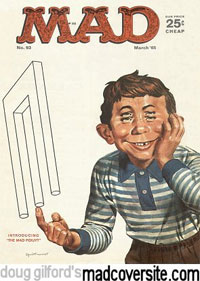 I make this assumption because Hill and Kerry Thornley were big fans of Mad, and in fact credited it as the inspiration for their own one-shot mag Apocalypse: A Trade Journal for Doom Prophets.
And, if you're wondering what the hell a blivet is, we refer you now to the ever-handy and never-wrong Wikipedia for its entry on blivets.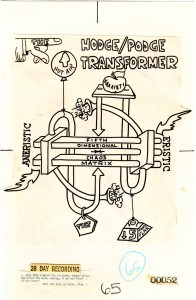 Significantly to Discordianism, a blivet appears in the Fourth Edition of the Principia Discordia on Page 00052 as part of "The Hodge/Podge Transformer," and I think it's safe to assume that "The Hodge/Podge Transformer" was drawn by Greg Hill when compared to his other hand-drawn blivets shown above.
As a side note, there's a weird online Flash game based on "The Hodge/Podge Transformer," a demo associated with another game called Ossuary, which itself is based on Discordianism, though the game's creator doesn't necessarily want it to be known as "that Discordian game." Here's a puzzled review of The Hodge/Podge Transformer game demo which can be played online here.
Hail Eris!