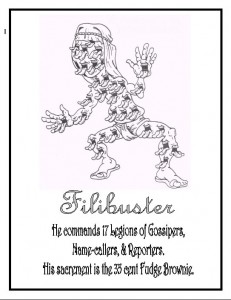 In the mid-1980s,
Kerry Thornley
began collaborating with a Canadian graphic artist and musician, Roldo Odlor, an association that culminated in an illustrated version of Thornley's
Book of the Demons of the Region of Thud
aka
Goetia Discordia
, which we
share with you now in its chaotic entirety as a PDF file
.
Our forthcoming book, Historia Discordia, will feature more Roldo-created Discordian treasures, not to mention one of the most mind-blowing book covers you'll ever see!
Roldo has a presence on Facebook and his music is available on Bandcamp.
All Hail Roldo!